£1 minimum wage for migrant workers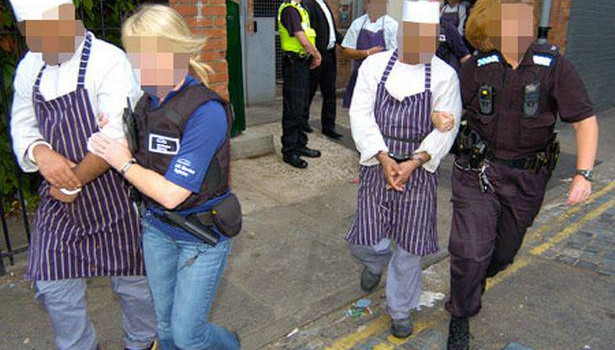 [responsivevoice_button]
Corporate Watch is starting an investigation into the scale of detainee labour inside Britain's Immigration Removal Centres run by G4S, Serco, Mitie, GEO Group and the prison service.
Immigration Minister Mark Harper was forced to resign in February 2014 after embarrassing revelations that he had employed a Colombian cleaner who had overstayed her visa.
Despite the furore, recruitment of 'illegal' workers by the Home Office is actually the norm, rather than the exception.
It is perfectly lawful, provided it takes place within the confines of a British detention centre, the majority of which are run by private contractors, companies like G4S and Serco.
This means that people who have been arrested in immigration raids on workplaces by the Home Office can legitimately work once they are in the custody of the Home Office.
"Detained persons shall be entitled to undertake paid activities", says Rule 17 of the Detention Centres Rules 2001.
Immigration detainees are also exempt from minimum wage legislation, under a law passed by the New Labour government – the same administration which had, with great fanfare, introduced this cherished safeguard against exploitative pay.
Section 59 of the Immigration, Asylum and Nationality Act 2006: "A detained person does not qualify for the national minimum wage in respect of work which he does in pursuance of removal centre rules."
In effect, there is a minimum wage for migrant workers detained in UK detention centres: £1 per hour. That's five or six times below the regular minimum wage.
Detention Services Order 15/2008 made this clear, even bothering to detail a 25 pence pay differential.
"There shall be two tiers of pay rate:
a. Routine work will be paid at a rate of £1.00 per hour.
b. Specified projects will be paid at a rate of £1.25 per hour."
The detainees perform a range of essential jobs; from preparing food in the kitchens to cleaning the wings. This much is known. But many questions remain unanswered.
Corporate Watch is launching an investigation into the true scale of detainee labour in Britain.
We will be looking especially at:
How much money do private contractors make from migrant workers in detention?
Is the Home Office the largest single employer of 'illegal' workers in Britain?
How are detainees challenging these working conditions?
A similar study in the US estimated that "135,000 immigrants a year may be involved, and private prison companies and the government may be avoiding paying more than $200 million in wages".
One of the two largest companies in the American detention industry is the GEO Group, which also runs the largest detention facility in Britain (Harmondsworth), and the only centre in Scotland (Dungavel).
So we can already anticipate some similar findings for the UK.
If you would like to help with our project, please get in touch. Email contact@corporatewatch.org or call 0207 426 0005.
We would particularly like to hear from people who have worked in detention (detainees or staff), employment lawyers and trade unionists.