2021 UK charter deportations: a balance sheet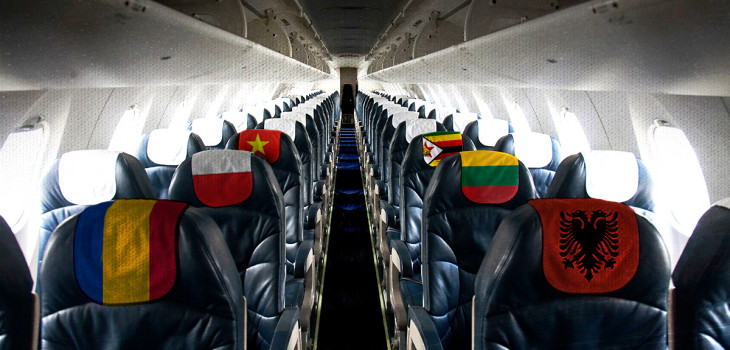 Last year, the Home Office deported a total of 1,305 people on 65, multi-leg charter flights. While deportations from the UK have dropped overall due to the pandemic, the use of charter deportation flights increased more than threefold during this period, representing 45% of total deportations.
Based on Freedom of Information Act requests by Patrice Petit and flight data records, we've identified the airlines profiting from these mass deportations, and aim to provide context and analysis. For the full list of flights and destinations, see Annex 1 at the end of this article.
The deportees
| | | |
| --- | --- | --- |
| Destination | Flights | Deportees |
| Albania | 20 | 497 |
| Romania | 14 | 324 |
| Poland | 13 | 183 |
| Lithuania | 11 | 172 |
| Vietnam | 2 | 47 |
| Zimbabwe | 2 | 21 |
| Bulgaria | 3 | 20 |
| Hungary | 3 | 14 |
| Jamaica | 2 | 11 |
| Portugal | 1 | 8 |
| Nigeria | 1 | 6 |
| Ghana | 1 | 1 |
| Spain | 1 | 1 |
| Total | 74 | 1305 |
Overall, as in previous years, Albania topped the list of the thirteen destination countries for mass deportation flights, with 497 deportees in 2021 – more than one third of the overall total. It is likely that the Home Office will continue prioritising Albanians for deportation in the year to come, given the cooperation it receives from the Albanian government. In July, Home Secretary Priti Patel and Albanian Interior Minister Bledar Çuçi signed a bilateral agreement detailing how Albanian convicts may be deported to serve out their sentence in their country of origin. In return, the Interior Minister reportedly asked Patel to "review once again the treatment regime of Albanian citizens living and working in Great Britain, in order to facilitate them in relation to new employment opportunities or seasonal movements".
More than half (722) of all the people deported last year were sent to EU states, with Romania, Poland and Lithuania being the most frequent destinations. Brexit may have crippled the Home Office's ability to deport asylum seekers, but it laid the legal foundation for the mass deportation of EU citizens in 2021. The Parole Board's guidance before Brexit stated that European nationals could be expelled after a year's prison sentence 'although the threshold for this is higher' than for non-Europeans; a distinction that no longer applies.
The end of 2020 saw the concerted use of charter flights to return asylum seekers who had arrived in the UK by dinghy. After the Brexit transition period ended on 31 December of that year, the UK fell out of its legal agreements with the European Union, including the Dublin Regulation. Having failed to negotiate a replacement agreement, in 2021 the Home Office was left without a legal way to deport most asylum seekers to EU. Instead, the emphasis of the charter flight programme shifted largely to deporting so-called Foreign National Offenders (FNOs).
Before looking at the numbers, we must understand who these 'FNOs' actually are. Home Office communications always play up deportees' criminal records and emphasise the people on the flights with violent pasts to paint everyone with the same brush. However, speaking with detainee support groups who actually meet these people gives another picture.
Most deportees have committed relatively minor offences which are often connected to trying to survive life in the UK without documents or access to social services. These include selling drugs, sleeping rough, working without legal permission, or driving without insurance or a valid licence. If sentenced to twelve months or more, foreign nationals can be automatically deported at the end of their term. The fact that many have spent most – and in some cases all – of their adult lives in the UK, and have already been sentenced by the criminal injustice system, does not stop the Home Office tacking on deportation as an added punishment in order to appear 'tough' on crime and immigration. A detention visitor group told us that the vast majority of people they met who were scheduled for mass deportation last year had been designated to programmes such as the Early Removal Scheme or the Facilitated Returns Scheme, which are aimed at deporting prisoners before the end of their sentence.
Beyond the regular Albania and EU flights, deportation planes also flew to Ghana & Nigeria (1x) Jamaica (2x), Vietnam (2x), and Zimbabwe (2x), carrying a total of 86 people. These flights, especially those to Jamaica, were hotly contested by lawyers and campaigners, and mostly left with just a fraction of their intended capacity.
2021 saw the first mass deportation flights from the UK to Vietnam. This is despite the fact that many deportees were identified as potential victims of trafficking who may not have been appropriately screened by the Home Office.
Deportation planes were also scheduled to fly to Pakistan and India, but these flights were cancelled. In the case of the Pakistan flight, this was reportedly due to the Pakistani Government's refusal to accept deportees from the UK while Pakistan remained on the UK's red list for COVID-19 travel restrictions.
The Dublin Regulation is the legal mechanism through which EU countries ensure that asylum seekers only make a single claim for protection across all EU states. It sets out which state is responsible for assessing the application based on a number of criteria, with a main one being the first EU country that a person has entered or sought asylum in.
For the many refugees who are forced to cross borders illegally due to strict immigration laws, the first country they enter will often be those at the edges of Europe, such as Greece or Italy.
The Regulation allows countries to check whether an asylum seeker has claimed asylum in or travelled through another EU state, by means of a shared fingerprint database known as Eurodac. If the person's fingerprints are found, a 'take charge' request can then be made to the first country. If accepted, the person will be deported back there.
This by no means leads to that country granting them asylum; on the contrary, with so many asylum seekers to process, claims in those first countries are often refused and can result in onwards deportation back to the refugee's country of origin. This refusal is the reason some choose to travel further into inland Europe or the UK in the first place.
The Dublin Regulation blights the lives of - and effectively criminalises - tens of thousands of people across Europe each year. The result is that they become 'illegal' across the EU, often living in the shadows and moving discretely between different countries. There they may attempt another asylum claim (often in vain), or try to find the means to live and work as an undocumented person.
By granting northern and western European states the right to return thousands of refugees to countries at Europe's borders, the Dublin Regulation creates a disproportionate pressure on the latter, and creates tensions in the application of EU immigration policies.
The companies
Seven airlines supplied the Home Office with charter deportation planes in 2021. AirTanker, Privilege Style, Titan, and TUI were regular collaborators, while other companies (e.g. HiFly, Wamos, and Iberojet – formerly, Evelop) were one-off providers. Corporate Watch has profiled a number of these big deportation profiteers, and revealed their involvement in last summer's Afghan refugee evacuation airlift, showing how flexible their values are when there is money to be made.
This year provided us with a good lesson in the power, but also limitations, of public campaigns against deportation profiteers. Since late 2020, tourism giant TUI had been making up its pandemic-inflicted shortfall through enthusiastically deporting for profit. However, it apparently ended its role in the UK deportation machine in August following a sustained campaign that culminated in a day of nationwide actions in front of its holiday stores. Exposing these companies, and the pain and misery their actions inflict on people's lives, can be an effective way to get them to stop, especially for commercial airlines like TUI (or previously Virgin Atlantic) who rely on ordinary holidaymakers to fill their seats and bank accounts.
Yet the fact that tiny Spanish charter airline Privilege Style immediately stepped in to fill TUI's shoes shows that public shaming has its limits when confronting airlines that can afford to, in fact are rewarded for, ignoring the public's opinion of their actions. This is also illustrated by the fact that those deportation planes bound for Ghana, Jamaica, Nigeria, and Zimbabwe which received the most resistance, including direct action blockades, were flown by small companies (Iberojet, HiFly Wamos, and Privilege Style) specialising in bespoke services for high-paying clients. For instance, image-conscious HiFly stopped running deportation flights from the UK after Corporate Watch exposed its role in the practice in 2020. Yet its deportation of Zimbabweans last July shows that such companies will continue profiteering whenever they think they can get away with it. Finally, by being headquartered on the Iberian peninsula, these companies have been insulated from the reputational blow back. This may explain why UK-based Titan and AirTanker have tended to limit themselves to the routine deportation of EU and Albanian nationals to their 'home countries', a practice which failed to reach newspaper headlines.
The cost
| | | |
| --- | --- | --- |
| Period | Flights | Total costs (£) |
| Q1 | 12 (13 legs) | 1,759,501.86 |
| Q2 | 20 (22 legs) | 3,151,616.75 |
| Q3 | 17 (22 legs) | 4,335,702.23 |
| Q4 | 16 (17 legs) | 2,497,701.49 |
| Total | 65 (74 legs) | £11,744,522.33 |
The Home Office's deportation charter flights programme has been steadily growing over the last few years, up from 35 flights in 2016. In turn, so has its cost to the public. The Home Office spent over £11.7m on charter deportation flights in 2021, with the average flight costing over £180,000. This is a marked increase from the almost £8.2m reportedly spent on 47 flights in 2020. The figures above do not include any costs that may be charged retrospectively, nor does it include the costs of the guards who keep deportees quiet and in their seats, often inflicting pain to do so.
The average per-person cost was nearly £9000, around 10% lower than last year's average. This is due to the Home Office's targeting of so-called FNOs who have fewer legal avenues to fight deportation, and who provide a larger potential 'pool' of deportees than Channel-crossing asylum seekers. The majority of deportation planes also flew to countries within close proximity to the UK, saving the Home Office fuel costs and air time.
Some long-haul flights – e.g. Jamaica, where deportation planes were flown on two occasions for four and then seven people, or Ghana & Nigeria to which one plane deported one and six people respectively – will have cost substantially more than the per-flight and per-person averages. In three cases (Ghana, Hungary, and Spain) legs were flown only to deport one person. An entire wide-body jet was flown to deport less than ten people no less than eight times.
As is often reported in the media, chartering a deportation plane is extraordinarily expensive. However, our criticism of this practice cannot remain at the level of financial cost, as this inadvertently justifies the Home Office's efforts to increase their 'value-for-money' by deporting more people per plane. For these flights, the Home Office gathers and detains as many nationals of that country as possible, regardless of individual circumstances, on short notice. Mass expulsions strain the system of legal protections as lawyers and detainee support groups scramble to identify, locate, then represent everyone before the deadline. Large numbers of people fail to receive the complex advice and support they need before the doors close on them, particularly since access to this support is frustrated by the routine Home Office practice of moving people around between detention centres.
The year ahead
All the FOI responses analysed for this report contained a section of boilerplate text which states that deportations are "often frustrated by last minute challenges submitted hours before a scheduled flight", before promoting the Home Secretary's new Borders and Immigration Bill as a tool to deport people more easily. Indeed, the Bill contains a number of clauses that will "accelerate" deportations and remove the rights of people facing them to contest the Home Office's decision through the courts. We should then expect that once this bill passes (it is currently at the Report Stage in the House of Lords), and the legislation comes into force, that chartered deportation planes will become even more central to the UK border regime.
This year has shown that the government is able to organise twice-weekly deportation planes and find willing partners even when public pressure mounts against the most egregiously racist mass expulsions. Going after the private airlines and other companies profiting from these flights can be effective, but only when campaigning is sustained and collaborators actually feel their reputation or bottom-line threatened. Legal action can also be effective in cutting the numbers of people removed on charter flights, but often falls short of challenging the wider deportation charter flight machine.
With the number of deportation planes likely to continue ramping up in 2022, direct action must be taken to prevent these mass expulsions from continuing to proceed unchallenged, and becoming more normalised. Targeting the private companies that carry them out is still one of the weakest links. More than ever before, diverse groups must coalesce country wide to apply legal, reputational and direct physical pressure to ground the planes.
Annex 1: List of chartered deportation planes and destinations
To download the data as a spreadsheet, click here.