2022 UK charter deportations: a balance sheet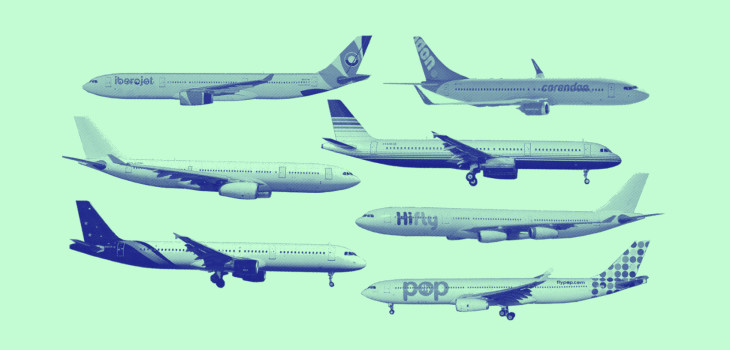 In 2022, the UK deported 1,566 people to nine countries on 62 specially-chartered flights (1) flown by eight airlines (2). The figures are a little higher than 2021, when 1,305 people were deported on 65 charter flights. Combining Freedom of Information requests by Patrice Petit with flight data available via flight tracking websites (3), Corporate Watch can reveal which companies carried out these flights, and how much money the Home Office paid them to do it.
For analysis on the previous year's flights, see here.
The flights and the people
In terms of destinations, deportation charter flights in 2022 followed similar patterns to 2021 and previous years. Albania was by far the most frequent destination, with 35 flights deporting approximately 900 people, more than all other nationalities combined. Next were three EU countries: Romania, Poland and Lithuania, receiving 11, 8 and 5 flights, for an approximate total of 300, 145 and 94 people respectively. Flights to Ghana and Nigeria (21 people), Jamaica (7 people), Vietnam (40 people) and Zimbabwe (2 flights, 35 people) accounted for the rest. Five flights scheduled to Iraq, Jamaica, Lithuania, Poland and Rwanda were cancelled.
The most recent immigration statistics published by the Home Office state that the "vast majority of enforced returns" were of so-called Foreign National Offenders ("FNO"). These were overwhelmingly to European countries, but also included Ghana, Jamaica, Nigeria and Zimbabwe. The Windrush scandal showed how deportations to these post-colonial territories are systemically racist in nature, and particularly susceptible to procedural abuse. Many of those on the planes will be more at home in the UK than anywhere else, regardless of any irregularities in their immigration status.
The use of charter flights to deport criminalised people is a point we are continually reminded of by politicians to serve as their self-evident justification. Home Office propaganda focuses on the sometimes severe crimes of a few deportees. Yet according to activists and detainee support groups, such as volunteers with the Association of Visitors to Immigration Detention, most people are picked up for minor offences. Many deportees on these flights have human trafficking claims, and many have lived most of their lives in the UK. Despite extensive community ties, these people nevertheless face the additional punishment of becoming completely cut off from those communities after serving their criminal sentence.
There is also an ever-increasing conflation of so-called "foreign criminals" and asylum seekers. The Nationality and Borders Act, which entered into force last summer, criminalised "irregular arrival" so that anyone who comes autonomously to the UK to seek asylum can readily be declared and convicted as a criminal. This intentional confusion between asylum seekers and foreign criminals was evident in reporting on the cancelled Iraq flight; comments from the Home Office meant it was originally described as carrying foreign criminals, when those due to fly were later found to be refused asylum seekers.
Over the years we have seen how the government targets huge numbers of people ahead of a charter flight in the hope that not all will be able to receive the timely legal advice needed to stay their deportation. The 18 May charter flight to Jamaica was originally scheduled for more than 100 people, but left with just seven on board after many were able to cancel their deportation pending a legal review. Several dozen detainees at Colnbrook IRC, not due to be deported that day, had also protested the flight inside the detention centre in a bid to prevent three people from being taken.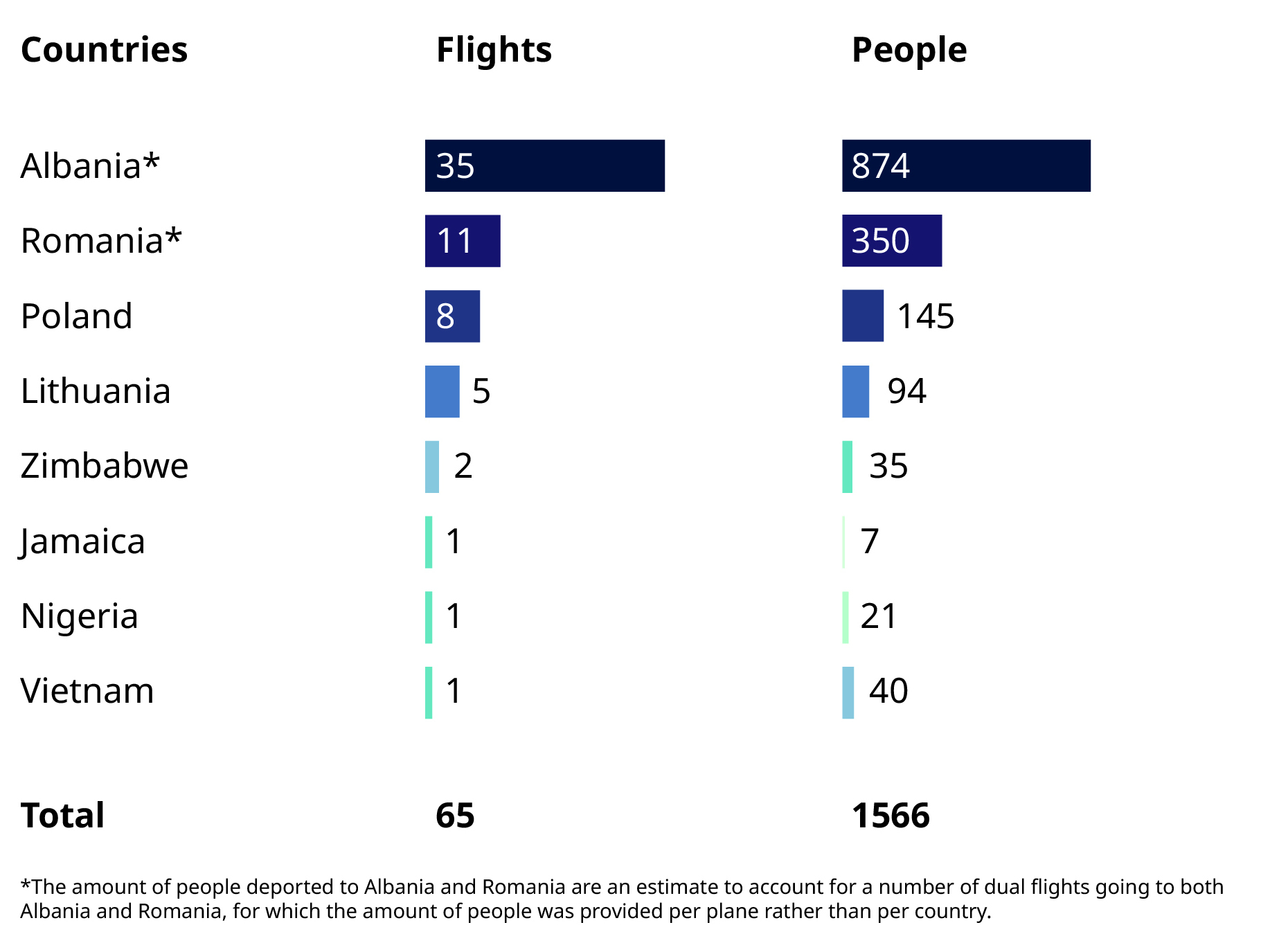 Targeting Albanians
The Home Office's immigration statistics report shows that Albanians accounted for 25% of total "enforced returns" from the UK, as well as a majority of FNO deportations. The deportation of Albanians, not only as "criminals" but "Channel crossers", was key to Home Office propaganda throughout the last year showing its resolve to "stop the boats". The Refugee Council estimated that 15,569 Albanians crossed the Channel in 2022 – by far the leading nationality – but they had an asylum acceptance rate at first decision of just 16%. Unable to deport asylum seekers from other countries due largely to the ending of the Dublin mechanism after Brexit – a spectacular own goal for previous Conservative governments – the deportation of Albanian asylum seekers has become a convenient substitute.
Albanians have become a catch-all scapegoat for the Home Office, which simultaneously alludes to them as dangerous foreign criminals, bogus asylum seekers and Channel crossers in its press releases and social media posts. The current rhetoric against Albanians is openly persecutory, with Minister of Immigration Robert Jenrick recently celebrating:
"the fantastic staff who are working round the clock to find the Albanians, to detain them, to put them onto coaches, to take them to the airport and get them back to Tirana".
Following on previous agreements, in December the UK and Albanian governments agreed a new deal which would reportedly allow "13,000 who crossed the Channel last year to be removed from Britain on weekly deportation flights" by fast-tracking asylum claims and prohibiting Albanians from accessing modern slavery protections. We expect Albanians to continue being a prime target for deportation charter flights into 2023, with Rishi Sunak recently telling Piers Morgan they will "ratchet up over the year".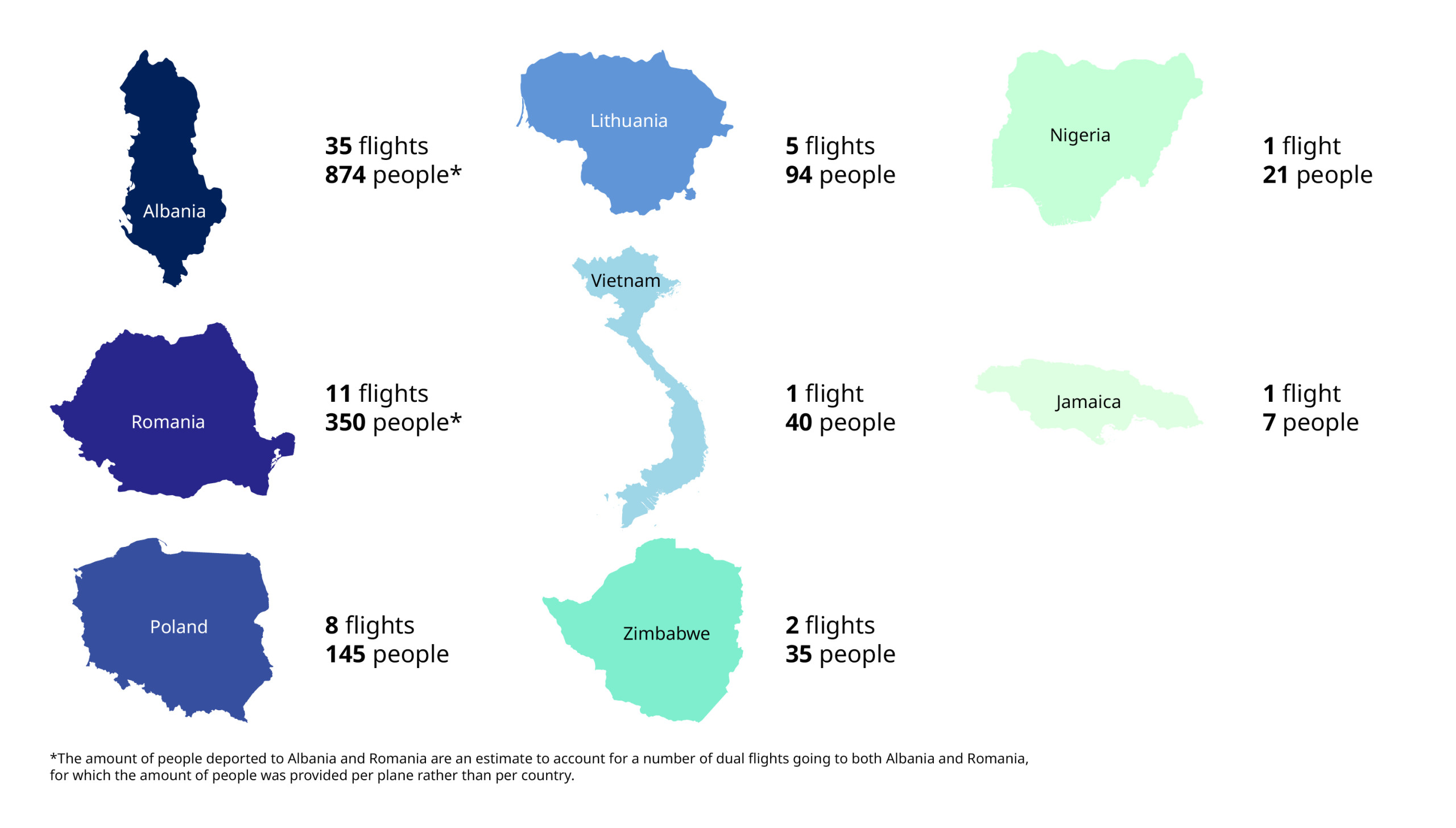 The companies
| | |
| --- | --- |
| Airline | Total flights |
| Privilege Style | 25 |
| Titan | 21 |
| AirTanker | 7 |
| Corendon | 3 |
| Hi Fly | 2 |
| Iberojet | 2 |
| ETF | 1 |
| flyPOP | 1 |
Two airlines raked in almost all of the money doing deportations for the Home Office in 2022: Spanish airline Privilege Style, and Stansted-based Titan Airways. Both should be well-known to anti-deportation activists, and have been lining their pockets helping successive British and other European governments ruin people's lives for years. These two companies have proven themselves consistently the UK's most frequent deporters, and key cogs in this misery machine.
In 2022 these two airlines lent their aircraft and crew to the Home Office 46 times, three-quarters of all mass deportation flights. But analysing the flight numbers of the mass deportations we identified shows aircraft from other companies flying under Titan (AWC) and Privilege Style (PVG) codes. This implies that these two companies sometimes subcontract out their dirty work, and were potentially responsible for 54 – or 87% – of flights overall (4).
The government seems to have turned to other companies for its less frequent and much longer deportations to countries like Zimbabwe and Vietnam. The other airlines identified deported people to countries beyond the weekly flights to Albania and EU member states, and were likely to have been contracted through deportation fixer Air Partner (see more in our recent profile here). Hi Fly, the Portuguese charter airline which led the Home Office's pre-Brexit drive of asylum seekers in late 2020, deported seven people to Jamaica on 18 May and then nine people to Zimbabwe on 7 September. It also appears to have used its partner flyPOP's plane 9H-PTP to deport a total of 21 people to Ghana and Nigeria in June.
Hi Fly appeared to have silently stepped back from deportation charters after being exposed by Corporate Watch in 2020, but has since proven it is still happy to go the distance to tear apart a family for the Home Office, despite its proclaimed support for refugee causes.
Iberojet, formerly Evelop!, is another Spanish airline with a history of collaboration with the Home Office. Last year it deported 40 people to Vietnam in January, and 26 to Zimbabwe in March (see our 2021 profile on Iberojet/Evelop! here). Along with Air Nostrum, Iberojet has just been awarded another contract to carry out Spain's deportation flights for the next 16 months.
There was one exception to the above pattern. In November a new airline began performing deportation work on the regular Albania route for the Home Office: Corendon Airlines. According to the Berlin-based No Border Assembly and their Deportation Alarm project, the holiday airline first entered the charter deportation market during the 2020 Covid pandemic. The company headquarters are in Turkey and Malta, however its Dutch subsidiary, Corendon Dutch Airlines, flies all its deportation charters for the company, often with the same Boeing 737-registered PH-CDH. Apart from its three flights last year, at the time of writing Corendon has already flown two deportation charter flights for the Home Office in 2023 (Romania on 31 January and Albania on 16 February). This company, a proven deportation provider to EU states, may continue to carry out work for the Home Office in future as it appears to be a cheaper alternative than its former go-to charter firms, Titan and Privilege Style.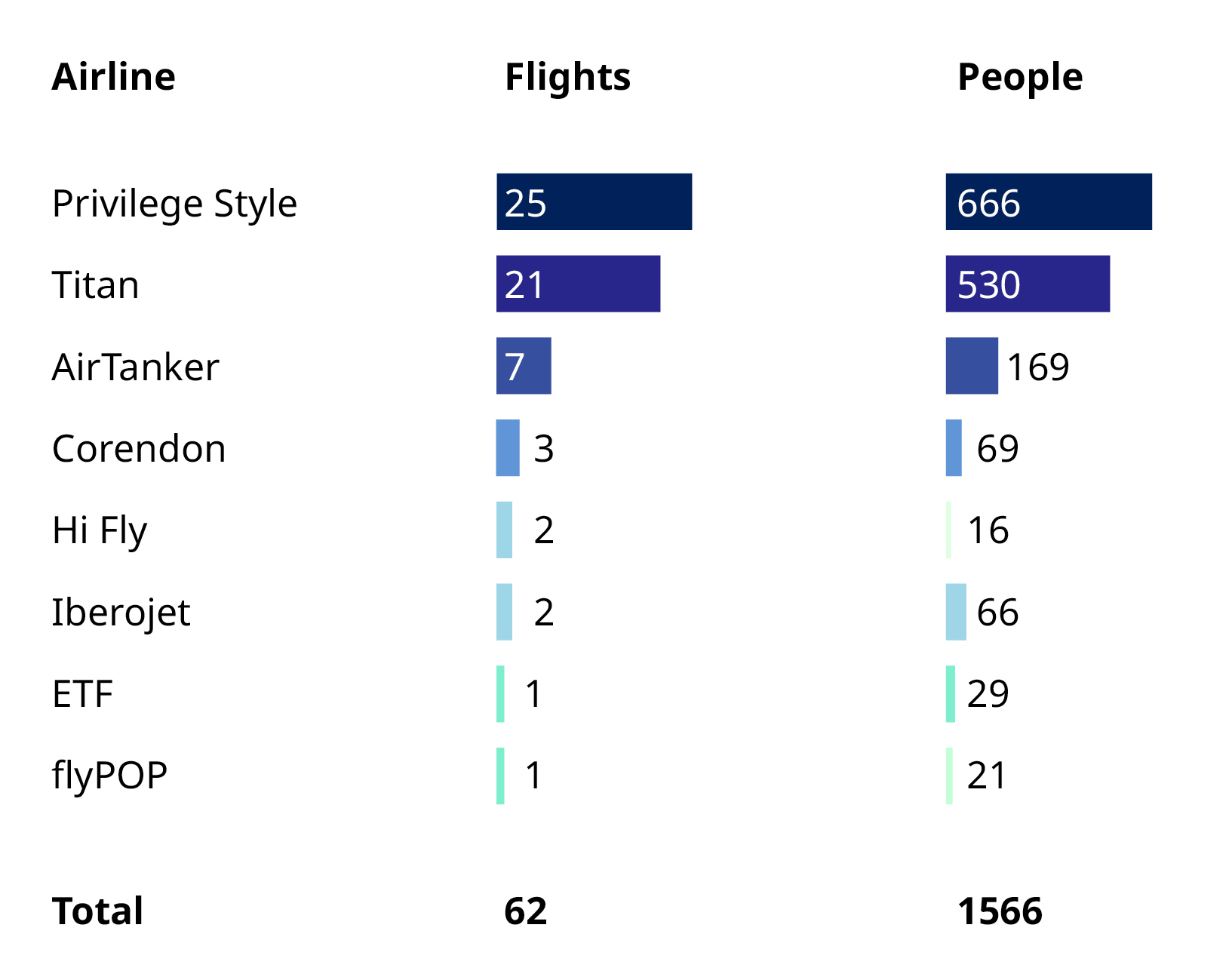 The cancelled Rwanda flight
Despite regular deportation flights taking off each week, public consciousness of the UK's deportation planes in 2022 was dominated by one which never took off: Privilege Style's scheduled flight from Boscombe Down MOD to Kigali, Rwanda. Investigations revealed that the people forced onto that plane were physically attached to their seats with waist restraint belts by Mitie guards who used "pain-inducing techniques" to stop them self-harming as a way to resist their expulsion. The Privilege Style crews may have heard, if not directly witnessed, this torture, but still appeared willing to take off nonetheless. Luckily this flight was halted by an eleventh-hour intervention by the European Court of Human Rights, and no other has been scheduled while the UK's policy to deport asylum seekers to Rwanda is undergoing legal challenges in the courts.
Following campaigning from anti-deportation activists in the UK and Spain—including interrupting the World Aviation Festival and going to Privilege Style's headquarters to present it the "Worst Airline in the World Award" (a golden plane crashing into a pile of shit) Privilege Style announced on 18 October that they would not fly any future deportation flights to Rwanda. While Titan and AirTanker have made similar statements, Hi Fly and Iberojet refuse to make the same commitment. However, Privilege Style's apparent change of tune on Rwanda in the face of public pressure did not stop it from continuing to fly deportations for the Home Office (or other European countries). In fact, just the day after its announcement it deported 32 people to Albania, followed by another three deportations to Poland and Albania within the next month.
After 17 November there were no further deportation charter flights flown by Privilege Style from the UK in 2022. This led some to wonder if the "Home Office's deportation airline of last resort" had pulled out of the market for good, or perhaps was being punished for withdrawing its cooperation for flights to Rwanda. But on 2 February 2023, Privilege Style again flew another mass deportation to Albania – proving it remains one of Europe's most unabashed deportation profiteers, so far unfazed by collective actions.
The money
The costs to the Home Office for all its chartered deportation flights in 2022 are as follows:
| | | |
| --- | --- | --- |
| Period | Total costs | Total flights |
| 1 January – 31 March | £3,614,460.89 | 19 |
| 1 April – 31 May | £1,808,016.35 | 10 (+1 cancelled) |
| 1 June – 1 September | £3,470,545.82 | 16 (+3 cancelled) |
| 1 September – 31 December | £3,428,111.53 | 18 (+1 cancelled) |
The per monthly breakdown for the final four months of the year is:
| | | |
| --- | --- | --- |
| September | £1,294,838.66 | 5 flights |
| October | £882,039.28 | 5 flights |
| November | £675,484.38 | 4 flights |
| December | £575,749.21 | 4 flights |
Based on the FOI data, we estimate that the total yearly costs for the 62 flights (plus five cancelled) to have been £12,145,000 (5), slightly more than the £11,744,522.33 from 2021. This excludes fees paid to Mitie for the guards to keep the people in their seats (at least three "escorts" per deportee), as well as other costs which may have been billed to the Home Office later. We estimate the average per-flight cost in 2022 to have been £180,000, but the real costs will fluctuate depending upon the destination and airline, amongst other factors.
This year's data provided more insight into per-flight costs than previous investigations. Flights to distant destinations cost the Home Office substantially more than deportations to European countries. Costs in November were £100,000 higher than December despite being for basically the same four flights, three to Albania and a fourth to Romania. The difference: a plane had been scheduled to deport people to Jamaica on 9 November. This flight was cancelled, and would have likely cost substantially more had it gone ahead.
Cancelled flights therefore still entail significant costs. 19 flights were scheduled in both the three-month period June to September and the four-month period September to January. Total costs were £40,000 more in the earlier period despite the cancellation of two more flights, including Privilege Style's planned deportation to Rwanda.
We can also see that charter airlines like Privilege Style or Titan that brag about serving VIPs, politicians, sports teams and the like are the most expensive, yet are still used most often. Comparing average costs in October (£176,407.86) to December (£143,937.30) we see that per-flight costs were around £30,000 lower in December for similar destinations. The difference this time: deportations in December were carried out by Corendon, and not Privilege Style (other than the two constants done by Titan each month).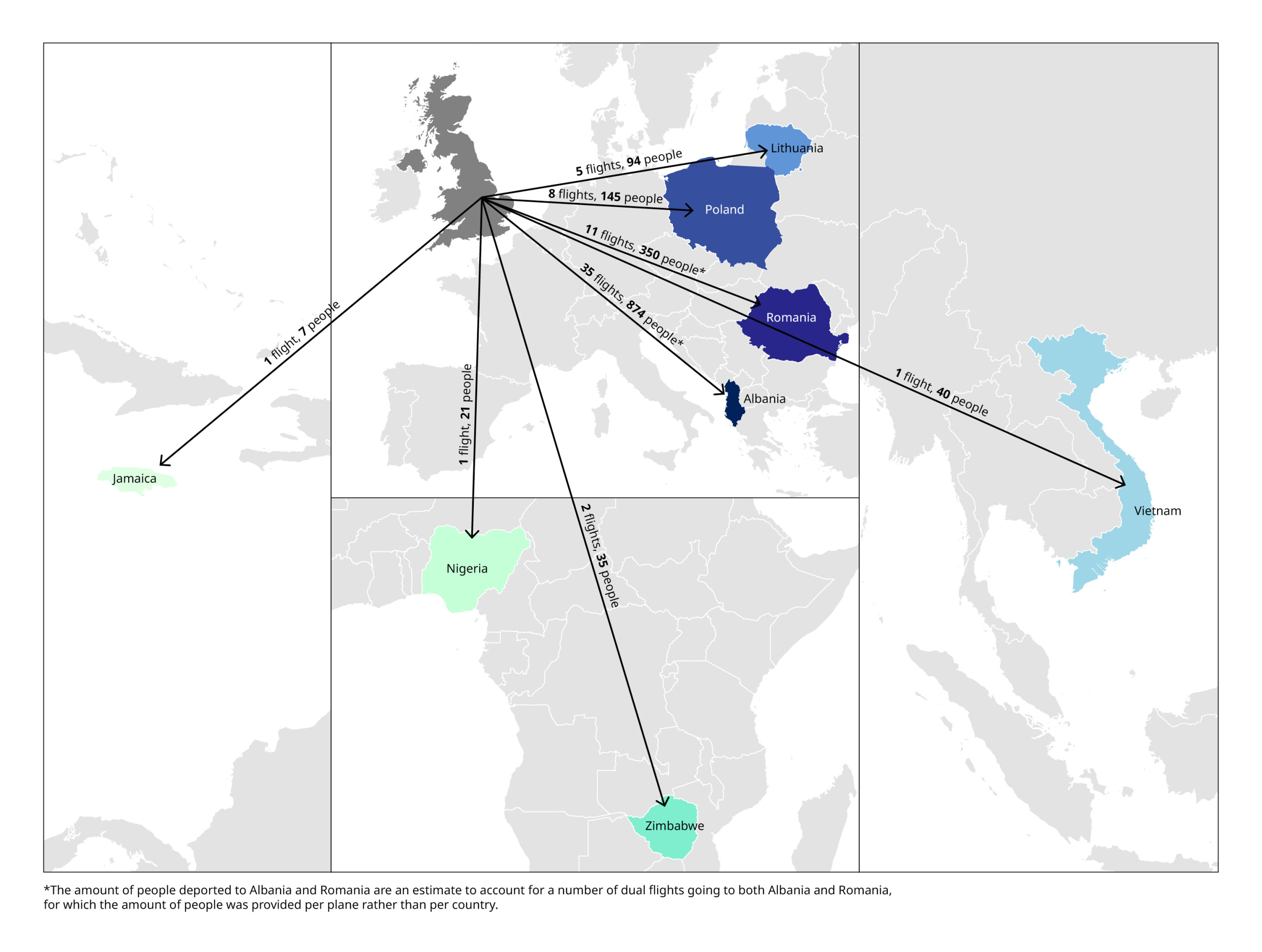 Looking ahead
Charter deportations represent a minority of all deportations from the UK (6). Deportation charters have been consistently criticised for their exorbitant costs alongside the relatively small number of deportees who end up on the flights after people make their cases for remaining in the UK to the courts. However, claiming per-flight costs are too high or the number of people is too low to justify specially chartering an entire plane misses the point of these mass deportations. Above all, they are meant to serve as spectacular displays of immigration enforcement action for the government in power at the time. For a premium, ministers get to Tweet regularly about mass deportations of foreign criminals and other scapegoats to prove to anti-migrant constituents their dedication to stopping "illegal immigration" or punishing those who "game the asylum system".
Aside from pandering to their base, the Home Office is also likely happy to fork over huge sums for deportation charters because it imagines that they deter others from coming to the UK. Since at least August 2020, rapid response deportation attempts have been a key tactic to "stop the boats", and were recently reprioritised by Prime Minister Rishi Sunak. However, as small boat arrivals continue to rise year-on-year, while only generating 45% of total asylum claims in 2022, this strategy has proven not only unsuccessful but unnecessary. The Rwanda plan which was supposed to deliver a deterrent effect has apparently not fazed anyone waiting in France for their chance to cross, but rather only re-traumatised survivors of torture and led others who have had to flee to the UK for their lives to now contemplate suicide here.
In lieu of the dramatic Rwanda charter deportations Home Secretary Suella Braverman "dreams" of seeing, last year shows the much more mundane (but no less violent and abusive) reality of a charter deportation system churning through our communities each week. Albanians are currently prime targets, but this could easily become other nationalities and cohorts, especially as the predominant nationalities of Channel crossers shift. We saw glimpses of this last year with the deportation charter flights to Vietnam in January and then the cancelled flight (for "operational reasons") of Kurdish people to Iraq in May, the first planned flight to the country in a decade. These came off the back of the large number of Vietnamese people and Iraqis travelling to the UK by boat in late 2021 and early 2022, and, like deportations to Albania, could be intended to dissuade others from those specific countries from following.
Although deportations to Rwanda are currently not happening due to legal challenges, and there is no longer a returns agreement for European countries, we know the government is keen to negotiate other "third-country" agreements for the deportation of asylum seekers. It is now clearing the legal ground necessary to do such returns at scale with its recently-published Illegal Migration Bill, currently in its second reading in the House of Commons.
If efforts to allow the mass deportation of people who have not even had the opportunity to seek asylum are ever successful, we must assume that the government will make full use of charter flights if for no other reason than for the dramatic statement that a deportation plane taking off makes. The bottom line, however, is that for these flights to go ahead, someone has to be willing to fly them. We saw last year that even the very worst companies can be pushed into refusing to carry out this work through sustained international action. Therefore we must continue to pressure all the deportation profiteers to ensure that when the Home Office tries to carry out its next deportation charter, there is no one left they can turn to to help them do it.
Appendix