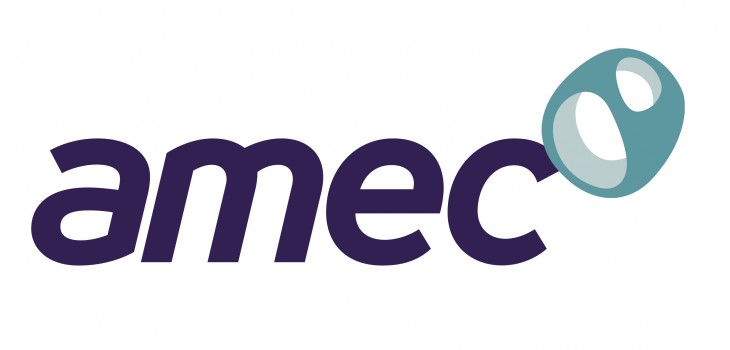 Amec is an engineering, project management and consultancy company. It merged with Foster Wheeler in 2014 to become Amec Foster Wheeler. It serves the energy, infrastructure and mining industries. Customers have included BP, Shell, GDF Suez, ExxonMobil, Dow, EDF, U.S. Dept of Homeland Security, Hyundai, Rio Tinto, Northumbrian Water, Chevron, Saudi Aramco and Petronas.
You can find our 2002 Company Profile of Amec and other articles in the right hand column of this page.
Click here for Amec's head office and other basic information from the opencorporates website.
Click here for details of Amec's latest profits and other financial results from the Bloomberg website.
There is also lots of useful information on Amec's website:
Click here to find out which industries the company is operating in.
Click here to find out who's on Amec's board of directors.
Click here to download Amec's latest annual report and accounts.
For a more critical perspective on Amec's work try the Powerbase profile.
The Company
Summary
Headquarters and registered office: Sandiway House
Hartford
Northwich
CW8 2YA
UKTel: 01606 883885
Tlx: 669708
Fax: 01606 883996
AMEC London details & CEO: Peter Mason
Chief Executive AMEC Plc
Carter Lane
London
EC 4V 5HF+44 (0)20 7574 3999 / 75395800
(0)20 7574 3199
www.amec.com AmecLondon@amec.com
Overview
Industry Areas
Materials & Construction – Engineering & Architectural Services
CEO Peter Mason about AMEC:
"AMEC is a provider of services and engineering solutions to the international infrastructure, manufacturing and process industries. The way we see ourselves is creating value for clients through the application of our technology. More and more we are working in an alliance and partnership basis with our clients, moving away from the traditional relationship and traditional forms of contract. We are very much a design-led business."[i]
Market Share/Importance AMEC claims to be 'a leading international provider of services and engineering solutions to the world's infrastructure, manufacturing and process industries.' In June 2000, construction industry business journal ENR Magazine[ii] labelled AMEC as the world's largest firm, based on international revenue for design services generated outside the company's UK home market.[iii] For the year 2001, ENR Magazine ranked AMEC #1 in its list of Top International Design Firms,[iv] and #12 in its list of Top International Contractors.[v]
AMEC owns 46 per cent of SPIE S.A., the international electrical engineering, infrastructure and construction services company based in France, and will likely buy the balance of SPIE early 2003. SPIE holds a strong position in the telecom market, is the leading telecom and network integrator in France and the 3rd largest in Europe (see section on subsidiaries). Together, AMEC and SPIE employ over 50,000 people in around 50 countries and generate total turnover of approximately £5.5billion.[vi] The oil & gas market accounts for 25% of AMEC sales.
AMEC's top competitors include:
ABB – ABB serves manufacturing, process and consumer industries, utilities and the oil and gas markets. Worldwide ABB employs 160,000 people in more than 100 countries and reported revenues of $23 billion in 2000[vii]
Amey – Amey is aiming to transform itself from a construction firm into a major provider of business services in the UK.Net Income: $30 million in 2000[viii]
Fluor – Fluor is a world-leading engineering and construction company; the company designs, builds and staffs offices. Net Income: $19 million in 2001[ix]
Balfour Beatty is engaged in construction and engineering in the Asia/Pacific Rim region, Europe, and North America. It handles civil, rail, and power engineering for a wide range of projects. Net Income: $106.0 million in 2000[x]
History/Introduction
AMEC's roots and growth AMEC Plc has roots dating back to 1848, when Matthew Hall opened a lead-work business in Lambeth. This later became the Matthew Hall Group of Companies. In 1883 Leonard Fairclough started a stone business, which expanded into Construction at the turn of the century. Fairclough Construction and William Press, also a construction group (founded in London in 1913), merged to form AMEC Plc. Six years later the Matthew Hall Group of Companies was incorporated into the AMEC Group.'[xi] In 1982, AMEC was incorporated in England and Wales.
AMEC expanded overseas in 1997 when it took a 42% stake in French builder SPIE Batignolles. The company grew further in 2000 with the £221m takeover of Canada's AGRA.[xii] (For further information regarding SPIE and AGRA see the section on subsidiaries). Investments in SPIE and AGRA have transformed AMEC from being a largely UK oriented business to one with three major markets being the UK, continental Europe and North America. The proportion of total turnover in the UK has been reduced from 71 per cent in 1995 to 35 per cent in 2001.[xiii] Expansion into rapidly developing markets such as South East Asia has been stated as a constant priority for the group.[xiv]
Changing Focus AMEC started off as a low-margin construction firm, but soon embraced a strategy of reducing the volume of domestic business carried out in traditional contracting in favour of international opportunities and higher value added projects. In the Annual Report 2000 CEO Peter Mason put it like this: "Over the past few years, AMEC's core business strategy has been to generate value for shareholders by transforming the company into a global, service-driven enterprise with a strong base of predictable, recurring revenues from long term clients."[xv] The transformation strategy seems to have paid off; AMEC has delivered solid profits over the last couple of years.[xvi]
Recent Performance & Economic Outlook AMEC has increased group pre-tax profit in each of the last five years, from £47.5 million in 1997 to £116.7million in 2001.[xvii] Chairman Gillibrand proudly described 2000 as "a year of excellent results". It was a year of intense corporate activity, with the acquisition of AGRA in North America and the further development of the company's partnership with SPIE.[xviii] AMEC also had a successful year in the UK, as the company continued to take advantage of the opportunities opened up by the UK government selling off the country's public utilities through its Private Finance Initiatives (PFIs). AMEC reached financial closure on three large schemes in 2000, including the company's second major hospital project.[xix]
During 2001 new contracts in upstream oil and gas, transportation and environmental consulting were secured. Details of contract awards and partnerships are available at www.amec.com/news/.[xx]
Following the terrorist attacks in New York and Washington on September the 11th 2001, AMEC won big contracts for clearance and reconstruction at both the Pentagon and World Trade Centre sites.[xxi] AMEC expects to spend the rest of this year (2002) clearing rubble from the World Trade Centre site. AMEC also stated that plans to exercise its option to acquire the 54 per cent of SPIE are progressing well, but are subject to shareholder approval. The buy-out will also require EU competition approval, although CEO Mason believes that this will be 'a formality'.[xxii]
AMEC's short-term economic future looks bright with new war-related work coming in and with AMEC's ongoing involvement in Public-Private Partnerships (see also Corporate Crimes section).
Corporate Social Responsibility AMEC claims to be highly committed to sustainability and published its first sustainability report in 2001. When answering the question 'why sustainability?' AMEC is upfront: Integrated sustainability reporting is "simply good business".[xxiii]
CBE Gillibrand said: "We believe that the company's performance [as reported in the sustainability report] will continue to benefit from the high priority we give to the management of safety, health and environmental issues."
See: AMEC plc Sustainability – Getting started on reporting 2001. This document can be ordered at AMEC free of charge. It includes reporting on the company's health and safety performance, on ethical business conduct and environmental performance, on community involvement and on AMEC's employee and human rights record.
AMEC's rather random list of historical events can be viewed at: http://www.amec.com/aboutamec/level2abouthistory.asp?pageid=6
References [i] Interview with AMEC CEO Mason about AMEC's merger with AGRA. Available online at: http://twst.com/notes/articles/kas001.html (source: The Wall Street Transcript, date viewed: 24.02.02)
[ii] ENR Magazine homepage: www.enr.com [iii] www.amec.com/aboutamec/level2about.asp?pageid=1 (AMEC profile, source: AMEC, date viewed: 12.02.02)
[iv] www.enr.com/dbase/2001tid.asp (source: ENR Magazine, date viewed: 12.02.02)
[v] www.enr.com/dbase/2001tic.asp (source: ENR Magazine, date viewed: 12.02.02)
[vi] AMEC plc Annual Report and Accounts 2001, page 2
[vii] 'Donald P. Aiken named president of ABB in the US', ABB Press Release, ABB USA News, 03/05/01
[viii] www.hoovers.com/co/capsule/6/0,2163,93516,00.html (source: Hoover's Online, date viewed: 12.12.02)
[ix] www.hoovers.com/co/capsule/4/0,2163,10594,00.html (source: Hoover's Online, date viewed: 12.12.02)
[x] www.hoovers.com/co/capsule/9/0,2163,90099,00.html (source: Hoover's Online, date viewed: 12.12.02)
[xi] www.users.globalnet.co.uk/~djw02/Assets/Amec_PLC/amec_plc.html (AMEC profile, source: MIDAS Investment Club, date viewed: 12.02.02)
[xii] 'Railtrack is still a good idea', The City Interview, Daily Mail, 28 June 2001, website: www.thisismoney.com/20010628/nm34242.html accessed 22 April 2002
[xiii] AMEC Annual Report and Accounts 2001
[xiv] Directory of Multinationals, 5th Edition, The World's Top 500 Companies, Volume 1, A-J, Publisher: Waterlow, London, 1998, page 9
[xv] AMEC Plc Annual Report and Accounts 2000, 'Knowledge, Innovation, Technology', CEO's review, 7 March 2001, page 5
[xvi] (NewsWeb) AMEC Plc continues with its strategy of transforming business and has delivered another solid profit and cash performance in 2001. Extel Company News – United Kingdom; Jan 10, 2002, can be viewed online at: http://globalarchive.ft.com/globalarchive/article.html?id=020110012761&query=AMEC (source: Financial Times, date viewed: 20.02.02)
[xvii] AMEC Annual Report and Accounts 2001
[xviii] AMEC Plc Annual Report and Accounts 2000, 'Knowledge, Innovation, Technology', Chairman's statement, 7 March 2001, page 3
[xix] AMEC Plc Annual Report and Accounts 2000, 'Knowledge, Innovation, Technology', CEO's review, 7 March 2001, page 6
[xx] AMEC Annual Report and Accounts 2001
[xxi] www.amec.com/news/level2news.asp?PageID=174 (source: AMEC, date viewed: 21.02.02)
[xxii] 'Strong demand for AMEC Services', Financial Times, 8 March 2002, FT.com website: http://globalarchive.ft.com/globalarchive/article.html?id=020308005692&query=AMEC accessed 28 March 2002
[xxiii] AMEC Annual Report and Accounts 2001, page 18
Products & Projects
AMEC plc started off as a construction and engineering company. The company's interests gradually expanded and now involve civil, railway, road, airport, and power engineering, building and building services and maintenance, asset management, feasibility studies and environmental consulting.
Market segmentation[xxiv]:
Energy 25%

Transport 20%

Infrastructure 15%

Process and manufacturing 10%

Environmental 5%

Public sector, other 25%
The company operates through three sections: Capital Projects (Construction Management & Construction), Investments (Property Development & Public Private Partnerships), and Client Support Services (Consulting and Design & Operations Support). In 2000, Capital Projects accounted for 41%, Investments for 11% and Client Support Services for 48% of AMEC's total operating profit (equalling £154.7 million).[xxv]
Capital Projects
AMEC's Capital Projects division specializes in construction and construction management in the following market sectors:
Commercial – focused on offices and business parks as well as buildings for manufacturing, retail and leisure;
Consumer and Industrial products – including units for the production of food & beverages, cement, cosmetics & toiletries, automotive, electrical goods as well as storage warehouses;
Energy – the Energy Division has facilities for oil and gas extraction and refining and the production of energy from nuclear, thermal, hydro-electric and renewable sources;
Forestry – focused on the construction of mills for pulp & paper products;
Transportation – focused on the planning, construction, inspection and maintenance of highways, bridges, tunnels, railways and airports;
Mining – AMEC's Mining Division is involved in the construction of facilities for mining copper, gold, silver, lead, zinc, nickel, cobalt and platinum group metals.
PharmaChem – PharmaChem is the Group's arm involved in the building of laboratories for pharmaceutical, biotechnology and fine chemical industries;
Public – AMEC's Public division is dedicated to the construction of waste disposal facilities, conference centres, hospitals, accommodation, prisons, roads and other infrastructure;
Utilities and Telecoms – The Utilities and Telecoms division offer continuous support services ranging from asset amelioration programmes and infrastructure investment programmes as well as data management and the outsourcing of asset operation and maintenance[xxvi]
A few examples:
Yusefeli Dam, Turkey (see Corporate Crimes)
Dam on Belize's Macal River, subcontracted by Fortis (see Corporate Crimes)
Reconstruction at both the Pentagon and World Trade Centre sites
Pulp and Paper mills in Indonesia (see Corporate Crimes)
Major new International Arrivals Terminal at JFK Airport in New York
Major petrochemical plants completed for Sinopec in China (see crime section) and BP in Grangemouth, UK
Shearwater oil and gas facility completed for Shell in the North Sea
Completed assignments include the Hong Kong International Airport and the UK's largest cold store distribution centre in Birmingham, UK[xxvii]
Investments
AMEC's investment division consists mainly of its public-private partnerships and regeneration schemes in areas such as defence, education, hospitals, accommodation, prisons, roads and other infrastructure. The UK government offered AMEC numerous PFI (Private Finance Initiative) contracts (see 'links with governments' and 'corporate crimes' sections).
A few examples:
Building and design of Manchester Airport 2nd Runway, UK
Birmingham Northern Relief Road (BNRR) – AMEC is part of the consortium that is building the road (see Corporate Crimes section)
Involvement in a re-housing project at DSS (UK Department of Social Security) Newcastle Estate, Newcastle; the first major UK accommodation based PFI project involving a significant element of new build[xxviii]
AMEC has won the contract to design, build, finance and operate a major 30-year life maintenance scheme for the UK Highways Agency
Jubilee Line Extension Nº 102, Green Park to Waterloo (the London Underground), UK
Completed Cumberland Infirmary in Carlisle – the first major PFI district general hospital to be opened in the UK
Secured private finance contracts in consortia for the £200 million A13 in East London and a £94 million sewage treatment project in Ayrshire, Scotland
Client Support Services
AMEC supports clients in a wide rage of industries (defence, transport, forestry, energy, public utilities, telecom, mining, pharmaceuticals, biotechnology, etc) with a wide range of services such as design, feasibility studies, environmental impact assessments, concept development, operational support services, and risk analyses & management.
A few examples:
Design, procurement, fabrication, commission and maintenance of the Shell Shearwater facility in the UK Continental Shelf
Provision of operational support for Malampaya, the most significant offshore energy project ever undertaken in the Philippines. Contract awarded by Shell Philippines Exploration (SPEX)[xxix]
Feasibility studies for De Beers on a new Canadian diamond mine
Blyth Offshore Wind Farm, UK (AMEC provided development expertise, sourced funding and proudly claimed to be 'the seed that formed the consortium to build the first offshore wind farm in UK waters')
Environmental services in North America for long term clients including Exxon, Noranda, BASF, Wayerhauser, Ford and the US Airforce
Long term pharmaceutical service contracts for Aventis, Novartis, Eli Lily and BASF (2000)
'Evergreen' contract for BP at its UK Coryton Refinery in Essex, UK
Shutdown and maintenance activity for repeat clients Du Pont, BP Amoco, Huntsman and Union Carbide in the UK
Find out more about AMEC's services, categorized by: Capability: http://www.amec.com/ourservices/level2servicesbycapability.asp Market sector: http://www.amec.com/ourservices/level2services.asp?pageid=86 And Geography: http://www.amec.com/ourservices/level2servicesbygeography.asp
Partnerships
On big projects, AMEC often works with other construction/civil engineering companies, forming so-called consortia. Substantial co-operation with the UK government takes place through the Private Finance Initiatives. Government support for AMEC through development aid can also be considered a partnership, with both parties gaining from business opportunities in the Third World.
B2B Virtual Marketplace AMEC, Bovis Lend Lease, Hochtief and Turner, and Skanska announced a new global business-to-business venture. The virtual marketplace is said to be 'neutral, open to the entire industry, and the first of its kind in the construction industry'.
Read more at: http://www.amec.com/news/MediaRelease.asp?MEDIAID=161
Clients AMEC's clients include Shell, BP Amoco, Union Carbide, De Beers, DuPont, Novartis, GlaxoSmithKline, AstraZeneca, Huntsman, Exxon, BASF, Noranda, Wayerhauser, Ford, the US Airforce, UK Ministry of Defence (MoD), Hewlett Packard, Eli Lily, Aventis, BAA, General Electric, General Mills, Agrium, the BBC, BT, and various governmental bodies (see links with government section), both in the UK and abroad.
On the AMEC website you can find links 'to obtain further information about various industries (such as airports, capital projects, oil, gas & power, Pharmachem, railways, and utilities) the company serves'.
See: http://www.amec.com/investis/level2investors.asp?pageid=259
---
References [xxiv] AMEC Annual Report and Accounts 2001, page 9
[xxv] AMEC Plc Annual Report and Accounts 2001, page 5
[xxvi] www.users.globalnet.co.uk/~djw02/Assets/Amec_PLC/amec_plc.html (AMEC profile, source: MIDAS Investment Club, date viewed: 12.02.02)
[xxvii] www.users.globalnet.co.uk/~djw02/Assets/Amec_PLC/amec_plc.html (AMEC profile, source: MIDAS Investment Club, date viewed: 12.02.02)
[xxviii] www.amec.com/ourservices/level3services.asp?pageid=14 (AMEC's Projects and Experience, source: AMEC, date viewed: 12.12.02)
[xxix] www.amec.com/ourservices/level3services.asp?pageid=9 (AMEC's Projects and Experience, source: AMEC, date viewed: 12.12.02)
SPIE
AMEC currently owns 46% of SPIE, and has the option to purchase the remainder of SPIE at the end of 2002. In 2001, SPIE employed a total of some 25,000 employees and generated total turnover of £1.9billion.[lxiv] The investment in SPIE provided AMEC with access to France principally, but also other markets in Europe.
SPIE – About the Company
In 1900 the Paris Company for Electric Railway and Tramway Industries was founded to develop industries related to railways, tramways and the production and distribution of electric power. The company eventually changed its name to Société Parisienne pour l'Industrie Électrique (SPIE). Early in its history, SPIE was involved with building some of the first lines of the Métropolitain de Paris – the Métro – and before 1918 it had undertaken work on ballasting, track laying and installation of the third rail for several of the lines.
The Société de Construction des Batignolles, founded in 1846 by Ernest Goüin, is the oldest part of the SPIE group with the longest connection with the railway industry. Batignolles was involved with an early attempt at building a Channel Tunnel in 1882. Outside France, Batignolles was involved in the construction of railways in many parts of the world, often in mountainous terrain where its bridge and tunnel expertise could be used to good effect.
During the 1960's, Construction des Batignolles and SPIE became subsidiaries of the Schneider Group, merging to form Spie Batignolles. In 1989 the combined business acquired Drouard, a specialist in laying railway track, and became a major force in the design and building of high-speed (TGV) railway lines, returning to its early specialisation. The company was heavily involved in the construction of the Channel Tunnel, especially electromechanical and traction power supply equipment.
In February 1997, AMEC and Financière Spie Batignolles, a company owned by its employees, acquired Spie Batignolles from Schneider, changing the name to SPIE in 1998. AMEC currently owns 46% of SPIE, the balance being held by Financière Spie Batignolles.[lxvi]
SPIE and Railways AMEC and SPIE have joined forces to win substantial rail work in the UK.
See AMEC website: http://www.amec.com/news/amec_december2000/frenchcon.htm
SPIE and Telecom
On 8 October 2001, SPIE acquired a 60.2 per cent majority stake in Matra Nortel Communications Distribution (MNCD) in a move that will enhance SPIE's network capability for providing telecom and distribution services to businesses in France and across Europe. Under the terms of the agreement, SPIE will progressively increase its shareholding in MNCD to 100 per cent over the medium term. MNCD has a turnover of approximately £150 million.
In addition to the MNCD acquisition, SPIE is also seeking partnerships with Nortel Networks and EADS (The European Aeronautic Defence and Space Company) in the enterprise, telecom carrier, defence and security segments.[lxvii]
SPIE and the Yusufeli Dam Project, Turkey
On the 14th of March AMEC announced that they had pulled out of the Yusufeli Dam. They are, however, still involved in the project via their 46% shareholding in SPIE (see Corporate Crimes section).
---
References [lxxiv] 'AMEC Investor Contacts', AMEC website: www.amec.com/investis/level2investors.asp?pageid=299 accessed 5 March 2002
[lxxv] Hemscott Business Directory, website: www.hemscott.co.uk/equities/company/cd00050.htm accessed 5 March 2002
[lxxvi] O'Dwyers PR Daily, Breaking PR News, 8 June 2001
[lxxvii] CBI CHIEF SAYS NEW DEVELOPMENT TAX UNDERMINES WELCOME PLANNING OVERHAUL, CBI News Release, 15 March 2002, CBI website: www.cbi.org.uk/ndbs/press.nsf/0363c1f07c6ca12a8025671c00381cc7/b8e10fea6717210d80256b7c005dca80?OpenDocument accessed 18 March 2002
AGRA
AGRA Inc. is a Canadian based engineering, construction and technology services company. On February 16, 2000 AGRA Inc. and AMEC Plc announced a merger agreement. The deal was completed on April 20, 2000 when AGRA officially changed its name to AMEC and adopted a new AMEC global brand identity. The combination of AGRA and AMEC significantly strengthened AMEC's foothold in North America.[lxviii]
AMEC's operating subsidiaries and related North American companies, including AGRA Earth and Environmental, AGRA Systems, AGRA Monenco, AGRA Simons, and Morse Diesel International Inc. initially continued to operate under their current names. They adopted the AMEC identity on January 1, 2001
AGRA Earth and Environmental
One of North America's largest full service environmental consulting firms, having 18 offices in the United States, 42 in Canada and 5 in other nations[lxix]
AGRA Systems
Provider of professional IT solutions
AGRA Monenco
Engineering firm
AGRA Simons
A leader in the provision of engineering and project management services for the forestry, mining and consumer products industries.
Morse Diesel International Inc. [now AMEC Construction Management Inc.]
Morse Diesel International Inc. is one of the largest construction management and consulting companies in the world. The bulk of AMEC's turnover in construction management comprises Morse Diesel's activities in the US[lxx]
CEO Pete Mason (formerly President & CEO of AGRA), in conversation with The Wall Street Transcript, about the strategic thinking behind the merger with AGRA Inc.:
"One of the attractions of AGRA was that out of 6,500 employees it had 3,500 associated with the design process. In AGRA we see a leading North American professional services group, specialising in engineering and environmental activities, and it also has an advanced technology solutions business. AGRA brings a number of key industries to us, including oil and gas in North America, fine chemicals, consumer products, mining and forest products. So AGRA brought good design, systems skills and substantially increased the new AMEC in that regard."[lxxi]
AGRA's activities have included the following:
Construction, as part of a consortium called Canadian Highway International Co., of the Highway 407, the first fully electronic toll expressway in Canada
AGRA managed the construction of the Wolsong CANDO reactor in South Korea
AGRA's project management was selected for the Three Gorge hydroelectric project in China; assisting the gov't with the forcible resettlement of 1.2 million people living in a densely populated area – the computer programme to manage this resettlement was provided by Monenco AGRA inc, a subsidiary of AGRA Industries[lxxii]
AGRA won a $44m contract in Indonesia to manage a cellular phone explosion there.
---
References
[lxviii] 'Agra officially changes its name to AMEC', source: Alexander's Gas and Oil Connections, Company News: Europe, Volume 5, issue 10, 09.06.2000, available online at: 09.06.2000www.gasandoil.com/goc/company/cne02346.htm, date viewed: 24.02.02
[lxix] 'New Name, New Leader for AGRA Earth & Environmental', source: Water and Wastewater.Com Newsletter, Vol. 2, No. 25, September 11, 2000. Available online at:
www.waterandwastewater.com/www_services/newsletter/september_11_2000.htm (date viewed: 24.02.02)
[lxx] 'Knowledge, Innovation and Technology', AMEC plc Annual Report and Accounts 2000, page 30
[lxxi] http://twst.com/notes/articles/kas001.html (source: The Wall Street Transcript, date viewed: 24.02.02)