An A-Z of Green Capitalism
/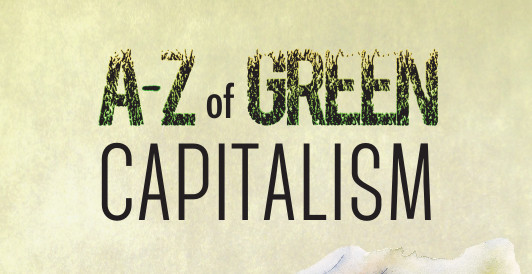 [responsivevoice_button]
Our guide to Green Capitalism, explaining the dangers of this new manifestation of capitalism and exploring the real ecological alternatives.
Capitalism thrives on crisis, and the multiple global environmental crises, including climate change and habitat and biodiversity loss, are creating new markets from which to generate profit. Those promoting green capitalism argue that if nature was valued correctly it will not only be protected, but even enhanced, along with the health of the economy and well-being in society.
However, it is a contradiction in terms. Capitalism is fundamentally exploitative of people and the natural world, it is not and cannot be 'green'. Green capitalism involves various institutions, including governments, corporations, think tanks, charities and NGOs, implementing policies, practices and processes to incorporate nature into capitalist market systems. It takes the same capitalist ideas and values that create environmental crises – i.e. continual economic growth, private property, profit and 'free' markets – and applies them to the natural world as a way to solve those crises. It serves to maintain capitalism's dominance, both through finding new ways to generate profit, and as a way of protecting it from criticism of being environmentally destructive.
This guide is intended as an introduction to the ideas surrounding green capitalism as well as the alternatives to it. We hope it will support attempts to resist the threat of green capitalism and create space for real ecological alternatives.
Buy the book or download it for free here.