Animal rights activist convicted as repression of activists in the UK intensifies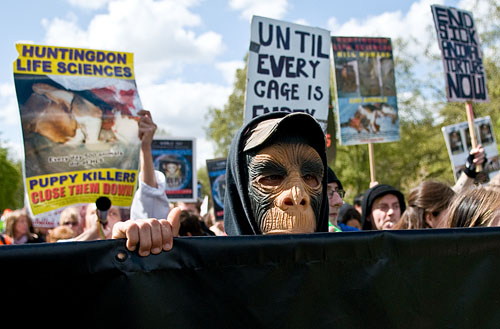 An animal rights activist has been convicted of conspiracy to blackmail after 5 weeks on trial at Winchester Crown Court. Debbie Vincent of the Stop Huntingdon Animal Cruelty (SHAC) campaign was accused of blackmail on the basis that SHAC pressured companies to end their business relationships with Huntingdon Life Sciences, Europe's largest animal testing laboratory.
The case is the latest development in the use of blackmail laws against animal rights activists. In 2010 seven SHAC campaigners were handed sentences of up to 16 years in prison for 'conspiring' to blackmail companies not to do business with HLS. Debbie was accused of being part of the same ten year 'conspiracy' as the previous defendants, from 2001-11, despite the fact that there was only evidence that she had been involved in the campaign from 2005. Police had bugged a house used by SHAC campaigners for an eight month period in 2005 and put those going in and out under surveillance. Much of the case against Debbie was on the grounds of guilt by association with the defendants convicted in 2010 and with unnamed people. The twisting of blackmail laws in this way has broad ramifications for the right to express dissent in the UK. The law is being used to intimidate people who are attempting to resist against corporate power. The logical extension of the use of the law in this way is that any campaigner who pressures a company to end its practices could be targeted. The prosecution argued that SHAC had posted details of companies on their website and encouraged people to protest against them. The CPS claimed that this amounted to blackmail, despite the fact that the SHAC campaign stipulated on its website that protests should be lawful. In the second week of the trial, after the defence demanded that the Crown Prosecution Service (CPS) give full disclosure of the papers at their disposal to the defence, it was revealed that an undercover police officer, using the alias 'James Adams' had masqueraded as an executive for Novartis and met with Debbie and another activist from the SHAC campaign to discuss Novartis' dealings with HLS. It seems that the police and Novartis were trying, unsuccessfully, to link the two activists to illegal direct action. Several officers from the National Domestic Extremism Unit gave evidence at the trial. The NDEU is a specialist police unit which aims to target activists involved in direct action campaigning. For more information on the UK's political police units click here.
Debbie is due in court for sentencing on April 17th. The CPS have indicated they intend to apply for an Anti Social Behaviour Order (ASBO) to come into effect on her release which will restrict her movements. In 2010 indefinite ASBOs were granted against four convicted activists banning them from ever protesting against animal experimentation. The case is part of an ongoing campaign of police repression against the SHAC campaign. Seven SHAC activists have been charged with 'conspiracy to interfere with the contractual relations so as to harm an animal research organisation' under Section 144 of the Serious Organised Crime and Police Act (2005). The charges relate to demonstrations against companies with business relationships with HLS. They are due to appear in court later this year A Stop UK Repression campaign has been set up to support animal rights activists bearing the brunt of this latest state crackdown on anti-corporate dissent. The campaign's website reads "In an atmosphere of increasing repression against activists and the criminalisation of effective campaigns, it is important that we show our solidarity for those involved and form a strong network to support the UK animal rights movement." More details at: www.shac.net
www.indymedia.org.uk/en/2014/03/515954.html
www.stopukrepression.org/?page_id=75#
---
Research like this takes time and money. By supporting us with a monthly donation, you will help us keep doing it. Click here to make a regular contribution.