Companies profit while Turkish police murder Kurds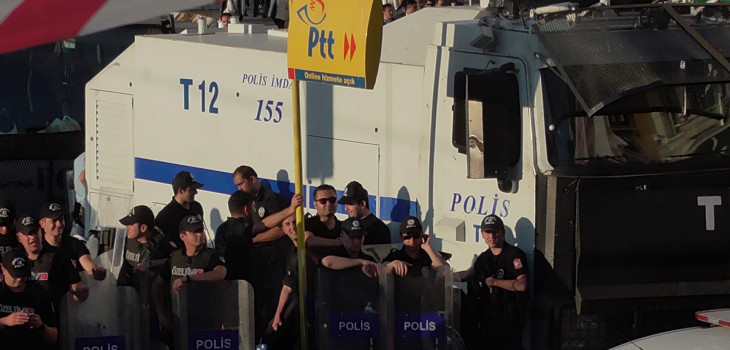 As Turkish police murder Kurds, companies still make a profit
[responsivevoice_button]
Hundreds of people have been killed by the Turkish police and military in north Kurdistan since Turkey's general election in June. While people around the world watch the actions of the Turkish police force with horror, military companies are cashing in.
Published below is a list of companies which supply weapons and equipment to the Turkish police, many of which are based in the UK.
Earlier this month Hacı Lokman Birlik was killed by police in Şırnak. His body was attached by the neck to an armoured vehicle and dragged through the town. On 12 October, police shot and killed a nine year old child, Helin Şen, in Amed (known as Diyarbakır in Turkish). In Gever (Yüksekova in Turkish), two young people were killed after police opened fire on them. A five year old child was also killed in Adana. These are just some of the shocking examples of state violence against Kurds in Turkey.
The Turkish state has used violence against the Kurdish population within its borders for decades. In the 1990s thousands of Kurdish villages were burnt down and up to three million people were forced to flee their homes. Kurdish people were forcibly disappeared and thousands of mass graves were found years later in disused wells owned by petrol pipeline corporation BOTAŞ.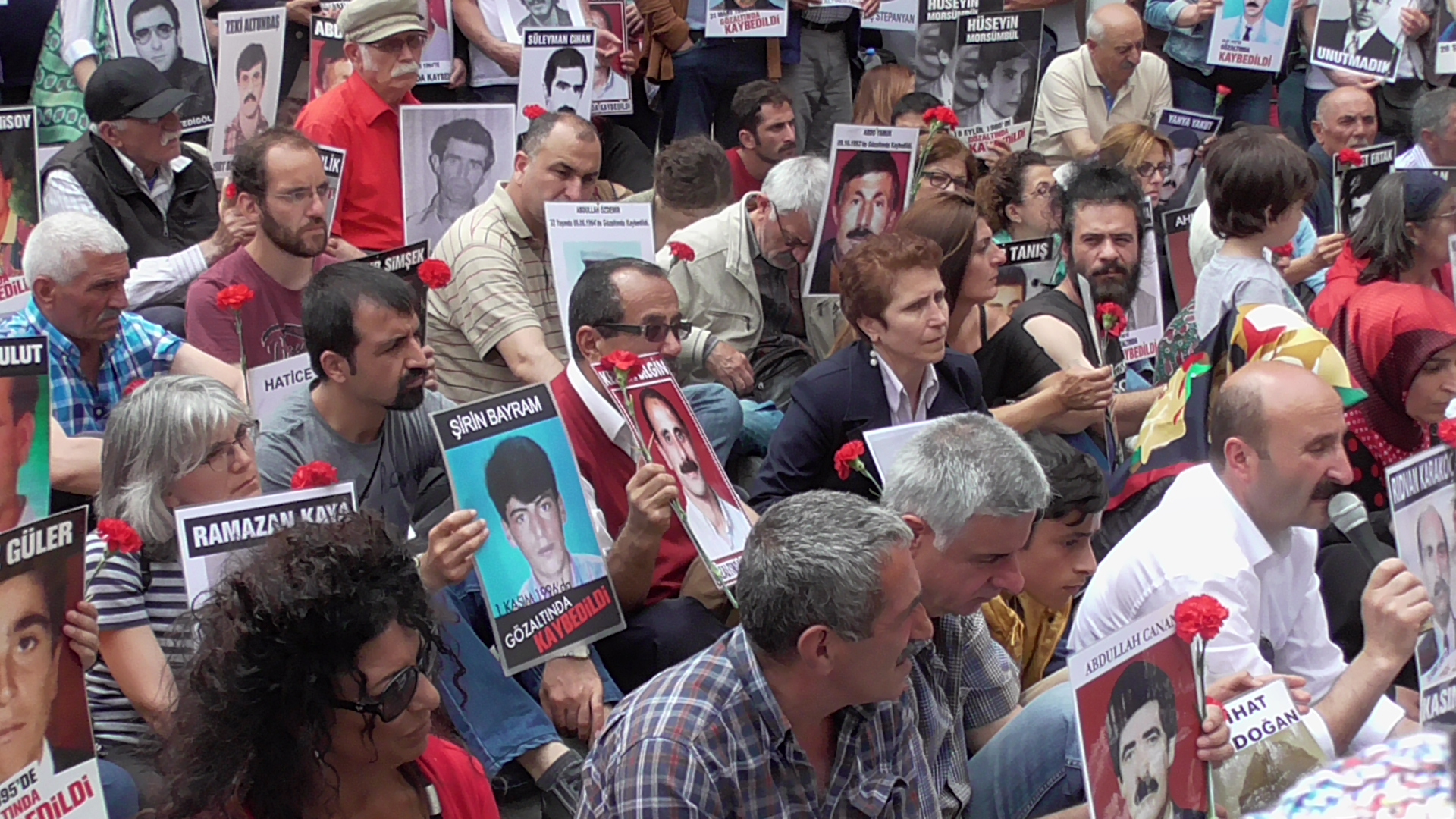 Families of the forcibly disappeared demonstate in Istanbul (Corporate Watch, 2015)
Kurdish people were banned from speaking their language after the establishment of the Turkish republic in 1923 and there are still many restrictions on the speaking of Kurdish. Kurds are frequently subjected to mass arrests, imprisonment and torture.
In the run-up to this year's general election in Turkey in June, violence towards the Kurdish population increased. This was an attempt to delegitimise the HDP, the pro-Kurdish party that was standing for election, by murdering and intimidating its supporters in the hope of provoking them to violence.
In June 2015, for the first time in the history of the Turkish state, the HDP gained 80 seats in parliament, preventing president Erdoğan from getting the majority he needed to change the constitution to give him greater presidential powers. Since then, Turkey has stepped up its violence against the Kurdish population. Another election has been called for 1 November 2015, as no coalition has been formed since the previous election.
This year, three major bombings occurred in Amed, Suruç and most recently in Ankara. These attacks killed over 150 people and targeted the HDP, trade unions and people from a solidarity delegation who were travelling to Kobanî to help with the reconstruction. On each occasion, onlookers have reported that the police did little to help the injured and, in fact, attacked people trying to escape or tending to the wounded. The attacks have been blamed on ISIS but many Kurdish people are convinced that the ruling Justice and Development Party (AKP) is behind them.
These bomb attacks are not the only covert operations that the state is accused of. Many people believe that the police and army are protecting a group involved in carrying out attacks on Kurdish people. Over the last year, the Kurdish Hezbollah (KH) group (unconnected to the Lebanese Hezbollah) has carried out increased attacks on Kurdish people. Murders of several people in Amed have been linked to KH, and residents of Cizîr (Cizre in Turkish) told Corporate Watch that KH attacked a HDP election rally in Cizîr last year. Many Kurdish people are convinced that the Turkish police and army work hand in glove with KH. Zubeyde Dalmış, whose son Barış was killed by KH, told us: "In Cizre, the government protects Hezbollah and gives them guns… The police act only to protect Hezbollah".
Companies providing weapons to the Turkish police force include:

Otokar's Cobra vehicle
Otokar – Manufactures Akrep and Cobra vehicles used by the police and army, which can be seen daily on the streets of Kurdish cities. It is owned by Koç Holding, Turkey's largest holding company. Otokar also produces buses for non-military use and is focusing on the UK and the rest of Europe as target markets. Otokar Europe is based in Roissy en France, France.


Land Rover Defender
Land Rover – The Land Rover Defender vehicle is produced under license by Otokar, and Otokar's Akrep jeep is based on Land Rover Defender vehicles. Land Rover applied for a military export license from the UK to Turkey in 2010. Land Rover is a UK company which is now owned by Indian company, Tata motors. It is based in Coventry Land Rover has a strong relationship with Warwick University and Coventry University. The company also has locations in Coventry, Cardiff, Warwickshire and Solihull.
Nurol Makina – Produces TOMA water cannons and Ejder armoured vehicles used by the Turkish police. Nurol Makina is part of the Turkish Nurol Holdings conglomerate that also deals in investment, construction, energy and tourism. Nurol Holdings owns Sheraton Turkey and FNSS Defence Systems, a joint venture with UK company BAE systems.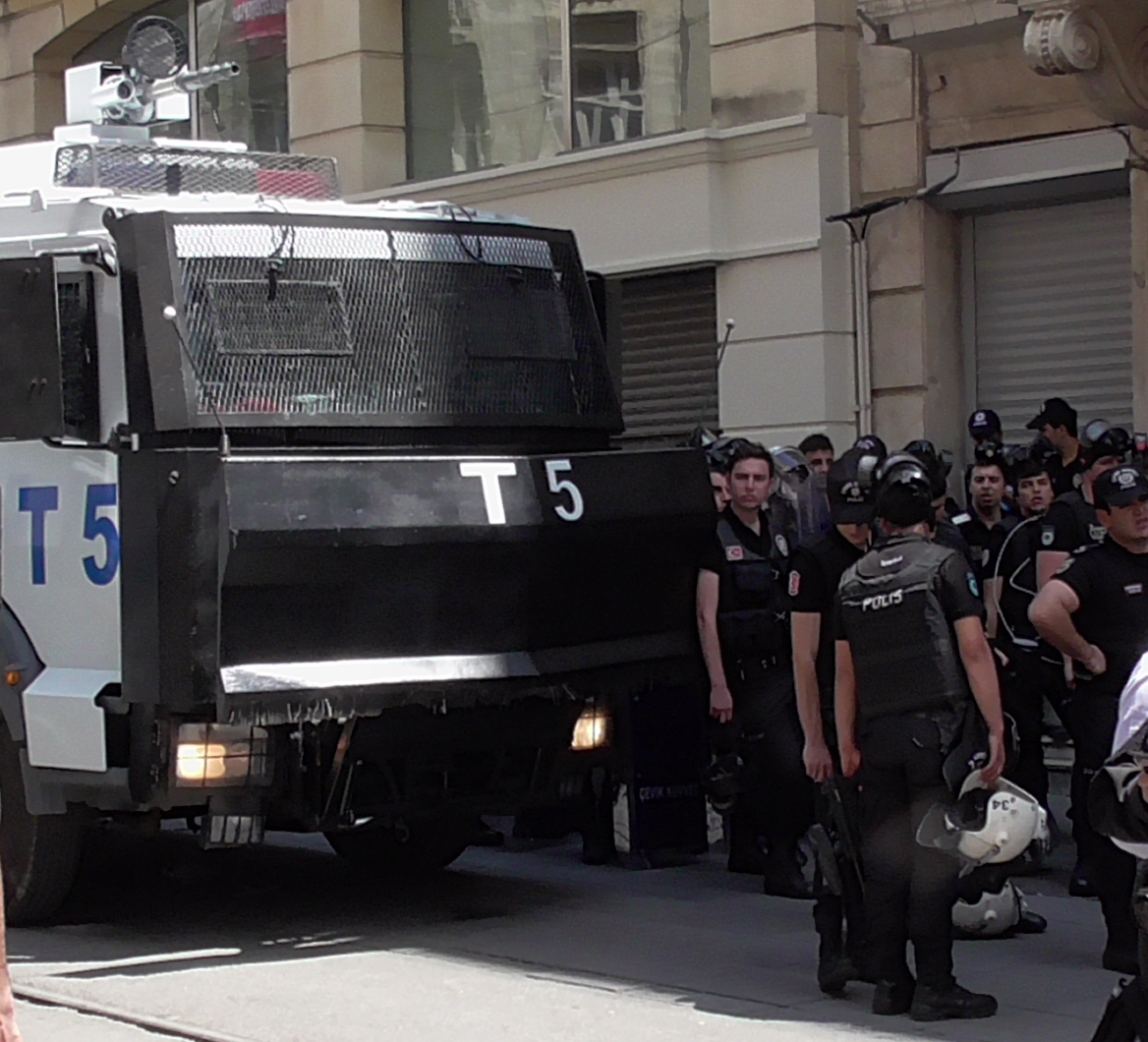 A Toma water cannon in use in Istanbul (Corporate Watch, 2015)


BMC – Manufactures Kirpi armoured trucks used by the police, as well as buses for non-military use. BMC was closed in 2013 due to debts owed by its parent company. It has been purchased by Ethem Sancak, a businessman close to president, Recep Tayyip Erdoğan, through his investment fund. BMC buses are distributed in the UK through Pelican Yutong, based in Castleford, West Yorkshire.
Katmerciler – Turkish company which provides pumps and monitors for TOMA vehicle-mounted water cannons.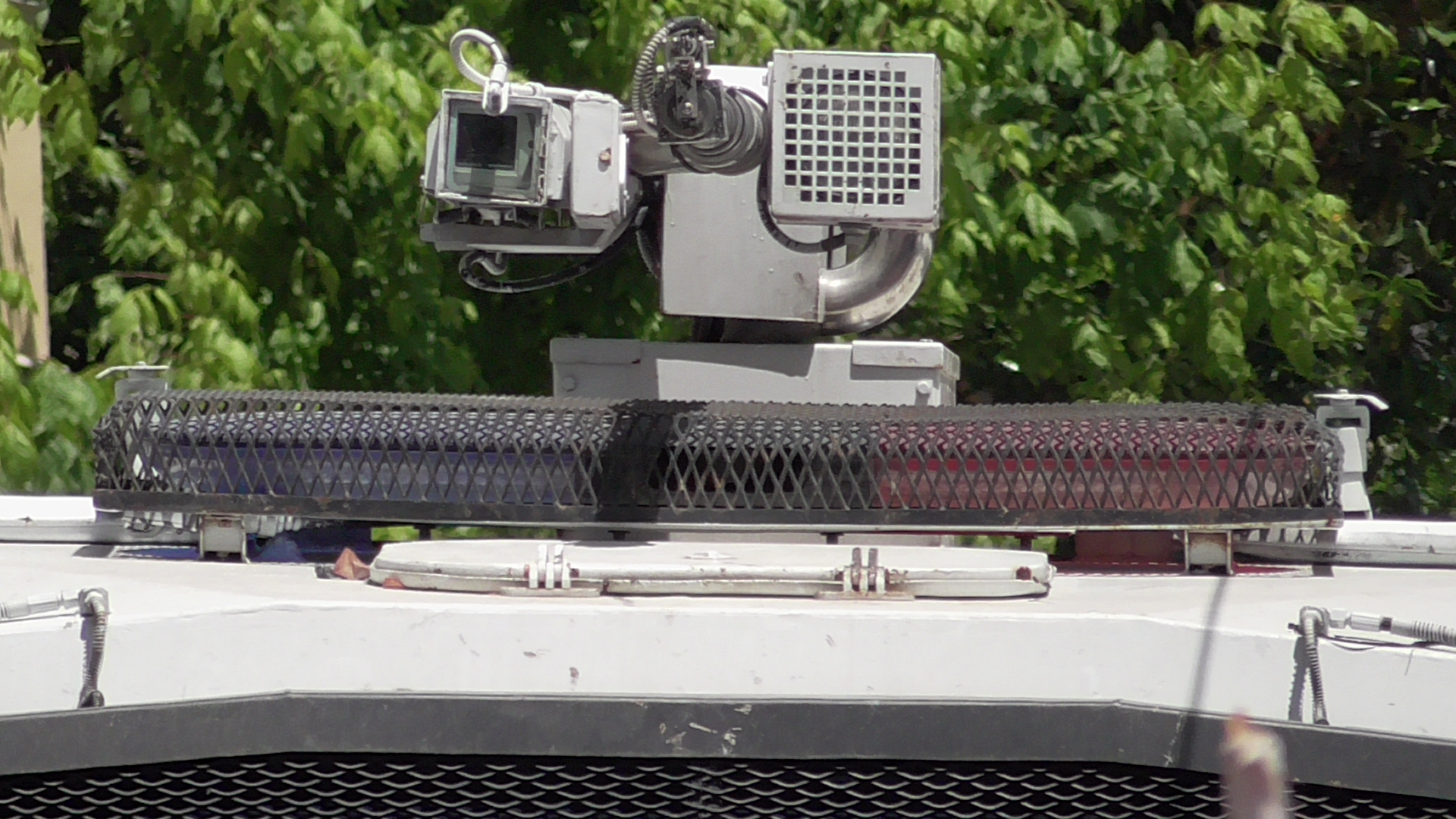 A water cannon mounted on a TOMA vehicle (Corporate Watch, 2015)
Perkins (Subsidiary of Caterpillar Inc) – Provides the engine used in Toma vehicle-mounted water cannons. Perkins has locations in Peterborough, Stafford and Wimborne (Dorset). Caterpillar Defence Products applied for a military export license from the UK to Turkey in 2012.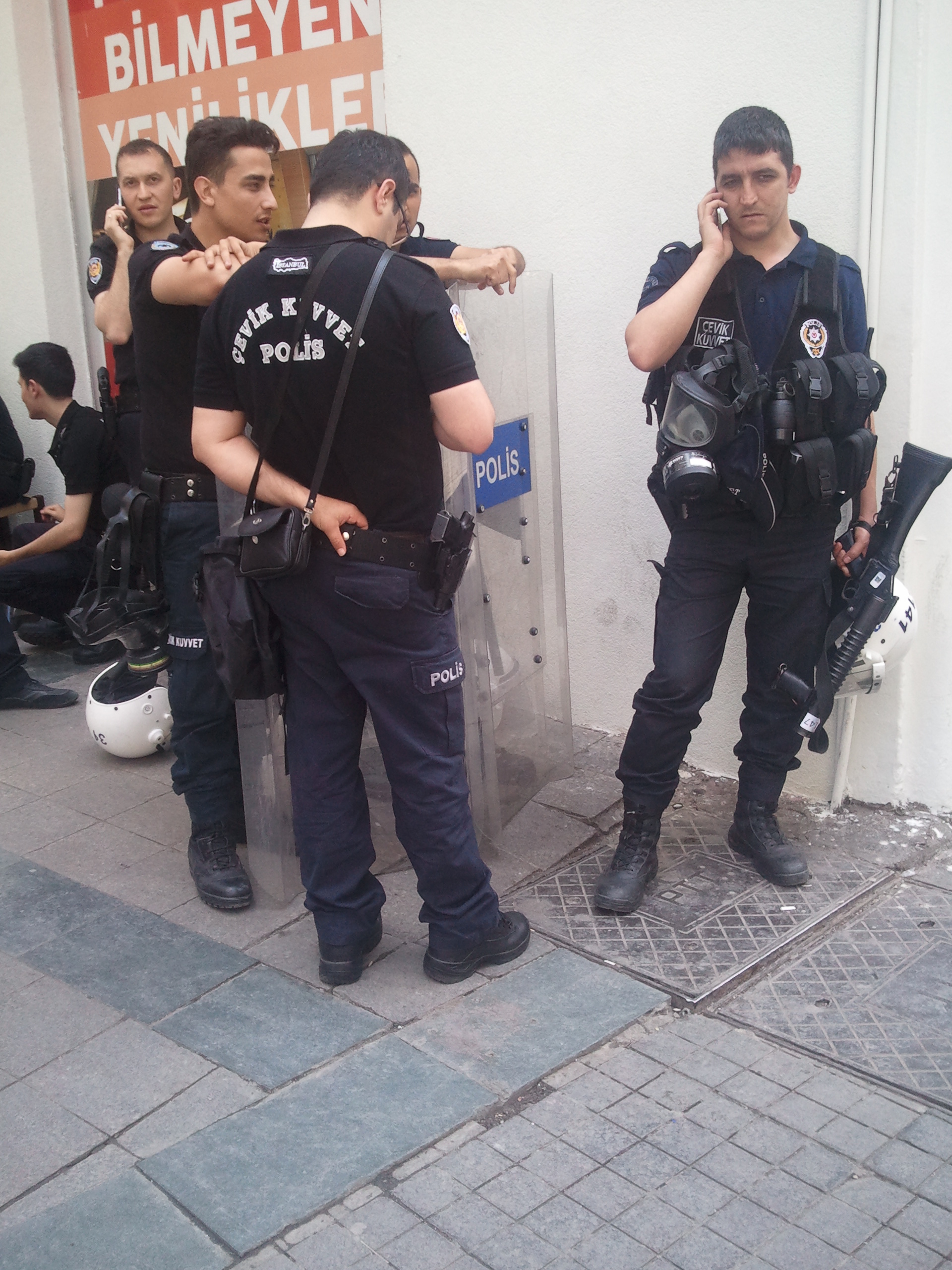 Turkish police carrying tear gas weapons (Corporate Watch, 2015)
Non-Lethal Technologies – Manufactures tear gas used by Turkish police. Its teargas has also been used against protesters in Palestine. Non-Lethal Technologies gas was fired at protesters during the Gezi Park uprising and at protesters in Amed during the serhildan (uprising) against Turkey's support for the attacks on Kobanî in 2014.
Condor Non-Lethal Technologies – Brazilian company that manufactures tear gas. Condor's gas canisters were fired at people who had come to Suruç in 2014 to show solidarity with people under attack in Kobanî.

Police carrying tear gas weapons in Istanbul (Corporate Watch, 2015)
Daekwang – South Korean company that has provided tear gas canisters to the Turkish police force.

One of the Isuzu vehicles used by the police (Corporate Watch, 2015)
Isuzu – Japanese multinational company headquartered in Tokyo. Its main business is manufacturing and marketing vehicles and engines. Its Turkish subsidiary, Anadolu Isuzu, is owned by Anadolu Group, a holding company which also manages the Migros, McDonalds, Coca-Cola and Efes brands in Turkey. Corporate Watch witnessed the Turkish riot police using Isuzu buses to transport officers during the repressive policing of a demonstration to commemorate the second anniversary of the Gezi uprising. Corporate Watch contacted Anadolu Group about their business in Turkey. We received no reply.

A Ford vehicle in use by the Turkish police (Corporate Watch, 2015)
Ford – Manufactures Tourneo Courier cars used by the Turkish police. They are assembled in Kocaeli, Turkey, by Ford Otosan. Ford Otosan is jointly owned by Ford Motor Company and Koç Holding. Koç Holding also owns Otokar, the company that manufactures the Akrep armoured vehicle for the Turkish police and army.
Sikorsky Aircraft Corporation (subsidiary of United Technologies Corporation) – Provides helicopters to the Turkish national police for 'VIP transport'. Sikorsky have an office in Thruxton, UK.
Turkish Aerospace Industries – Provides flight tests for the Turkish Police.
Vestguard UK – This UK company, with offices in Kent and Essex, lists Turkey as a client on its website and applied for a military export license to Turkey in 2013. It manufactures armoured vests, shields, and communication devices for police forces. Vestguard told Corporate Watch that it could not confirm or deny whether its products were sold to the Turkish police force as its products are distributed via an agent company to customers in Turkey.