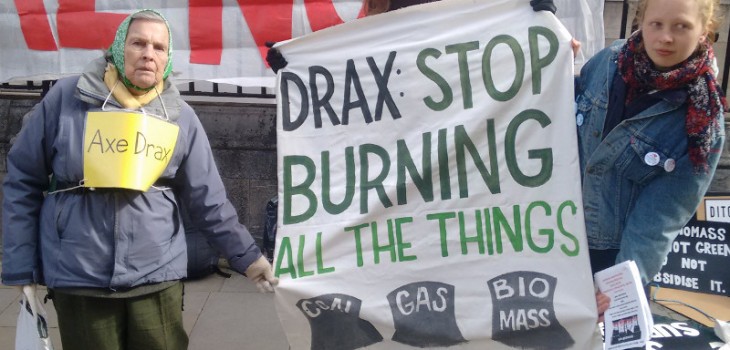 Biofuel Watch gives the latest on Drax and it's plan to become the largest gas power station in the UK:
Drax Power Station in Yorkshire is the world's largest biomass power station and the UK's joint largest burner of coal. In a bid to stay financially viable beyond the government's proposed 2025 coal phase-out, it is now proposing to replace its final two coal-burning units with much larger ones that run on gas. Drax's full proposal for a "carbon capture ready"1 3.6GW gas-fired power station would be the largest gas power station in the UK to date.
Drax claims that this combination of gas and biomass power will be an important part of the UK's transition to lower carbon energy. However, many people disagree: the biomass Drax burns is all in the form of imported wood pellets, contributing to climate change, forest destruction and environmental injustice; and replacing coal with even more gas, another fossil fuel, is a missed opportunity to overhaul our energy system to make it genuinely more sustainable.
Drax is no stranger to controversy over its green credentials; while the company claims carbon reduction as a reason for the conversion of 3 – 4 of its units to run on biomass instead of coal.
a growing number of scientific studies show that the climate impacts of biomass are no better than for coal2. Drax continues to refer to the compressed wood pellets it burns as "sustainable biomass", despite the fact that its pellet-sourcing area in the southern US – where 59% of its pellets come from – includes biodiverse forests, home to a number of rare and endangered species, which are being clearcut and very often replaced by monoculture plantations3. As well as contributing to climate change and forest destruction, the pellet industry in the US exacerbates existing environmental injustice by citing pellet plants and export facilities in low-income areas already adversely affected by industrial pollution4.
The UK government has pledged to phase out coal burning in power stations by 2025, despite allowing a new coal mine to go ahead in 2018. Assuming the government honours this pledge, the UK's few remaining coal fired power stations will become obsolete in seven years – which could explain Drax's attempts at diversifying, for example by buying smaller gas-fired power stations and electricity distribution companies.
Drax is in a financially precarious position, having made a net loss in 2017 and reporting 16% lower earnings in June 2018 than for the previous year5. The company is heavily reliant on "renewable energy" subsidies which it receives for burning biomass, to the tune of almost £2 million every day (paid out of a surcharge on our electricity bills)6, and is seeking further subsidies – called Capacity Market Payments – to build the gas units. If it fails to secure either those subsidies, or large new private investments, the power station may no longer be profitable.
Drax is the UK's largest power station, and among the oldest and dirtiest7. In 2006, while it was still solely burning coal, Drax was chosen as the site for the UK's first Climate Camp, a 5-day grassroots gathering of skill sharing and action planning, culminating in a mass direct action targeting the power station (at that time, the UK's largest single emitter of CO2). While Drax wasn't destroyed, the climate camp phenomenon grew to become part of an international movement targeting the root causes of climate change, from coal mining in Australia to peat burning in Ireland. While the fight against coal in the UK is not over yet, a combination of direct action, lobbying and legal challenges has beaten back the coal industry to a handful of mines and power stations, generating only 6% of the UK's electricity in the last 12 months8 (and often down to 0% on summer days).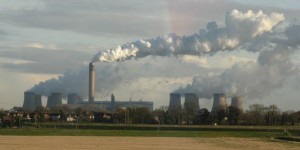 An end to coal is long overdue, however replacing it with gas does nothing to address the problems it creates. As ecosystem scientist, Professor Robert W Howarth, states: "There is no bridge fuel and switching from coal to shale gas is accelerating rather than slowing global warming."9 And Drax's Preliminary Environmental Information Report itself admits that its gas plans will "represent a significant net increase in greenhouse gas emissions and have therefore negative climate impacts."
This comes at a time when greater reliance on gas would require either increased Russian imports or dependence on unconventional gas, especially fracking and horizontal drilling. Fracking has been held back so far in the UK by a combination of direct action and legal challenges. Extraction companies and the government have been using increasingly extreme methods to get their way, including injunctions on protest activity within fracking areas10 and a proposed change to the law that would remove the need for planning permission fracking proposals11.
Fracking at Cuadrilla's Preston New Road site near Blackpool is likely to start later this year, in the face of sustained opposition from the local community and their allies. This gas will go to the national grid. If Drax builds its new gas infrastructure, it will be increasing the 'need' for more gas extraction in the UK, and all the consequences for the global climate and local democracy in fracking areas that go with it.
The consequences of this power station being built look fairly dire, but we still have time to stop it. Drax's plan has a public consultation open on the Planning Inspectorate website, which people can make submissions to – using Biofuelwatch's draft submission if wanted12. A final decision is expected in 2019 and there will be many opportunities to oppose the plan before then.
Ten years ago, a public commitment by the UK government to phase out coal felt like an unattainable dream. Now it's happening, albeit not in the way most activists hoped and fought for. A safe and just climate future still feels like a far away chance, but unless we keep fighting for an end to all dirty and unjust forms of energy that chance will slip away entirely.
This could be a pivotal moment in the campaign against Drax and the broader fight against the causes of climate change: either Drax will be granted permission for the UK's largest gas fired power station to date, locking us in to another generation of fossil power, increasing demand for fracked gas and continuing to burn millions of tonnes of trees every year, or it won't. The £2 million a day currently spent on burning forests could be spent on energy saving and demand reduction measures as well as on safer and cleaner energy from wind, waves and sun.
Drax's gas proposal is online at the Planning Inspectorate website [https://infrastructure.planninginspectorate.gov.uk/projects/yorkshire-and-the-humber/drax-re-power/?ipcsection=relreps], where you can register as an interested party and make objections until 29 August. For a draft submission which you can copy, paste and alter, go to http://www.biofuelwatch.org.uk/2018/drax-gas-alert/ and for more background information see https://www.biofuelwatch.org.uk/wp-content/uploads/Drax-gas-rebuild_new.compressed.pdf. If you would like to stay up to date with this campaign, or if you are part of a group that would like to sign an open letter to the Planning Inspectorate opposing Drax's plans, please contact biofuelwatch@gmail.com
References: