Boris Johnson at MIPIM: the world's largest property fair
/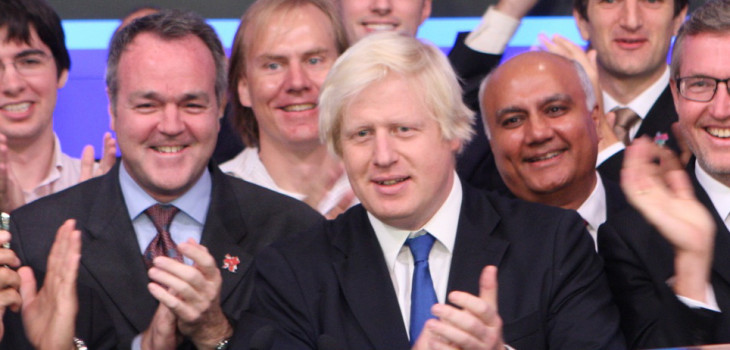 [responsivevoice_button]
Think of any community in the UK (or even worldwide) currently experiencing gentrification of some form or another and it's likely that MIPIM (Marché International des Professionnels d'Immobilier, International Market of Real Estate Professionals) will be involved.
The annual MIPIM property fair is the world's leading real estate event for property professionals, bringing together the most influential players from all international property sectors and offering unrivalled access to the greatest number of development projects and sources of capital worldwide. As MIPIM says itself, those attending are "looking to close the most profitable property transactions".
This year is MIPIM's 25th anniversary and the fair is taking place from 11 to 14 March in Cannes, France. In their programme they claim that the real estate industry is entering a new era facing challenges such as 'the increasing empowerment of world citizens' and "growing environmental regulations" to which they claim to need "new governance models". In the section on 'Cities' their website says: "Find solutions to tomorrow's urban challenges, examine infrastructure and discover the most effective ways to increase development in your city." In 1991 they started running the MIPIM awards, an internationally renowned real estate competition that "honours innovation and excellence around the world".
There will be 20,000 individual participants each paying a €1,600 entry fee, including 1,405 investors, 1,332 developers, 767 consultants, 669 brokers, 481 law firms, 436 local authorities, 235 corporate end users, 197 hotel groups, and 105 retailers. A list of the UK companies and local authorities attending this year can be found at the end of this article. This year there are 361 stands from 42 countries. There's a full list of stands on the MIPIM website.
The UK is heavily involved in MIPIM. Last year Boris Johnson, Mayor of London, was a keynote speaker, he went to MPIM in 2012 to promote the Olympics and this year he is talking about housing in London on 11 March. MIPIM is advertised all over the Transport for London website. The first UK MIPIM event will take place this year in October at Olympia in London. It will be the first UK property trade show gathering of professionals looking to close deals in the UK property market, where participants can "Discover new investment opportunities across the UK".
Many UK housing associations and over 20 UK local authorities are among those in attendance at MIPIM in France this March. Boris and councillors will be meeting potential business partners in Cannes for the selling of public land and to approve 'regeneration' plans for more hotels, offices, luxury housing and shopping centres in UK cities. All this at a time when the UK's housing crisis is deepening.
A three month study by the Bureau of Investigative Journalism found that 60% of the biggest housing developments currently in the planning system are falling short of local affordable housing targets, preventing thousands of cheaper homes being built. The study also found that London's leading property developer St George PLC, part of the Berkeley Group, one of the UK's leading developers, repeatedly persuaded councils that having larger affordable housing quotas would make schemes uneconomic.
The European Action Coalition for the Right to Housing and the City has called for protests across Europe on 12 March. There will be a People's Tribunal in Cannes during MIPIM where people will present case studies from their countries of where the corporate or government participants in MIPIM or their close associates have contributed to housing crises, evictions and gentrification. This will demonstrate how communities across Europe are suffering from, and often resisting, the latest round of housing privatisation.
The UK case studies being presented are: the Woodberry Down estate in Hackney, the South Kilburn Estate in Brent and the Heygate Estate in Southwark. In the case of Woodberry Down, Hackney council decided to knock down the estate and rebuild it, meaning where there were once around 2,000 council homes there will now be none. And none of the council tenants will be able to afford the new, privately owned homes. The main winners will be the Berkeley Group and Genesis Housing Association. Genesis will be at MIPIM.
In Brent, where council tenants are being forcibly transferred onto new contracts run by privately owned housing associations, the corporate profiteers are contractors Wilmott Dixon and management company Catalyst, both of which are attending MIPIM this year. There is more detail about the South Kilburn Estate Regeneration Masterplan on the Brent Housing Action blog.
Southwark council and the Heygate Estate developer Lend Lease are both attending MIPIM this year. The council sold off the Heygate at a loss, the last 20 years of 'regeneration' promises were all broken and Lend Lease of course couldn't build the required number of 'affordable' homes. For more on the history of the Heygate and the current situation see the
Southwark Notes blog. The story of corporate housing developers benefiting from lucrative public contracts is sounding more and more familiar.
On Thursday 6 March there is a 'London not for sale' demonstration in London at City Hall as London councillors will be setting off for MIPIM on that day. There will be a 'speak-out' of people's difficulties in finding affordable, secure housing in the UK. This is part of the European Action Coalition for the Right to Housing and the City and is organised by the Radical Housing Network. Corporate Watch will be writing more about MIPIM in our forthcoming magazine on gentrification. Follow #londonnotforsale on Twitter for updates about actions against MIPIM.
List of UK companies, housing associations and local authorities attending MIPIM this year:
Companies and Housing Associations
Savilles
Harrow Estates – Redrow PLC
Exemplar
Knight Frank
Helical Bar
Barclays
Wilmott Dixon
Albany Homes Developments
A2 Dominion
Travelodge
Blackrock
Morgan Sindall Group PLC
Muir Group
Muse Developments
British Land
Neat Developments
Capita
One Housing Group
Cowell Group
Pembroke Real Estate
Generation Estates
Great Portland Estates
Kier
Skanska
London District Housing Association
M and G Investments
UBS
United House Group
Quadrant
University of Oxford
Axa
British Property Federation
British Airways Pension Fund
Presidential Capital
Pricewaterhousecoopers
CLS Holidays PLC
Bloomberg
Reed Elsevier
Genesis
Goldman Sachs
Hamptons
Curson Real Estate
Shaftesbury PLC
ICM Wealth Management Ltd.
Hilton
Jeffries International
Land Securities
Langham Estate Management Ltd
Landmark
Capital and Centric PLC
Carillion
Logicor Europe Ltd.
Royal Mail Group
Residential Land Ltd.
Terence O Rourke
Transport for Greater Manchester
London and Continental Railways
Lendlease
UK Councils
Bath
Bolton
Bristol
City of London
York
Derby
Glasgow
Greater Lincoln
Greater London Authority
Leeds City Region
Leicester
Ealing (London)
Hounslow (London)
Scottish Cities Alliance
Sheffield City
South Gloucestershire City
Cardiff City
Wakefield
Coventry
Southwark (London)