Bristol City Council & Goram Homes forcing Traveller evictions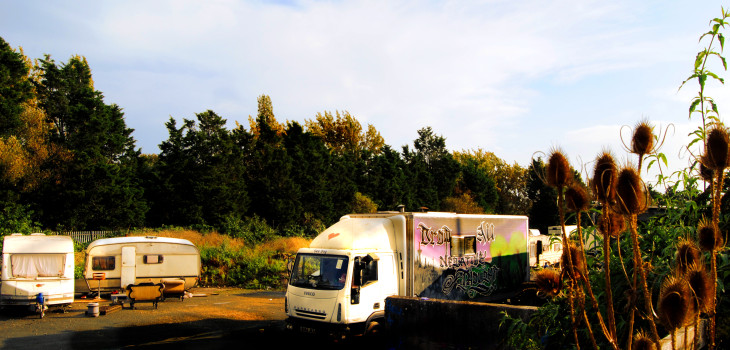 Bristol City Council is planning to imminently force members of the Traveller community from several sites across the city just as winter approaches.
There are currently around 100 vehicles on one site on Dovercourt Road, Horfield, where residents say a last-ditch attempt to stay their eviction – scheduled for October 8 – was "laughed out of court". Around 30 people, including at least one child, also face eviction from a site in Hengrove.
The evictions come ahead of planned housing developments at these sites by Goram Homes, a subsidiary of Bristol City Council. Companies House lists Bristol Holding Limited as the sole active person of significant control, and this company is in turn owned by Bristol City Council.
The Dovercourt Road depot, like other patches of land around the city, has been "transferred" to Goram in return for a form of IOU-type debt agreement known as land loan notes. This means that Goram has to pay only once the development has been completed and the property becomes profitable.
In fact, according to Goram Homes' latest annual report, the company owes more than £10m to the council in the form of these loan notes for various sites. Its development interests across the city can be seen in the following map:
Dave, one of the people currently living on the site at Dovercourt Road, told Corporate Watch:
They haven't offered us an alternative place to live, hence over one hundred vehicles will be forced roadside at the start of winter while Goram Homes website states no work will start until spring. We have pointed out the obvious solution of leaving us be till then, but it's fallen on deaf ears.

Many of the sites we have been evicted from still sit empty and we don't want to be roadside, it's dangerous for our homes and dogs, as well as bad for our mental health and local residents too.
Dovercourt Road
Goram Homes describes the Dovercourt Road site as a "disused Bristol City Council depot", which it plans to transform "into a thriving community" of 140 homes. This conveniently overlooks the existing community of over 100 people who will be made homeless for the council's vanity project. Goram claims that 48% of the development will be designated for social rent or 'affordable ownership', meaning that over half the properties will end up being bought by the wealthy.
So who benefits from Goram's social cleansing? Well Bristol City Council. But also property developers in Goram's joint ventures, the construction firms, architects, solicitors and PR firms it teams up with, and Goram's directors.
Goram is working on the project with development partner, Countryside Partnerships Ltd. Countryside Partnerships was bought last year by Vistry Group Plc, a house building company Goram also works with directly on a second major development in the neighbourhood. According to financial databases, Vistry's largest institutional shareholders are Abrams Capital Management LP, Browning West LP, and Inclusive Capital Partners LP (this is a genuine company name…).
Another company which stands to benefit is Keepmoat Homes, which will be involved in construction of the site if the building work kicks off as planned in early 2024. Keepmoat is ultimately owned by Aermont Capital LLP, a real estate private equity firm based in Mayfair.
But as with any major development, its not just the property companies that stand to profit. Goram reportedly resorted to hiring 'planning communications' (PR) firm MPC, now rebranded as Meeting Place, to solicit letters of support for the planning application on the site.
Directors' Roll Call of Shame
In recent years, councils, housing associations and private developers have moved ever closer together. This also means a growing culture of "revolving doors", in which managers often switch jobs between sectors. This is certainly the case with Goram Homes.
Goram Homes chair is Aman Dalvi OBE, who is also listed as current or former director of 17 other companies. In addition to his Goram directorship, Dalvi has been a director for Kensington & Chelsea Tenant Management Organisation (KCTMO) since 2018. KCTMO was stripped of all housing management contracts following its integral role in the 2017 Grenfell Tower disaster which killed 72 people. Also up there on Dalvi's housing 'credentials' are former directorships with a housing group linked to the notorious Peabody Trust, one of the UK's biggest landlords. Corporate Watch has previously reported on its alarming business activities, and the firm continues to overcharge tenants while making it nearly impossible for them to recoup the money.
He went on to serve as interim chief executive of Tower Hamlets council, taking the cash-strapped authority to the employment tribunal when his post was ended, which resulted in a six-figure payout in 2012 for a stint at the helm that had lasted just six weeks. He then landed a £119k post as corporate director for development and renewal. Between 2017-2021, Dalvi was also a director of Homes for Haringey Limited, another scandal-ridden council outsourcing council housing management company which failed to meet statutory health and safety requirements. Dalvi also played a part in the gentrification of areas along the Thames ahead of the Olympics via his directorships at Invest Thames Gateway, which included BAE Systems and HSBC among its corporate investors.
The revolving doors don't end there for Goram Homes' chair. Another of his current directorships is for a company called Fairplace Homes Ltd, one of a growing number of for-profit providers of social housing. While there's no doubt of the need for more social housing, these companies are stepping in as a report from Savills notes, because they see this as a way to "generate a secure, long-term, inflation-linked income". Even more appealing is the shared ownership market which:
"provides long-term income streams with lighter touch repairs obligations compared to social and affordable rent. There's also the potential for house price inflation to boost returns".
Goram Homes' directors are not likely to ever need social housing. Non-Executive director Sinéad Butters, for example, takes home a base salary of £180,000 and a £14,000 pension package for her role as chief executive of Aspire Housing, a housing association based in the Midlands which, funnily enough, Aman Dalvi also happens to be chair of.
Also among Goram Homes' board of directors is Don Alexander, a Labour councillor for Avonmouth and Lawrence Weston, who serves as non-executive director and council representative. Alexander also served as director at First Corporate Shipping Limited between May 2021 and July 2023. This firm trades as Bristol Port Company and basically runs Bristol port. It is jointly owned by Bristol City Council; former chair of Mitie and board member of the Conservative Foundation, Sir David Charles Ord; and (via companies he owns) Tory donor and climate denialist Terence Mordaunt. An avowed Thatcherite, Mordaunt is a patron of think tank Conservative Way Forward, as well as having formerly served on the board of Global Warming Policy Foundation, a climate change-denial foundation.
Homes for the homeless?
Goram's claim that it will build "high levels of affordable housing" doesn't mask the fact that a significant number of new homes are purely for profit. Significant profit is also being made by companies claiming to provide affordable housing, for example, Persimmon Homes allegedly makes a 30% return on each house sold under the government's Help to Buy scheme. Even more appealing is the shared ownership market which "provides long-term income streams with lighter touch repairs obligations compared to social and affordable rent. There's also the potential for house price inflation to boost returns".
At Dovercourt Road, it's not just the travellers who oppose Goram's plans. Dave also explained that since occupying the site earlier in 2023, they've established positive relationships with people living near the site:
Locals don't like the idea of a big housing development here either. They've appealed the planning application and have been very vocal in their support of us staying till any works start. However, the traveller liaison officer has been unsuccessful in any attempt to arrange this with the council or Goram Homes and we've been given notice to leave or face an enforced eviction.
Furthermore, in a letter shown to Corporate Watch by residents of the site, Bristol City Council claims to have "worked with the vehicle dwellers" to "find suitable alternative accommodation". Yet Dave from Dovercourt Road said that this was "an absolute lie" and that "no one has been offered anywhere else to go. He continued:
This government has failed us as a community in this country to consider our human rights, slowly eroding them with new laws and rules making it impossible to live outside the secular methods of live-in houses. It's how the Nazis started their raft of persecution methods against minority groups.
The situation for Gypsy, Roma and Travelling (GRT) communities in the UK is critical. Following the introduction of the 2022 Police, Crime, Sentencing and Courts Act, there's an even greater shortage of places to stop or park up. Anyone deemed to be doing so on non-designated land could face prison, losing their home or fines up to £2,500.
For members of Heritage GRT groups this situation is dire, but it equally affects rising numbers of van, truck, boat and trailer dwellers known as new travellers. As the double whammy of both a housing and cost of living crisis rages, more people than ever are seeking alternative housing solutions. Yet councils are cashing in with paltry promises of so-called 'affordable housing' (largely beyond the reach of most people) on new-build sites driven by profit, and pushing even greater numbers of people into precarity.