Broken Compass: the scandals of Compass Group
/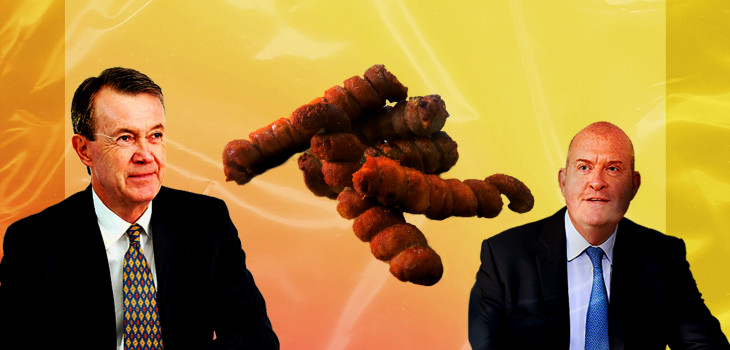 In February 2022, cleaners at London Bridge Hospital (LBH) launched a campaign demanding fair pay, an end to bullying, and basic health and safety equipment (PPE).
The ongoing cleaners' campaign targets both the Hospital Corporation of America (HCA), the healthcare giant which runs the private hospital, and Compass Group, the company outsourced by HCA to provide cleaning staff to LBH. Many of the cleaners at LBH are organised with the Independent Workers' Union of Great Britain (IWGB).
This article is part of a series supporting the cleaners' struggle.
Headquartered in Surrey, Compass is a global outsourcing company and the world's largest caterer. It profits from pretty much every sector it can: defence, catering, education, healthcare, leisure – you name it. Much like Serco, Capita and Carillion, it thrives as more public services are privatised.
Compass has been associated with numerous controversies. Like other multinational companies with many subsidiaries, the scandals it is embroiled in don't always name the beating heart: Compass Group.
One of Compass' specialities is scandals. For the full list read below, here are just a few:
Contents
What is Compass Group?
Compass Group operates across 45 countries. According to its website "food is our core competence" but the group, via subsidiaries, operates a wide range of services across various institutions, including prisons, schools and the military. The group is split into five different sectors: Business & Industry, Healthcare & Senior Living, Education, Sports & Leisure and Defence, and Offshore & Remote.
Compass was created in the UK by Jack Bateman in 1941 under the name Factory Canteens Ltd. Part of its business was to feed British munitions workers who were promised one hot meal a day by law. In 1960 it was acquired by conglomerate Grand Metropolitan, after which it was known as Grand Metropolitan Catering Services. Subsequently, there were many more mergers and acquisitions with other companies (full list here). In 1987, the company was relaunched as Compass Group and was listed on the London Stock Exchange the following year as Compass Group PLC.
The US is Compass Group's top market, making up 59% of Compass' annual revenue in 2020. By comparison, its second-biggest market was the UK, which generated 8% of total revenues. As of September 2020, Compass' annual reserves were at £20.2 billion.
These days, Compass is keen to keep its image in check. The Group boasts about its inclusivity and diversity and presents itself as a living wage employer (see below for more on this). In 2021, it announced it would go net-zero by 2050.
Compass in UK healthcare
LBH cleaners are part of Compass' Healthcare & Senior Living business, a sector that generates 33% of the Group's annual revenue according to the 2021 annual report. HCA outsources LBH cleaners via Medirest, part of the Compass Group UK's healthcare branch. Medirest employs 7,500 people across 20 different NHS Trusts. The Compass private hospital subsidiary promises patients an exclusive "experience":
"Medirest Signature is our private healthcare solution that can be tailored to the needs of hospitals, health centres and care homes. We prepare freshly cooked food using the finest ingredients and deliver a high level of service. It's the small touches that patients expect in private healthcare, an experience that reaches the standard of a five-star hotel."
Compass may be patting itself on the back, but Marino Giraldo, a LBH cleaner, described an experience far from five star for both workers and hospital clients:
"We have to work with human stools and blood and there is no appropriate way to deal with them, we have to reuse material to get rid of them or clean them up.

Due to the lack of staff, we have been forced to work extra time so our working hours are not respected."
Compass' profits from UK healthcare don't stop with HCA's outsourcing or private healthcare. Even in an NHS hospital, you're likely to be adding a few quid to Compass' coffers. Medirest Steamplicity operates cleaning, security, and catering in NHS hospitals. It also oversees Compass' lucrative Healthcare Retail gig where Costa Coffee, Starbucks, M&S Food and many more outlets in NHS hospitals are licensed by Compass. Effectively Compass makes money from staff and visitors needing something to eat or drink in hospital shops, cafes, or vending machines.
As Compass cashes in on the UK healthcare industry, it is clear it cares more for the health of its bank account than its workers. LBH cleaners (and Medirest workers across the UK) are paid poverty wages and work without proper PPE or sick pay, despite the Coronavirus pandemic.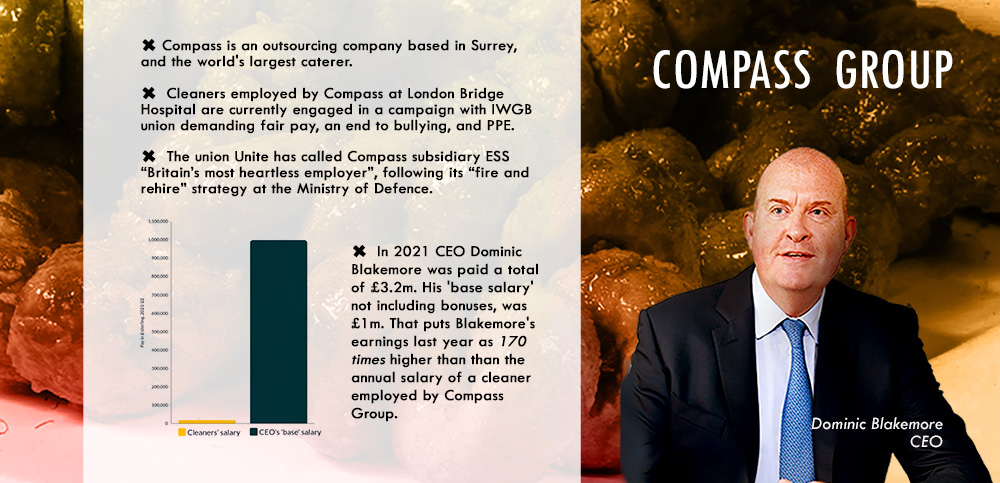 Who's in charge?
Dominic Blakemore took over the reins of Compass in January 2018 as the Group CEO. Blakemore has his fingers in several other pies as the director of the London Stock Exchange and part of the governing council at University College London, his former university.
Blakemore was shamed after the backlash over the free school meal scandal, when it was revealed that he received a £4.7 million pay package while schoolchildren were left hungry. It emerged that in at least some cases, the company may have been spending less than half their allocated budget of £10.50 per child, per week, when a mum bought the same items from her local supermarket for £5.22. Since the scandal, Blakemore took a salary cut, that is to say, he now earns a base salary of £1 million a year. In 2021 Blakemore was paid a total of £3.2m, including bonuses. That puts Blakemore's earnings last year as 170 times higher than than the annual salary of a cleaner outsourced by HCA to Compass Group.
Alongside Blakemore – at the top of Compass – is Ian Meakins, the Board Chair since December 2020. Meakins is also the non-executive chair of Rexel SA, a French electrics company, selected and recommended by the Department of Education to sell the pricey (rated 5th most expensive on Which?) 'air-cleaning' units to fight the spread of COVID-19 in schools.
Cambridge- educated Meakins has had a long stint of being at the top of the ladder. He has been a CEO for over 20 years, at Ferguson PLC, Travelex and Alliance UniChem. Meakins also previously worked at Bain & Company, the parent company of Bain Capital, which was previously a key HCA shareholder (see more in our profile on HCA here).
Meakins' predecessor, Paul Walsh (who stepped down in 2020) was formerly part of David Cameron's business advisory group and is a board member at FedEx and McDonald's.
Another key player is Steven Cenci, the newly-instated Compass Group Global Healthcare Lead, who oversees the LBH cleaners. Up until April 2022, Cenci was the UK manager for Hospitals & Senior Living for twenty years. During his time at the helm, there were multiple campaigns led by unionised workers exposing Compass' exploitation and demanding an end to poverty pay in Compass' health subsidiary Medirest (see below for the details). It remains to be seen if Russell Blake – his replacement in that role as of April 2022 – will cough up worker rights and fair pay. Only time will tell.
Who owns Compass Group?
Beyond the boardroom, owners can often swing decisions. A corporate database shows the biggest shareholder, BlackRock – world's biggest asset manager – only holds 10% of the company. So no shareholder has majority ownership, and therefore control of the company. Other investment firms such as Artisan Partners and Invesco Advisers, each own 5% each.
Other noteworthy investors – despite only owning a very small percentage of shares – are governments, including the UK, Japan, South Korea, Liechtenstein and Norway. The Norwegian government often boasts about its "no tobacco or guns" ethical investment policies, and yet continues to invest in Compass Group with its track record of worker exploitation. Another interesting shareholder is the Mormon Church of Jesus Christ of Latter-Day Saints. Various state governments also hold shares, such as Quebec and California.
Chartwells: Compass' school meal scandal
The school meals scandal which Compass subsidiary Chartwells was embroiled in started when Louisa Britain's (@RoadsideMum) tweet exposed one of the company's sparse free school meal packages during the pandemic.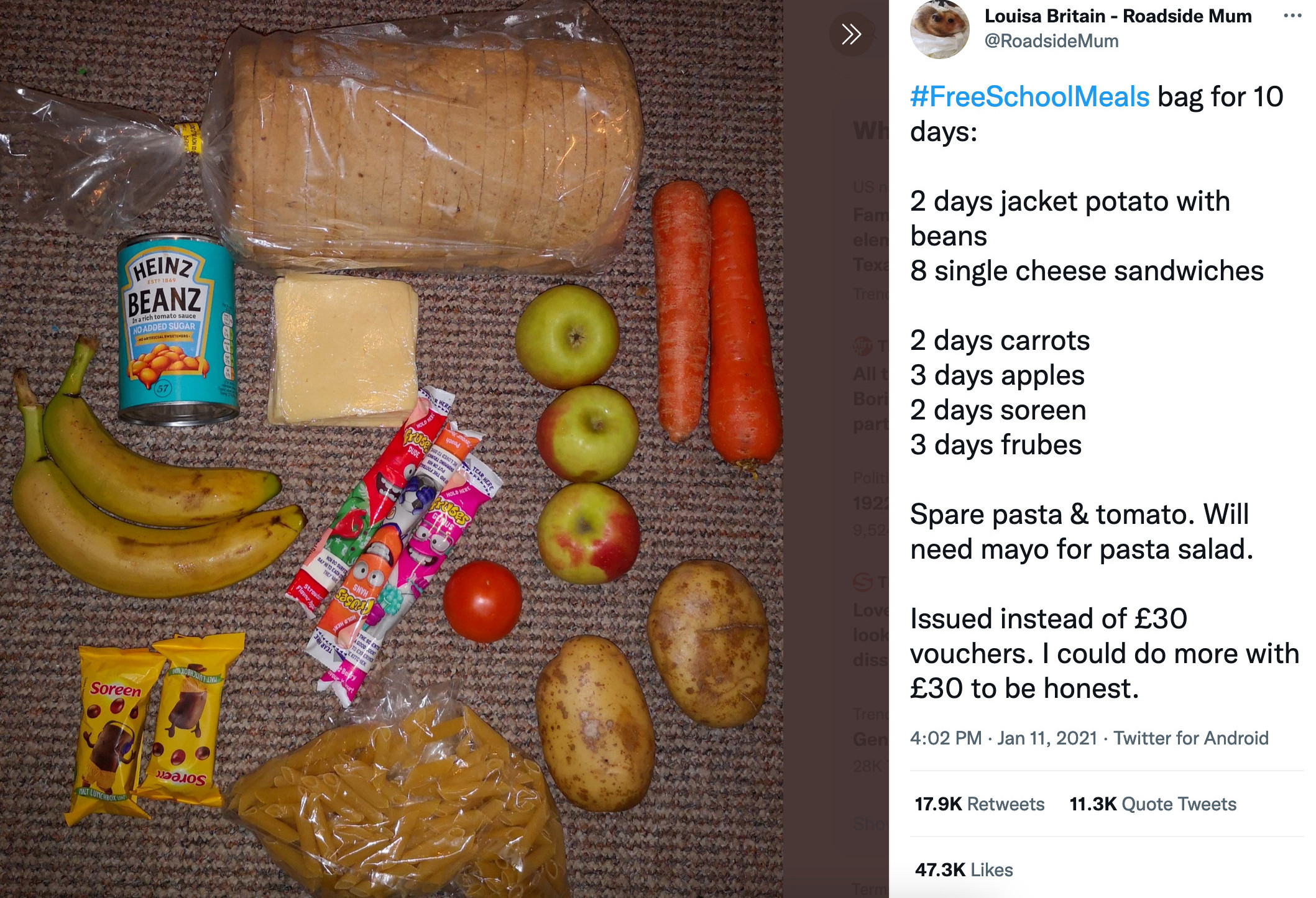 The company was eventually forced to apologise after footballer Marcus Rashford stepped in to criticise the unacceptable amount of food. The criticism had a certain sting as Chartwells was a signatory of Rashford's campaign to end food child poverty.
The scandal pushed Compass and its subsidiary into the limelight. It didn't take people long to find out that in 2021 Chartwells was the UK's largest school meal provider and that between 2016 and 2021 it had earned nearly £350m in primary school catering contracts. This is despite the fact that the company had already been exposed for providing cheap, sub-standard meals to schools back in 2005.
The 2005 scandal led Channel 4's Jamie's School Dinners to campaign against Scolarest, another Compass subsidiary, for feeding the now-infamous Turkey Twizzlers to schoolchildren. At the time, the controversy led to promises that the government would investigate the amount paid per child to outsourcing companies for school meals. Yet over a decade later, the problems remain the same. As so often happens when corporate , the Scolarest brand quietly faded into the background, while Chartwells took its place, enabling Compass Group to continue profiting from primary school catering.
Between the Turkey Twizzlers and last year's school meal scandal, there were two further blunders. In 2011, inspections of Chartwells "found 18 notable health and safety violations, serious enough to cause food poisoning" in London schools. Just two years later, in 2013, Chartwells was at the centre of the horse meat scandal. The company was accused of illegally failing to declare horse meat in a range of food, including burgers with up to 30% horse meat sold at 13 sites, including two secondary schools.
Chartwells' catering scandals aren't confined to the UK. In 2012, Compass Group was forced to pay $18 million (approximately £14 million) to New York state after an investigation found Compass overcharging for meals in 39 schools and public lunch programmes over seven years. In 2015, a whistleblower revealed Chartwells was providing insufficient and poor quality food to schools across Washington, DC. The whistleblower lawsuit resulted in Chartwells being forced to pay $19.4 million (£15.4 million) compensation to Washington, DC.
Working for Compass: conditions and resistance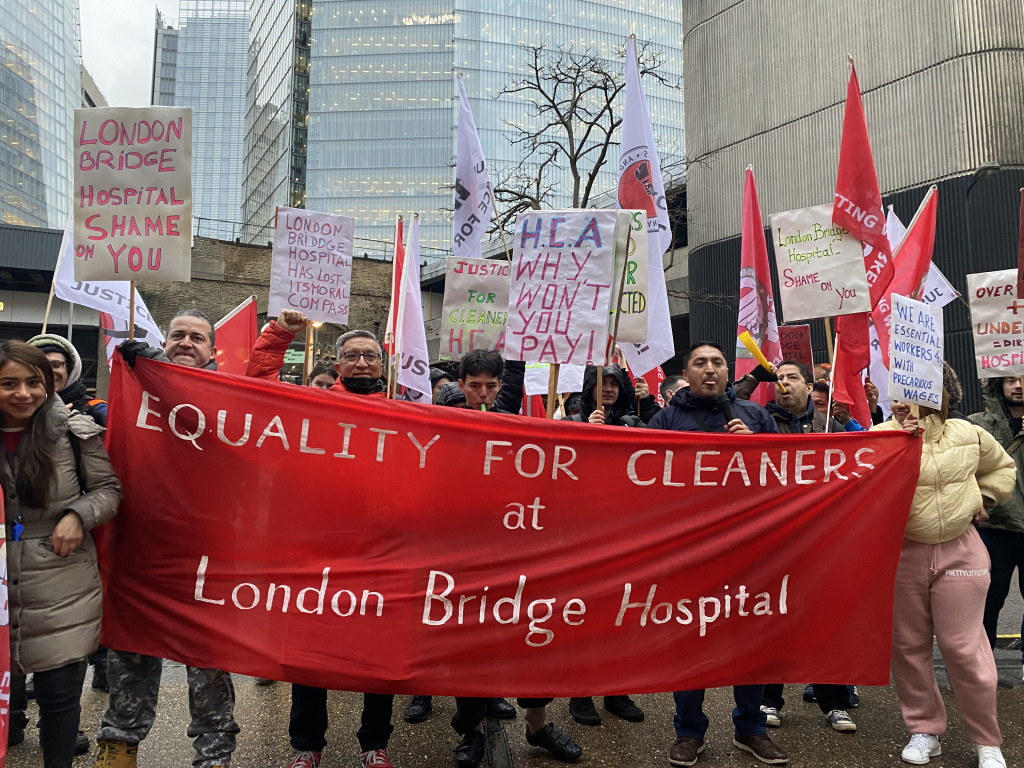 In 2021 Compass subsidiary Medirest won Best National Support for Key Workers at Springboard Charity awards, Steven Cenci the UK manager for Hospitals & Senior Living at the time said:
"Our people are at the heart of all that we do. We strive to ensure our colleagues always feel valued"
But for Marino Giraldo, Cleaner at London Bridge Hospital and member of the IWGB Cleaners and Facility branch, profit not workers at the heart of Compass operations:
"We have had to face members of the management that treat us with disdain and disrespect, if we raise our concerns we get moved especially new members of staff, or reprimanded, this is a struggle that is ongoing and we demand this to stop. We are treated as second class citizens.

We had to fight through unionisation to get something required by law for people who work in the health system which is the vaccines for immunisation. Up to date, new people that happen to join the team are not offered vaccines."
The cleaners currently earn £9.69 p/h, according to Giraldo. They are seeking a pay increase from HCA (which contracts Compass) to £12.50, and proper sick pay.
The IWGB's Cleaners and Facilities branch's ongoing campaign joins a history of resistance by hundreds of Medirest workers in the UK. Their aims have been to end two-tier pay systems (where outsourced workers get a lower pay rate for the same work as in-house workers) and to improve Compass Group's exploitative working conditions:
Medirest is not the only branch of Compass synonymous with worker exploitation. Compass' treatment of workers was used as a case study for the UK's controversial fire and rehire policies in a parliamentary debate. Compass introduced a policy forcing hundreds of outsourced workers at the Ministry of Defence to accept either a wage cut or risk immediate job loss. The policy drew criticism from Labour MP Grahame Morris, who made a statement in parliament:
"Fire and rehire is not restricted to the aviation sector, although there are some terrible abuses in that sector. ESS, part of the multi million-pound Compass group, has been branded Britain's most heartless employer by Unite, due to the manner in which it is treating staff working on Ministry of Defence bases."
The exploitative work conditions faced by Compass Group employees are documented by the UK employment tribunal records where individual workers have brought cases of unfair dismissal, age discrimination, and breach of contract.
Furthermore, the poor working conditions employed by Compass Group are not limited to the UK. In 2014, when Compass first entered the Australian healthcare sector, the Australian Workers' Union produced a fact sheet detailing Compass' shoddy track record in providing public services worldwide. The union's factsheet traces how Compass Group's takeovers in Canada, the US, and Ireland routinely fired and rehired staff on contracts with fewer benefits, up to 50% lower wages, and lower job security.
Where's the Living Wage?
Against the backdrop of multiple strikes around second-tier pay and low wages, in November 2020 Compass Group bragged about its newly-awarded status as a Recognised Service Provider by the Living Wage Foundation. The current living wage is £9.90 in the UK and £11.05 in London. Receiving the news Robin Mills, the UK and Ireland Compass director declared:
"By tackling low pay head-on, together we can make a real difference to the lives of our people and in turn their families."
However, six months later the IWGB cleaners campaign revealed that Compass workers are still not being paid a living wage. Cleaners are campaigning for £12.50 p/h but are currently paid £9.69 p/h more than £1 short of London Living Wage. So what's the small print? Compass will only pay its workers a living wage if its "client" pays, demonstrating the lengths Compass is willing to go to pretend that labour exploitation is a thing of the past.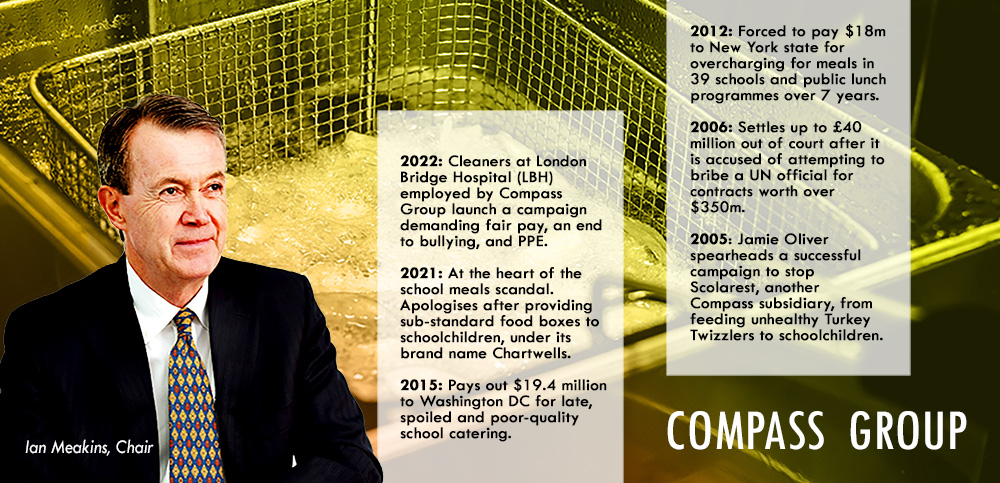 Compass scandals worldwide
As though exploiting workers wasn't enough, here is just a brief history of contract breaches, lawsuits and payouts by Compass Group to hush up scandals over the last 16 years:
Conclusion
Far from being an innocent bystander, Compass Group's objective to make money in every sector is demonstrated by its long history of cutting corners through two-tiered pay, fire and rehire policies, sloppy health and hygiene, and providing poor quality, insufficient meals.
Has the Group changed? Clearly not. Compass is eager to pocket the cheques from public institutions such as schools and councils. But ploys like waving around a Living Wage Accreditation or pledges to end child food poverty mask the reality of a company profiting from child hunger and poverty wages for its staff.
Time and time again workers have taken on Compass Group and won, solidarity with the LBH campaign!
Appendix:
The Compass Group's headquarters can be found at:
Compass House
Guildford Street
Chertsey
Surrey
KT16 9BQ
UK