Controversial courier company sending millions offshore to owners
/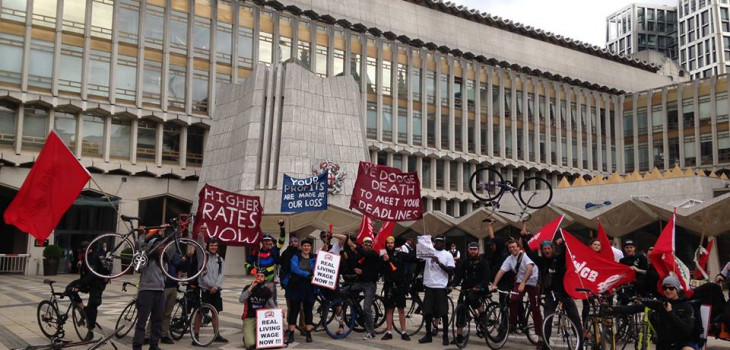 [responsivevoice_button]
UPDATE 06/01/16: After mounting pressure from couriers, Citysprint have agreed to pay the equivalent of the London Living Wage. Click here for more details.
One of the UK's biggest delivery companies is sending millions of pounds to its owners through tax havens, while refusing couriers' demands for "decent" pay.
By analysing company accounts and other financial records, Corporate Watch has found CitySprint – which calls itself the leading same-day delivery service in the UK – has racked up £8.2m in interest on loans from the investment fund that bought the company in 2010. As the loans have been taken out through the Channel Islands Stock Exchange, a legal loophole means CitySprint's tax bills will be slashed while the interest on the loans can be sent to owners tax free.
Investors in the Dunedin Buyout Fund include Sir Richard Sutton – one of the biggest landowners in the UK – an investment fund run by the EU, and the pension funds of British Airways staff and Yorkshire council workers.
CitySprint's 2,500 couriers transport cash, legal documents, blood samples, and much else across the UK in vans, motorbikes and bicycles.
The last two months have seen a series of protests against the company by couriers in London who say they are exploited and underpaid. The couriers – who are all self-employed – have set up a branch of the Independent Workers of Great Britain (IWGB). They are campaigning for the company to pay them the equivalent of the London Living Wage plus reasonable expenses "so that people can earn a decent living for the hazardous work they undertake". They have staged demonstrations at CitySprint's head office and those of clients including Google, the Guardian and Goldman Sachs. CitySprint disputes the union's claims.
CitySprint announced record figures in its latest financial results, with revenues increasing by 11% to a record £112.7m in 2013. According to its own measure, profits were up by 15%, to £12.3m.* CEO Partick Gallagher – who according to the company's accounts earned £231,657 in 2013, a 55% increase on the £149,000 he earned the previous year – welcomed the "very strong operational performance". Since being bought by the Dunedin private equity investment group five years ago, CitySprint has been expanding, buying up seventeen smaller rivals.
Accounts filed at Companies House show that when Dunedin took over CitySprint in 2010, the Edinburgh-based investment fund made the majority of its investment in the form of a £32.9m loan, made through the Channel Islands Stock Exchange. CitySprint has accrued £8.2m interest on the loan so far, at a rate of 8% – significantly higher than the rate of interest it is paying to other 'third party' lenders such as banks that it is borrowing from.
As well as ensuring CitySprint's owners enjoy a healthy return, this scheme also sees the company's UK corporation tax bills slashed. The interest is deducted from CitySprint's profits before it is taxed (meaning the amount taxed is much lower). A legal loophole – called the 'quoted Eurobond exemption' – means that the interest will go to the owners tax free when it is paid out (see a full description of how it works here). This could have already saved CitySprint as much as £2m, with future savings increasing as more interest is racked up.
Corporate Watch has previously exposed a range of other companies exploiting this loophole – including energy giants, high street brands and healthcare firms taking NHS contracts.
But who are the investors benefiting from CitySprint's scheme? Private equity firms like Dunedin invest other people's money to buy companies, hoping to cut costs wherever possible, then sell them for a tidy profit at some point in the future – with the investment managers taking a cut of the proceeds. They pool investments into a particular fund – in this case called the Dunedin Buyout Fund II, which is the majority owner of CitySprint (with all the members of the CitySprint management team also owning shares themselves).
Documents available at Companies House and other financial sources show the money in the fund has been invested by a wide range of organisations. As well as a bevy of other investment funds, some registered in tax havens such as Luxembourg, Jersey and Delaware, are the British Airways pension fund for its employees, plus organisations ultimately owned by the EU, the French government, the pension funds of public sector workers in the East Riding of Yorkshire and Sir Richard Sutton, a major landowner with properties in Mayfair, estates in Berkshire and one of the 100 richest people in the UK, according to the Sunday Times' rich list (see the full list below).
Corporate Watch put the above to CitySprint and Dunedin. Both said they were "fully compliant with UK tax legislation".
A spokesperson from the IWGB Couriers and Logistics branch said: "instead of sending all this money to their owners, CitySprint should be using it to give couriers a decent rate of pay for the work they do. It is the leading trendsetter in courier exploitation and through its industry dominance, is suppressing wages across the whole sector. It's time for CitySprint to set a new trend, and pay its workers and couriers more."
Read more about the IWGB's CitySprint campaign here.
| | |
| --- | --- |
| Investors in the Dunedin Buyout Fund II | Based in |
| Access Capital Fund V LP Growth Buy Out Europe | UK |
| Access Capital Partners SA on behalf of Access Capital Fund V FCPR Growth Buy Out Europe | Belgium |
| Adveq Europe III LP | Delaware, US |
| Adveq Europe V LP | UK |
| Adveq Management NV | Cayman Islands |
| AMEC Staff Pensions Trustee Ltd | UK |
| British Airways Pension Trustees Ltd | UK |
| Caisse des Depots – Direction Financiere des Fonds D'Espargne (owned by Government of France) | France |
| Cornelian Buyout Fund LP | UK |
| Dunedin Enterprise Investment Trust Plc (major investors include Legal & General Group Plc, Alliance Trust Savings Ltd, Baillie Gifford & Co Ltd, Cayenne Asset Management Ltd, Brewin Dolphin Holdings Plc, East Riding of Yorkshire County Council, Mrs Liz Airey, Mr Brian Finlayson) | UK |
| Dunedin Executive Co-Invest II LP | UK |
| European Investment Fund (owned by the European Union, European Investment Bank and various European financial institutions) | |
| European Mid-Market Secondary Fund I LP | UK |
| F&C Private Equity Trust Plc | UK |
| Gartmore Fund of Funds II Scottish Limited Partnership | UK |
| Golding Buyout Europe SICAV-FIS VI | Luxembourg |
| Golding Buyout SCS SICAV-FIS IX (acting by its general partner GCP GP IX SARL) | Luxembourg |
| Hamelin I LLC | Delaware, US |
| KB (CI) Nominees Ltd | Jersey |
| Nationwide Pension Fund Trustee Ltd | UK |
| Nationwide Private Equity Fund LLC | Ohio, US |
| PE1 LP | UK |
| Pownell Finance Ltd | n/a |
| Sir Richard Sutton Estates Ltd | UK |
| State Street Custodial Services (Ireland) Ltd | Ireland |
| VenCap 10 Euro Ltd | Jersey |
| Wittington Investments (Dunedin) Ltd | UK |
* Using the EBITDA measure CitySprint uses in its 2013 financial results presentation. Profit after tax was £4.6m.