Death at Morton Hall detention centre
/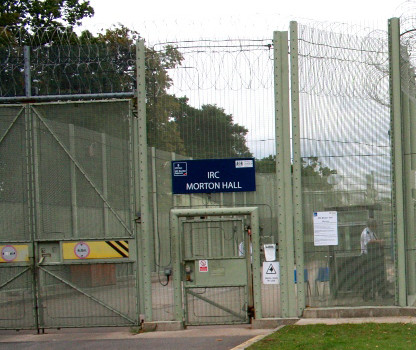 7.20pm, Phil Miller @pmillerinfo
A male detainee passed away at Morton Hall immigration removal centre in Lincolnshire last night. Not surprisingly, detainees are angry about the man's death and so there have been protests inside the detention centre throughout today.
Here's one distressing account about how the man died, from a detainee at Morton Hall:
"Last night, at 10pm, the guy was pressing the emergency button because he was feeling ill. And what happened was the duty officer came after 5-10 minutes and asked him what was going on. He said "I'm feeling ill so I need some doctor or some nurses." And then after 10-15 minutes again they [the officers] came and were dealing with him rudely. Normally they do it to everyone if they're pressing the bell or if there is emergency or whether its not an emergency. And what happened was when he [the officer] was treating him rudely he didn't say anything and the officer was shouting. There are witnesses all around next to his door and in front of his door and left and right and he was banging the door, he was screaming actually, I'm sure he was feeling pain or something actually and like eventually at 11pm or after one hour he died."
"Obviously they are negligent you know"
"You know the funny thing is the doctor came after almost two hours like 12 pm"
"Ambulance came after … 3.5 hours – 1:30am"
"There are several witnesses here"
"He was screaming for some help."
"Some units are locked at 8pm and when they're asking for anything like paracetamol if they're feeling very bad and the officer is coming very rudely to them so some people are scared of asking them but he was banging the door non-stop constantly asking them for help"
"15-16 detainees witnessed it closely but all the building heard that he was dying, he was screaming like a crazy guy because he need desperately some help"
The man told me this at 3.30pm this afternoon. He also said there was a "scary moment now", and all the officers had gone outside the centre.
A few hours later, another detainee rang me from the Windsor block on Morton Hall, where the death is believed to have taken place. He said there had been a peaceful protest going on all day, but now he could see guards outside with dogs and shields. At 6pm, he called me back. I could barely hear him above the noise of a fire alarm and barking dogs. He confirmed that he could see flames and smell smoke.
Then the phone cut out. But he rang back after 15 minutes and said the guards had beaten people back into their cells, and everyone was locked up now.