Death on the lake: British oil company's role in Congo killings exposed
Death on the lake: British oil company's role in Congo killings exposed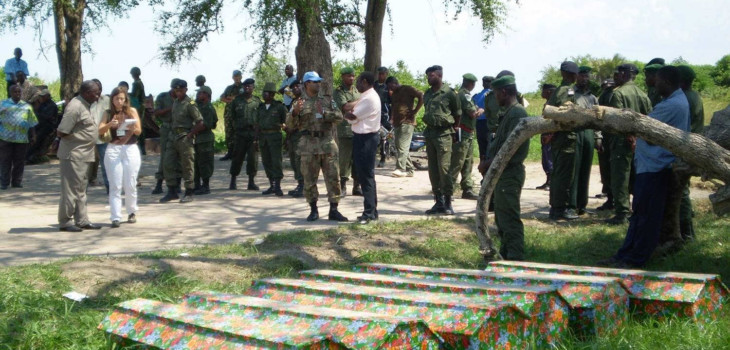 [responsivevoice_button]
Five years since the killing of six Congolese, including a three-year-old child, by the Ugandan army, new evidence obtained by Corporate Watch shows Heritage Oil and Gas was responsible for triggering the military operation that led to the deaths. Taimour Lay reveals the findings of a two-year investigation in East Africa that exposes a cover-up and raises further concerns over oil production in the region.
The incident, in which the Ugandan army opened fire on a Congolese passenger ferry on Lake Albert, was a direct consequence of Heritage Oil making a request for military assistance after its Ugandan exploration team had illegally strayed over the Democratic Republic of Congo border.
Despite the controversy over what happened on 24 September 2007, no full investigation was pursued by Heritage or Uganda. The Ugandan army claimed it was attacked by two Congolese army soldiers on the ferry who refused to give up their AK-47s and disputed that anyone had been killed. More credibly, Congolese witnesses accused the Ugandan People's Defence Force (UDPF) of firing indiscriminately almost as soon as they arrived.
A photograph published here for the first time and confirmed as genuine clearly shows two bloody casualties, while another shows coffins of the six people killed.
A United Nations fact-finding report, seen by Corporate Watch, also reveals that a three-year-old child was among the dead.
A Foreign Office email, obtained through a Freedom of Information request by oil watchdog Platform, reveals that the Ugandan military confirmed to the UK High Commission in Kampala at the time that its soldiers were on a "rescue mission" to help the Heritage team when it encountered the Congolese boat.
A leaked US diplomatic cable also confirms Heritage "mistakenly thinking that the approaching [UN] boats belonged to 'negative forces' put out an SOS call to which the UPDF's patrol boats responded". The new evidence directly contradicts Heritage's claim at the time that the deaths were a "separate, unrelated, isolated incident" involving "no employees or subcontractors" of the company.
Fuelling conflict
Founded by former mercenary Tony Buckingham, Heritage prides itself on being an "early entrant", striking exploration deals in areas that bigger oil companies consider too risky. It is currently working in eight countries around the world, including Iraqi Kurdistan. The company made over $1 billion in 2011 from the sale of its licenses in western Uganda, having discovered up to one billion barrels in and around Lake Albert on the border with DRC.
Oil production is due to begin in western Uganda later this year after a decade of controversial exploration. Heritage's former partner, Tullow Oil, also British, is now operating there with two industry giants: China National Offshore Oil Corporation and Total.
In 2007 Tullow was a 50-50 partner with Heritage in Block 3A (see map below), where the Heritage boat should have been on 24 September 2007, and was also a joint signatory to a 2006 Production Sharing Agreement on the Congolese side of Lake Albert. Tullow made no public comment after the deaths and did not publish any consideration of the risk of the exploration project.
The previously close relationship between Heritage and Uganda has broken down since the company cashed in on its licences and left the country in 2011. The government is currently pursuing Heritage over a $300 million tax bill.
"Calling in the cavalry"
The chain of events that led to the Lake Albert killings began when a Heritage Uganda exploration boat, which had illegally entered Congolese waters, was escorted to the DRC shore by a United Nations patrol trying to establish the identity of the rogue vessel at around 1pm. The Heritage crew made the "rescue mission" call to the Ugandan army, which sent three military boats.
Around half an hour later, one of those boats opened fire on the ferry. A joint investigation by the UN Mission in Congo (Monuc) and a Congolese team concluded that the UPDF had "started firing indiscriminately" at the ferry. "Six people died, five were wounded," their report added. "Three critically wounded children are being evacuated to MSF / Bunia [nearest Medicin Sans Frontieres clinic]. One 1.5 year old child, among the wounded, lost his mother in the shootout."
The internal Foreign Office email sent from Kampala on 25 September 2007 confirms that Uganda had reacted following a Heritage request for military assistance. Before the release of the Heritage team by the UN, the Ugandans had moved into action. The FCO emails reads: "In a version of events which the Ugandan military spokesperson [Major Felix Kulayigye] has subsequently confirmed to us, a UPDF 'rescue mission' is said to have encountered a FARDC [Congolese army] vessel while investigating the disappearance of the Heritage Oil boat."
In its only comment on the Lake Albert fiasco, buried in a drilling report dated 25 September 2007, Heritage claimed the UN boat that made contact with its vessel was "a routine check, not hostile" and that its vessel was "within Ugandan waters in Lake Albert in the process of lifting cables to mark the completion of the seismic survey". The company told Corporate Watch last week it had "no further comment to make".
"Heritage called in the cavalry, and six civilians were killed," says Mika Minio of Platform. "The company's close cooperation with the UPDF in militarising Lake Albert clearly led to this tragedy, even though Heritage later colluded in covering up the events."
The panic on the day may have been caused by a similar incident the previous month. On 3 August 2007, a British Heritage engineer, Carl Nefdt, had been shot dead, allegedly by DRC soldiers, when a Heritage exploration barge had allegedly crossed into Congolese waters again. Heritage, which also had an oil license on the DRC side of the lake but no permission to begin work, had recently been accused by Kinshasa of using its Uganda operations to conduct seismic surveys in Congo.
The Lake Albert victims found themselves in the wrong place on an afternoon of heightened tensions. Rukwanzi island, at the heart of the lake, is territory claimed by both Uganda and DRC. The disputed border between the countries runs right through the middle, an area which is estimated to contain over one billion barrels of oil. The passenger ferry with 50 Congolese on board left Rukwanzi for a scheduled crossing to Kasenyi at around 1pm, just as the Heritage boat was being apprehended by the UN.
At 1.30pm, halfway through the passenger ferry's journey, a dozen soldiers from the UPDF suddenly pulled up alongside in a military boat, guns at the ready. Soon after, the shooting started.
A senior UN source told Corporate Watch that Ugandan claims that the passenger ferry was in fact a Congolese army boat are "complete nonsense" and that it was Heritage's mistaken panic over the fate of its party that triggered Uganda's military escalation. The US cable also reveals that Lt Gen Katumba Wamala, commander of land forces, was in "real-time" radio contact with one of the UPDF boats.
Ninety minutes later, at around 3pm, Uruguayan peacekeepers from the United Nations Mission in Congo (Monuc) spotted the Congolese ferry drifting on the water, helped it arrive at Kasenyi on the Congo shore and began counting the casualties: three men, two women and a three-year-old child were dead. Among the injured were another five civilians with bullet wounds, including three children.
Residents of Rukwanzi told Corporate Watch on a visit to the island in 2009 that the families of the dead had been promised $100 in compensation by the Congolese authorities but that the money never arrived. Attitudes towards Uganda have hardened, while many are concerned offshore oil drilling will affect the fishing industry.
Dubious Heritage
Heritage built a relationship with the Ugandan military before securing an exploration licence in 1997, particularly with General Salim Saleh, the president's half-brother. In 1995, Eeben Barlow, founder of Executive Outcomes, the mercenary company that helped fight for Heritage's oil fields in Angola, wrote a security paper on regional threats for the UPDF entitled Project Mayhem.
"The oil fields were deemed unsafe [at the time] because of the Lord's Resistance Army," says Angelo Izama, a Ugandan analyst. "But Heritage's history of resource exploitation combined both the advantage of security credentials and political capital. At the time when the event in question occurred, Heritage's operations and that of the Ugandan authorities would have been a singular format, with differences being not that of separate agencies but that of chain of command."
Security agreements for the production of oil by Tullow, China National Offshore Oil Corporation and Total have not been made public in Uganda but the UPDF has announced plans to build a military base overlooking the lake and provide security for the companies.
"[Heritage] has now sold its Ugandan holdings, but still bears a responsibility for the decisions that led to Congolese civilians being killed," says Mika Minio. "Meanwhile, Tullow, Total and Cnooc continue to drill in a conflict-heavy zone, partnering with the Ugandan military while refusing to publish their military-security procedures."
Lake Albert Oil Rush
1997 Heritage awarded licence to explore for oil at Lake Albert in Western Uganda, on the border with Democratic Republic of Congo.
2001 Heritage sells 50% of the licence to Energy Africa.
2002 Heritage signs Memorandum of Understanding with DRC over future oil exploration and seeks consent to the deal in writing from rebel leaders then in control of Ituri and North Kivu: the MLC of Jean-Pierre Bemba and RCD-Kis/ML of Mbusa Nyamwisi.
2004 Tullow Oil acquires Energy Africa and becomes Heritage's 50-50 partner in Block 3A. Heritage is the operator.
2006 Heritage awarded licence to explore for oil on the DRC side of Lake Albert but permission to begin work is withheld. DRC then rips up the deal in 2007 and seeks to hand it a South African consortium. Exploration in Uganda, meanwhile, begins to find oil at 'Kingfisher' in Block 3A.
2007
3 Aug British Heritage engineer is shot dead on the lake, allegedly after a clash with the Congolese army.
8 Sept Ugandan and Congolese Presidents sign 'Arusha agreement', designed to cooperate over LRA threat, reduce tensions between the countries on Lake Albert, demarcate the border and work towards a joint production zone.
24 Sept Six Congolese killed and five wounded by Ugandan army patrol responding to Heritage exploration boat's call for assistance after being stopped by a UN patrol:
13.00 Heritage exploration boat stopped by the United Nations in Congolese waters, Lake Albert. Company seeks assistance from Ugandan army, which dispatches three patrol boats.
13.00 Passenger ferry carrying 50 Congolese leaves Rukwanzi for a scheduled crossing to Kasenyi.
13.30 Ugandan army response patrol encounters passenger ferry, starts "firing indiscriminately". Six Congolese killed, five wounded.
15.00 Uruguayan Monuc peacekeepers find ferry drifting on water, bring it to Kasenyi, Congo shore.
2008 DRC hands Lake Albert exploration blocks to South African consortium.
2009 Heritage announces intention to sell Ugandan rights.
2010 Heritage sells its share of Ugandan licences to partner Tullow Oil for $1.045 billion.
2011 Tullow strikes deal with Total and Cnooc to develop the Ugandan oil fields.
2012 Production due to begin in Uganda. Exploration yet to start on Congo side after Kinshasa hands rights to two British Virgin Island registered companies.
To contact Taimour Lay or Corporate Watch email contact@corporatewatch.org or phone 02074260005.