Deliveroo: where's the money?
/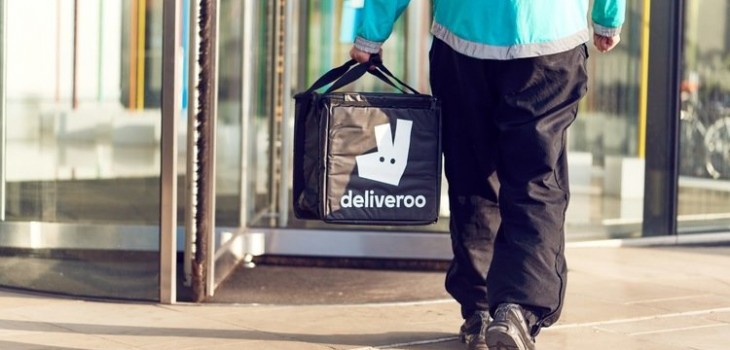 Deliveroo is one of the UK's most valuable tech firms yet its latest financial results show it is not even close to making a profit. Corporate Watch assesses what this means for the couriers fighting for better conditions and asks why investors are putting so much money into the company.
Towards the end of last month, Deliveroo told the world how much money it had made in 2016. The results were … mixed. Sure, a lot more people are using the company to order food. Accounts filed at Companies House show Deliveroo made £128m from delivering restaurant food to people in their homes. That's six times as much as the year before, with the company now doing business in 140 cities in 12 countries.
But it then paid £127m to deliver that food – the majority of which would have gone to paying the couriers – leaving the company with just £1.1m.1 The company also spent £142m on so-called "administrative expenses" such as marketing, software development, legal fees and paying all the extra staff2 it takes to expand the business. All in all it was left with an eye-watering overall loss for the year of £129m.
This lack of profitability has not deterred investors, who continue to be smitten by the app-based firm set up by ex-investment banker William Shu. A few days after these results were published, the company announced a bevy of massive investment funds had ploughed around £285m into the company, in return for stakes in it.
That takes the total Deliveroo has received from venture capitalists, tech entrepeneurs and the like to over £600m in the five years since it was founded. Investors are taking a punt that in a few years the company will be doing well enough for them to sell their shares for many times the amount they originally paid for them, most likely by 'going public' and allowing its shares to be bought and sold on the stock market (for more on who these investors are, see below).
Who's making what?
The road to the fabled 'Initial Public Offering' may be a rocky one. Deliveroo is struggling to turn a profit even as couriers complain about stingy pay rates and take the company to court for more employment rights.
The company says it values its workers of course. Martin Mignot, who represents lead investor Index Ventures on the Deliveroo board of directors told the Telegraph that, with riders in short supply, failing to keep them happy "would kill their business model."
In practice, the Independent Workers of Great Britain union said earlier this year that some couriers were being paid less than minimum wage, and that all were being denied access to even the most basic employment rights such as holiday pay and maternity pay.
Could Deliveroo afford to do better? Earlier this week Dan Warne, managing director for the UK, told MPs that if the company were forced to give workers basic rights it would have to charge customers an extra £1 per delivery.
He's likely talking about Deliveroo satisfying the workers' demands and producing the bumper payouts its shareholders are expecting from the company's expansion across the globe. It may not be possible to do both.
For the moment, couriers could point to the £180m sitting in the company's bank accounts, according to the last accounts. As we have seen, Deliveroo has paid its couriers somewhere around £120m in 2016, so it could double their pay for a year without increasing any of its prices and still have around £50m left over (and that is probably a low estimate of the company's cash pile given last month's investment round pumped another £285m in).
Covering wages from cash injected by investors is not a long term solution – at some point the company has to cover the costs of paying couriers from its own operations. As explained below, the company accounts do not disclose enough information to show how close the company is to being able to do that.
But couriers could also point out that management is already getting their hands on this cash. While Deliveroo has not yet paid out any dividends to its shareholders, the 2016 accounts show the highest paid director – presumably Shu – made £125,000 in salaries and bonuses, up 22% from the year before. That's not megabucks for a tech supremo but it's a lot more than the people delivering the food are getting.
Together, "key management personnel" – presumably including UK boss Dan Warne – were paid £1m in 2016, up from just £212,000 the year before. On top of this certain lucky staff members were given £4.5m worth of Deliveroo shares to cash in at a later date – by which time they'll hope the shares are worth much more.
Chasing value
As well as agitating workers, Deliveroo already has a range of well-funded corporate rivals, with Uber and Amazon among those trying to muscle in. That's another reason to think delivering food from restaurants a difficult business to make a lot of money from right now.
So what do the investors know that we don't? In the UK, Deliveroo publish 'consolidated' accounts3 – which group all its operations4 around the world into one set of results. So they only tell us how Deliveroo is doing overall, not in individual countries. That means we can't tell from these figures how much money it is making in the UK, the country where it started and has been operating for the longest. So it may be that it is making decent money here, which would be plausible given the scale of the business and the time it has had to make it more efficient, for example by tweaking its algorithms to eke out more deliveries from its couriers in a shorter space of time. This is certainly the gloss the Deliveroo management are putting on the results.
Wherever the business is, the costs involved in expanding – setting up new offices, marketing the service to new restaurants, hiring new pools of drivers, adapting and developing the software and so on – should lessen in time.
So its backers may be confident that in ten years' time, Deliveroo's superior software and strategy will have helped it dominate the market, as well as expanding it by luring more restaurants to either start delivering to people's homes, or dispense with their in-house delivery drivers. With less competition and a popular product, Deliveroo could whack up the commission it charges restaurants.
The financiers may also be betting on Deliveroo's more grandiose ambitions. Martin Mignot told the Business Insider website the company's mission is to: "make on-demand food so much more convenient and better than it actually makes less sense for people to cook at home", adding the "vision" "is all about reducing costs for restaurants".
This is where the 'Deliveroo Editions', or 'RooBox', project comes in. Deliveroo are setting up multiple kitchens in shipping containers; its partner restaurants supply the recipes and the chefs to cook in them. Meals are then couriered straight to people's homes. It allows restaurants owners to deliver without having to set up and run an actual restaurant, while Deliveroo has a monopoly on all the deliveries that ensue. Deliveroo already operates a number of RooBox sites in London and Brighton, with plans for plenty more – although it is starting to meet opposition from some councils over planning permission and noise complaints.
The accounts show £13m was invested in "Driver and restaurant equipment" last year. Expect the next accounts to show Deliveroo's infrastructure to have increased significantly. One former courier told Corporate Watch the London RooBox he delivered from was "rammed" with orders on Friday and Saturday nights – and thanks to its financial backers, Deliveroo has enough cash to rapidly expand this part of its business.
Investors may also be interested in the underlying technology and potential to expand the model beyond food delivery. A source close to UK private equity group Bridgepoint, which owns the sandwich chain Pret A Manger as well as a stake in Deliveroo, told the Financial Times that Deliveroo's order tracking technology "would make the company 'strategically interesting' to larger firms, whether they wanted to deliver restaurant food or other goods and services."
There's also automation – robots taking over people's jobs, either delivering orders or cooking food in those Rooboxes. Shu says the company is "closely monitoring the space".
Then there's the money to be made from all the information Deliveroo is collecting. Like most tech companies, Deliveroo wants customers' data, both to improve its service and to sell on. Their Terms and Conditions say that they pass it on to "carefully selected third parties, including marketing and advertising companies". And all that data on customers' eating preferences will presumably make the company more valuable. The Privacy Policy makes clear that if the business is sold or merged: "your information may be disclosed or transferred to the target company, our new business partners or owners or their advisors".
Standing to gain
Or Deliveroo's financial backers may have called it wrong – it does happen – and the company may prove unable to turn a decent profit and disappear in ten years. If so, don't feel too sorry for them. They have a lot of other paths to enrichment.
In addition to the companies' founders and management, investors are made up of Silicon Valley venture capital firms and other tech financiers, with many of their investments in Deliveroo going through tax havens. The list below shows the biggest investors and what proportion of Deliveroo shares they own, based on the latest filings at Companies House. These were before the most recent investment by US fund giants Fidelity and T Rowe Price, which will have diluted the shareholdings listed below. To what extent will become clear when the company's next 'Confirmation Statement' is published (keep an eye on this Companies House page if you're interested).
Index Ventures – helds16% of Deliveroo shares as of 16 August 2017
US venture capital firm, putting its money into Deliveroo through two Jersey registered investment funds (essentially pots of money). Invests in 160 companies in 24 countries, including: Dropbox, Etsy, Sonos, SoundCloud, Squarespace, Lookout, Hortonworks, Pure Storage, Funding Circle, as well as Deliveroo rival Just Eat.
Their London office is in Mayfair, naturally.
They are represented by Martin Mignot on the Deliveroo board.
DST Global – 16%
Hong Kong-based firm founded by Yuri Milner, Russia's "most influential tech investor" according to Wikipedia. It is one of the world's most successful internet company backers after making huge sums from stakes in Alibaba and Facebook. It invests in Deliveroo through three different funds.
Greenoaks Capital– 13%
San Francisco-based venture capitalists specializing in tech investments. They invest in Deliveroo through three different funds, all of which appear to be registered in the Cayman Islands.
They are represented by Benjamin Peretz on the Deliveroo board.
William Shu – 12%
The boss, who founded the company with Greg Orlowski (now left). Ex-Wall Street banker (Morgan Stanley) and financial analyst (SAC Capital and ESO Capital).
Bridgepoint Capital – 10%
UK-based private equity firm. Also own lots of companies including: Zizzi, Pret a Manger, Leeds Bradford Airport and The Dining Group, as well as healthcare profiteers Care UK and Tunstall Healthcare.
Their London office is just off Oxford Street.
They are represented by Antoine Froger on the Deliveroo board.
Accel Partners – 10%
Another investment firm specializing in tech companies. They were one of the first investors in Facebook and also own stakes in Dropbox, GoFundMe, Groupon, GoCardless, Squarespace, Walmart.com, Wonga and a host of other companies.
They have a UK office in Mayfair.
They are represented by Luciana Lixandru on the Deliveroo board.
General Catalyst – 3%
US-based investor. Also backed Airbnb, among others.
They are represented by Adam Alexander Valkin on the Deliveroo Board.
Greg Orlowski- 3%
Founded company with Shu but since left. Responsible for setting up logistics and website according to his LinkedIn profile.
The rest of the shareholders are investment funds or individuals, all with minor stakes. You can find the full list in the RooFoods Ltd Confirmation Statement.
If you have information about a company that you'd like to share with Corporate Watch, email us at contact[at]corporatewatch.org or call 02074260005.
See our DIY guide for help on understanding company accounts.
1 The 'gross profits' in the accounts
2 The accounts show Deliveroo's wage bill increased to £40.6m before social security and pension costs, from £8.7m the year before (not including couriers, who the company argues are self-employed). Staff numbers went up from 231 to 1,049
3 Through parent company Roofoods Ltd
4 Which are each run through their own subsidiary company