eCourier paying millions out to owner Royal Mail while denying workers 'basic employment rights'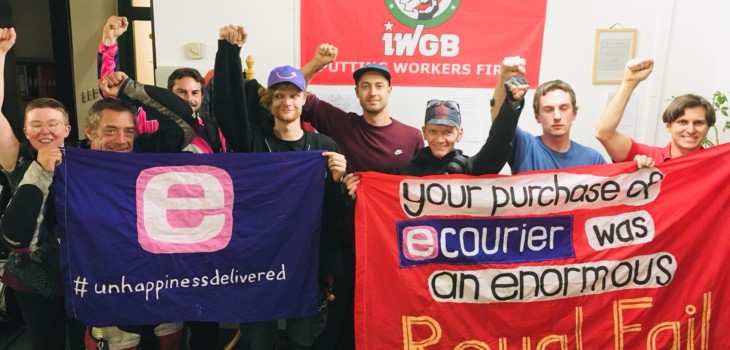 With couriers at the delivery firm eCourier set to strike next week, a Corporate Watch investigation into the firm's finances has found:
eCourier has paid out £5.5 million to its owner Royal Mail in the last two years.
Royal Mail has not invested any money into the business since it bought eCourier in 2016.
eCourier's boss was paid £134,000 last year.
Major Royal Mail shareholders include the Greater Manchester Pension Fund, which expects "secure, direct employment" for company staff.
Basic rights, big payouts
At the end of last month, couriers organising through the IWGB union voted for strike action after "gig economy" company eCourier "refused to grant them basic employment rights and a living wage".
The company currently classes the majority of its workforce as independent contractors and the couriers are demanding the London Living Wage and 'worker' contracts, which give more rights and benefits. In response, eCourier says it is already offering worker contracts to couriers who qualify for that status (for more details you can read the IWGB's press release here and the statement eCourier gave Corporate Watch at the bottom of this article).
eCourier offers same day delivery services, mainly in London and the south-east. Clients include HCA Healthcare, Goldman Sachs and NHS hospitals. IWGB couriers have previously won better pay and conditions in delivery companies including Citysprint and The Doctors Laboratory, which Corporate Watch also investigated.
eCourier was a family-owned business until 2016, when it was snapped up by Royal Mail for £17 million. Three years after its 2013 privatisation, Royal Mail was keen to gain a bigger chunk of the growing courier delivery market.
But accounts filed at Companies House show that, since it bought eCourier, Royal Mail has been taking money out of the business rather than investing to help it grow.
In the two years since the takeover, eCourier has paid out £5.5 million to Royal Mail in dividends. In the previous three years, eCourier paid out just £130,000.* The increase comes even though eCourier's revenue and profits have hardly changed.
eCourier (company name: Revisecatch Ltd) accounts filed at Companies House.
Note the accounting periods for the 2017 and 2016 accounts were for 9 and 14 months respectively.

| £m | 2018 | 2017 | 2016 | 2015 | 2014 |
| --- | --- | --- | --- | --- | --- |
| Revenue | 17 | 13 | 22 | 18 | 16 |
| Operating profit | 2 | 1 | 2 | 2 | 1 |
| Dividend payouts | 3.5 | 2 | 0 | 0.03 | 0.1 |
While it has extracted huge amounts that could otherwise have been paid to couriers, Royal Mail has not put any money into eCourier. The £17 million it paid for the company in 2016 appears to have gone to previous owner Ian Oliver. Accounts published since the takeover show eCourier has received no investment from Royal Mail.
At least some people at eCourier are making a decent living. The (unnamed) highest paid director made £134,000 in 2018, and similar amounts the two previous years.
'Marred by misfortune'
Further up the corporate chain, bigger money is being made. Royal Mail is a huge company: it brings in revenue of over £10 billion a year, with operating profit from that close to £500 million. Giving the couriers the employment and pay they are demanding would barely make a dent.
Certainly, those at the top of Royal Mail do ok. CEO Rico Back was given a £5.8 million 'golden hello' before taking the top job last year, then £647,000 for his first year of work. Not bad, given "his short tenure has been marred by misfortune", according to the Financial Times, with a falling share price and the threat of a major strike by postal workers.
The people that ultimately own Royal Mail – and therefore eCourier – have also enjoyed good times. Royal Mail paid its shareholders £242 million in dividends last year, and similar amounts in previous years. Back has announced payouts will be reduced in future, as Royal Mail invests to keep up with the competition, but they are still scheduled to remain above £100 million.
Who are the shareholders receiving these payouts? The biggest is Schroders Plc, a giant investment firm that owns a chunk of most major companies in the UK. Records show it owns 12% of Royal Mail shares. Next are fellow investment giants Standard Life Aberdeen and Blackrock, then Norges Bank Investment Management, which invests the proceeds of Norway's oil and gas sales (6%, 5% and 3% of shares in Royal Mail respectively).
Another major shareholder of note is the Greater Manchester Pension Fund, which invests the pensions of local government workers in the area. The fund's stake in Royal Mail is worth £67 million. In its latest annual report, it says businesses it invests in should: "offer secure, direct employment where possible, and should not interfere with the right of their workforce to seek representation through a trade union."
We put all the points about eCourier's finances above to Royal Mail who did not dispute their accuracy. An eCourier spokesperson told us:
"We are committed to operate best practice in terms of modern working practices and the need to ensure the most effective and appropriate delivery models. Many of our couriers prefer to work as independent contractors because of the additional flexibility it brings. We have offered worker status to self-employed colleagues where it reflects their actual working arrangements with us, and where they decide to make the change."
---
* Note: Former owner Ian Oliver may also have profited from payments made by eCourier to other companies he owned.