Enabling Putin: the firms that helped Gazprom grow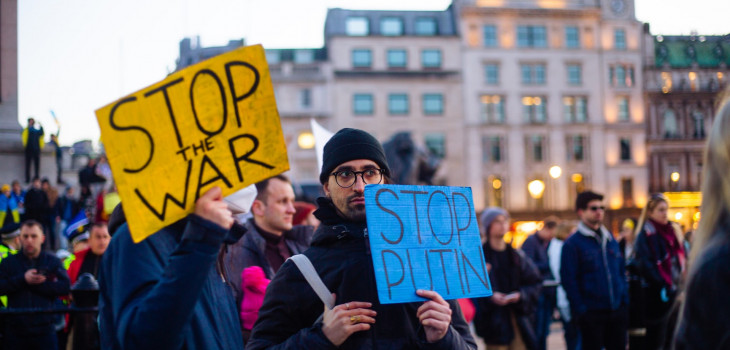 Image by Karollyne Hubert on Unsplash
As the spotlight shines on Russian oligarchs and their mansions, it's important not to forget the multinational network of facilitators who have been pumping money into Russian companies for years – and making huge profits as a result. Many of these banks, lawyers and investors have expressed their shock at the invasion of Ukraine. None have said they will pay compensation to the Ukrainian people for the profits they have made from Putin's petrostate. And these same firms continue to invest in other repressive, war-mongering regimes around the world.
In this article, we look at Gazprom's network of facilitators – its bankers, advisers, shareholders and lawyers – who remain unaccountable for years of profiteering.
To find out more about the firms named below and their other UK activities, see our Wreckers of the Earth directory and map.
Gazprom: a company snapshot
Russia has the largest gas reserves in the world, and Gazprom is reportedly the world's biggest gas producer. It is headquartered in St. Petersburg and is majority-owned by the Russian state.
Gazprom covers all aspects of the gas industry – from exploration and extraction to refining and supplying to end customers. The company was the world's third–biggest emitter of greenhouse gases between 1988 and 2015, according to NGO CDP and the Climate Accountability Institute. Most of its reserves are buried in Western Siberia, though it carries out exploration and production in Bolivia, Iraq, Uzbekistan, Vietnam, Algeria and Libya. It is also part of a consortium developing the Sillimanite gas field in the North Sea, spanning UK and Dutch territory. It supplies about a third of Europe's gas.
The huge revenues and profits it has made from selling gas have funded the Russian state. According to corporate records, Gazprom paid around $20 billion in dividends to shareholders between 2016 and 2020, with the majority of that going into state coffers.
Gazprom has also expanded its operations to other parts of the lucrative energy market. In the UK, its Gazprom Marketing and Trading Ltd subsidiary is a major gas trader, buying from North Sea and Norwegian producers as well as from its own parent. Through its Gazprom Energy brand, it sells gas directly to businesses. Until recently it supplied over a fifth of non-household gas in the UK, to around 30,000 companies, local authorities and NHS trusts. The NHS paid it £77 million between 2016 and 2021, while local authorities reportedly paid the company a total of £29 million in that same five-year period. The company has been a lucrative sideline for Gazprom – and therefore the Russian state – Gazprom Marketing and Trading Ltd has paid out £1.3 billion to its parent company between 2016 and 2020.
Many customers are now severing ties with it, putting Gazprom Marketing and Trading Ltd at risk of collapse. But even this sideline business for Gazprom has become so big that the government may have to step in if it does go down. Plans have been drawn up to take over the company to avoid "chaos in European gas markets as well as unsustainable price rises for British customers", according to the Financial Times.
So who has helped Gazprom get so big?
Banks
None of Gazprom's work would have been possible were it not for the banks providing hundreds of millions in loans to the company each year, and enjoying the interest Gazprom paid them in return.
JP Morgan Chase, the world's biggest funder of climate chaos, provided $3.6 billion in finance to Gazprom in the years 2016-2020, according to the BankTrack network. The bank says it is "actively unwinding Russian business" but it has not said it will sever its existing dealings with Gazprom and other major Russian companies.
BankTrack lists Italian bank UniCredit as Gazprom's second-biggest funder over the same period with $2.4 billion. Russia's own Sberbank comes next ($2.4 billion), followed by Deutsche Bank ($1 billion) and Crédit Agricole ($977 million). In 2020 alone, French Banks BPCE and Crédit Agricole, Italy's Intesa Sanpaolo and UniCredit, and JPMorgan Chase provided $4 billion to Gazprom, according to BankTrack.
Japan's Mitsubishi UFJ Financial Group and the US firm Citibank have also provided hundreds of millions worth of loans to Gazprom.
Meanwhile, Gazprom Marketing and Trading Ltd lists Austria's Raiffeisen Bank, the Dutch bank, ING and France's Natixis as bankers in its 2020 annual report.
All of these banks have London offices, and most can be found in the finance section of our Wreckers of the Earth directory.
Shareholders
As we have said, Gazprom is majority-owned by the Russian state. However many of its shares are traded on the Moscow Stock Exchange and global investment managers have been keen to buy them. Before the invasion of Ukraine, US investment firms including Vanguard, Blackrock, Capital Group and others owned stakes in the company.
They will have done very well from these shares: as described above, Gazprom paid out around $20 billion in dividends to shareholders between 2016 and 2020. Vanguard and Blackrock have said they plan to divest from their Russian holdings, but have stayed quiet about the wealth they have generated from them up to now.
Landlords
Gazprom is reportedly one of British Land's top 10 clients by rents paid for office properties. British Land is one of the UK's biggest property developers, owning £9.8 billion worth of property and leasing swathes of central London to corporate customers. British Land now wants Gazprom out, though it is unclear whether it will go ahead with terminating the lease given the news that the government may take over the company.
Law firms
Gazprom has been supported and protected by various law firms. Those which appear to have the most significant relationships with the company are:
Baker Botts, a multinational law firm whose work in the Russian gas market dates back to the 1970s, with the company boasting that "we successfully represent major oil and gas companies and the Russian state". Its work for Gazprom includes defending it in litigation and advising on the acquisition of stakes in gas fields. Baker Botts has also trained up in-house oil and gas lawyers for fossil fuels companies, including Gazprom, through its 'Oil and Gas Lawyer School'. Its UK office is at 20 Fenchurch Street, London.
Herbert Smith Freehills, a law firm whose key clients in the oil and gas sector include Gazprom. It has advised Nord Stream 2 AG, a company and gas pipeline project owned by Gazprom (now suspended in response to the invasion of Ukraine). While the law firm has recently announced it is pulling out and "ceasing all work with the Russian state", it nevertheless continued its work with Gazprom despite European and US sanctions against the company following Russia's annexation of Crimea in 2014 (sanctions described on their website no less). Its offices can be found at Exchange House, Primrose Street in the City of London.
Norton Rose Fulbright, a gigantesque multinational law firm staffed by over 3,700 lawyers. Its January 2022 report, 'Law around the World' sets out the company's work in Russia. It names oil and gas first on its list of key areas, with Gazprom mentioned several times as a client, along with other petrochemicals firms Rosneft, Chevron, BP, Shell and more. It says it advised Gazprom and Shell on an upstream oil and gas joint venture in Western Siberia. Its London offices can be found at 3 More London by London Bridge.
Linklaters, a law firm whose clients include both Gazprom and fellow Russian petrochemical giant Rosneft. Linklaters' lawyers have advised on a number of Gazprom projects, including advising the financial backers of a $1 billion Siberian gas field project, as well as advising Gazprom on major acquisitions and the Nord Stream gas pipelines. It has recently issued a lengthy legal guide to advise clients about sanctions and now says it won't work "for individuals or entities that are controlled by, or under the influence of, the Russian state, or connected with the current Russian regime, wherever they are in the world". Linklaters' London offices can be found at One Silk Street, in the City of London.
Baker McKenzie, which has been described as the US' biggest law firm and "the go-to firm for Kremlin-linked companies". Gazprom Marketing and Trading Ltd lists it as one of its lawyers in its 2020 annual report, and has reportedly provided tax advice to the company. Another of the firm's clients is sanctioned Russian arms dealer, Rostec. Nevertheless, Baker McKenzie has the audacity to have a "Ukrainian humanitarian appeal" emblazoned on the front page of their website. Its UK offices are at 100 New Bridge Street in the City of London, and City Quays One, 7 Clarendon Road in Belfast.
UK Gazprom subsidiary, Gazprom Marketing and Trading Ltd, is based at 20 Triton St in Euston, London, with another office on the 5th floor of 27 Quay Street in Manchester.