ENKA: key facts about the Turkish megacorp behind the Rioni Valley dams
/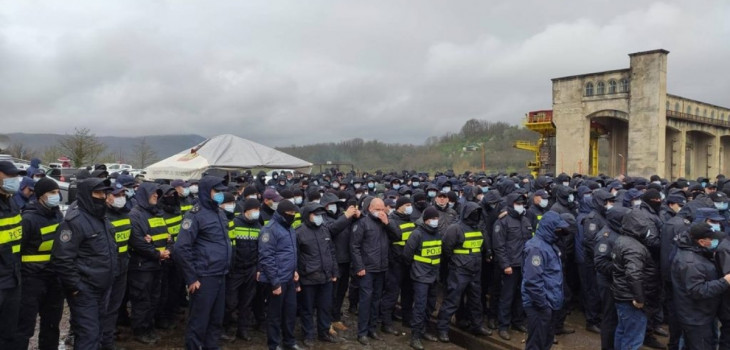 See also: article here on the struggle against the Rioni valley dam projects in Georgia.
The hotly resisted dam project in the Rioni valley, Georgia, is being built by a company called ENKA Renewables. This is 90% owned by Turkish building corporation ENKA. The other 10% is owned by a Norwegian investment company called Clean Energy Group.
ENKA is one of the big beasts of Turkish capitalism. It calls itself the country's biggest construction company, and is also its biggest private sector electricity generator.
ENKA makes a lot of money. In 2020 it had a turnover of $1.66 billion – from which it made a massive profit of $644 million. That is an astonishing profit rate of 39%, far higher than most building companies dream of. It made a similarly huge profit in 2019, and it prides itself on paying a cash dividend to its owners each year. The bulk of profits appear to come from financial "investing activities" rather than actual building work. (See: 2020 Annual Report and accounts).
The company is owned by members of the Tara and Gülçelik families, descendants of its founding brothers-in-law from the 1950s. Billionaire founder Şarık Tara became a leading figure of the Turkish industrial and political elite, a "close friend" of 1980s prime minister Turgut Özal, known for his "economic liberalisation" programme. The present chairman of the board is his son Sinan Tara, and the CEO is his grandson Mehmet Tara.
Beyond Turkey, the company has a big presence in Russia, where it is a major developer and owner of office buildings, shopping centres and hotels.
As a power generator, ENKA claims it can supply 11% of Turkey's electricity needs. If the Georgian dams go ahead on schedule, they will become the company's first "revenue generating" electric power projects outside Turkey.
ENKA is active worldwide. Many of its main schemes are in the former USSR, Balkans countries and the Middle East – notably Iraq and Saudi Arabia. It is building major electric power and petrochemical plants in Iraq, Kazakhstan and the Russian Federation, and motorways in Serbia. But it also works further afield – e.g., Nassau Cruise Port Project in the Bahamas.
ENKA's projects in Saudi Arabia (through its subsidiary Kasktas) include essential infrastructure work around Islam's holiest site the Ka'aba.
At the same time, ENKA has a long-standing partnership with the US government to build its embassies and consulates. It built the US embassies in Russia, Afghanistan, and several African countries.
ENKA has a longstanding partnership with massive US building corporation Bechtel, working on joint ventures in the Balkans, Georgia, Kazakhstan and Oman. It has a partnership with US company Caddell Construction providing "consultancy and project services" on "special projects" including in Africa, Asia, and the Americas.
Its many other subsidiary companies include a travel agency (ENKA travel, also operating as ENTAS) offering tours in Turkey.
Back home in Turkey, the ENKA Foundation helps bolster the company's public image by running chains of schools (some fee-paying, some free), sports clubs, theatres and an art gallery. ENKA Sports Club has a record of training Turkish Olympic athletes.
The company is not so active in Western Europe, but says that it is "engaged in construction and trading activities in Romania, the Netherlands, Switzerland, Germany, Greece, Serbia and Kosovo". It also has two companies registered in Germany (Entrade) and the Netherlands (Enka Holding) which "manage foreign investments".
It has a UK subsidiary called Enka UK Construction. Currently this company appears not to be working in the UK, but on power plant projects in Iraq.