Family forced from their home by Israeli drone attacks
/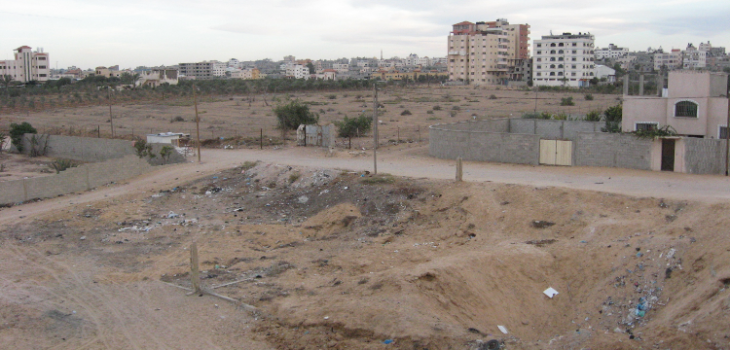 [responsivevoice_button]
This is part five of our series of articles focussing on what life is like for people in Gaza living beneath Israel's military drones. To read part one, two, three and four click here.
We met Abdullah and Ebtihaj Al Habil at their house to the North of Gaza City in December 2013. Abdullah told us that he has been attacked by Israeli drones on two occasions. The attacks have forced them to abandon their home and find new accommodation.
The first attack came in 2009. Abdullah told us: "My family's house is near here. We were all there when the bombing started. We decided to come here and get some clothes and then we were going to go to the UNWRA school in Shati Camp. I parked the car opposite the house and walked toward the house alone. I got a bag of food and clothes from the house. I could hear the drones in the sky above making a humming sound. I ran with the bag from the house toward the car. They fired. I heard the rocket. I looked round and could see it flying towards me. I jumped out of the way, hit a wall and a splinter from the rocket hit my leg." Abdullah showed us his leg, which had a chunk of flesh missing.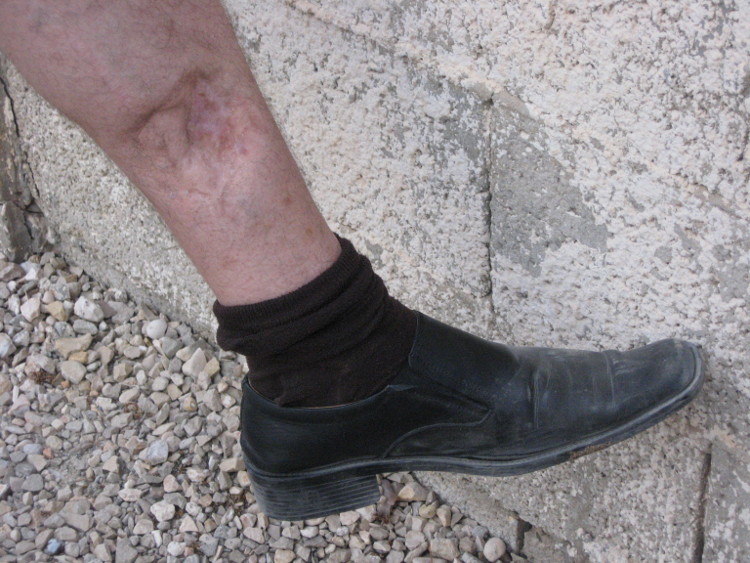 Scar on Abdullah Al Habil's leg from an injury sustained in a drone attack in 2009 
The second attack came in 2012: "Three pillars of my house were destroyed by firing from the sea, an Apache [helicopter] fired three rockets at the house and machine gunned our water tanks. Then a drone strike hit the roof." He shows us where the drone hit. Abdullah tells us that. "the wall of the house was damaged". He hasn't been able to afford to repair it and the roof leaks when it rains.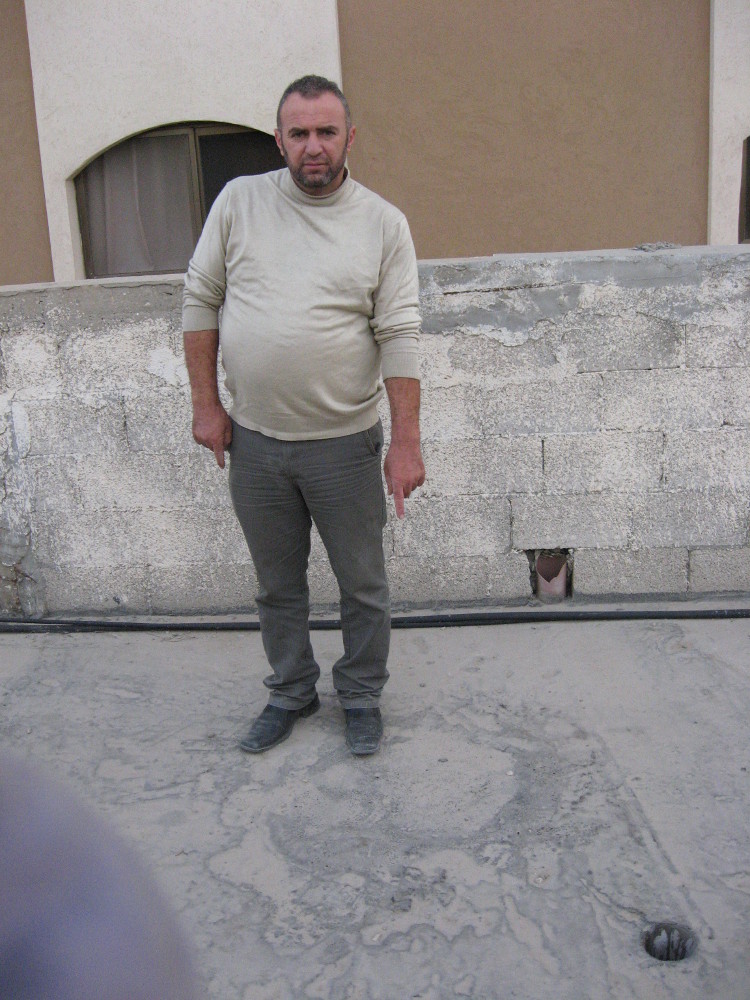 Abdullah points to damage to his roof caused by the attack on their house by an Israeli drone and an Apache Helicopter in 2012
"The attack happened after midnight, we heard the firing from the Apache and took our five children to take cover in the stairwell. They were firing white phosphorous munitions so we hid under soaking wet sacks to protect ourselves from burns. We could not go out of the house because the warships were firing into the street. We tried to call an ambulance but the phones were blocked. We heard the drone attack happen after the Apache.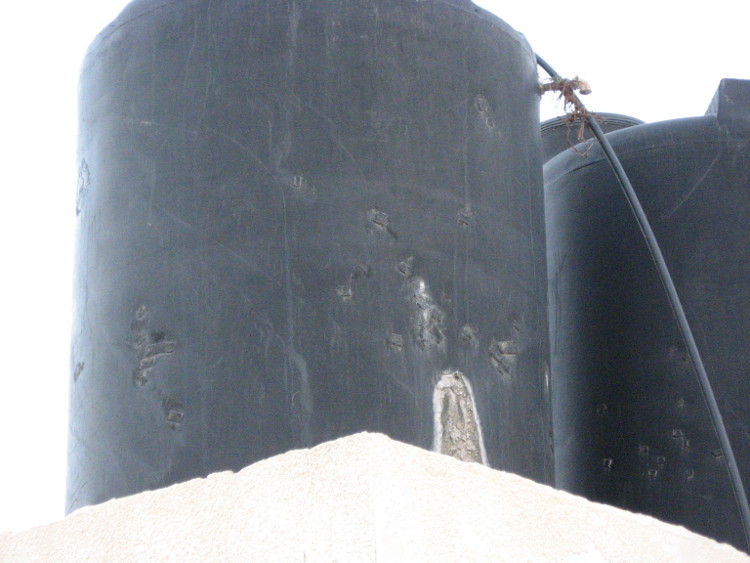 Damage caused to water tanks on the roof of the house by machine gun fire from an Apache helicopter in 2012
"We know that a drone fired on us because one of the three rockets did not explode. The rocket was one metre long, two inches wide. The middle is made of plastic. The two tips were made of iron and at the end was a propeller.
"Our house was hit by white phosphorous ammunition [probably from the ships]. We tried to put it out but we couldn't, it just kept burning.
"In the early morning the house across the street was hit by an F-16, killing three people.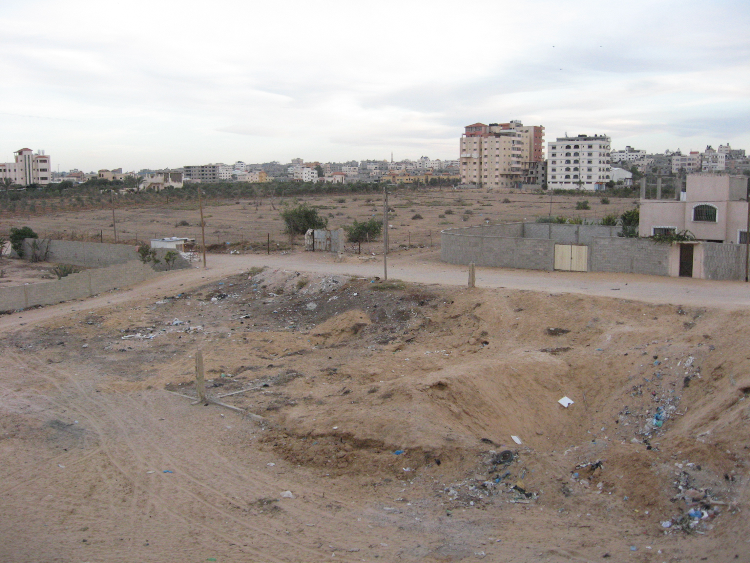 The view from Abdullah and Ebtihaj's window of a crater caused when the house opposite them was hit by a missile from an F-16
"When we came back to clean up the house after the attacks we found that papers had been dropped warning people to leave their homes. We had not seen the papers before the attack started. There was no reason given for the attack on our house."
Abdullah tells us, "I paid $50 000 to repair the house. The construction materials were very expensive because of the siege. The government and UNWRA promised us support but it did not come. They just gave us some food and mattresses when we went to the UNWRA school. I had to buy new furniture, a TV, tiles for the bathroom and repair the ceiling. However, we no longer want to stay here. It is too dangerous. We are living somewhere else.
According to Abdullah: "Israel depends on drones more and more. More than any other warplanes. In 2009 and 2012, they were used for both surveillance and for attack and they were sending information to help the [Israeli naval] ships target their missiles."
Increasing deaths caused by drone strikes
The number of deaths (as a proportion of total deaths) caused by drone strikes has been increasing. The Gaza based Al Mezan Centre for Human Rights provided Corporate Watch with these shocking figures for the years 2000-2012:
| | | |
| --- | --- | --- |
| Year | Total recorded number of people killed by Israeli attacks in Gaza | Number of people killed by Israeli drones in Gaza (% of total) |
| 2000 | 123 | 0 (0%) |
| 2001 | 243 | 0 (0%) |
| 2002 | 472 | 0 (0%) |
| 2003 | 398 | 0 (0%) |
| 2004 | 646 | 2 (0.3%) |
| 2005 | 99 | 0 (0%) |
| 2006 | 534 | 91 (17%) |
| 2007 | 281 | 98 (34.9%) |
| 2008 | 769 | 172 (22.4%) |
| 2009 | 1058 | 461 (43.6%) |
| 2010 | 72 | 19 (26.4%) |
| 2011 | 112 | 58 (51.8%) |
| 2012 | 255 | 201 (78.8%) |
The companies behind Israel's drone strikes
The battlefields of Israel's militarism and occupation have proved effective testing grounds for new types of weaponry. Israel's constant state of warfare has ensured a reliable marketplace for Israeli arms manufacturers. According to Drone Wars UK, surveillance drones were first used in Egypt in the lead up to the Yom Kippur War. The first recorded use of an Israeli drone to help piloted warplanes bomb targets (target acquisition) was in 1982 in the run up to the Israeli invasion and occupation of Lebanon. According to the Al Mezan Centre for Human Rights, the first recorded use of an armed drone by Israel was in 2004. The experience gleaned during years of military repression has made Israel the largest exporter of drone technology in the world. Israeli arms companies have sold drones to over 50 countries.
Israel's market leaders in drone technology are Elbit, a private Israeli company based in Haifa. Elbit have partnered with French company Thales to manufacture the Watchkeeper drone for the UK military. A list of the Watchkeeper programme's subcontractors can be found here.
The Watchkeeper is being tested at Parc Aberporth facility in Wales. Miitary testing is being carried out in Wiltshire at Boscombe Down. Campaigners in Wales have been protesting for years against the flying of drones at Parc Aberporth.
Thales' UK locations can be viewed here.
Elbit's UK locations can be viewed here.
In 2007 Elbit bought UK company Ferranti Technologies, based in Oldham, Manchester.
Two-way arms embargo
In 2011 a group of grassroots Palestinian groups called for a two-way arms embargo. This means an embargo on arms sales to Israel and on purchases of weapons from Israeli companies, until Israel abides by international humanitarian law. The Palestinian Boycott National Committee wrote at the time: "A comprehensive military embargo on Israel is long overdue. It would form a crucial step towards ending Israel's unlawful and criminal use of force against the Palestinian people and other peoples and states in the region, and would constitute an effective, non-violent measure to pressure Israel to comply with its obligations under international law."
The campaign recognises that buying arms from Israeli companies fuels Israeli militarism and strengthens the occupation and siege. In the UK, there is a call by a coalition of groups including War on Want for campaigners to pressure their representatives to support a two-way embargo; end all contracts with Elbit Systems and Elbit subsidiaries; end all arms trade with Israel; and suspend the EU-Israel Association Agreement and all EU research funding for Israel's arms companies.
Target the shareholders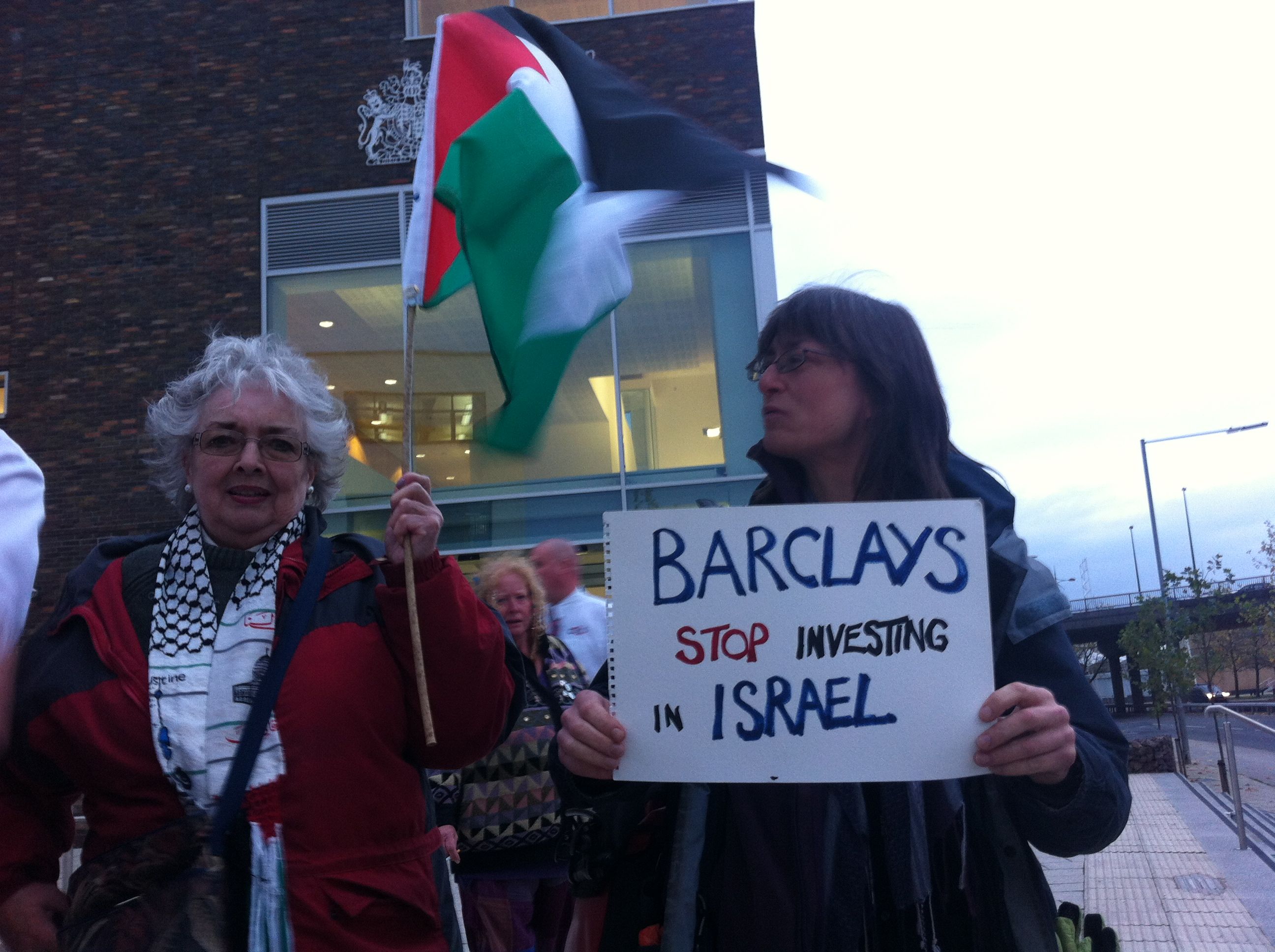 Protesters demonstrate outside Newport Magistrate's court where four people were on trial accused of aggravated trespass for occupying a Barclalys Branch this week. They were found not guilty!
The Palestinian civil society call for Boycott, Divestment and Sanctions demands action to persuade the investors in companies complicit in Israeli militarism to divest their shares. Barclays PLC is the named owner of over 50, 000 shares in Elbit Systems.
During the most recent Israeli attack on Gaza, in which 2,191 Palestinians were killed, campaigners held demonstrations and occupations of branches of Barclays bank all over the UK, including in Aberdeen, London, Brighton, Manchester and Wrexham. An Avaaz petition calling on Barclays to divest has gained nearly 2 million signatures. On 6 September 2014, campaigners in Wales held an occupation of a Barclays branch in Newport in solidarity with Gaza. Several people glued themselves to furniture inside the bank, closing the branch for several hours. Campaigners also staged an occupation of a Barclays branch in Brighton on October 11th.
In the face of these growing protests against its shares in Elbit, Barclays has claimed that it only holds these shares "on behalf of clients and to hedge exposure against customer facing transactions". This explanation doesn't get Barclays off the hook. The practice of 'hedging' is still a form of investment and in agreeing to purchase the shares in Elbit on the behalf of their customers the bank is ignoring the war crimes being carried out against people like Abdullah and Ebtihaj using Elbit's equipment. Barclays have the power to refuse to purchase shares for their clients in unethical companies like Elbit. There is a need for further concerted action to persuade Barclays to change their position and to have nothing to do with shares in Elbit.