'Floating Prisons': The 200-year-old family business behind the Bibby Stockholm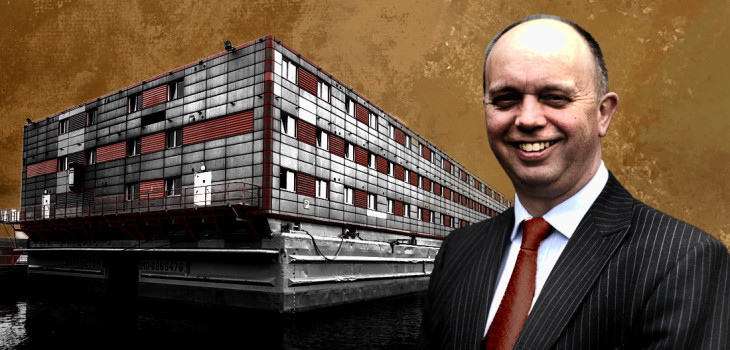 Bibby Line Group Limited is a UK company offering financial, marine and construction services to clients in at least 16 countries around the world. It recently made headlines after the government announced one of the firm's vessels, Bibby Stockholm, would be used to accommodate asylum seekers on the Dorset coast.
In tandem with plans to house migrants at surplus military sites, the move was heralded by Prime Minister Rishi Sunak and Home Secretary Suella Braverman as a way of mitigating the £6m-a-day cost of hotel accommodation amid the massive ongoing backlog of asylum claims, as well as deterring refugees from making the dangerous channel crossing to the UK. Several protests have been organised against the project already, while over ninety migrants' rights groups and hundreds of individual campaigners have signed an open letter to the Home Secretary calling for the plans to be scrapped, describing the barge as a "floating prison."
Corporate Watch has researched into the Bibby Line Group's operations and financial interests. We found that:
The Bibby Stockholm vessel was previously used as a floating detention centre in the Netherlands, where undercover reporting revealed violence, sexual exploitation and poor sanitation.

Bibby Line Group is more than 90% owned by members of the Bibby family, primarily through trusts. Its pre-tax profits for 2021 stood at almost £31m, which they upped to £35.5m by claiming generous tax credits and deferring a fair amount to the following year.

Management aboard the vessel will be overseen by an Australian business travel services company, Corporate Travel Management, who have previously had aspersions cast over the financial health of their operations and the integrity of their business practices.

Another beneficiary of the initiative is Langham Industries, a maritime and engineering company whose owners, the Langham family, have longstanding ties to right wing parties.
Key Issues
According to the Home Office, the Bibby Stockholm barge will be operational for at least 18 months, housing approximately 500 single adult men while their claims are processed, with "24/7 security in place on board, to minimise the disruption to local communities." These measures appear to have been to dissuade opposition from the local Conservative council, who pushed for background checks on detainees and were reportedly even weighing legal action out of concern for a perceived threat of physical attacks from those housed onboard, as well as potential attacks from the far right against migrants held there.
Local campaigners have taken aim at the initiative, noting in the open letter:
"For many people seeking asylum arriving in the UK, the sea represents a site of significant trauma as they have been forced to cross it on one or more occasions. Housing people on a sea barge – which we argue is equal to a floating prison – is morally indefensible, and threatens to re-traumatise a group of already vulnerable people."
Technically, migrants on the barge will be able to leave the site. However, in reality they will be under significant levels of surveillance and cordoned off behind fences in the high security port area.
If they leave, there is an expectation they will return by 11pm, and departure will be controlled by the authorities. According to the Home Office:
"In order to ensure that migrants come and go in an orderly manner with as little impact as possible, buses will be provided to take those accommodated on the vessel from the port to local drop off points".
These drop off points are to be determined by the government, while being sited off the coast of Dorset means they will be isolated from centres of support and solidarity.
Meanwhile, the government's new Illegal Migration Bill is designed to provide a legal justification for the automatic detention of refugees crossing the Channel. If it passes, there's a chance this might set the stage for a change in regime on the Bibby Stockholm – from that of an "accommodation centre" to a full-blown migrant prison.
An initial release from the Home Office suggested the local voluntary sector would be engaged "to organise activities that keep occupied those being accommodated, potentially involved in local volunteering activity," though they seemed to have changed the wording after critics said this would mean detainees could be effectively exploited for unpaid labour. It's also been reported the vessel required modifications in order to increase capacity to the needed level, raising further concerns over cramped living conditions and a lack of privacy.
Bibby Line Group has prior form in border profiteering. From 1994 to 1998, the Bibby Stockholm was used to house the homeless, some of whom were asylum seekers, in Hamburg, Germany. In 2005, it was used to detain asylum seekers in the Netherlands, which proved a cause of controversy at the time. Undercover reporting revealed a number of cases abuse on board, such as beatings and sexual exploitation, as well suicide attempts, routine strip searches, scabies and the death of an Algerian man who failed to receive timely medical care for a deteriorating heart condition. As the undercover security guard wrote:
"The longer I work on the Bibby Stockholm, the more I worry about safety on the boat. Between exclusion and containment I encounter so many defects and feel so much tension among the prisoners that it no longer seems to be a question of whether things will get completely out of hand here, but when."
He went on:
"I couldn't stand the way prisoners were treated […] The staff become like that, because the whole culture there is like that. Inhuman. They do not see the residents as people with a history, but as numbers."
Discussions were also held in August 2017 over the possibility of using the vessel as accommodation for some 400 students in Galway, Ireland, amid the country's housing crisis. Though the idea was eventually dropped for lack of mooring space and planning permission requirements, local students had voiced safety concerns over the "bizarre" and "unconventional" solution to a lack of rental opportunities.
Corporate Travel Management & Langham Industries
Although leased from Bibby Line Group, management aboard the Bibby Stockholm itself will be handled by Corporate Travel Management (CTM), a global travel company specialising in business travel services. The Australian-headquartered company also recently received a £100m contract for the provision of accommodation, travel, venue and ancillary booking services for the housing of Ukrainian refugees at local hotels and aboard cruise ships M/S Victoria and M/S Ambition. The British Red Cross warned earlier in May against continuing to house refugees on ships with "isolated" and "windowless" cabins, and said the scheme had left many "living in limbo."
Founded by CEO Jamie Pherous, CTM was targeted in 2018 by VGI Partners, a group of short-sellers, who identified more than 20 red flags concerning the company's business interests. Most strikingly, the short-sellers said they'd attended CTM's offices in Glasgow, Paris, Amsterdam, Stockholm and Switzerland. Finding no signs of business activity there, they said it was possible the firm had significantly overstated the scale of its operations. VGI Partners also claimed CTM's cash flows didn't seem to add up when set against the company's reported growth, and that CTM hadn't fully disclosed revisions they'd made to their annual revenue figures.
Two years later, the short-sellers released a follow-up report, questioning how CTM had managed to report a drop in rewards granted for high sales numbers to travel agencies, when in fact their transaction turnover had grown during the same period. They also accused CTM of dressing up their debt balance to make their accounts look healthier.
CTM denied VGI Partners' allegations. In their response, they paraphrased a report by auditors EY, supposedly confirming there were no question marks over their business practices, though the report itself was never actually made public. They further claim VGI Partners, as short-sellers, had only released the reports in the hope of benefitting from uncertainty over CTM's operations.
Despite these troubles, CTM's market standing improved drastically earlier this year, when it was announced the firm had secured contracts for the provision of travel services to the UK Home Office worth in excess of $3bn AUD (£1.6bn). These have been accompanied by further tenders with, among others, the National Audit Office, HS2, Cafcass, Serious Fraud Office, Office of National Statistics, HM Revenue & Customs, National Health Service, Ministry of Justice, Department of Education, Foreign Office, and the Equality and Human Rights Commission.
The Home Office has not released any figures on the cost of either leasing or management services aboard Bibby Stockholm, though press reports have put the estimated price tag at more than £20,000 a day for charter and berthing alone. If accurate, this would put the overall expenditure for the 18-month period in which the vessel will operate as a detention centre at almost £11m, exclusive of actual detention centre management costs such as security, food and healthcare.
Another beneficiary of the project are Portland Port's owners, Langham Industries, a maritime and engineering company owned by the Langham family. The family has long-running ties to right-wing parties. Langham Industries donated over £70,000 to the UK Independence Party from 2003 up until the 2016 Brexit referendum. In 2014, Langham Industries donated money to support the re-election campaign of former Clacton MP for UKIP Douglas Carswell, shortly after his defection from the Conservatives. Catherine Langham, a Tory parish councillor for Hilton in Dorset, has described herself as a Langham Industries director (although she is not listed on Companies House). In 2016 she was actively involved in local efforts to support the campaign to leave the European Union. The family holds a large estate in Dorset which it uses for its other line of business, winemaking.
At present, there is no publicly available information on who will be providing security services aboard the Bibby Stockholm.
Business Basics
Bibby Line Group describes itself as "one of the UK's oldest family owned businesses," operating in "multiple countries, employing around 1,300 colleagues, and managing over £1 billion of funds." Its head office is registered in Liverpool, with other headquarters in Scotland, Hong Kong, India, Singapore, Malaysia, France, Slovakia, Czechia, the Netherlands, Germany, Poland and Nigeria (see the appendix for more). The company's primary sectors correspond to its three main UK subsidiaries:
Bibby Financial Services. A global provider of financial services. The firm provides loans to small- and medium-sized businesses engaged in business services, construction, manufacturing, transportation, export, recruitment and wholesale markets. This includes invoice financing, export and trade finance, and foreign exchanges. Overall, the subsidiary manages more than £6bn each year on behalf of some 9,000 clients across 300 different industry sectors, and in 2021 it brought in more than 50% of the group's annual turnover.

Bibby Marine Limited. Owner and operator of the Bibby WaveMaster fleet, a group of vessels specialising in the transport and accommodation of workers employed at remote locations, such as offshore oil and gas sites in the North Sea. Sometimes, as in the case of Chevron's Liquified Natural Gas (LNG) project in Nigeria, the vessels are used as an alternative to hotels owing to a "a volatile project environment." The fleet consists of 40 accommodation vessels similar in size to the Bibby Stockholm and a smaller number of service vessels, though the share of annual turnover pales compared to the group's financial services operations, standing at just under 10% for 2021.

Garic Ltd. Confined to construction, quarrying, airport, agriculture and transport sectors in the UK, the firm designs, manufactures and purchases plant equipment and machinery for sale or hire. Garic brought in around 14% of Bibby Line Group's turnover in 2021.
Prior to February 2021, Bibby Line Group also owned Costcutter Supermarkets Group, before it was sold to Bestway Wholesale to maintain liquidity amid the Covid-19 pandemic. In their report for that year, the company's directors also suggested grant funding from MarRI-UK, an organisation facilitating innovation in maritime technologies and systems, had been important in preserving the firm's position during the crisis.
History
The Bibby Line Group's story begins in 1807, when Lancashire-born shipowner John Bibby began trading out of Liverpool with partner John Highfield. By the time of his death in 1840, murdered while returning home from dinner with a friend in Kirkdale, Bibby had struck out on his own and come to manage a fleet of more than 18 ships. The mysterious case of his death has never been solved, and the business was left to his sons John and James.
Between 1891 and 1989, the company operated under the name Bibby Line Limited. Its ships served as hospital and transport vessels during the First World War, as well as merchant cruisers, and the company's entire fleet of 11 ships was requisitioned by the state in 1939.
By 1970, the company had tripled its overseas earnings, branching into 'factoring', or invoice financing (converting unpaid invoices into cash for immediate use via short-term loans) in the early 1980s, before this aspect of the business was eventually spun off into Bibby Financial Services. The group acquired Garic Ltd in 2008, which currently operates four sites across the UK.
People
Jonathan Lewis has served as Bibby Line Group's Managing and Executive Director since January 2021, prior to which he acted as the company's Chief Financial and Strategy Officer since joining in 2019. Previously, Lewis worked as CFO for Imagination Technologies, a tech company specialising in semiconductors, and as head of supermarket Tesco's mergers and acquisitions team. He was also a member of McKinsey's European corporate finance practice, as well as an investment banker at Lazard. During his first year at the helm of Bibby's operations, he was paid £748,000. Assuming his role at the head of the group's operations, he replaced Paul Drescher, CBE, then a board member of the UK International Chamber of Commerce and a former president of the Confederation of British Industry.
Bibby Line Group's board also includes two immediate members of the Bibby family, Sir Michael James Bibby, 3rd Bt. and his younger brother Geoffrey Bibby. Michael has acted as company chairman since 2020, before which he had occupied senior management roles in the company for 20 years. He also has external experience, including time at Unilever's acquisitions, disposals and joint venture divisions, and now acts as president of the UK Chamber of Shipping, chairman of the Charities Trust, and chairman of the Institute of Family Business Research Foundation.
Geoffrey has served as a non-executive director of the company since 2015, having previously worked as a managing director of Vast Visibility Ltd, a digital marketing and technology company. In 2021, the Bibby brothers received salaries of £125,000 and £56,000 respectively.
The final member of the firm's board is David Anderson, who has acted as non-executive director since 2012. A financier with 35 years experience in investment banking, he's founder and CEO of EPL Advisory – which advises company boards on requirements and disclosure obligations of public markets – and chair of Creative Education Trust, a multi-academy trust comprising 17 schools. Anderson is also chairman at multinational ship broker Howe Robinson Partners, which recently auctioned off a superyacht seized from Dmitry Pumpyansky, after the sanctioned Russian businessman reneged on a €20.5m loan from JP Morgan. In 2021, Anderson's salary stood at £55,000.
Ownership
Bibby Line Group's annual report and accounts for 2021 state that more than 90% of the company is owned by members of the Bibby family, primarily through family trusts. These ownership structures, effectively entities allowing people to benefit from assets without being their registered legal owners, have long attracted staunch criticism from transparency advocates given the obscurity they afford means they often feature extensively in corruption, money laundering and tax abuse schemes.
According to Companies House, the UK corporate registry, between 50% and 75% of Bibby Line Group's shares and voting rights are owned by Bibby Family Company Limited, which also retains the right to appoint and remove members of the board. Directors of Bibby Family Company Limited include both the Bibby brothers, as well as a third sibling, Peter John Bibby, who's formally listed as the firm's 'ultimate beneficial owner' (i.e. the person who ultimately profits from the company's assets).
Other people with comparable shares in Bibby Family Company Limited are Mark Rupert Feeny, Philip Charles Okell, and Lady Christine Maud Bibby. Feeny's occupation is listed as solicitor, with other interests in real estate management and a position on the board of the University of Liverpool Pension Fund Trustees Limited. Okell meanwhile appears as director of Okell Money Management Limited, a wealth management firm, while Lady Bibby, Michael and Geoffrey's mother, appears as "retired playground supervisor."
Key Relationships
Bibby Line Group runs an internal 'Donate a Day' volunteer program, enabling employees to take paid leave in order to "help causes they care about." Specific charities colleagues have volunteered with, listed in the company's Annual Review for 2021 to 2022, include:
Various senior executives and associated actors at Bibby Line Group and its subsidiaries also have current and former ties to the following organisations:
UK Chamber of Shipping

Charities Trust

Institute of Family Business Research Foundation

Indefatigable Old Boys Association

Howe Robinson Partners

hibu Ltd

EPL Advisory

Creative Education Trust

Capita Health and Wellbeing Limited

The Ambassador Theatre Group Limited

Pilkington Plc

UK International Chamber of Commerce

Confederation of British Industry

Arkley Finance Limited (Weatherby's Banking Group)

FastMarkets Ltd, Multiple Sclerosis Society

Early Music as Education

Liverpool Pension Fund Trustees Limited

Okell Money Management Limited
Finances
For the period ending 2021, Bibby Line Group's total turnover stood at just under £260m, with a pre-tax profit of almost £31m – fairly healthy for a company providing maritime services during a global pandemic. Their post-tax profits in fact stood at £35.5m, an increase they would appear to have secured by claiming generous tax credits (£4.6m) and deferring a fair amount (£8.4m) to the following year.
Judging by their last available statement on the firm's profitability, Bibby's directors seem fairly confident the company has adequate financing and resources to continue operations for the foreseeable future. They stress their February 2021 sale of Costcutter was an important step in securing this, given it provided additional liquidity during the pandemic, as well as the funding secured for R&D on fuel consumption by Bibby Marine's fleet.
Scandal Sheet
Bibby Line Group and its subsidiaries have featured in a number of UK legal proceedings over the years, sometimes as defendants. One notable case is Godfrey v Bibby Line, a lawsuit brought against the company in 2019 after one of their former employees died as the result of an asbestos-related disease.
In their claim, the executors of Alan Peter Godfrey's estate maintained that between 1965 and 1972, he was repeatedly exposed to large amounts of asbestos while working on board various Bibby vessels. Although the link between the material and fatal lung conditions was established as early as 1930, they claimed that Bibby Line, among other things:
"Failed to warn the deceased of the risk of contracting asbestos related disease or of the precautions to be taken in relation thereto;

"Failed to heed or act upon the expert evidence available to them as to the best means of protecting their workers from danger from asbestos dust; [and]

"Failed to take all reasonably practicable measures, either by securing adequate ventilation or by the provision and use of suitable respirators or otherwise, to prevent inhalation of dust."
The lawsuit, which claimed "unlimited damage"' against the group, also stated that Mr Godfrey's "condition deteriorated rapidly with worsening pain and debility," and that he was "completely dependent upon others for his needs by the last weeks of his life." There is no publicly available information on how the matter was concluded.
In 2017, Bibby Line Limited also featured in a leak of more than 13.4 million financial records known as the Paradise Papers, specifically as a client of Appleby, which provided "offshore corporate services" such as legal and accountancy work. According to the Organized Crime and Corruption Reporting Project, a global network of investigative media outlets, leaked Appleby documents revealed, among other things, "the ties between Russia and [Trump's] billionaire commerce secretary, the secret dealings of Canadian Prime Minister Justin Trudeau's chief fundraiser and the offshore interests of the Queen of England and more than 120 politicians around the world."
This would not appear to be the Bibby group's only link to the shady world of offshore finance. Michael Bibby pops up as a treasurer for two shell companies registered in Panama, Minimar Transport S.A. and Vista Equities Inc.
Looking Forward
Much about the Bibby Stockholm saga remains to be seen. The exact cost of the initiative and who will be providing security services on board, are open questions. What's clear however is that activists will continue to oppose the plans, with efforts to prevent the vessel sailing from Falmouth to its final docking in Portland scheduled to take place on 30th June.
Appendix: Company Addresses
HQ and general inquiries: 3rd Floor Walker House, Exchange Flags, Liverpool, United Kingdom, L2 3YL
Tel: +44 (0) 151 708 8000
6, Shenton Way, #18-08A Oue Downtown 068809, Singapore
1/1, The Exchange Building, 142 St. Vincent Street, Glasgow, G2 5LA, United Kingdom
4th Floor Heather House, Heather Road, Sandyford, Dublin 18, Ireland
Unit 2302, 23/F Jubilee Centre, 18 Fenwick Street, Wanchai, Hong Kong
Unit 508, Fifth Floor, Metropolis Mall, MG Road, Gurugram, Haryana, 122002 India
Suite 7E, Level 7, Menara Ansar, 65 Jalan Trus, 8000 Johor Bahru, Johor, Malaysia
160 Avenue Jean Jaures, CS 90404, 69364 Lyon Cedex, France
Prievozská 4D, Block E, 13th Floor, Bratislava 821 09, Slovak Republic
Hlinky 118, Brno, 603 00, Czech Republic
Laan Van Diepenvoorde 5, 5582 LA, Waalre, Netherlands
Hansaallee 249, 40549 Düsseldorf, Germany
Poland Eurocentrum, Al. Jerozolimskie 134, 02-305 Warsaw, Poland
1/2 Atarbekova str, 350062, Krasnodar, Krasnodar
1 St Peter's Square, Manchester, M2 3AE, United Kingdom
25 Adeyemo Alakija Street, Victoria Island, Lagos, Nigeria
10 Anson Road, #09-17 International Plaza, 079903 Singapore