Frackanpada: Building the European anti-fracking movement
/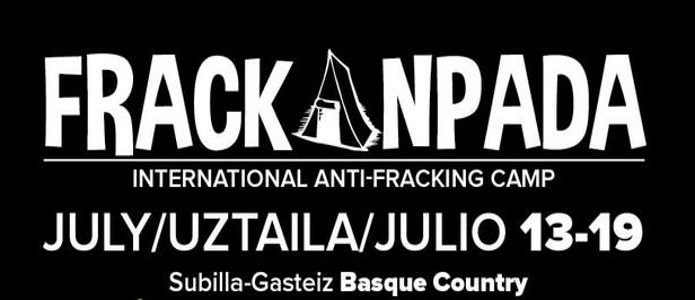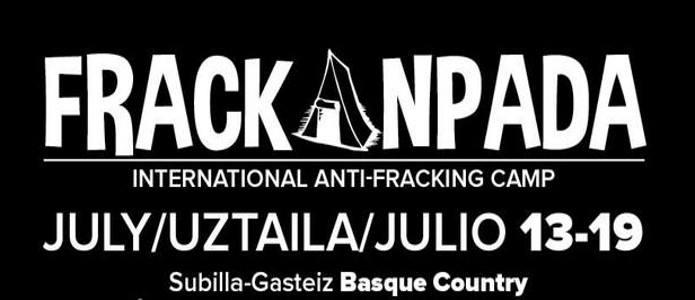 [responsivevoice_button]
International anti-fracking camp to take place in Basque Country in July.
The European movement against fracking is gaining strength, with a major international anti-fracking camp planned for 14 – 19 July in Euskal Herria (Basque Country). The camp, named Frackanpada, will bring together those fighting fracking from all over Europe, and aims to allow participants to share experiences and exchange practices in opposing fracking. It also aims to connect the struggle against fracking with those against austerity and for sustainable societies.
The camp will take place in Subijana de Alava, a small village in the Vitoria-Gasteiz municipality where there are plans to carry out fracking, the first in Euskal Herria. The local community is opposed to the plans and has allowed the camp to take place on their land.
Opposition to fracking across Europe has been growing in strength, with many countries now building strong anti-fracking movements. Following huge public opposition and a concerted campaign, a ban was introduced in France, which remains in place after being recently challenged. In Germany the government was forced to introduce a moratorium after initial plans to allow fracking were met with determined opposition. Following nation-wide protests, a ban is also in place in Bulgaria.
The movement against fracking in Romania has been particularly strong. One village, Pungesti, has consistently opposed Chevron fracking on their land, with machinery being blocked and testing equipment regularly removed or destroyed. The town has faced serious police repression with many complaining of intimidation and brutality. Major clashes occurred after the government moved in 1,000 riot police to allow works to take place at the site.
In Denmark, where two exploration licences have been awarded, Total was recently stopped from carrying out exploration work after it was found to have been using a banned chemical. The site was also targeted by protesters who set up a camp.
The movement has also been growing in the Netherlands where plans are on hold while the government completes research. There is a similar situation in Ireland, where no companies currently hold exploration licences. Some exploration has been carried out in Sweden and Hungary, whilst the Czech Republic maintains a moratorium.
In Poland, which was estimated to have the largest shale gas resources in Europe, the industry is in disarray following a number of serious setbacks with several major players, such as ExxonMobil leaving the country. The conflict in Ukraine has halted development with both Chevron and Shell pulling out of shale operations.
There have also been widespread demonstrations and protest camps in the UK, with the sites at Balcombe in Sussex and Barton Moss near Salford becoming focal points of the anti-fracking movement. Fracking exploration is set to rapidly expand and new protest camps are likely to pop up across the country as the industry moves to new areas.
A moratorium on fracking was introduced in the UK when two small earthquakes were found to have been caused by fracking operations at Cuadrilla's site in Lancashire. However, it has since been lifted and, following a recent planning decision, Cuadrilla's site at Preston New Road looks set to be the first place in the country to carry out fracking operations since the moratorium was put in place. In January a moratorium was put in place in Scotland and the Welsh Assembly has followed suit, recently announcing a moratorium on fracking applications.
Fracking, or hydraulic fracturing, involves injecting a high pressure mixture of water and chemicals into bore holes to extract natural gas from rock, usually shale. It has been shown to cause a number of serious environment problems including water pollution and exacerbating climate change through methane emissions.
To find out more about fracking and unconventional fossil fuels, see Corporate Watch's guide: 'To the Ends of The Earth'.
For all the latest information on fracking in the UK, see the campaign group Frack Off (@frack_off).