Government allowed Carillion staff to work in prisons without mandatory suicide prevention training
/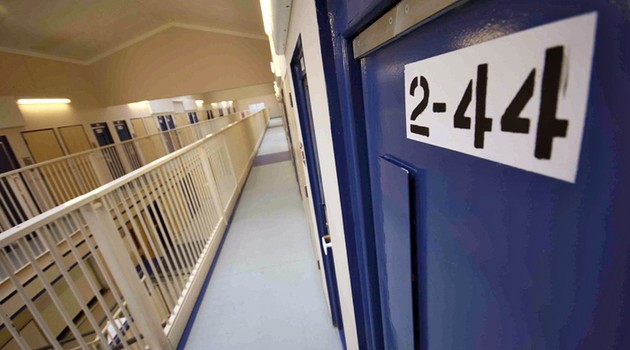 Newly-released documents from an inquest into the tragic death of a 27-year old man reveal government contracts did not require outsourced staff working with prisoners to have the self-harm and suicide prevention training demanded by national policy.
Carillion and Amey, another 'facilities management' company, each won £200m contracts in 2015 to provide a range of services in prisons including maintenance, cleaning and management of prison stores.
Corporate Watch has found staff working with prisoners were not required to be properly trained until the October 2017 inquest into Sean Plumstead's suicide brought the situation to light.
A tragic case
On 15 September 2016, Sean Plumstead hung himself in his cell in Winchester prison. Two days earlier he had asked the staff member supervising his work in the prison's clothing exchange store about the best ways to kill himself.
The supervisor dismissed Sean's words as "banter". Lacking any training in self-harm and suicide prevention procedures, he did not report the conversation. Sean's unusually distracted behaviour at work on the day of his suicide also went unrecorded. As a result, no action was taken to support him.
The supervisor did not work for the prison, but for Carillion, under a multimillion pound contract the now-defunct construction and 'facilities management' company had signed with the Ministry of Justice.
He had no previous experience of this type of work. He told the inquest into Sean's death he had originally been recruited to work as a forklift truck driver at the prison.
Negligent company, negligent state
it is easy to blame contracted companies for the failures of outsourcing. But the responsibility for cost cutting and profiteering lies with the governments that sign the contracts as much as the companies that profit from them.
Media reports at the time assumed the responsibility for the supervisor's lack of training lay with Carillion.
But newly-disclosed documents published by the Chief Coroner show the Ministry of Justice neglected to include suicide and self-harm prevention training as a requirement for staff working with prisoners in any of its contracts with Carillion. As a result the company could send staff to work in the prison without fear of redress.
Carillion provided services to almost half the prisons in England and Wales, supplying around 1,000 staff, many working with prisoners.
In his Report to Prevent Future Deaths, written after the inquest into Sean's death, the coroner said the case "highlighted matters of concern relating to Carillion's past and present operations at HMP Winchester and possibly at other establishments nationally." He expressed concern about a "gap in training which Carillion is either unaware of or unconcerned with", and "apparent ambiguities" in its contracts with the Ministry of Justice that "could compromise the safety of prisoners that Carillion personnel are dealing with".
In response, Carillion's prison operations director wrote to the coroner to say they were "unaware" their staff had to have the training and that the contracts they had signed did not require it:
"Having carefully reviewed our contracts with HMPPS, and contrary to the view that you formed during the inquest, there is in fact no contractual requirement upon Carillion and its staff to undergo SASH [Suicide and Self-Harm] training, either as a business requirement, key deliverable or at all."
A subsequent letter by Michael Spurr, Chief Executive of the Prison & Probation Service admitted: "the requirement for prisoner-facing staff to undertake suicide and self-harm prevention training was not specifically brought to the attention of Carillion when their contract began".
Spurr also accepted another criticism of the Coroner – that the prison service did not hold records of what training the outsourced staff had received from Carillion.
The Ministry of Justice's own policy – Prison Service Instruction 64/2011 – makes clear that all staff in contact with prisoners must have training in suicide and self-harm prevention.
Spurr said the prison service had committed to give the training itself in future, although at the time of the inquest the supervisor's colleague in the clothing store still had not been trained. Carillion said the training was too specialised for it to provide: "it is not training that we are able to provide to our own staff as employers".
The supervisor Sean spoke to was finally given the training (by the prison service) just before the inquest was held. He said if he had been trained at the time of Sean's death he would have made a record of Sean's comments and unusual behaviour – and thus triggered the appropriate support measures.
The inquest jury, in October last year, found the failure to do so contributed to Sean's death, together with other problems at the prison. Sean's mother said she found it "hard to believe that those responsible for Sean in the place of work had no proper training".
A grim partnership
Carillion has a well-documented record of disrepair and mismanagement at a number of prisons maintained by it so it is not a surprise that it saw no problem in sending untrained, inexperienced staff to unsuitable jobs.
But the government's disinclination to train those staff itself should not surprise either. The prison service's record in training its own staff is dismal. Noting the large numbers of untrained prison service staff working at Winchester, the coroner said targets for suicide and self-harm training were "failing to be met and if anything the ratio of prison staff with the appropriate skills is reducing rather than increasing".
Winchester prison was placed in special measures last month after the Independent Monitoring Board's annual report said it had seen increases in self-harm, drug use and violence.
This is consistent with national trends. Last year the National Audit Office said there had been record rates of suicide and self-harm among inmates following cuts to funding and staff numbers. Campaign groups have repeatedly pointed out the effect the experience of prison has on people's mental health, with feelings of despair and hopelessness making suicide and self-harm more likely.
There were approximately 2,000 outsourced staff working in prisons at the time of Carillion's demise – supplied equally by them and Amey, a rival 'facilities management' firm. Many of them worked with prisoners: the Ministry of Justice told Corporate Watch around 15%, though the GMB union said the figure is more likely around two thirds.
Prison service boss Michael Spurr said a Service Manager's Instruction would need to be issued: "to ensure that Carillion, and our other contractors, are made aware of the requirement and their contractual obligation to comply with it".
Corporate Watch asked the Ministry of Justice why the suicide and self-harm prevention training was not included in its contracts with Carillion and Amey. They told us "this training was not a contractual requirement".
They said the prisons service "has now made a commitment to provide safer custody awareness sessions, this will inform contractors of the process of passing this information on. The department will cover the cost of these sessions."
Since Carillion's demise the MoJ has set up a new company to take over from it. Neither they nor Amey would say how many staff still lack the training.
Solicitor Clair Hilder from law firm Hodge, Jones & Allen, who represented Mr Plumstead's family at the inquest, said: "That there was no provision for such training of Carillion staff shows the shocking lack of priority given to self-harm and suicide prevention in prisons despite the latest safety in custody statistics showing record highs of self-harm incidents. The prison service appears to have been clueless as to what roles 'facility management' staff filled within prisons and what if any training they had had."
Corporate Watch contacted Amey for comment but they said we needed to speak to the Ministry of Justice.