HCA: Promoting US style for-profit healthcare in the UK
/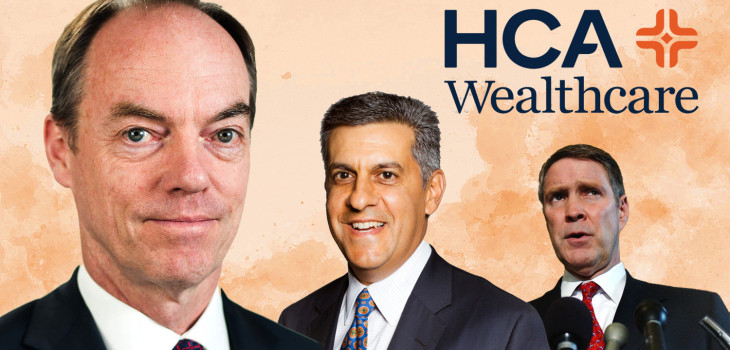 In February 2022, cleaners at London Bridge Hospital launched a new campaign against healthcare giant Hospital Corporation of America (HCA).
HCA is the world's largest private healthcare company, as well as being both the UK's and US' biggest private hospital group. It runs London Bridge Hospital (LBH) as a for-profit business, as well as five other central London hospitals and partnerships around the UK.
Many of the cleaners at LBH are organised with the Independent Workers' Union of Great Britain (IWGB). They are currently demanding fair pay, accusing their employers of failing to provide proper personal protective equipment (PPE) and bullying those who speak out.
Corporate Watch has investigated HCA and its business model, to provide information for action for the cleaners' ongoing campaign.
In summary:
HCA made billions from the pandemic in the US and the UK, yet it wouldn't even supply workers with adequate PPE, let alone pay them properly.
The pandemic created a perfect storm for the Tories to push more privatisation through the backdoor while 'selling' it as a strategy to help a broken NHS.
Despite a huge government payout, HCA beds were greatly underutilised during the pandemic, resulting in the NHS terminating its contract only months later.
Now, with NHS waiting lists at an all time high, it's boosting profits further. The NHS has been forced to pay HCA millions for critical life-saving treatments for cancer patients. Meanwhile, record numbers of people who can afford to are paying the company privately for routine treatments.
HCA has a long history of relationships with politicians who have pushed privatisation.
Labour Party leader Keir Starmer has received donations from a HCA shareholder, who is a member of the House of Lords.
Some NHS consultants are making money from shares in HCA, further undermining the integrity of the NHS.
HCA has a documented history of fraud, negligence and malpractice: do we really want these people to run our healthcare?
This company profile shows that HCA's agenda is to continue expanding and profiting from private healthcare, both in the US and the UK. HCA maximises its profits by hiring outsourced and underpaid workers, and cutting costs at the expense of workers' and patients' safety.
Henry Chango Lopez, IWGB General Secretary, told Corporate Watch:
"While HCA has made millions in profits during this pandemic and claims to value its employees, it treats its outsourced cleaners like second-class workers. Outsourced cleaners are overworked on poverty wages and are forced to work while sick because they cannot afford to take time off without proper sick pay. They also face unequal terms and conditions, worse treatment, being denied access to on-site medical care and other benefits enjoyed by directly-employed colleagues.

Their workers are not prepared to accept this discriminatory treatment any longer from such a prestigious corporation. They have launched their campaign at London Bridge Hospital with the support of their union – the IWGB, and will fight until they get the benefits, the dignity and respect they deserve."
Unlike many healthcare companies, HCA managed to increase both profits and turnover throughout the pandemic. In fact, the company has seen its profits skyrocket as a result of Covid-19: company records show that in 2021, gross profits were up to nearly $50 billion. It reported turnover of $58.8 billion and a net profit of $7 billion.
A 2022 report from Service Employees International Union (SEIU), the largest US healthcare union, hit the nail on the head when it explained that as HCA profits soar, thousands of employees struggle on "poverty wages".
Contents
– What is HCA?
– Who profits?
– Frist fortunes
– Pandemic profiteering, lack of PPE and union-busting
– New allegations of fraud
– Lobbyists and lurkers
– HCA in court
– Conclusion
What is HCA?
In the US, Hospital Corporation of America runs 182 hospitals in 20 states. It makes twice the profit of the US' three other largest publicly-traded hospital companies combined. During the pandemic, its profits also soared above other private hospital groups.
HCA began operating in the UK in 1995 and now runs 30 UK facilities. The company is expanding its reach in the country, with a new joint venture partnership to build a $100 million hospital in Birmingham slated for completion in 2023.
HCA outsources the employment of the vast majority of its cleaners at LBH to Compass Group. Ultimately, because this deal saves it money.
The company has been plagued by scandals, including being implicated in "the longest and costliest investigation for health-care fraud in U.S. history": it was forced to admit overcharging the US government for Medicare/Medicaid healthcare cases. In 2002, after pleading guilty, it paid over $2 billion in fines, the largest corporate fine in US history.
HCA has been expanding in the UK since 1995. Here is a list of its main UK facilities:
London:
(LOC is based in Harley Street, but has several other London locations and one at The Christie Private Care in Manchester).
London
Birmingham
Manchester
Many of these hospitals and clinics operate out of multiple facilities.
This global healthcare giant is now moving in on our NHS. It was one of several private healthcare companies paid millions by the British government to expand capacity during the pandemic. Yet most HCA beds remained empty. With further Covid waves looming, the NHS was compelled to end its agreement with HCA because, allegedly, HCA was demanding too high a fee while its beds weren't being filled. Yet as waiting lists (for both planned and emergency operations) soared, this change meant the NHS paid further millions in vital treatments for critically ill patients. It also enabled HCA to lure thousands of people who could afford to pay into its hospitals for more routine surgery. Double whammy.
Meanwhile, the government is pushing through legislation that will make it easier for private healthcare companies to profit even more as the NHS continues to break.
Who profits from HCA?
In the UK, HCA operates through a complicated system of subsidiaries which eventually lead back to US-based HCA Healthcare Inc. The largest shareholder of the ultimate owner is a company called Hercules Holding II LLC.
In 2005, HCA was forced to pay $20 million to shareholders who sued the company following claims of insider trading and inflating share prices. The following year, HCA management and Hercules Holding II LLC, which was "a consortium of private investment funds including Bain Capital Partners LLC, Kohlberg Kravis Roberts & Co. and Merrill Lynch Global Private Equity", bought HCA.
Since then, the investment companies (Bain, KKR and Merrill) have cashed out their shares, leaving the billionaire Frist family—who founded HCA—as the sole owners of Hercules Holdings. Other shareholders of note include BlackRock and Vanguard, two of the world's biggest investment funds which exist only to earn more money for the super-wealthy.
HCA may not pay its workers well, but things are different if you're a director or shareholder. In 2020, HCA's current chief executive Samuel Hazen earned $30.4 million. Hazen's net worth is at least $137 million, and over $100 million of this comes from HCA shares. Despite taking a salary dip in 2019, his total compensation package was 556 times more than the average earnings ($54,651) of HCA employees. Indeed, the US executive management team and most directors are also HCA shareholders. Many are also multi-millionaires with wealth boosted significantly by their HCA shares.
In contrast, Jamelle Brown—a technician for HCA in Kansas City—reportedly earned just $13.77 (£10.48) an hour, and 1,000 times less than Hazen's salary. In 2020, he caught Covid at work. On his return, he was named 'employee of the month' which came with a 'reward': a $6 coupon to spend at the hospital canteen. The SEIU report also notes that although 43% of HCA's 2020 revenue came from Medicare and Medicaid:
"since 2010 HCA has diverted over $29 billion to the pockets of rich investors like Bain, KKR, Merrill Lynch and the Frist family."
Another shareholding director is Nancy-Ann DeParle, who joined in 2014. She previously worked for both Bill Clinton and Barack Obama and was credited as one of the key players of the Affordable Care Act (ACA). Also known as 'Obamacare', the ACA gave millions of uninsured American people access to health cover. But although DeParle may sound on paper like an altruistic supporter of cheap healthcare, the truth is far shadier. Before heading to the White House, DeParle was director of several corporations that were investigated, and in some cases found liable, for corruption, bribery or negligence. She stepped down from these directorships upon appointment to the White House, having earned millions from companies that would benefit from Obamacare. DeParle's career has continued to flip-flop between the White House and then back to making millions from private healthcare companies.
Given HCA's landmark Medicare fraud case, DeParle's role suggests a clear conflict of interest.
Other directors' previous positions read like a roll-call of honour of capitalist 'greats':
In the UK, the majority of the management team appears to have strong medical, rather than business, backgrounds. Although Andrew Coombs, the UK's HCA commercial director, previously worked for AXA. As the Palestinian campaign for Boycott, Divestment and Sanctions (BDS) notes:
"AXA's investment in Israeli banks that finance Israel's illegal settlements makes it complicit in grave violations of international law".
Until 2018, AXA also invested in Elbit Systems, Israel's largest privately-owned arms and 'security' company.
From 1995 – 2001 Selvavinayagam Vireswer, currently HCA's vice president of development, worked for management consultancy giant McKinsey & Co.—notorious for "giving bad advice and working with corrupt entities". In 2001, Vireswer worked for a year in government under Tony Blair at the Forward Strategy Unit. He was there as warnings grew about Blair's private finance initiative (PFI), which pushed more public services into private ownership for profit and started the onslaught of outsourcing giants.
Concerns have been growing in the UK about potential conflicts of interest given that NHS consultants can refer patients to private hospitals that they also own shares in. In 2019, the Centre for Health and the Public Interest (CHPI) drew attention to the rising income of consultants with stakes in private hospitals. Among the companies concerned was HCA, which co-owns The Christie Hospital in Manchester, where oncologists had earned millions from investments in HCA. In January 2022, a new CHPI report found that London NHS trusts paid HCA £36.4 million for cancer treatments between December 2020 and November 2021 after ending its agreement with HCA. As the NHS became overwhelmed with Covid patients, there was an acute shortage of beds, particularly for cancer patients needing urgent care. But it's worth noting that HCA also held "joint ventures with 120 medical consultants" working at these same NHS hospitals. Those consultants earned income from HCA share dividends, on top of fees for treating private patients, an NHS salary and any additional fees paid to them by HCA.
The investigation also revealed that:
HCA has the UK's biggest number of consultants with joint NHS/private stakes;
HCA dominates access to 80-90% of private chemotherapy treatment in Central London;
Between 2015 and 2020, consultants earned an estimated £31.3m from joint HCA/NHS ventures. Most of this (over £25 million) went to those with stakes in HCA.
Although the revolving door between the government and HCA is more discreet in the UK than the US, Corporate Watch has found that Labour peer Lord Clive Hollick is an HCA (and KKR) shareholder. In 2020, he donated £50,000 to Labour leader Keir Starmer, and has a long record of donations to the Labour Party and to right-wing Labour MPs. He's seemingly unaware of HCA's treatment of employees and claims to support gig economy workers.
Frist fortunes
HCA was founded in 1968 by Thomas Frist, Jr. and Sr., and Jack Massey (who also co-owned Kentucky Fried Chicken). The co-founders saw the potential to generate wealth from healthcare. According to the SEIU:
"Thomas Frist, MD, and his co-founders were inspired by 'seeing what Holiday Inns 10 years before had done in changing basically the travel industry.' HCA did change the hospital industry. Prior to HCA's creation, the hospital industry had long been dominated by nonprofits."
The Frists own the largest stake of HCA shares. According to Forbes, the family's net worth at the time of writing is $21.3 billion. Between 2020 and 2021, the family's wealth nearly doubled. Although founder Thomas Frist Jr. no longer holds an executive position at HCA, sons Thomas and William (Bill) Frist sit on its board of directors.
In 2005, when HCA was accused of insider trading, Bill Frist was a long-standing Republican Senate Leader who'd considered running for president. His political career seems 'almost' magically charmed.
Following the Medicare scandal, the Frists escaped any criminal charges. George Bush Jr. was in the White House at the time and reportedly:
"dictated the Justice Department deal with HCA that let the crooks escape jail just as Frist was being anointed the Senate's majority leader. A pure coincidence in timing, of course."
In 2005, analysis of Frist's voting record revealed a "pattern of supporting bills that benefit HCA". During his time as senator, Frist was also implicated in pushing through legislation to protect pharmaceutical giant Eli Lilly from lawsuits over links between its Thimerosal vaccine and autism "and other neurological maladies" in young children.
Bill Frist also has a history "of race-related controversy". He was accused of making racist remarks on a campaign tour in Tennessee during his first run for public office in 1994. He's also openly opposed gay marriage.
HCA lobbying funding has continued to grow since 1990, totalling over $3.2 million in 2021. Although HCA donated $169,798 to Joe Biden in the 2020 election, it also hedged its bets with a $74,870 donation to Donald Trump.
Pandemic profiteering, lack of PPE and union-busting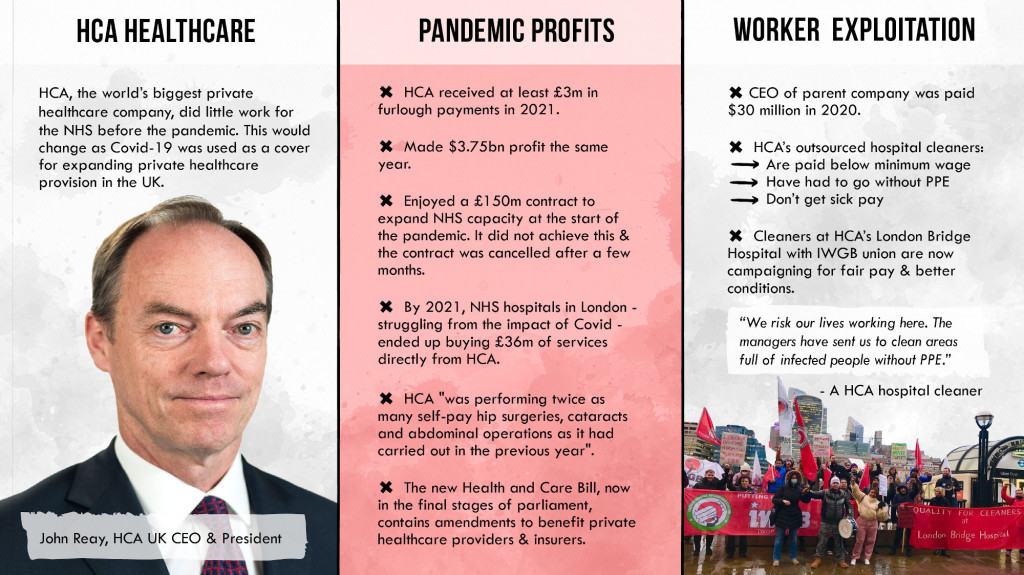 HCA's profits have increased since the Covid-19 pandemic. One might think this is because HCA hospitals treated increasing amounts of people suffering from coronavirus. But the reality is somewhat more complicated. In fact, the company has received large Covid-19 bailouts in the US and UK, while at the same time cost-cutting on PPE for workers, and clamping down on worker organising.
In March 2020, NHS England "block booked almost the entirety of the private hospital sector's services, facilities and nearly 20,000 clinical staff" to expand capacity during the pandemic. This was not just to treat Covid-19, but to enable urgent care—such as cancer treatment—to be provided while the NHS scrambled to address the pandemic.
HCA received the fifth-largest contract for beds and staff from NHS England (NHSE) and was paid over £150m to treat NHS patients between March 2020 and March 2021. It also received about £3m in furlough payments from the UK government during the first eight months of 2021.
The company was one of eight private healthcare providers paid a total of £1.69 billion by NHS England for bed capacity during the pandemic. But this billion-pound payout didn't translate into significantly higher capacity for the NHS. In fact, overall "private hospitals delivered 0.08% of COVID care". Out of an estimated 8,000 private beds, the highest number ever occupied by Covid patients on one day was only 78.
And by August 2020, the NHS reportedly ended its contract with HCA and two other providers owing to the lack of beds filled and the fees that the companies were demanding.
Following the end of the contract, there was said to be a "real and imminent threat to London's ability to perform cancer surgery."
HCA made profits of $3.75 billion in 2021. Yet cleaners at HCA's London Bridge Hospital had to go through the pandemic without even basic protections. The cleaners launched their campaign complaining of woefully inadequate PPE, unsafe working conditions and the lack of proper sick pay. Ramona Marredo Mendez, a cleaner working for HCA subcontractor Compass, told Freedom News in February 2022:
"We risk our lives working here. The managers have sent us to clean areas full of infected people without PPE. When I caught covid at work, I was forced to isolate for two weeks without the sick pay that directly-employed workers get. The pay is already so low, I can't afford to take two weeks off on £96.35 a week. When I asked Compass for support in accessing the statutory sick pay, they did nothing so I ended up at home for two weeks with no money."
A glance at LBH's reviews on the Indeed ratings site shows that these concerns are widespread. Reviewers mentioned difficulties in taking annual leave, long working hours, difficulties with "dealing with the supervisors", bad management, rubbish pay, lack of progression, "class culture", bullying and low pay. Workers used the reviewing platform branded hospital management "terrible" and "despicable".
The story is similar in the US, where nurses and other workers spoke out about the lack of PPE in several HCA hospitals during the pandemic. Outcry over worker safety in HCA hospitals there increased in 2020 following the deaths of nurses Celia Yap-Banago and Rosa Luna, who worked at HCA hospitals in Kansas City and California, respectively. Both had contracted coronavirus, despite the alarm having been raised about the lack of PPE at work.
But HCA executives' attention was not on Celia and Rosa, it was on crushing workers' organising. Instead of responding to the wave of criticism and discontent by taking proper steps to ensure worker safety, HCA hired professional union busters—reportedly costing $400 an hour—to break proposed union actions by nurses in North Carolina. This followed "widespread complaints over cuts in staff, poor communication, and lack of access to basic supplies and PPE".
HCA received billions in Coronavirus Aid, Relief, and Economic Security Act (CARES Act) payments as a result of the pandemic. As profits grew, it was then able to return $6 billion of this in a stunning PR stunt, while it cut costs in areas directly affecting workers.
HCA and backdoor NHS privatisation
The pandemic, and the toll it has taken on the NHS, has created a perfect storm for the Tory party to extend healthcare privatisation through the back door, creating even greater profits for private healthcare giants. Not only had HCA already earned billions in revenue, it was perfectly poised to step in and profit further from a decimated NHS, exhausted staff and rising waiting lists for vital treatment.
Before the pandemic, HCA reportedly carried out "virtually no work" for the NHS. But it's used the pandemic to increase all NHS activity, especially in London where it runs six private hospitals and a large portfolio of private healthcare partnerships and clinics. London NHS hospitals' increased reliance on private healthcare providers such as HCA has raised alarms about "backdoor privatisation" of the NHS. Allyson Pollock, a clinical professor of public health at Newcastle University said:
"Covid has been very much used as a cover for shrinking NHS care and expanding private healthcare provision."
After the NHS ended its emergency contract with several private healthcare firms in 2020, including HCA, struggling NHS hospitals in London were forced to buy "£36m of cancer care, cardiology and other services directly" from HCA. This spending was in addition to HCA's chunk of the £2 billion that was initially paid by NHS trusts to private hospitals in 2020. It was also the first time the NHS paid large sums to outsource complex treatments rather than more routine operations.
With waiting lists at breaking point, this is an issue that's growing. A 2021 survey by openDemocracy revealed that doctors and NHS staff have already advised "one in five" patients to go private to get the treatment they need. And HCA is set up to step in.
The pandemic created a perfect window for HCA which had been moving in on lucrative cancer treatments for a long time. Former HCA special advisor Karol Sikora helped set up London Cancer Group, described as "the largest UK cancer network outside the NHS", in HCA's London hospitals. A high profile anti-lockdown campaigner, Sikora also has a long history of pro-privatisation, anti-NHS campaigns. In 2017, Sikora called the NHS "the last bastion of communism" on Newsnight. He's also linked to Reform, a think-tank funded "by leading outsourcing corporations". Now director of Rutherford Health, Sikora recently proposed "the biggest public-private partnership in NHS history"and is advising Reform about 'What's Next for the NHS'.
A 2021 CHPI report called 'For Whose Benefit' analyses the government's growing use of private hospitals in 2020, which it tried to pass off "as a strategy for alleviating the burden on the NHS". It found that:
Government funding guaranteed private hospitals an income which buffered them from financial losses during the pandemic.
Although private hospitals were initially paid to take the strain off NHS hospitals, very few beds were used and government figures over the exact costs remain hidden.
So-called elective surgery is non-urgent surgery. It's here that NHS waiting lists are soaring. Yet, during the pandemic, private hospitals carried out 45% less NHS-funded elective care than in the previous year—the very thing they were supposedly paid to do.
The deal ultimately benefited private hospitals more than the (already) broken NHS and paved the way for them to increase profits further.
When the NHS ended its contract with HCA, this benefited the private hospital sector further. It was able to step straight in to perform planned surgeries for additional money—as more people paid for private treatment—because of the huge backlog of patients needing treatment during the pandemic.
By January 2021, HCA "was performing twice as many self-pay hip surgeries, cataracts and abdominal operations as it had carried out in the previous year". Only now, these are funded by patients who could afford to pay, leaving those who can't on ever-rising waiting lists.
HCA has fingers in other profit pies in the UK, too, because it also owns HealthTrust Europe. Listed as an NHS partner, it has £1 billion in purchasing power to provide "procurement and related services".
All this comes as the Conservative Party is pushing a new Health and Care Bill through the final stages of parliament. Critics say that the Bill is set to continue "the dismantling of the NHS… by adopting more features from the US health system". HCA—and other US-owned healthcare giants—will profit even more from a struggling NHS. Although MPs and the government insist the bill isn't about privatisation, the British Medical Association said it would likely "do more harm than good" and make "it easier for private companies to win NHS contracts without proper scrutiny". The bill contains a sweeping array of amendments designed to benefit private healthcare providers and insurers.
openDemocracy explains that the Bill will also push more people toward private healthcare, while those who can't afford it are left dealing with a broken NHS and spiralling waiting times.
One key part of the new legislation is to extend Integrated Care Systems (ICS). In theory, these give patients easier access to a range of services in their community: merging health, mental health, social care etc. Extending ICS regions across the UK sets up a system to pay per head providing healthcare from a set pot of funds. But this actually means the less they provide, the more surplus or profit they make. And as NHS for Sale notes, there's no legislation to prevent private companies running, or bidding for, large chunks of ICS. Critics have warned that the true remit of ICS is to embed "private companies in running the NHS together with digital and data systems imported from the US healthcare market and insurance firms". Over 200 companies are now accredited with NHS England to support ICS dealing with data and digital systems, many of which are US-owned giants.
Privacy concerns have been raised in the US after HCA signed a deal with Google to develop "healthcare algorithms" by selling access to patients' medical records.
This all comes amid growing concerns over ways the government used Covid to increase digital surveillance. A 2021 report on surveillance in the UK explains that not only did the government share NHS Test and Trace App (downloaded by over 20 million people) data with police, it also "made deals with private companies" so they had access to it.
Although there's no mention of HCA (yet), the accredited list includes companies linked to its shareholders and IT is clearly a growth industry for HCA. Given the healthcare giant's UK dominance and recent deal with Google, it's not a stretch to assume that it may soon line up to grab more profits.
With a current Tory majority of over 80, the Bill will almost certainly pass. There's not much hope that the House of Lords will make meaningful amendments either as a significant number of peers (from all parties) have private healthcare interests and business links to private companies. As noted above, HCA shareholder Lord Hollick has already donated significant amounts to Starmer. There's little chance that the Labour Party will offer serious opposition, as it's not only backtracked on pledges to end NHS outsourcing to private companies, but Starmer has also defended employing a private healthcare lobbyist. Meanwhile, the UK's largest union Unite has cut funding to Starmer's Labour in disgust over lack of support for workers.
For a detailed timeline about the history of NHS privatisation, read this article from Your NHS Needs You.
New allegations of fraud
There's another big reason to worry about HCA's intrusion into our tax-funded NHS. Despite settling the huge Medicare fraud case in 2000, an SEIU investigation analysing Medicare data and lawsuits involving HCA has revealed its booming profits and huge investor payouts may yet again "originate, in part, from apparent fraud" by "routinely" admitting patients for spells in hospital "regardless of medical need".
Alongside this, the pattern of HCA's callous quest for profit echoes the same complaints of IWGB workers at London Bridge Hospital. The investigation found that HCA's hospital markups are at least twice the cost of actual care yet, at the same time, it:
"pays tens of thousands of its employees poverty wages, and staffing levels in its hospitals lag the national average by about 30%, despite the fact that higher staffing levels are associated with better patient care. Given this unbridled pursuit of profit over all else, it should be no surprise that HCA's profits are astonishingly strong…"
The LBH worker's challenge to HCA abuses is hugely important. If not stopped, the healthcare giant looks set not only to treat more employees badly, but potentially to siphon off more of the NHS's limited funds wherever it can.
Lobbyists and lurkers
Private healthcare companies in both the UK and US are notorious for lobbying activity.
HCA was part of the Private Hospitals Alliance (formerly known as H5). This UK-based lobby group launched in 2010 at the same time as the government's NHS White Paper, Equity and Excellence: Liberating the NHS. This time-frame also coincides with HCA International donating £17,000 to the Conservative Party.
As we have seen above, HCA shareholder Lord Hollick was busy bankrolling right-wing Labour figures prior to the last UK general election. Since then he has made a sizeable donation to Labour leader Starmer.
From 2015 to 2016, HCA used consultant lobbyists Burson Cohn & Wolfe. The company has a long history of working with repressive regimes, major polluters and pretty much every dodgy company going.
HCA's public relations are currently handled by the PHA Group. The largest shareholder of PHA group is Monaco-based, multi-millionaire Simon Dolan who also owns Jota Aviation—involved in delivering PPE. Dolan is also behind anti-lockdown group Keep Britain Free, which took the government to court over lockdown measures.
In the US, there has been a huge increase in the amount HCA has spent on political lobbying in recent years, in particular since 2019. In 2021, unionised workers in the US called for HCA to suspend political donations after evidence emerged that HCA had donated to many of the Republican politicians implicated in the Capitol siege.
HCA in court
There have been a large number of UK employment tribunal hearings against the company, including cases for disability discrimination, sex discrimination, unfair dismissal and breach of contract.
In the US, HCA has a long track record of being embroiled in fraud cases. These include:
2000: HCA pled guilty in the Medicare/Medicaid fraud case, and eventually paid $2 billion in fines in 2002.
2005: Accusations of insider trading and fraud led to a large court case and a $20 million payout by HCA to shareholders.
2012: A scandal erupted concerning unnecessary cardiac procedures being carried out on patients at HCA hospitals. This is one of the many scandals which have been brought to light by whistleblowers. Whistleblower Justice Network wrote at the time: "with the ever-growing healthcare fraud crisis that seems to plague the nation, HCA and its subsidiaries commonly find themselves in hot water".
The NHS For Sale? campaign also makes the point that these US fraud cases show that HCA isn't fit to run hospitals in the UK. It writes:
"The major concerns with HCA International revolve around the behaviour of its parent company in the USA, which has been found guilty of large-scale fraud over the years, and has been the subject of an extensive investigation by the US Department of Justice into the company's practices."
The company consequently paid the US government over $2 billion in fines for defrauding its healthcare programmes.
Conclusion
From corporate fraud to worker exploitation, HCA is a capitalist giant with a shocking track record. Now, it's hovering like a vulture to pick the flesh of our broken NHS and boost its profits further. And it's been enabled every step of the way by successive governments that are hell-bent on privatisation.
The pandemic created a perfect storm for politicians to sell the lie that private healthcare companies—like HCA—are helping to relieve pressure on the NHS with empty promises that it will always be 'free at the point of use'. The terrifying truth is, that in post-lockdown UK we've now got a two-tier health system. Those who can afford private insurance and treatments are the only people who can pay their way out of impossible waiting times. Meanwhile with limited funds, NHS professionals are forced to pay the likes of HCA to save critically ill patients. This adds more to HCA's billions; a company most people may not have yet heard of. Solidarity with IWGB workers and their campaign is vital because it shines light on what increased healthcare privatisation actually looks like. That picture is shocking. We need to fight to change it.
For more information on the ongoing London Bridge Hospital cleaners' campaign, see the IWGB.