Hi Fly: airline profiting from deportations while owners decry 'desperate plight of migrants'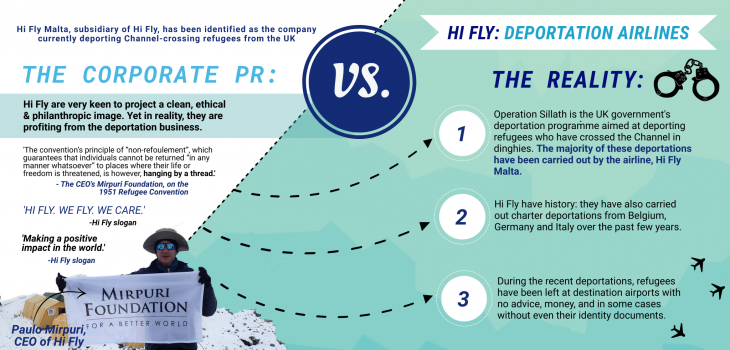 The government's attempts to hastily expel Channel-crossing migrants on charter flights have gathered pace, with a series of deportations over the last two months.
The Home Office has chartered planes from two companies to force people out of the UK: Titan Airways, who we profiled in 2017, and Hi Fly, a young, Portuguese airline run by brothers Paulo and Carlos Mirpuri.
To support the campaigns currently underway against these deportations, Corporate Watch, in collaboration with Calais Migrant Solidarity, has looked into Hi Fly and found:
As well as its recent work for the Home Office, Hi Fly has also operated deportation charter flights from Italy, Belgium and Germany over the past few years.
Hi Fly's main business is leasing out aircraft to airlines and governments. Customers include British Airways, Turkish Airlines and Virgin, as well as the British, French and Belgian governments.
While their company makes money from the deportation of refugees, the Mirpuri's family charity boasts of its support for refugee rights, sponsoring voluntary resettlement programmes and researching the refugee crisis. The Foundation has spoken out explicitly against deportations, especially those to 'third countries' – the type of deportations that Hi Fly is currently profiting from.
Highly image conscious, the Mirpuris also produce publicity calling for action on the environment, even as they make their money from an industry infamous for its role in climate change.
Airlines have previously committed to stop flying deportation flights in response to pressure from campaigners, for example Virgin after pressure from Lesbian and Gays Support the Migrants.
We have put the main points in this profile to Hi Fly and have called several times to speak to someone there but have not received a response.
Operation Sillath
The current wave of charter deportations is being carried out under the Home Office's 'Operation Sillath', a response to the summer's media fervour over migrants seeking entry to the UK by crossing the Channel on small boats.
So far, people deported under Operation Sillath have been from Syria, Sudan, Iraq, Iran, Kuwait Afghanistan, Yemen and Guinea- Bissau. They are sent to the first EU country they are deemed to have passed through before reaching the UK. Deportees have been left at the destination airport with no money, support or guidance, and in some cases without their identity documents.
You can read more about the government's new mass deportation flight programme in our August report here, and more about the brutality and questionable legality of mass deportations more generally in our Collective Expulsion briefing here.
Since our August report, it has become clear that the Operation Sillath flights generally take place every Tuesday and Thursday morning and each flight has up to 30 deportees, plus four guards per person.
All the flights have left from Stansted Airport. Once the deportations are done the plane returns the guards to Gatwick for their convenience.  It is then flown on a 25-minute trip back to Stansted ready for the next charter.
At the time of writing, Hi Fly has carried out six flights: on 12 August, 3, 15 and 22 September, and 6 and 8 October 2020. They have sent people to Toulouse, Madrid, Frankfurt, Bordeaux, Hannover, Vilnius, Cologne and Budapest. They were also due to carry out flights on 27 August, and 17 and 24 September, but these did not proceed as scheduled. In two of these cases, successful intervention from the passengers' lawyers prevented the flights from going ahead.
Hi Fly appear to have used three of its aircraft for these missions: Airbus A330-300, registration 9H-TAJ, a 285-seater, Airbus A343, registration 9H-FOX, with a capacity of 267 seats, and Airbus A340-312, registration 9H-SUN, a 291-seater.
As we will see below, Hi Fly lease many of their own planes from other companies. The Planespotter website suggests the three planes in Hi Fly's fleet which have been used for the Sillath deportations as being leased from Merced Capital (9H-TAJ) and Castlelake (9H-FOX, 9H-SUN).
Other deportations by Hi Fly
Hi Fly's work for the UK Home Office is not a new 'revenue stream' for the company: it has previous experience as a deportation profiteer.
In 2017, Hi Fly reportedly flew 43 Nigerians being deported by a charter flight coordinated by the Italian, Belgian and German governments. In that case, the company used its anonymous white Airbus A330-223, registered as CS-TQW (the anonymity perhaps lowering the risk of reputational damage associated with participation in collective expulsion flights).
A photograph from a plane spotter website also indicates that the same plane was previously chartered by the German authorities in a deportation to Kosovo and Albania in 2015.
Hi Fly: 'wet-leasing' specialist
Hi Fly is Portugal's largest private airline. The company was founded in 2005 by the pilot brothers, Paulo and Carlos Mirpuri. It employs over 800 staff and claims to have two million passengers per year. It is headquartered in Lisbon, while its main operational base is a recently constructed maintenance hangar at Beja airport.
Hi Fly describes itself as the world's leading specialists in 'wet-lease' aircraft, a growing model of plane hire. Under a wet lease agreement, airlines hire out their craft to other carriers along with full crew, maintenance services, certificates and insurance. Hi Fly also charters planes for private use, including by "high net worth" individuals.*
We have not been able to find detailed financial information on Hi Fly's operations. Its website says it has 400 "regular" customers, including British Airways, Virgin, TUI, jet2.com, Monarch, Turkish Airlines (click here for a full list). The UK Home Office and UK Ministry of Defence are listed among its 'partners and friends', along with the government of Spain, France, Portugal and Australia.
Plane monitoring sites indicate that most of Hi Fly's planes are themselves leased from alternative investment funds and aircraft leasing firms such as Dubai-based DAE Capital and Castlelake. Among Hi Fly's 20 listed planes is the Airbus A380, the world's largest passenger jet, leased from Doric, a German investment fund. Hi Fly is the world's only 'dedicated' charter operator of the A380.
As well as Hi Fly and Hi Fly Malta, the Mirpuri brothers run the following companies, all of which are owned through holding company Mirpuri Investments SGPS:
MESA, Portugal's primary aircraft maintenance provider, based at Lisbon airport.
Safeport, an aviation 'ground services' provider, including VIP rest areas at airports with a presence at airports across Portugal.
LSKY, an aviation catering company based at Lisbon airport.
Prior to the Coronavirus pandemic and global recession, Hi Fly appears to have been rapidly increasing its stock: nine of its 20 planes were delivered in 2019, three were delivered in 2020, and three remain due. The company also sought to buy Thomas Cook Airlines in 2019, as well as another floundering airline, Germania.
Adapting to the pandemic: cargo, repatriations (and deportations)
The ongoing Coronavirus pandemic has rocked the aviation industry, with one analyst estimating a quarter of airlines globally may go bankrupt as a result of the crisis. We do not know the extent of the damage the pandemic has caused to Hi Fly's business or if it was bidding for Home Office work before the pandemic hit. But it would not be surprising for Hi Fly to seek to make up any shortfall through increased government contracts and charters, given its previous experience of deportation flights to other countries.
The company has also pivoted to other activities. It has converted the "first cargo-configured Airbus" to carry medical cargo and it is also seeking to sell itself as a provider of emergency repatriation flights. Hi Fly was one of numerous airlines to airlift stranded British holidaymakers in the wake of the collapse of Thomas Cook in 2019, it has carried a number of Covid repatriation flights, including French-government chartered repatriations from China, repatriations to Mozambique on behalf of LAM Mozambique Airlines, and repatriations to Pakistan on behalf of Pakistan International Airways, after the latter was banned from EU airspace.
Its energetic "We are making repatriations a reality" promo video takes on a sinister new meaning when viewed in light of its decision to participate in a refugee deportation programme.
The Mirpuris
Hi Fly is led by the Mirpuri brothers Paulo and Carlos, sons of Maria de Lurdes Côrte-Real, and Arjan Mirpuri, an Indian businessman who built his wealth on the shipping and construction industries of Portugal's former African colonies.
Paulo serves as President & CEO of Hi Fly and its subsidiaries. He is an Airbus-qualified airline pilot and keen sailor. In addition to his role as co-founder and manager at Air Luxor, Paulo previously held a management position in NetJets Europe, a subsidiary of NetJets, a major private jet charter company catering for the mega-rich.
Carlos Mirpuri holds the title of Vice President, suggesting Paulo is responsible for most day-to-day management duties. Like his brother, he is also a qualified pilot.
Another key person is Sergio Manuel Pereira Trindade Bagorro. He is listed as CEO of High Fly Malta, the subsidiary carrying out the deportation charters. He is also CEO of the holding company, Mirpuri Investments SGPS, and Chief Financial Officer of Hi Fly, Safeport and LSKY. Bagorro has had a varied career, and in addition to other financial roles in the aviation industry, has been manager of a law firm and an online pizza delivery company.
There is an air of controversy over the beginnings of Hi Fly. Paulo and Carlos started it after the controversial downfall of their previous company, Air Luxor. Two months after Paulo had registered Hi Fly as a company, he sold Air Luxor – soon to go insolvent – to a little known businessman. In 2018 the Portuguese magazine Sábado called it "one of the most 'brilliant' bankruptcies in history" and reported a number of the company assets had been transferred to the newly-founded Hi Fly. Two planes were said to have passed seamlessly from Air Luxor to Hi Fly, while other vehicles went to sister company MESA. Assets were also reported to have been passed to the Mirpuri family, such as a company Porsche, which Paulo was said to have registered in the name of his six-year old daughter Laura. Creditors brought a case worth €86 million to the Lisbon Court of Commerce but we do not know the outcome.
The Mirpuri Foundation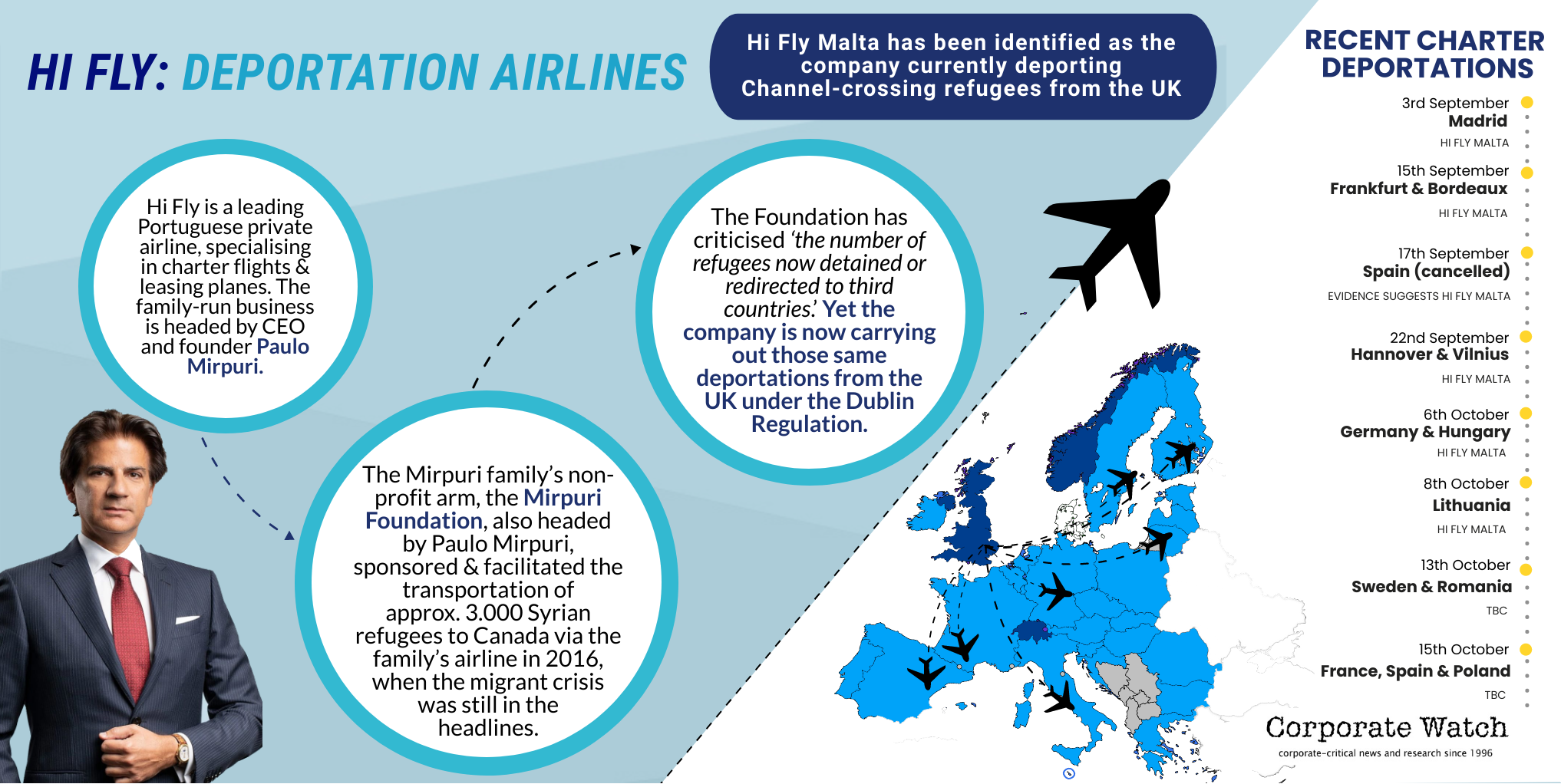 The Mirpuri Foundation, based in the same building as Hi Fly, is a charitable organisation founded by Paulo Mirpuri with the aim of promoting collective action to "work towards a world in which sustainability comes before politics and profit".
The Foundation's projects include marine and wildlife conservation; medical research; the aviation industry; and, ironically, two projects concerning the welfare of migrants.
Despite profiting from deportation charter flights across Europe over the past few years, which are legally as defined deportations to 'third' countries – i.e. neither migrants' countries of origin nor the country in which they were seeking refuge – the Mirpuri Foundation has made explicit criticisms of this practice:
The convention's principle of "non-refoulement", which guarantees that individuals cannot be returned "in any manner whatsoever" to places where their life or freedom is threatened, is however, hanging by a thread, given the number of refugees now detained or redirected to third countries.
In 2016, when the migrant crisis was frequently in the news, the Foundation reportedly sponsored the resettlement of around 3,000 Syrian refugees to Canada, with Hi Fly providing the aircraft.
The Foundation has also created a 'Migrants Observatory', to finance research into migration and injustices endured by migrants such as "as border procedures that not always follow due process and are not in line with international law".
The organisation has also partnered with the British Institute of International and Comparative Law to finance a study into the responsibilities for private vessels on migrant rescue at sea, a project led by academic Dr Jean-Pierre Gauci. The project is accompanied by an emotive video showing bombed-out cities and migrants' perilous journeys.
In a press release for the project, Paulo Mirpuri said: "Every day, on our television screens, we see the desperate plight of migrant peoples. We should all reflect that no mother would ever place her child on a migrant boat, with all the dangers that entails, unless she felt sure it was a safer situation than the one that she and they were already in. The Foundation is proud, then, to support this research and we very much hope that its outcome will be to save lives."
And in another example of the close relationship between the company and charity: the plane used to deport people this week had previously been deployed in a Mirpuri Foundation aid delivery to Beirut, which was boasted about on the Hi Fly website.
Greenwashing and more family PR
Another main cause for the Mirpuri Foundation appears to be promoting the careers and image of the Mirpuri family.
Family members crop up across the Foundation website. In a Mirpuri Foundation video warning of the effects of climate change and the devastation of marine ecosystems, Paulo's daughter Laura makes an appearance as a member of the 'Youth Thouths Movement' [sic.], of which there does not appear to be any record, and makes a plea for action to protect the oceans. Also making an appearance in the video is Paulo Mirpuri's wife Dr. Luiza Varela. Luiza works on crew fatigue for the Foundation. Another family member, Dr. Ivone Mirpuri also researches anti-ageing medicine for the Foundation.
The Foundation website also contains excited reports of the spectacular adventures of various Mirpuri family members. Described as "expeditions", they often have a tenuous connection to some issue of social or environmental concern. In one trip, Paulo and his brother Luis climb Mount Everest with a celebrity mountaineer. The accompanying article describes how glaciers are receding as a result of climate change and the fact that the foundation is in talks with local institutions about cleaning up climbers' waste. No mention is made of the damage to the planet caused by the airline industry.
More greenwashing can be seen on the side of the company's A380. The world's largest passenger jet, available for private charter to "high net worth individuals", its side is emblazoned with the message "Coral Reefs Gone by 2050".
Meanwhile, a Mirpuri Foundation video entitled "Eleventh Hour Wake up Call" calls for action on climate change and ocean protection. In between harrowing footage of children surrounded by rising floodwaters, Paulo Mirpuri delivers his call to action from a gilded room.
* Under a wet lease agreement, airlines hire out their craft to other carriers along with full crew, maintenance services, certificates and insurance. It has been described as a low risk industry. Leases can last for anything from a month to two years. A 'dry', or conventional aircraft lease on the other hand, covers only the use of the aircraft and usually lasts several years. A number of commercial airlines do this, but few specialise. The advantage of the approach is flexibility; conventional airlines can respond to fluctuations in demand, such as seasonal changes or global crises, by renting planes and personnel in one fell swoop. Wet leasing can also help carriers to get round route restrictions affecting certain airlines. For example, EgyptAir circumvents restrictions on flying to Israel by wet leasing planes through its subsidiary, Air Sinai, which possesses the necessary paperwork to fly passengers or goods to the country. Wet leasing agreements have also been used to undermine union activity among cabin crew, particularly if crew on leased planes are subject to a different legal regime to that of the rest of the airline. We do not know if Hi Fly planes have been used in either of these strategies.