Home Office set to advertise £385 million private border security contracts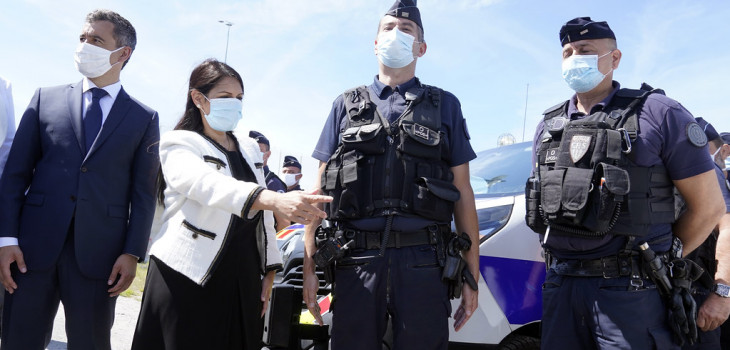 Border Force, the Home Office unit patrolling the UK's external borders, is planning £385 million of new spending on patrol boats, security guards, dogs, drones and other equipment. Much of this is likely to be used in the Channel, targeting refugees trying to cross the water.
The Home Office's "Procurement Pipeline" breaks down what it plans to spend on private suppliers, listing all the contracts it plans to announce by the end of 2022. These are the biggest items on the list:
Replacement Cutters (patrol boats): £200 million
Private security guards in Calais and other Channel border zones: £65 million over five years. (This is a five year contract for guards to carry out "freight searching" in Calais Port, Eurotunnel, and other "juxtaposed control" areas – French and Belgian territory where the UK has the power to run border controls.)
Freight searching dogs and dog handlers: £35 million over five years
Freight scanning equipment: £25 million
Replacement "Passive Millimetre Wave Imaging" (PMMWI) detectors: £22m
Drones: £18 million
Aviation services for the "Joint Maritime Command" in the Channel: £6 million
Some existing border contractors:
In our collaborative Calais Research project in 2015-2016, we listed and profiled many private companies profiting from the UK-France border and the eviction of the big "Jungle" – the informal camp of thousands of refugees that had built up on the outskirts of Calais, before being demolished in Autumn 2016. Here are some of the main companies we investigated – most of which are still involved in border security in Calais:
Eamus Cork Solutions (ECS)
The main security guard work in the ports and Eurotunnel is currently contracted out to a local French firm called Eamus Cork Solutions (ECS). Based in Dunkerque, ECS was set up by a former Calais police officer in 2004. It won its first £7.1 million port security contract in 2011, and an expanded new contract in 2017. This was due to last a maximum of five years, so is now due to end in 2022. The Home Office procurement list identifies £65 million to replace this contract for another five years – it remains to be seen whether ECS will get the job again.
Wagtail
This company, based in Flintshire, North Wales, has been been providing "Body Detection Dogs" to Border Force since 2008. Its dog handlers work together with Eamus Cork operatives. As with Eamus Cork, its current contract is set to end in 2022, and we don't know yet whether Wagtail will bid for the new deal.
Mitie
Mitie is the Home Office's biggest detention contractor, running many of the detention centres on the British mainland. Since 2018, it has also held the ten-year "Escorting" contract: mainly, transporting immigration prisoners between detention centres and onto deportation flights. This includes the operation of three of the four Border Force "holding facilities" in France: two in the Eurotunnel complex in Coquelles, one in Calais port. The other one, in Dunkerque, is currently run by ECS.
Jacksons Fencing
Around the same time as the "Jungle" eviction in 2016, the UK government spent £7 million on funding the construction of new high-security fences around the Eurotunnel entrance and the highways near Calais. Most of this work was contracted to a Kent-based firm, called Jacksons Fencing. This is how owner Peter Jackson saw his job:
"I don't believe that any of us involved in the higher end of the perimeter security industry subscribe to the idea of creating an 'anti-immigration fence'…but rather to providing a 'protect and defend barrier' which serves to keep everyone safe. […] The new perimeter fencing at Eurotunnel, will be just one of many individual actions which collectively make a small but worthwhile contribution to help in what is a very real and ongoing humanitarian crisis."
---
Featured Image: Priti Patel visits Calais 12/07/20 by Andrew Parsons, CC License