Hyde Housing: still shafting tenants nationwide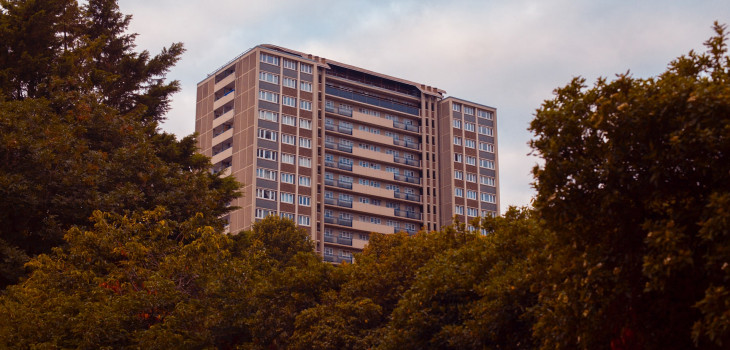 Four years ago Corporate Watch investigated the finances of Hyde Housing Association after it told residents it could not afford to run four community centres on London estates. Since then, we have been contacted by many other Hyde tenants. They have had a range of grievances: including rent hikes, substandard accommodation and management, Hyde's lack of concern for tenants, and unpopular developments. They asked us to look into Hyde further to support their campaigns.
Hyde, which manages nearly 49,000 homes in London and the South East of England, remains in strong financial health. In its latest annual report, Hyde says it has delivered "a healthy surplus and maintained a robust balance sheet" and that its "core financial strength has enabled us to grow and sustain our business, even through the short term COVID-19 challenges".
Management is also keen to direct readers to the group's credit rating, which shows how impressed city analysts are by the company's financial position. Hyde's rating is a very impressive A+. That's the same as Amazon, and Nestle, and better than Goldman Sachs, Volkswagen and Disney.
So Hyde still has a lot of money. It should be easy enough to fix disrepair, make sure homes are safe and build developments with lots of social housing. And yet they regularly fail in this, as shown by the cases we have found and grouped together below.
Cases like these have not stopped those at the top of Hyde from moving up in the world. In September 2021, Peter Denton, Hyde's former chief executive was appointed CEO of Homes England, the government's authority responsible for distributing housing funding.
In response to news of the appointment, the Social Housing Action Campaign said: "Denton's legacy at Hyde was a great deal of misery for tenants and residents, and a corporate reputation for fleecing them through service charges… Apparently, maladministration at a social landlord is a highly desirable qualification for a job doling out government money to housing associations."
Local and national media contain many examples of Hyde providing substandard accommodation and unsafe cladding, evicting tenants and provoking residents. We have grouped some of these examples by issue below.
Unsafe cladding

• Hyde found fire safety problems in all 86 of its tower blocks when it inspected them following the Grenfell Tower fire. Hyde promised to invest heavily to address safety issues but residents have complained about the measures taken. In February 2018, The Guardian reported that the action taken by Hyde to limit the risk of fire in Greenwich's New Capital Quay – the largest housing development in the country to have Grenfell-style cladding – was the "least efficient" solution of the three recommended by the London Fire Brigade. A Hyde tenant said, "people have been cutting corners for so many years and are putting people's lives at risk and they have to be held accountable."
• In January 2020, ITV reported that residents of Hyde's Blake Court tower block in Gosport had been living in a building encased in plastic sheeting since safety inspections in 2018/19. The plastic sheets were installed as a temporary safety measure. Residents complained that they had had enough of "living in semi-darkness" and were becoming depressed as a result.
• In November 2020, two housing blocks owned by Hyde in Brighton's New England Quarter were put on 'waking watch' – with 24-hour patrols in case fire broke out – after they failed fire safety checks post Grenfell. Leaseholders in the buildings also found themselves in the position where they were unable to sell due to the building's fire safety status.
• In 2021, Southwark News reported that Davoll Court – a building in Bermondsey – had not been awarded a fire safety certificate. One resident of Davoll Court – who owned a 25% stake in his home – was unable to sell because of the building's fire safety status. He had fallen behind with his rent after his relationship broke down with the co-owner of the property. Hyde Housing ignored the predicament he was in and repossessed his home.
• In May 2021, Hyde announced its intention to pass on the costs of recladding its Bolanachi building in Bermondsey to its leaseholders, billing them £26k each.
Substandard accommodation
• In November 2021, The Sun reported that mould in a Hyde Housing house had left a young asthmatic child too sick to go to school. His mum said her son has suffered from a chest infection while living at the property and at one point his health was so bad that medics put him on steroids. His school and his doctor have contacted Hyde – which manages the property – after he reportedly missed weeks of class due to repeated illness.
• A Hyde tenant in Lewisham has been living with a hole in his ceiling for 15 years. Ignatius Okafo, 58, who has a partner and three-month-old baby living with him, has won two disrepair cases against Hyde, which runs his building, but the problem is yet to be fixed. Mr Okafo moved into the top floor of a housing block on the Pepys Estate in Deptford in 2004 after Lewisham Council decided to demolish the low-rise building he was living in. He told londonnewsonline that "he saw hairline cracks in the walls before construction had even finished… In 2007, he noticed a leak coming through the ceiling of the main bedroom. Workers from Hyde found there was no insulation between the room and the roof of the building. It became so cold that he had to sleep elsewhere. He said that over the years both his joints and his mental health have been severely affected."
• In June 2021, a 15-metre tree fell on the roof of a Hyde Housing property in Plumstead. Many local residents complained that it took 11 days for Hyde to arrange for the tree to be removed.
• The Mirror reported in July 2020 that a Hyde Housing tenant had spent the first coronavirus lockdown in a house so damp that mushrooms were growing on the walls. The tenant had been requesting that the landlord sort out the problems for over ten years and had even taken Hyde to court in 2018. Hyde still hadn't made the improvements at the time The Mirror's article was published, despite the court having awarded compensation and demanding that the landlord carry out repairs a year earlier.
Evictions
• In October 2019 Hyde was accused of having a family of three evicted from their accommodation by police and bailiffs. During the eviction, some of the family were seriously hurt. The mother of the family suffered a concussion. At a previous eviction of the same family, Hyde had allegedly confiscated approximately £86,000 worth of the tenant's property, despite the fact that the tenant reportedly didn't owe any rent.
• In 2013, Hyde Housing teamed up with the Metropolitan Police to make life harder for ex-prisoners. Hyde – whose then-CEO Elaine Bailey used to run Serco's prison and immigration businesses – collaborated with the police in a scheme that aimed to enable fast-track evictions of tenants who broke 'good behaviour' conditions after they were released from prison. The trial was carried out on the Stonebridge Park Estate in Harlesden.
• Again in 2013, it was reported that Hyde Housing had carried out evictions of 'gang members' for breach of tenancy. The 'gang' label has been widely used to stigmatise and criminalise working-class people of colour, and can easily be used to uproot members of the poorest communities by evicting them from their homes. Hyde has continued to use this stigmatising label on its website, and to collaborate with the police to evict people from its homes in London. Hyde published an article on its website in 2018 entitled 'Cracking down on Gang Culture in Stockwell', where it reported that it had served possession notices on six tenants from the Stockwell Gardens and Studley Estates following a "joint operation with the Metropolitan Police".
Resistance to Hyde developments
• In 2020 Hyde obtained planning permission for a controversial housing development off Falmer Avenue on the edge of the South Downs. When the initial planning application for the project was made in 2016 the council received 300 letters of objection and a 4,000 signature petition against the plans. Protests were also held at Brighton Town Hall. A local councillor – Heather Butler – said: "We have all been concerned about the design of this development and its visibility from the South Downs National Park. The view will be radically changed by a view of 'boxy' houses, prominent on the site with no design review or input from the South Downs National Park."
• In July 2019 hundreds of people voiced concerns against a new Hyde Housing development in Coldean, another joint venture with Brighton & Hove council. A local resident – Becky Hobbs – said that ecological surveys carried out were "inadequate" and disputed findings about the number of badger setts in the area. The council and Hyde planned to "close" three of the eight setts. Hobbs said "this will be the next Newbury bypass. There will be protests."
• In 2016, Brighton & Hove Council applied the brakes to a £100m housing scheme amid concerns about "the close relationship between the council and Hyde". The idea – a scheme to create 1000 homes – had been proposed by Hyde as a joint venture with the council. The Argus reported that a similar joint venture between Lewes District Council and another company – Karis Group – had encountered problems because "Councillors were placed in a difficult position by being given commercially sensitive information they could not share with the wider public which severely limited discussion". The proposed board for the new project was to include three Hyde representatives and three council employees, but no councillors. Councillor Mary Mears voiced concerns that the scheme would be a repeat of the Open Market development, where she said: "traders were outvoted on the board and felt it did not represent their best interests."
• In 2015, the Campaign for a Better Harrow Environment opposed Hyde's plans to build a 19 storey skyscraper. The objections were that the building was unsightly, would not include affordable housing and would block views of Harrow on the Hill and St Mary's Church. The plans were rejected by the local borough council but given the green light by the Secretary of State.
• In 1999 Hyde received £9m from the Housing Corporation for the redevelopment of the Pepys Estate in Lewisham. The Municipal Dreams blog said that only "cosmetic consultations" had taken place, with the bulk of the decision making about the scheme happening "behind closed doors". Tenants groups and housing activists mobilised against the 'decanting' of local residents into council flats, with relocated tenants not allowed to return to the new estate.
Images via Pedro Ramos on Unsplash and Action for Fire Safety Justice