'It's gonna break': life in UK's biggest detention centre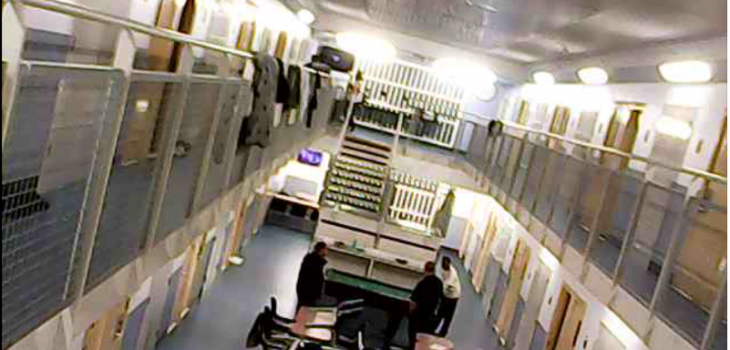 [responsivevoice_button]
Secret filming reveals conditions inside Harmondsworth immigration detention centre for the first time, where hundreds of people face deportation.
The footage was shot by a detainee and obtained by Corporate Watch as part of a five month investigation into Mitie, the outsourcing firm that took over Harmondsworth in September 2014 under a multi-million pound Home Office contract.
The videos, some of which are also featured on Channel 4 News tonight, reveal:
– Home Office staff admitting that conditions in Harmondsworth are "shit", and that detainees are not allowed cameras to photograph inside the centre because the government "don't want the bad publicity that would entail".
– A guard saying that the new Mitie management has "fucked this place up", making staff work more shifts and get less rest. "It's just gonna break. There's only so much people can take", the guard warns.
– Paul Morrison, Mitie's most senior manager at Harmondsworth, telling detainees that they will be locked inside their cells for two hours longer at night as part of the company's new contract.
– Detainees living in unhygienic conditions with pigeons flying around inside, overflowing drains, rotting food in the kitchen and bed bugs in their cells.
– A detainee suffering injuries from what appear to be epileptic fits.
– Mitie guards selling counterfeit clothes to detainees that had been confiscated at customs by the UK Border Force.
This footage was recorded by a detainee on a secret camera, and given to Corporate Watch over a period of several months. Harmondsworth holds people with a variety of irregular immigration situations: including asylum-seekers, visa over-stayers and foreign nationals who have served prison sentences in the UK. According to the latest Home Office statistics, only 57% of people who exited the detention system via Harmondsworth were deported, during the period covered in the videos.1
When Mitie took over Harmondsworth, its chief executive Ruby McGregor-Smith pledged that her firm would provide "the best environment possible for the people in our care – putting decency, dignity, and safety at the heart of everything we do."
The contract, worth £180m over eight years, involves Mitie merging the 615-bed Harmondsworth facility with the adjacent Colnbrook detention centre. This will create a 'super-size' detention centre, with capacity for 1000 detainees, making it the largest in Europe. This new contract means Mitie now detains more migrants in the UK than G4S and Serco combined.
Home Office staff: "[if media got photos of the] rats and whatever other shit that's in here… that looks bad for the government"
Camera phones are banned in immigration removal centres. When asked about the reason for this policy, a Home Office representative at Harmondsworth said he thought it was to prevent detainees sending photos to the media of fights, self-harm, and "these bad conditions like the rats and whatever other shit that's in here", because the government "don't want the bad publicity that would entail".
Guard: new Mitie management "fucked this place up"
One disgruntled guard explains that the new management are making staff work more shifts with less rest in between. The guard says his shift is 13.5 hours long. During a conversation in the gym with the detainee who is secretly filming him, the guard says that Mitie has "fucked this place up, they fucked it up". He warns "It's just gonna break. There's only so much people can take."
Harmondsworth has a history of riots and disturbances. There was a major riot in 2004 after a detainee was found hanged, and another riot erupted in 2006 after the prison inspectorate issued what it described as the "poorest ever" report it had given on a detention centre.
Just weeks before Mitie took over Harmondsworth from the previous contractor (Geo Group, an American multinational), there was a non-violent protest involving 60 detainees. The prison service riot squad (the 'Tornado' team) broke up the detainees and moved dozens to other centres. The Home Office has refused to answer a freedom of information request by Corporate Watch about that disturbance, saying:
"If we were to disclose this information it could substantially prejudice the operation of immigration removal centres. This is because disclosure may enable individuals to obtain information on the security procedures deployed during a disturbance which could compromise the integrity of the security at the facility. This is clearly not in the public interest."2
Mitie is locking detainees in their cells for two hours longer at night
Our investigation has found that after Mitie took over Harmondsworth, the company began locking detainees in their cells for two hours longer at night, from 9pm to 8am, instead of 10pm to 7am. Detainees are now spending almost half of their time locked inside their cells. This appears to be contrary to the Detention Centre Rules 2001, which say there should be "a relaxed regime with as much freedom of movement and association as possible".
At a meeting with Mitie managers and a director, a detainee asks why the lock up times were changing (the meeting took place in the visitors' hall at Harmondsworth, with its distinctive painting of the London skyline). Mitie's detention centre manager, Paul Morrison, told them it was because "we're having a reconfiguration of what we do and what we deliver in the centre as part of our new contract and our process."
Morrison says this is because "we want to deliver a better service in the day, and we've only got 'X' number of staff". However, the Financial Times has previously reported that Mitie's new contract does involve job losses. Morrison says the company's solution is to "squeeze the end and beginning of the day so that that pushes in lots and lots of hours into the day". He claims that this is "the only way we can realistically" deliver an improved service: "the price that we pay is a little bit of an earlier lock up". Morrison says he hopes that the detainees will "understand the reasons for doing it".
The detainee responds "I do understand, it's saving money." Morrison insists: "No it's not saving money it's being more efficient." The detainee replies: "That goes against my freedom. I'm here for that reason, and I don't want to be pushed, I don't want to be squeezed, for more money or for more profits to be made."
One week after the meeting with managers, where detainees warned that they were not ready to comply with being locked-up for longer at night, a "very depressed" detainee claims he set fire to his cell around 8am. He says that a guard watched him do this through the hole in the door but did not stop him. He claims that later on the officers refused to let an ambulance take him to hospital to be treated for smoke inhalation.
Corporate Watch made a freedom of information request to the Home Office asking for any documents from this incident. The department refused disclosure.3 Mitie has not responded to requests for comment about these allegations.
This would not be the first time a suicidal detainee has set fire to their cell in a Mitie run detention centre. The company's only previous experience of running a detention centre before taking over Harmondsworth and Colnbrook had been the smaller Campsfield centre in Oxfordshire. In October 2013, two people were hospitalised and 180 people had to be evacuated after a major fire engulfed the roof, causing damages estimated at nearly £1m. A suicidal Afghan detainee had set fire to bedding in his cell, and the blaze spread uncontrollably because no sprinklers were installed – despite the fire brigade telling the Home Office to do so back in 2008.
Mitie's detention centre manager at Campsfield during the fire was Paul Morrison. Mitie has now put him in charge of Harmondsworth and Colnbrook.
Detainees living in unhygienic conditions with little privacy
Although Mitie describes itself as "one of the largest cleaning services companies in the UK", with a "world-class team", the videos show instances of very poor hygiene at Harmondsworth.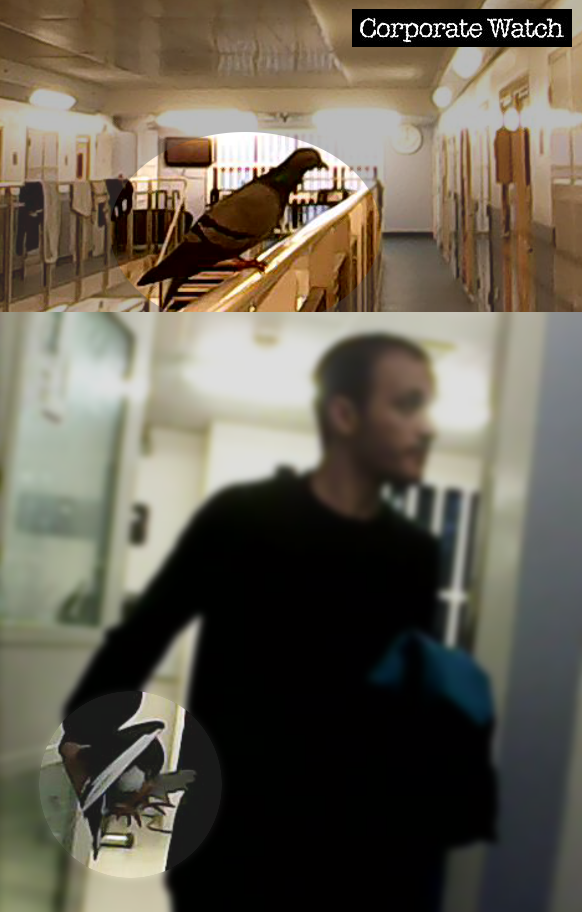 Pigeons are filmed flying around inside the detention centre. Mitie's website says, "As one of the country's leading providers of bird control services, we are able to keep your buildings pest free, for good … a failure to deal with these pests could be putting your duty of care to your employees at risk." But at Harmondsworth, detainees can be seen catching a pigeon with their own hands.
In addition, a tray of rotting food is left forgotten in the kitchen for four days, bed bugs are found in a cell, and a communal sink is blocked and overflowing. At the meeting with Mitie staff, one of the managers says the sinks "will all be fixed in the next couple of weeks … lot to get through". But two weeks after the meeting, the footage shows that the sink is still blocked.
At the same meeting, the manager says: "The situation with washing machines in the centre is that 80% of the washing machines and dryers we've got are broken in some way or are not safe." The meeting also includes staff saying that some toilets and showers are still blocked. Mitie says they plan to replace these toilets but "until then we're dealing with a pretty old set of toilets".
A detainee complains that some of the shower door locks are broken. The video shows a detainee undressing for the shower in full view of the other detainees on the wing. At the meeting, a manager says Mitie has just replaced 250 mattresses after complaints that they were "too hard, but I think if we are honest there are other issues apart from them being too hard". Detainees had complained to Corporate Watch of a bed bug infestation ahead of this meeting.
Fit for detention?
Home Office guidance states that people suffering from serious medical conditions or disabilities which "cannot be satisfactorily managed within detention" should only be detained in "very exceptional circumstances".
Corporate Watch has obtained photos of wheelchair-bound detainees inside Harmondsworth, as well as videos revealing that a detainee collapsed twice within a fortnight, as a result of what appear to be epileptic fits. He dislocates his shoulder and knocks his head. A guard confirms on camera that he saw the man fall down the stairs.
The charity Epilepsy Action says: "an overwhelming majority of people with epilepsy perceive stress as the commonest trigger of their seizures. Indeed, studies have suggested that stressful experiences… can increase the number of seizures in some individuals who have epilepsy already." Being detained and threatened with deportation is clearly a highly stressful experience.
The most recent inspection of Harmondsworth, published in January 2014, reported: "A major concern is an inadequate focus on the needs of the most vulnerable detainees, including elderly and sick men, those at risk of self harm through food refusal, and other people whose physical or mental health conditions made them potentially unfit for detention."[Link to PDF]
The report concluded: "It was hard to dispel the feeling that Harmondsworth was in a state of drift. There was some uncertainty about the future of the management contract… there needed to be a refocusing on individual needs of the most vulnerable people in detention, some of whom had been utterly failed by the system."
Staff selling confiscated counterfeit clothes in Harmondsworth
Mitie staff at Harmondsworth are selling clothes to the detainees that were confiscated as counterfeit goods at customs. An officer explains that the clothes were "taken by the UK Border Force when people come in … It was people trying to import them in who were trying to sell them for counterfeit because you can sell it as a designer make."
The Home Office's Detention Centre Rules say: "No officer shall take part in any business or pecuniary transaction with or on behalf of a detained person without the leave of the Secretary of State". Mitie has not commented on this scheme to Corporate Watch.
Why did Mitie win the contract?
Harmondsworth used to be run by the Geo Group, an American private prison company, from 2009. Over the next five years, six detainees died in Harmondsworth, or shortly after being moved to another facility, according to the Institute of Race Relations. This made Harmondsworth the most deadly place for migrants to be detained in the UK. It was against this alarming context that Mitie took over Harmondsworth from Geo in September 2014. But Corporate Watch has found that many of Mitie's senior staff used to work for the Geo Group.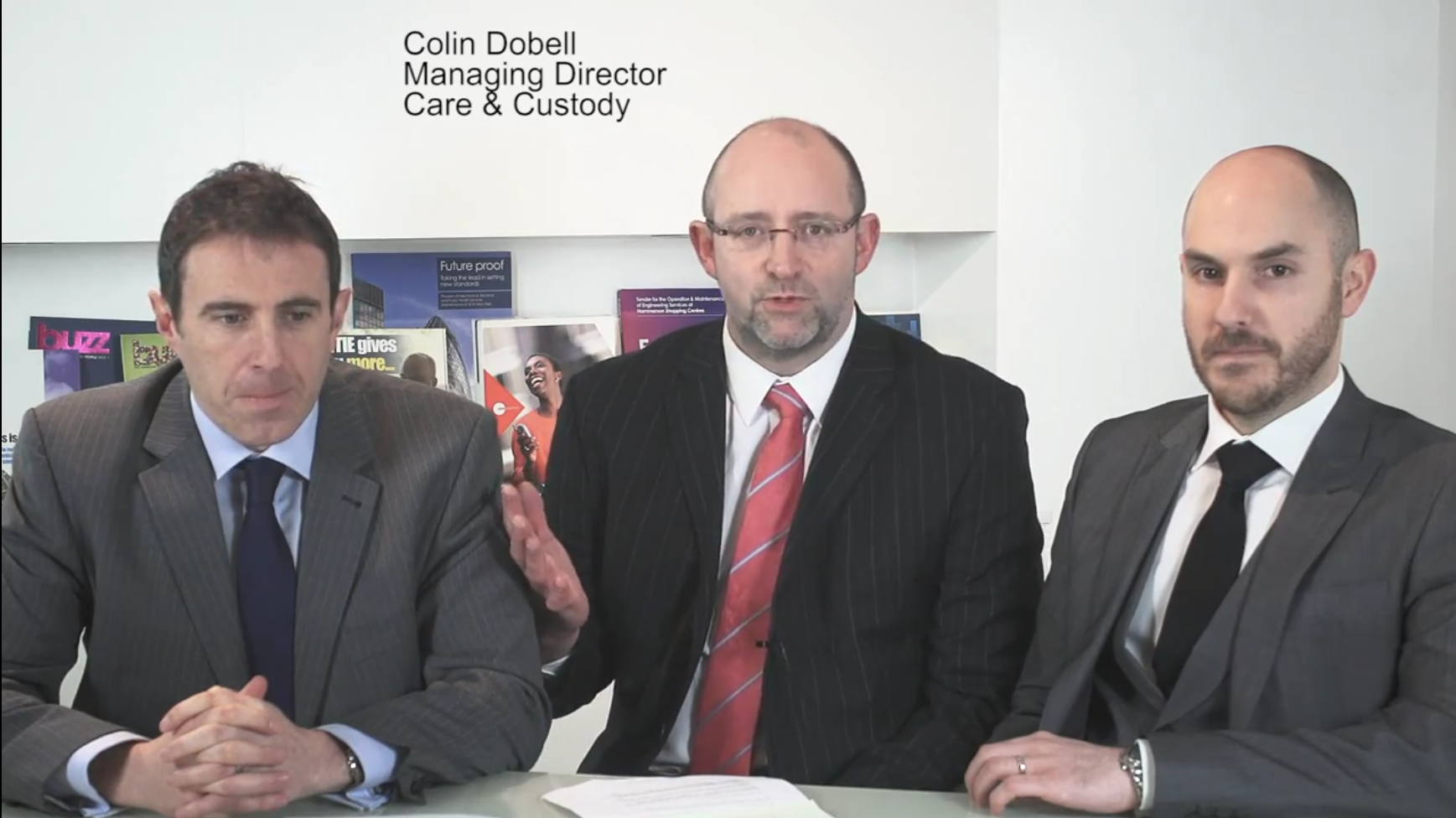 Mitie corporate video: Paul Ferry, Colin Dobell and Alex Sweeney (L-R)
For example, Colin Dobell set up the UK division of Geo in 2005, and over the next few years the company secured contracts to run Campsfield in 2006 and Harmondsworth in 2009. Months later, Dobell moved to Mitie Parking Services, a dormant Mitie subsidiary that was promptly renamed as Mitie Care and Custody. With Dobell as a director, this new Mitie company went on to win the contracts for Campsfield in 2011 and then Harmondsworth in 2014 from the Geo Group.
Paul Ferry, who attended the meeting in our videos, was a business development manager at Geo from 2006-2009, before becoming a director of Mitie Care & Custody with Dobell in 2009. Similarly, Alex Sweeney was Geo's centre manager at Campsfield when the fire brigade's warning to install sprinklers went unheeded. Sweeney moved to Mitie and led the company's bid for Campsfield. He is now a business development director at MITIE, with key responsibilities that include tendering for procurement opportunities with the Home Office. How can Mitie deliver a better service at Harmondsworth than Geo did, given that several of its top brass are ex-Geo men?
Mitie has not responded to several requests for comment from Corporate Watch.
1
Home Office Immigration Statistics – October to December 2014. People leaving detention by reason and place of last detention, Q4 2014, Table dt_07_q