King's Cross Central: 'a crude exercise in social engineering'
/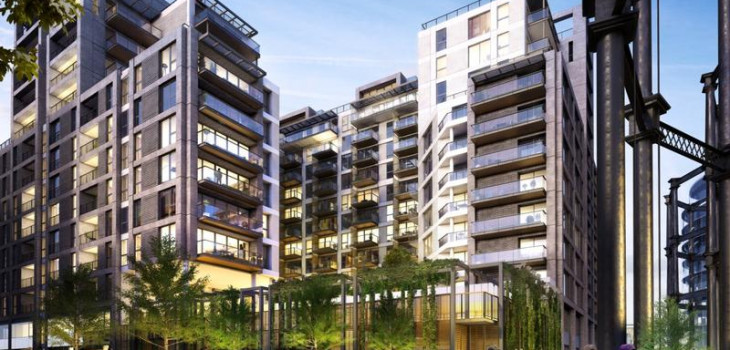 [responsivevoice_button]
King's Cross Central, one of Europe's biggest inner city regeneration projects, describes itself as an inclusive and sustainable development. But an investigation by Corporate Watch and The Independent has found people with a history of mental health problems are being excluded from the social housing built there while the developers and local council have also set quotas for the number of homeless and unemployed people.
In what critics have described as a "crude exercise of social engineering" extra limits have been placed on the number of families with children who will be allowed to live in the 500 social housing units currently under construction, while those with drug and alcohol problems or in rent arrears have also been excluded.
The exclusions – which have been unveiled in a series of freedom of information requests – are a departure from the usual points-based allocation process, which aims to let social housing to "those who are in the greatest housing need". Mental health problems and homelessness would usually increase an applicant's points total and position on the housing register. The King's Cross Central homes will be let through Camden's allocation scheme but anybody who does not meet the special criteria will not be able to bid, regardless of their need.
Mental health charities and housing groups have criticised the criteria. "I am shocked to see such a crude exercise in social engineering and I'm left wondering what the basis was for determining the percentages of different groups," said Alison Gelder, the chief executive of Housing Justice. "It is a scandal that people in clear housing need – those accepted as homeless by Camden – and people at risk of homelessness – those with mental health problems, substance abuse issues and arrears – will all be excluded from this ideal community. So many of us are working hard to end and prevent homelessness and this will not help."
Social housing construction was a condition for Camden Council granting planning permission for the £2billion development in 2006. Argent, the property company leading the consortium behind King's Cross Central says it will bring major community benefits to the area, which has been given its own postcode – N1C.
A total of 1,700 residential homes will be built, the majority of which will be sold privately. In addition to 500 social housing units and 250 "intermediate affordable homes", 950 units will be sold privately.
The Council, developers and One Housing Group housing association, agreed a Local Lettings Plan for the allocation of the social and affordable housing in November 2010 to "establish a mixed, stable and sustainable community at the development".
The plan, which has been disclosed after a Freedom of Information request by Corporate Watch (download it here), specifies "a maximum of 20% of social housing lettings to be made to homeless applicants" and that children can account for only 23% of the population of the whole development.
Unemployed households can only account for 25% of the social housing provided, to achieve "a balanced mix of incomes and prevent a concentration of residents wholly dependent on benefits" according to the plan.
The criteria do not apply to those homes in the rest of the development which can be bought on the open market.
The first residential block was opened in July. In a Freedom of Information response, Camden Council said in addition to the criteria in the plan, applicants "excluded" from the 78 social housing units there were "those in rent arrears, had a history of mental health, drug or alcohol problems or anti-social behaviour".
A lawyer who specialises in the law on the allocation of social housing told Corporate Watch that excluding people with a history of mental health problems could be disability discrimination and contravene the 2010 Equality Act.
When questioned by The Independent, Camden Council admitted people with mental health problems had not been allocated any of the social housing, but said the Freedom of Information response had been taken "out of context".
"In allocating the first tranche of flats at Kings Cross we were concerned that, as the infrastructure and social provision, which will come at a later date in the development, were not in place, vulnerable residents may have insufficient support to manage in these homes" a spokesperson said.
The council insisted it had a strong record of providing for vulnerable people elsewhere in the borough but it would not definitively confirm whether people with a history of mental health problems would be able to bid for future lettings at Kings Cross Central when they come up. Instead they said they "may be able to move to the development when the next lettings become available".
The site will also contain 55 supported housing units. Of these, 15 have been allocated to people with severe mental health problems, with the rest reserved for elderly people. However supported housing is not the same as social housing and is usually reserved for people who need regular or around the clock care.
Paul Farmer, Chief Executive of Mind, the mental health charity, said: "No one should be excluded from social housing or any other public service solely by reference to their mental health status. We have come a long way since the days of asylums, and segregation on the grounds of mental health is completely unacceptable."
Dr Stuart Hodkinson, an academic at University of Leeds specialising in housing privatisation, believes the development is a sign of things to come: "This is what 'localism' is really all about when combined with cuts to social housing and housing benefit – empowering private developers and big social landlords to be able 'cherry pick' their social tenants as unwelcome minorities in new gentrified urban zones. This is exactly what former Tory housing minister, Grant Shapps, meant when he said the poor should no longer have the right to live centrally."
King's Cross Central is being developed by King's Cross Central Limited Partnership (KCCLP) – a partnership between property company Argent and Hermes Real Estate, which is owned by the BT Pension Scheme. The land is owned by the state-owned London & Continental Railways, which developed the High Speed 1 Channel Tunnel rail link, and German logistics company DHL.
The site's developers insist it is not their policy to exclude people with mental health problems. Robert Evans, a board member of KCCLP, said: "KCCLP has no policy of excluding people with mental health problems from the social housing at King's Cross. The Local Lettings Plan for such housing, to which we are a joint signatory, contains no such stipulation."
A spokesperson for One Housing Group, which manages over 14,000 homes in London and the South-East, said their organisation recognised that the area "has a number of social challenges such as high unemployment, high concentrations of social rented housing and a lack of economic activity." But they defended their local lettings plan as "a tried and tested way of ensuring that the new community settles and thrives."
Follow us on Twitter