Lord Howell plots with fracking firms in Windsor dungeon
/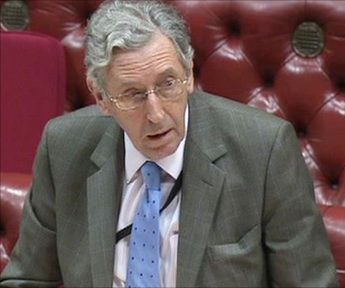 [responsivevoice_button]
The Tory peer who said parts of the "desolate" north were suitable for fracking chairs a shadowy organisation that helps energy companies network with politicians, ambassadors and civil servants, an investigation by Corporate Watch, revealed in the Mirror, has found. Lord Howell, the father-in-law of George Osborne, chairs the Windsor Energy Group (WEG), whose sponsors and supporters include BP, Shell and British Gas.
WEG describes itself as "building bridges between the public and the private sectors". The group's director, Ian Walker, told Corporate Watch that WEG "is a not for profit organisation that brings together policy-makers and energy practitioners to review global developments in the energy world." One previous participant has called it "one of the few 'old boys' clubs left in the world where talk can translate directly into action."
The group holds dinners and meetings around the world but its main event is a two-day summit held every March in the grounds of Windsor Castle. Adding to the intrigue surrounding the group, Walker confirmed to Corporate Watch that pre-dinner "discussions" are held in a "dungeon".
Although WEG does not publicly disclose many details about its meetings, fracking was on the agenda at all three WEG summits since the coalition took power, according to previous participants. Hydraulic fracturing, known as 'fracking', involves injecting shale rock with a mixture of high-pressure water and chemicals to release gas or oil. It has been linked with poisoned water supplies, radioactive contamination and causing minor earthquakes. Recent research also suggests that extracting shale gas using fracking could produce as many greenhouse gas emissions as coal.
The group's most recent Windsor retreat, in March this year, "highlighted the energy revolution from shale gas and tight oil and other game-changers so far", according to Arne Walther, the former Norwegian ambassador to Saudi Arabia and a regular WEG attendee.
At last year's WEG summit, US energy analyst Dr Kent Moors presented a "closed-door briefing on 'The North American Shale Gas Experience' to United Kingdom ministers and ambassadors from 12 countries", according to his university. Corporate Watch has also seen an invitation to WEG's 2011 summit, the first since Howell became a minister, which includes "European energy security concerns and shale gas" as topics to be covered that year.
This January, Lord Howell himself spoke at a dinner at the Polish Embassy. According to the embassy's website, he talked about "the shale gas and energy challenges facing the North Atlantic countries", accompanied by WEG analysts. Howell did not respond to Corporate Watch's request for comment.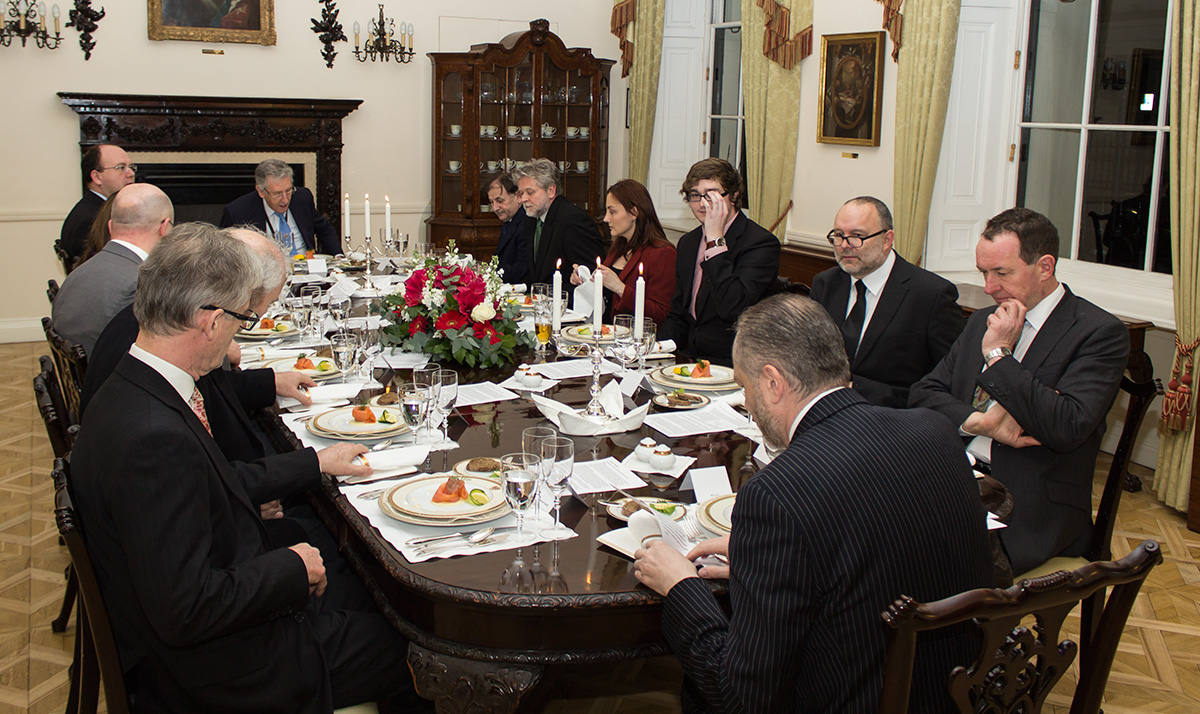 Lord Howell, seated at the far end, chairs a meeting in the Polish Embassy.
The Surrey-based Howell put himself at the centre of the controversy over fracking last month when he told the House of Lords there were "large, uninhabited and desolate areas, certainly in parts of the north-east, where there is plenty of room for fracking". In a bungled attempt at damage limitation, he later said that this was a "stupid error", as he actually meant the "unloved" North West and Lancashire, provoking further criticism.
Howell also supports fracking in Britain's former colonies. After the Queen's Speech, he told Parliament to "wake up and realise where our future and our destiny lie…the new range of Commonwealth countries coming into the prosperity league either side of Africa, as they find through the shale gas revolution that they have fantastic raw energy resources and prospects".
Several of WEG's corporate participants are keen frackers. British Gas owner Centrica has bought a 25% stake in the licence to explore fracking possibilities in Lancashire. Shell has said it is looking to become a "leading player" in the global fracking business, while BP is already developing shale gas operations abroad.
Howell's "desolate gaffe" was prompted by Cuadrilla's exploratory drilling in Balcombe, Sussex, which has been met with strong resistance from environmental campaigners and the local community. A protest camp, running since 25th July, has seen dozens of arrests so far, as police forced delivery trucks through, despite attempts by protesters to blockade the site.
'Old-boys' club
Lord David Howell is an influential Conservative politician. He was a Minister of State at the Foreign and Commonwealth Office from May 2010 to September 2012, before becoming Foreign Secretary William Hague's personal adviser on "Energy and Resource Security" until April 2013. He had previously held ministerial portfolios in the Heath and Thatcher governments. Howell's daughter, Frances, is married to the Chancellor George Osborne. Howell heads three commonwealth organisations: he is President of the Royal Commonwealth Society, Chairman of the Council of Commonwealth Societies and Chairman of Commonwealth Exchange.
Howell declares his chairmanship of WEG as a non-financial interest in the House of Lord's Register. Greenpeace have already criticised him for his Presidency of the British Institute of Energy Economics (BIEE) , an oil industry lobby group with links to WEG.
Previous participant Dr Moors has written that WEG meetings "were meant to be private, high-level, discretionary advisories. This is one of the few 'old boys' clubs left in the world where talk can translate directly into action" He said that at the 2010 summit there were "ambassadors of nine countries and representatives from five others; four British cabinet ministers; members of Parliament; officials from the Bank of England, the European Union, and the European Central Bank; as well as principals of major oil-and-gas companies". According to Moors, WEG meetings follow Chatham House rules, meaning that comments are unattributable.
The Windsor Energy Group's web page says it addresses "global energy issues and problems through discussion and analysis involving senior figures from the public and private sectors" through a "bi-monthly programme of activities", including "dinners hosted by ambassadors and energy companies", as well as meeting "annually in Windsor Castle for a two-day consultation and consideration of the discussions of the year".
Ian Walker, WEG's Director, told Corporate Watch that WEG holds regular energy discussions in London and abroad. Lord Howell is the unpaid honorary chairman of the group. As an apolitical group WEG has no collective view. There are limited meeting facilities at St George's House and while the main meeting room is prepared for an evening meal the participants and guests hold a discussion in the nearby dungeon."
Some participants appear to use the Windsor location to suggest a royal link. Ambassador Walther, who is a regular speaker at WEG events on the subject of Polar oil exploration, said "the Group meets every year for consultations in the library as well as in the famous dungeon of Windsor Castle at the invitation of Her Britannic Majesty Queen Elizabeth and Prince Philip". However, a Buckingham Palace spokesperson told Corporate Watch that "there is no relationship between the Royal Family and WEG".
WEG's web page says it is funded by its members, and lists the UK Foreign and Commonwealth Office (FCO), the Chinese and Japanese Governments, NATO, BP, Shell, British Gas, (among other energy companies) and private security firm Aegis as sponsors and supporters. The FCO told Corporate Watch that it "does not provide support or sponsor the Windsor Energy Group. An FCO Energy Adviser has spoken at previous events organised by WEG, but at no direct cost to the FCO" and that "currently, there is no engagement with WEG".
World business "penetration"
In a sign of WEG's influence, agendas of previous meetings show senior figures from the energy, finance and security industries attended. The 2011 WEG event promised to include Christof Ruehl (chief economist at BP), Lord Oxburgh (former chairman of Shell) and Professor Bill Arnold of Rice University (the former head of government relations in Washington for Shell). Among the other corporations due to attend were Barclays Capital, Exxon, Kuwait Petroleum and private security firm Aegis, which was founded by notorious mercenary Tim Spicer. At the 2007 WEG annual retreat, Aegis was represented a Non-Executive Director Brigadier James Ellery. Ellery allegedly helped Spicer win a major security contract in Iraq during 2004, when he was working for the Coalition Provisional Authority, before leaving to head up Aegis' Baghdad office.
WEG is part of Middle East Consultants International Limited (MEC), which was founded in 1982 by a retired MI6 officer, Geoffrey Hancock. MEC describes itself as "a global advisory and business development firm", which draws upon "the wisdom and expertise of a seasoned network of senior former diplomats, government officials, and corporate executives, to provide clients with a fresh insight into the political and economic realities confronting companies seeking to enhance their penetration of the world's most complex business environments". Foreign policy is also discussed by WEG. A newsletter, seen by Corporate Watch, carries the slogan "monitoring international energy geopolitics", which includes assessments of the Egyptian revolution and conflict in Sri Lanka for energy security.