Mears Group 2020 update: scandal-ridden landlord under fire from Glasgow to Gloucester
/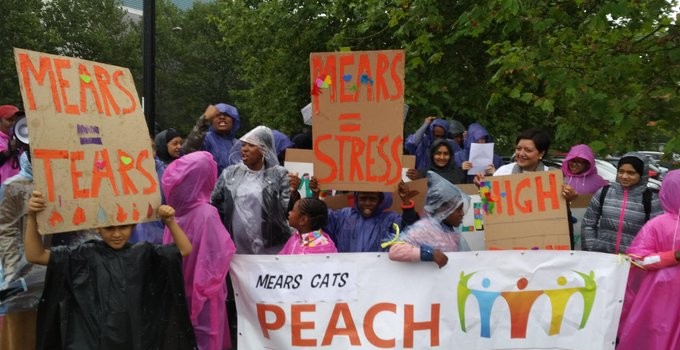 At the start of 2019 we published a profile on Mears Group. The Gloucester based housing repairs outsourcer had just won a £1.15 billion contract to run the refugee accommodation system in Scotland, Northern Ireland and much of the north of England.
In the last year, refugee and housing campaigners have been keeping a close eye on Mears, with local resistance to its slum landlord practices emerging across the UK. This report just gives a quick update on some recent news on the company.
Unless you live in one of the properties it manages, you may well not have heard of Mears. But it has quietly built up a small empire across the UK, primarily by taking over privatised housing services from local councils. Along the way it's already clocked up a list of scandals from Glasgow down to Brighton, involving accusations of local government corruption and numerous alleged overcharging scams.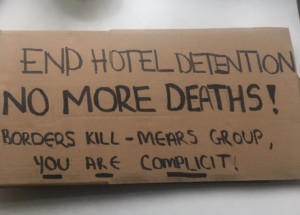 The death of Adnan Olbeh
Adnan Olbeh was found dead on 5 May 2020 in a Glasgow hotel where he had been placed by Mears Group under its management of the UK's "asylum dispersal" scheme. He was 30 years old, from Syria. The cause of death is unclear, with any postmortem examination delayed by the corona crisis.
What is known is that Adnan was one of hundreds of refugees recently evicted from their flats by Mears and other asylum landlords.
The mass evictions were part of the Home Office's coronavirus strategy. Often with just an hour's notice, people were told to pack and leave their flats and moved into hotels. The logic behind this is not entirely clear, but it seems in line with other aspects of the government's shambolic covid-19 response. "Social distancing" measures included people being transported four or five to a small van, stripped of cash support and facilities to cook for themselves, and instead being made to eat close together in hotel canteens — with food including the likes of undercooked chicken and mouldy bread.
According to Smina Akhtar, interviewed by John Grayson for the Institute for Race Relations:
"We have had lots of reports from people in the hotels about really awful food and poor conditions there. Adnan's friend told me that his mental health really deteriorated in the hotel. A week before he died his friend asked the hotel to call an emergency ambulance because Adnan was in a terrible state. His friend went with him to the hospital but said that the staff there did nothing, they offered him no medication, and sent him back to his hotel."
According to Mears, in evidence to the House of Commons Home Affairs select committee, it was acting on a directive from the Home Office.

Mears' Home Office contracts so far
Adnan Olbeh's death is one visible tragedy linked to the misery of the UK asylum system. Thousands more people live with the everyday effects of a housing system which "disperses" people into run-down slum housing in the country's most impoverished communities.
For Mears, this means a ten year profit stream. For Mears' new tenants – rat infestations, broken boilers, collapsed ceilings, piles of rubbish, and environmental hazards of all kinds seem the norm.
John Grayson of South Yorkshire Asylum Action Group (Symaag) has been documenting the "chaotic" and "failed" Mears contract in Yorkshire. In the past he reported on similar conditions under the last contract holder, G4S.
So have Mears even managed to underperform the shambles of G4S' housing management? It's maybe too early to make a full comparison. But it doesn't look like things have got off to a good start.
G4S and others had complained bitterly about making losses on the former round of asylum housing contracts. To drive profits up, Mears started their own tenure by trying to slash the amounts they pay to the smaller landlords they rent from. In South Yorkshire, Mears offered landlords new contracts paying up to 20% less than G4S had done. Many refused to sign up in what John Grayson calls a "virtual landlords strike" which left Mears struggling to place the asylum seekers it was contracted to house.
In the North East, Mears had similar problems negotiating with G4S' main sub-contractor Jomast – development company headed by Teesside multi-millionaire Stuart Monk. According to Grayson, this left over 1000 people stuck in hotels across West Yorkshire and Humberside in Wakefield's "Urban House" temporary asylum accommodation over the winter. And, as he explained to us, the problem is by no means solved.
"When Covid-19 arrived the whole asylum housing system was frozen in the Mears contract areas with around 400 people still in hotels and 270 in Urban House. Many people have now spent four months in Urban House, when they are only meant to stay there a few weeks. Urban House has appalling conditions which have been extensively documented in pictures and videos sent out from people resisting inside."
One thing Mears has achieved in Yorkshire is provoking a major local authority to come out against the contract. In January, as well as launching inspections of 240 Mears properties, Sheffield Council called on the Home Office to terminate the Mears contract and transfer asylum housing in the city directly to the council. This is only really a token gesture – the council has no say in national asylum policy. But it could be one move in a shift against the outsourced asylum housing system, if followed up elsewhere in the country.
In Scotland, there is a strong solidarity network in support of refugee housing rights – including the Glasgow No Evictions campaign and groups such as the Unity Centre, Living Rent tenants union, and charity Positive Action in Housing. The main rallying point in 2019 was previous contractor Serco's threatened "lock change evictions" of 300 of its tenants. Well aware of the opposition, Mears has so far tried to tread more carefully. It has promised not to carry out similar evictions, and set up a so-called "independent scrutiny board" to deflect criticism.
In the North of Ireland, the PPR Project is one association monitoring and exposing conditions in Mears' housing there.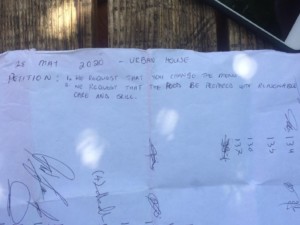 Milton Keynes mystery
Before it turned asylum landlord, Mears' big profit hope was getting more involved in the very lucrative business of housing development. One of its potential jackpots was a 50/50 joint venture with Milton Keynes council to redevelop seven major estates. The deal was valued at £1 billion, and branded as "YourMK".
But as of last year, the scheme was dead in the water. In July 2018, the council said it was putting the regeneration deal "on hold". In October 2018, whistleblower allegations emerged that Mears had been overcharging Milton Keynes for repairs by up to £80,000 a month, with overall some £15 million "unaccounted for". When we looked at Mears last February, the YourMK website had gone dead, with a page announcing that further information would be coming soon.
The MK scandal still seems to be quietly brewing. In July 2019, the MK Citizen reported first of all that the regeneration scheme was definitively "scrapped". But a couple of weeks later a second Citizen report corrected that YourMK was "not dead but dormant", with the council and Mears "in discussions about whether it will remain the right partnership structure in future".
In May 2020, we haven't seen any new announcements. The YourMK website is still down, and there is no official word on that supposedly missing 15 million. Where are the budding investigative journalists of Milton Keynes to get to the bottom of this?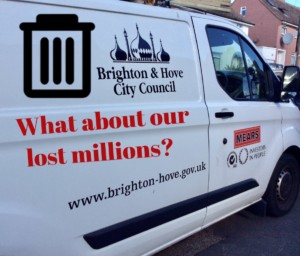 Booted out of Brighton
Mears' ten year housing maintenance contract with Brighton and Hove council finally came to an end on 31 May. Again, customer complaints came together with whistleblower revelations – and, yet again, the apparent disappearance of large sums of money.
A council investigation found it had been overcharged by £500,000 by a plastering subcontractor hired by Mears. A second investigation was later opened into overcharging for electrical work.
Mears will not be missed in Brighton. And just before they left, in February 2020 their workers were balloting for strike action over pay and Mears' plan to combine holiday and sick pay.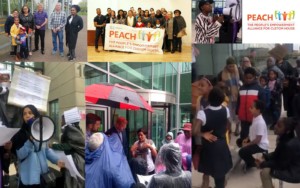 Newham: Mears Cats
In East London, Mears run 250 homes which are set for demolition as part of Newham Council's "Regeneration Zone" in Canning Town and Custom House, E16.
Like Milton Keynes, this is another overlong saga of a failing regeneration project leaving people stuck in poor housing. Back in 2011, Newham handed the properties to a private management company called Omega to let out on short term commercial tenancies. This was supposed to be a "temporary" arrangement before the bulldozers came in. Mears bought out the contract in 2014, and six years later are still in place. While the buildings are still owned by the council, Mears collect the rent and do the repairs – in theory.
In reality, Custom House tenants speak of conditions that would be very familiar to anyone in Mears' asylum accommodation in Sheffield or Glasgow. Months overdue repairs, water leaks, exposed asbestos, rat infestations and a "war" to get anything done – all whilst paying average rents twice as high as in directly run Newham council properties.
Tenants have set up a vocal campaign group called Mears Cats, part of the Peoples Empowerment Alliance of Custom House, pushing to get their repairs done and for Newham Council to take direct responsibility. Boglarka Filler, one of the Mears Cats, told Corporate Watch:
"Schemes such as the partnership between Mears and Newham Council have brought further misery to people already on the receiving end of austerity and insecure employment. Mears Cats are campaigning for better quality, cheaper housing for Mears tenants struggling to cope with disrepair and debts caused by high rents. We will take action to ensure that the Mears contract will not be renewed in Newham when it runs out in 2021, and that we get a fair deal next time."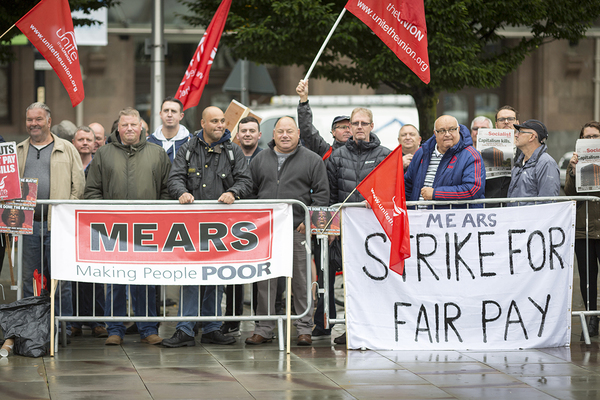 Steady profits, feisty shareholders
On a business front, Mears continues to turn a decent profit and pay out to its shareholders. Its last year (2018) annual results clocked operating profits up 4.7% (though revenue was 3% down), and shareholders pocketed a dividend up 3% on the year before.
Mears has kept up its strategy of honing in on its "core" housing maintenance business. After buying up Mitie's property division last year, it sold off its own home care wing.
Most recently, Mears has said that it only expects a modest impact from the covid crisis. Housing is what is called "non-discretionary" spending – unlike foreign holidays or consumer fads, there is still demand for essential repairs in a downturn. The bulk of Mears' income is locked in from long term contracts, largely with the public sector. As the company explained, 90% of its order book comes from public bodies and "the government has made a clear commitment that invoices will be settled quickly".
Through the lockdown, Mears has said it is only carrying out only emergency repairs. Although workers complain they are still being sent on unnecessary jobs without "social distancing" in place, or called in just to sit in company offices.
Less positive for management, there are new rumbles from rebellious shareholders. Back in 2018 one of the two biggest shareholders, a German investment manager called Shareholder Value Management (SVM) successfully pushed out the company's long-term chairman. At the latest AGM in June 2019, the other big investor also threw its weight around.
PrimeStone Capital, a Mayfair based investor which owns over 13% of Mears' shares, tried to get two new nominees on the board of directors against management's wishes. The shareholder rebellion was narrowly defeated. In a statement, PrimeStone explained it was unhappy that "the company's revenues and profit have remained flat despite its strong market position and growth prospects [while] average net debt has doubled".
It argued that:
"Mears' underperformance is predominantly due to a lack of strategic, commercial and financial experience on the board. The current board has a strong concentration of directors with a background in social housing, health & safety and charities."
Mears' profit-hungry management guarantee shareholder payoffs by squeezing their repair costs to the bone. The outcome is the lived experience of their tenants across the UK. But, for some shareholders, they're still not doing enough.

Students and shirts
Despite its well documented failings, Mears continues to win new contracts – for example, a new housing development project in North Lanarkshire, and a housing maintenance and repairs contract with Crawley council.
Another sideline is its student housing offshoot Mears Student Life, so far with just two complexes in Dundee and Salford.
Mears also likes a bit of football. In May 2019 the League One side Rotherham United confirmed it had extended its contract to emblazon the company's classy red and black logo on its away kits for the 2019/20 season.