Medical care in UK detention a 'lamentable failure'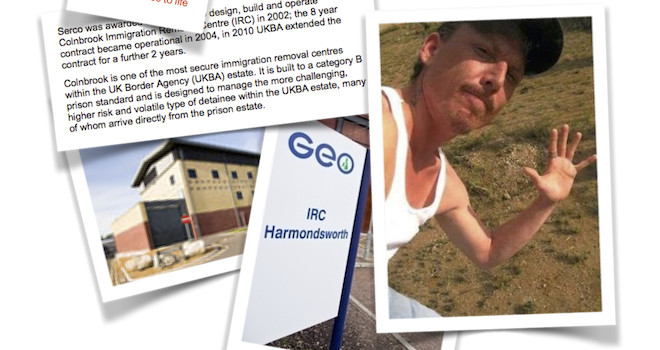 [responsivevoice_button]
Doctor who saw the American tourist before his death knew neither mental health law nor detention centre rules – Coroner sums up Brian Dalrymple inquest
In West London today, Coroner Jeremy Chipperfield summed up the evidence at the inquest into the death of Brian Dalrymple, a 35-year-old schizophrenic American who died in a British detention centre on 31 July 2011 from a ruptured aorta.
Brian Dalrymple had come to England for a holiday, but instead was detained on arrival after immigration officers found his behaviour "odd" and denied him entry on 14 June 2011. Dalrymple later claimed asylum, which border guards said was "unusual for a US citizen".
The inquest has heard detailed evidence about the subsequent six weeks that Dalrymple spent in two commercially run detention centres: Harmondsworth run by GEO, the American prisons company, and Colnbrook, run by Serco, the UK oursourcer.
The jury was asked to consider whether Dalrymple's death was caused during the period 17-26 July, in which he had no contact with any healthcare staff at the Harmondsworth Immigration Removal Centre near Heathrow airport. This absence in medical provision came after Dalrymple had been taken to Hillingdon hospital on 16 July, where he had refused life saving treatment for dangerously high blood pressure.
A cardiologist, Dr Ilsley, has explained that this medication would have taken four or five days to take effect, and so the Coroner said that events during the last week of Dalrymple's life (which he spent in a segregation cell at the adjacent Colnbrook detention centre) should not form part of the jury's deliberation.
Expert witness Dr Needham-Bennett, a psychiatrist, has told the jury that "there was a gap between 17 July and 27 July between Mr Dalrymple and healthcare at Harmondsworth and his blood pressure was known to be dangerously high. There was no contact, no monitoring, no persuading or cajoling him to take medication". Needham-Bennett agreed that this was a "lamentable failure".
Lorraine Dalrymple, Brian's mother, has told the inquest (via video link from the US) that her son had a history of stopping and starting with his anti-hypertension medication, but he was amenable to cajoling and people could persuade him to stay on it.
Nurse Dias, who attended to Brian Dalrymple during the night of 16 July upon his return from hospital, recalled his behaviour as "strange". He asked the nurse if she was a nun, and said he "thought they were religious". Nurse Dias thought he was "hallucinating" and mentally unwell. She made a referral to a doctor.
The coroner spent a long time reminding the jury of evidence given by Dr Hamid, who had been a locum GP at Harmondsworth. Dr Hamid is an elderly man, who said he had received no particular training or induction when he started working there. He did not know about the Mental Capacity Act at the time of assessing Mr Dalrymple, or the Detention Centre Rules 2001. The Coroner said rule 35.5 of this law stipulates: "The medical practitioner shall pay special attention to any detained person whose mental condition appears to require it, and make any special arrangements (including counselling arrangements) which appear necessary for his supervision or care."
Dr Hamid had originally referred Dalrymple to the hospital, and said he was surprised to see the American back at Harmondsworth. However, he did not ask the hospital for the discharge notes, something he accepts he should have done. Dalrymple told Dr Hamid that he controlled his blood pressure by "spiritual means". The doctor did not pay much attention to this comment because "it's a diversity thing", and Harmondsworth is a "multi-cultural and mutli-religious place". Dr Hamid accepts that it was a mistake not to have prescribed anti-hypertension medication.
Brian Dalrymple was discharged back onto the detention centre wings, away from the observation of healthcare staff, after a conversation in which Dr Hamid says he made sure Dalrymple was aware of the risk high blood pressure posed to heart failure, but kept no notes from this discussion. A nurse was instructed to take Dalrymple's blood pressure the following day, but Dr Hamid cannot recall which nurse he told.
Dr Hamid saw Dalrymple again on 27 July, by which time he was in an isolation cell for disruptive behaviour. But the doctor did not ask for more details about this incident, which included urinating on the floor and hitting a television. There were "operational notes" about it, kept separate from healthcare staff. Dr Hamid said that unlike in prisons, where he used to work, such records were not shared on an IT system but manually instead. Dalrymple refused to have his blood pressure taken on the 27 July, even though Dr Hamid told him it could be fatal.
Brian Dalrymple was moved to the adjacent Colnbrook detention centre that same day.
The jury is expected to deliver its verdict on Friday.
Published with OpenDemocracy