Mega-Prison Spotlight: HMP Wellingborough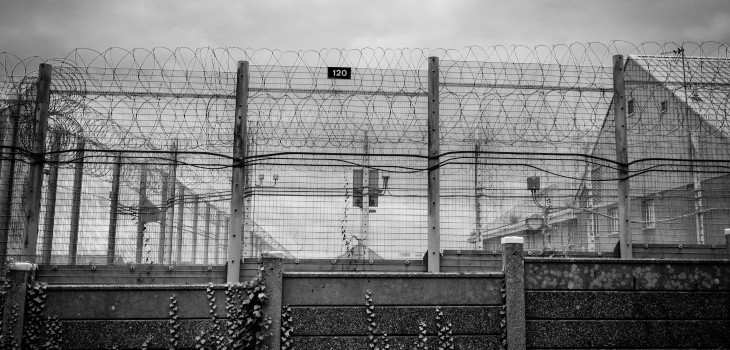 This article is an excerpt from Corporate Watch's new report Prison Island about prison expansion in England, Wales and Scotland. Sign up to receive a copy as soon as it is published this August. 
The report includes profiles of six locations for new mega-prisons proposed by the British state as part of the Prison Estates Transformation Programme.
Wellingborough was the first location announced by the government in November 2016. By Christmas Eve, the planning application had been submitted. Documents for the application can be viewed at https://www.wellingborough.gov.uk/viewplanningapplications. The reference is WP/16/00786/OUT.
The application was to demolish the existing prison, HMP Wellingborough, which was closed in 2012. Many local people did not understand why it could not be re-opened in its existing state. However, in its new form, the prison could triple its current capacity, swelling to cage more than 1617 people at one time.
A full Environment Impact Assessment was not ordered, despite the construction of what is basically a new village in terms of numbers of people and their potential impact. The planning application stated that the development will lead to the loss of all existing wildlife habitats on the site, notably bats and barn owls. There are also pollution risks during construction and debates locally about how the area's drainage system can cope with a dramatic load increase.
The planning documentation states there will be "workshop buildings where prisoners will carry out a variety of activities", but no detail is given on the size or scale of these workshops.
Members of Wellingborough Council's planning committee unanimously approved the plans at a meeting in April 2017. The new prison has a projected build cost of £143 million and an alleged construction period of 18 months. Eight months after the planning application was approved, no work has been undertaken on site. Local residents questioned if the Ministry of Justice had U-turned on their plans. However, a news article reports work is due to start in 2018, and that the MOJ has been choosing companies and drawing up detailed designs.
Why Wellingborough?
Wellingborough is a strategic location for the state's expansion plan. It has an existing prison economy firmly embedded in the community. The prison's existence, as an important local workplace, has become natural and normal. Local people remember the impact on jobs when the prison closed in 2012.
In fact, local people in the area even campaigned for the prison to be reopened. A residents' campaign from Millers Park estate lobbied local councillors and politicians, and the member of parliament Peter Bone in turn lobbied prison ministers. Quoted in the Northants Telegraph, Peter Bone MP graciously thanks the collective effort: "I would also like to thank a whole series of prison ministers who I have spent a lot of time a lot of time bending their ears in support of reopening the prison. It just shows that a local campaign by people who care about something can still succeed."
Another local councillor, Mr Griffiths said: "This will be a wonderful prison and it will be welcomed by the people of Wellingborough." How wonderful will it be for the people locked inside it?
A pro-prison attitude is not surprising from Peter Bone MP. As a Conservative Party politician, he has opposed the introduction of the National Minimum Wage, voted against same sex marriage, taken aim at trans people and been supportive of the death penalty.
Like many oppressive projects, mega-prisons are being sold to local areas promising jobs and contributions to the economy. Prisons Minister Sam Gyimah is promising the move will bring 3,000 jobs to the area and an £80m a year boost to the economy. Similar promises were made before the construction of the North Wales Prison Project, HMP Berwyn.
Local Resistance
Local anarchists in the area did their best to generate objections to the planning application through a broad leafleting campaign. Community Action on Prison Expansion held one well-attended public meeting in a local community centre, as well as one in Northampton where many people stated their opposition to the mega-prison. However, conservative voices still dominated and their deeply embedded pro-prison discourse was not going to disintegrate after hearing some academics, ex-prisoners, and organisers speaking about the harm of prisons.
A new coalition of groups in the Midlands is now in the process of forming to resist the prison. Community Action on Prison Expansion are hosting a meeting this month to discuss next steps: https://cape-campaign.org/midlands-coalition-against-prison-expansion/