Mitie: company profile 2018
/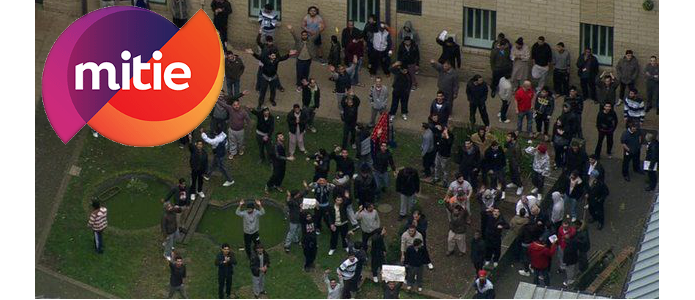 Mitie is an outsourcing company providing a mixed bag of "facilities management" contract services to both corporations and government, from cleaning to consultancy. It is predominantly active in the UK.
Mitie is having tough times: after a series of profit warnings the company has lost money in the last two years. Since 2016 it has gone through a major management reshuffle, large scale restructuring and the sale of the failing MiHomecare business. And its 2016 accounts are under official investigation for presenting a false picture of the company's finances.
The company's "Security" division has always remained profitable, as has the "Care and Custody" division that locks up migrants. Mitie is currently the UK's biggest detention profiteer: it runs the two Heathrow detention centres and Campsfield in Oxfordshire; and it recently won the £525 million deportation "escorting" contract.
Do you have any information you'd like to share about Mitie? Contact us securely through our contact page.
Business basics
Mitie has an annual turnover of around £2.2 billion. Around three quarters of its sales are to business customers; the other quarter to national and local government, predominantly in the UK. It has over 3,000 "major customers", and says that the biggest client represents 7.5% of sales.
Its head office is in Bristol, and 95% of its turnover comes from the UK. It has some small operations in other European countries, in Africa (Nigeria, Kenya, Ghana) and in the United Arab Emirates.
Mitie's services are grouped into several divisions. These are, in order of revenue in 2017/8: engineering, e.g., heating and other building maintenance (£834m); security (£432m); cleaning and "environmental services" (£406m); property management (£238m); catering (£137m); "professional services" and consultancy (£91m); and "Care and Custody" (£62m).
Like many other outsourcing companies, Mitie has been having tough times financially. It issued a profits warning in March 2015, then two more in 2016 and another in January 2018. Its 2016/7 accounts reported a loss of £183 million for the year; its latest results for 2017/8 showed a smaller loss of £26 million. It is heavily indebted and there is at least a minor danger it may run out of cash to pay its bills.
The profits warnings Mitie issued to the stock market identified two main problems. Like other outsourcers, Mitie's business model is based on (i) winning a continuing flow of contracts, and (ii) fulfilling them cheaply by paying a pittance to precarious workers. But both sides of this strategy are now being hit. Business customers are cutting or postponing orders in fear of a Brexit slowdown, while Mitie is having to pay those workers more thanks to the rising minimum wage. In its 2017 Annual Report, Mitie called the rising minimum wage in particular a "structural headwind for the entire UK [facilities management] industry".
On top of this, Mitie got seriously stung by its ill-advised investment in the home care 'market'. Mitie bought the Mihomecare business, previously called Enara, for £111 million in 2012, hoping to cash in on the ageing population. But in 2017 it sold it to a private equity buyer for a nominal £2, also handing over £9.45m to cover its losses. The business had depended on effectively paying care workers below the official minimum wage; now not only was the minimum wage rising, but Mitie was forced to actually pay it after workers campaigned and brought lawsuits. Mitie wasn't able to pass on these rising costs to austerity-hit local authorities.
Mitie has also been trying to sell off its property management business, which works for social housing landlords – at the time of writing it hasn't yet managed to find a buyer.
Mitie has also seen stagnation in its work for other corporations: in engineering, cleaning, and other areas. Again, with wages rising and new contracts stalling, Mitie's model does not look so shiny.
Mitie has some 53,000 employees. Staff costs are the main expense: total pay was £1.174 billion in 2016/7, over half of company revenue.
Mitie's profit margins differ between business areas. For example, last year Mitie lost money on property management in 2016/7, made nothing in its biggest engineering division, and only a 1.5% margin in cleaning and environmental services. It does better in security (4% profit) and consultancy (4.6%). But detention is amongst the most lucrative of all its businesses.
Engineering. Includes heating, lighting, plumbing, etc., for corporate and government clients. Big contracts include NHS Property Services, Heathrow and Manchester airports, arms dealer Thales, and the Scottish Parliament.
Security. Mitie is the UK's second largest security firm, after G4S, and the leader in transport and aviation and in retail. This also includes the Procius employee vetting business. Security revenues are growing, although 2016/7 margins were hit by lost contracts in the "front of house" segment.
Cleaning. One of the more struggling divisions, as "the business faces significant structural headwinds from service commoditisation, low barriers to entry, and price competition." To cut wage costs Mitie is looking to increasingly use robot cleaners.
Property Management. This has two quite different sub-divisions: property management, and "Care and Custody". Property management mainly provides services for Social Housing landlords, e.g., painting and roofing. This segment has been performing poorly and made losses in 2016/7, with revenue declining as landlords cut back on renovation work. Mitie has been looking to off its property management division, but has not yet found a buyer.
Catering. There are two subsidiaries. The Gather & Gather brand does in-house catering for corporates, e.g., Vodafone and Nuffield Health, and also runs restaurants and bars, e.g., two bars at the top of the Shard. Creativevents works at outdoor events including Royal Ascot and the Chelsea Flower Show. Gather&Gather has been doing well, but Mitie has blamed bad weather and terror scares for poor attendance at Creativevents gigs. However, the latter's performance may be better in 2018 after they landed the "exciting" contract to run the bars and catering at the BBC's Biggest Weekend festival.
Care and Custody. See below.
Outlook and strategies
After its home care losses, Mitie says it is concentrating on "core" Facilities Management (FM) business. Its model is to try and get companies to buy an "integrated" package of more services, and for longer contract periods. This is what it calls "the Connected Workspace": i.e., rather than just outsourcing particular jobs like cleaning, maintenance or security, Mitie will advise companies on how it can take over running all their FM needs. It will also bring in "new technology and analytics".
It might be asked, though, whether this is just a lot of business school waffle. It's not so clear exactly what Mitie's strategy is to get through the tougher outsourcing environment – except just to hope new higher margin contracts start flowing again.
(Less convincingly, Mitie is also now claiming that austerity can help it: tight state budgets can drive departments to outsource more.)
One thing seems for sure though: their "Care and Custody" outsourcing work is a good earner. Although it may not like to highlight its detention and deportation work, Mitie is actively pursuing new contracts here. The new deportation "escorting" contract will double revenues in the area, and beyond that a number of new detention centre contracts are due for re-tendering.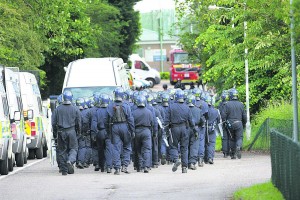 Picture: riot police march into Campsfield detention centre.
Key Issues
Detention profiteering: "Mitie Care and Custody"
Although it's just doubled with the new deportation contract, this is still only a small part of Mitie's business. 2017/8 revenue was £62 million, so only around 3% of Mitie's total.
However, Care and Custody's share of Mitie's business appears to be set to increase. Mitie expects to earn £670 million from already-won contracts in the next few years, which amounts to 15% of its total revenue expected from contracts that have already been secured.
It has three components: immigration detention and deportation; prisons; and custodial health services.
Mitie C&C has the contracts for three immigration detention centres: Harmondsworth and Colnbrook at Heathrow, and Campsfield House near Oxford. In May 2018, it will take over the big Home Office deportation "escorting" contract from Capita subsidiary Tascor, with an estimated value of £525 million over ten years.
Mitie does not have any full management contracts in prisons. But it provides "facilities management" services "including planned and reactive maintenance, cleaning, project management, and catering" in HMP Brixton and HMP Youth Offender Institute Isis.
Another growth area within this business is prisoner health care. Also in 2017, Mitie bought Tascor Medical Services, now renamed Care & Custody (Health) Ltd. It is also expanding in "Forensic Medical Services", winning new police contracts. These businesses were not sold off with the rest of Mitie Healthcare, but have been incorporated into the Care and Custody division. It seems that healthcare is more profitable when the patients are imprisoned.
Technology
Like other outsourcers, Mitie has a double incentive to increase automation of its services: to cut labour costs; and to compete with rivals by offering new "high tech" services.
One high-profile development has been the use of cleaning robots. Mitie has publicised the use of these in big contracts including Birmingham Airport and Hinchingbrooke Hospital. Elsewhere, Mitie has a partnership with Microsoft to work on using "Big Data" technologies in its facilities management and property services packages.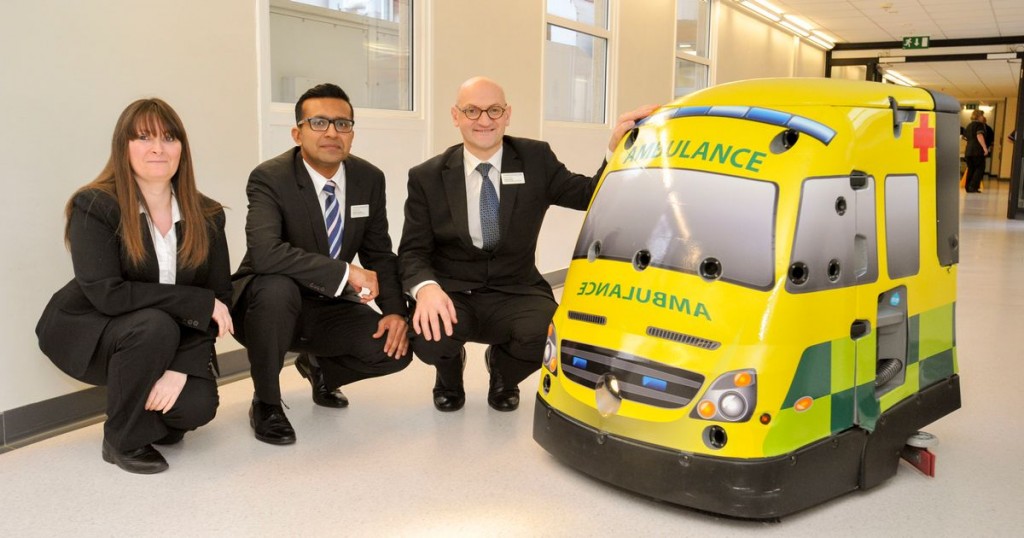 Picture: "Moptimus Prime" cleaning robot at Hinchingbrooke hospital.
In more detail
History
Mitie stands for the truly awful phrase: "Management Incentive Through Investment Equity". It was started in 1987 in Bristol by two businessmen called David Telling and Ian Stewart. Its original business model was to buy 51% stakes to fund a range of companies, with the rest of the shares owned by the managers. Cleaning and "support services" were a focus, but Mitie has always had a loose range of business interests – basically, anything that looked like it could bring in a few quid.
Accountant Ruby MacGregor-Smith was recruited as finance director in 2002 and then made CEO in 2007. The first Asian woman to run a FTSE 250 company, she was later made a Conservative Baroness, and nicknamed the "prickly peer" by the Financial Times. Claiming to have a "passion" for outsourcing, she set out to grow the company with acquisitions and new contracts until it could rival the likes of Capita and her old employer Serco.
This seemed easy enough in the pre-recession boom years, where the rival outsourcing companies were all snapping up government services and busily expanding. Back in 2011, 37% of Mitie's sales came from the public sector – another 34% from "energy services" sub-contracted from the big energy firms.
The wheels started to come off in 2015, and the first profit warning that March highlighted trouble in the MiHomecare and property management businesses. The trouble has still not gone away.
Mitie's detention "Care and Custody" business in fact started out as a car park company called Mitie Parking Services. But when a new director called Colin Sobell was appointed in 2009, the subsidiary changed its name and started chasing prison contracts. Sobell had previously run US prison company GEO's UK operation, and before that worked for the detention company GSL (now part of G4S). Using his expertise and contacts, Mitie took the Campsfield detention contract over from GEO in 2011. Then in 2014, it won the Heathrow detention centres deal from Serco, suddenly becoming the UK's biggest detention contractor.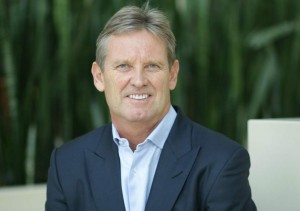 Image: CEO Phil Bentley
Bosses
Mitie reshuffled its management team in 2016/7, with a new Chief Executive and Chief Finance Officer: Phil Bentley and Sandip Mahajan, replacing McGregor-Smith and Suzanne Baxter. But Mahajan only lasted a few months before being replaced by a third CFO, Paul Woolf, in November 2017. There have also been changes to the board, including chairman Roger Matthews stepping down after ten years, replaced by Derek Mapp.
New CEO Phil Bentley, a trained accountant from Bradford, was formerly Managing Director of British Gas (2007-13). He became well known to the media for giving frequent interviews where he was attacked for putting up household energy bills. He then left to become CEO of Miami-based telecoms firm Cable and Wireless.
Bentley's base salary has been set at £900,000. Depending on Mitie's performance in the next year, his actual pay package including bonus and "Long Term Incentive Plan" (LTIP) could be up to a maximum of £4.34 million – roughly 195 times the average Mitie employee's pay. Mahajan's base salary is £400,000 and maximum pay is £1.12 million.
Finances
Profit and growth: Until 2015, Mitie was growing steadily, and in the previous 5 years made a steady overall operating profit margin of around 6%. Then trouble hit, and the company issued four profits warnings between March 2015 and January 2018. Although it reported profits in 2015/6, revenues were starting to fall, and it reported a loss in 2016/7. The company's turnover shrunk from £2.4 billion in 2015 to £2.1 billion in 2017.
Recently-announced results for 2017/8 showed the tough times are likely to continue for a while yet. Turnover increased slightly to £2.2 billion, helped by new contracts, and Mitie made a profit of £61.2 million from its newly-restructured business (although the costs of this restructuring, plus having to reduce the value of past investments they have made, meant they actually made an overall loss in their accounts).
Under investigation: A number of official investigations have been launched into aspects of Mitie's recent financial reporting. Mitie's 2017 accounts had to recalculate the figures it originally gave for 2016, recording its revenues and profits as lower. The Financial Conduct Authority (FCA) is investigating the timing of Mitie's profits warning announcements in 2016. Another watchdog, the Financial Reporting Committee (FRC), has opened an investigation into the "preparation and approval of the financial statements" for 2016, and another into the auditing of Mitie's 2015 and 2016 accounts by Deloitte.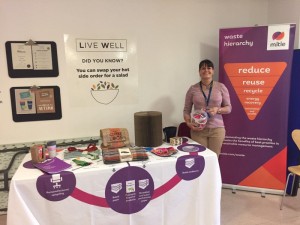 Shareholders
At the time of writing, there are five shareholders with holdings of 5% or over. All are investment funds or partnerships. The biggest, with 17%, is Silchester International Investors LLP. This is a Mayfair fund which is over 50% owned by a UK financier called Stephen Butt – one of "London's wealthiest fund managers" according to the Mail. The rest of Silchester is owned by British and international backers, and the fund is known for making long-term investments in companies. Next is huge investment manager Standard Life, with 8%; then major global institutional investor Fidelity (FMR LLC) with 5.4%. US funds Harris Associates and Brandes Investment Partners had around 5% each, as did "boutique" "long term equity manager" Heronbridge.
Like other PLCs, Mitie is mainly owned by international institutional investment funds. But it is noticeable how shareholders have changed since they started to hit financial trouble. Investment giant Invesco used to be one of the biggest investors, but sold its 5% stake in the company after the 2016 profit warning. Fidelity has reduced its stake from around 9% since May 2017, while other major investment funds managed by Schroders Bank, the government of Norway, the State of Ohio, Capital Group and Sun Life Financial have sold all their shares. Standard Life meanwhile has built up its entire 8% stake over the last year, while Silchester has added 6% to its holding since October 2016.
It remains to be seen whether those betting on or against Mitie will be proved right. But the turnover of shareholders shows the lack of confidence many investors have in Mitie. And after all the recent changes, Stephen Butt's Silchester has a bigger stake than is usual for one shareholder to have in outsourcing companies like Mitie. As such he may have a bigger say in the direction of the company's business.
The patience of all their shareholders will be sorely tested if Mitie does not again start paying out the dividends they have come to expect. The ten year period from 2007 to 2016 saw dividends more than double, from 5p paid for each share owned, to 12p. But after trouble hit, payouts dwindled to just 4p a share in both 2017 and 2018. Mitie's new strategic direction had better start yielding results soon to stop its shareholders questioning the value of their investment.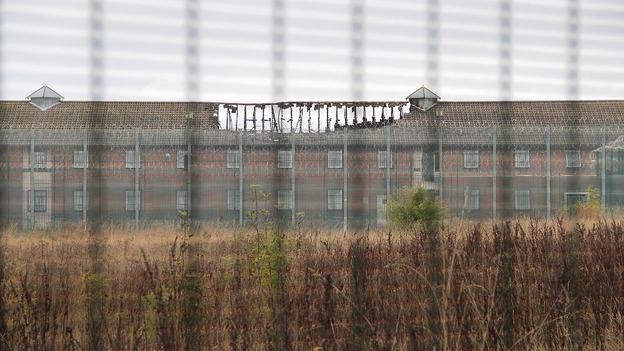 Picture: Campsfield after 2013 fire.
Mitie Scandal Sheet
Mitie is not as high profile as its notorious rivals G4S and Serco. Most of its work has been in less controversial cleaning and maintenance, or for corporate clients. Though this could change as it pursues more profitable opportunities in detention and security.
(2017) Financial investigations: The Financial Conduct Authority (FCA) is investigating the timing of Mitie's profits warning announcements in 2016. Another watchdog, the Financial Reporting Committee (FRC), has opened an investigation into the "preparation and approval of the financial statements" for 2016, and another into the auditing of Mitie's 2015 and 2016 accounts by Deloitte.
(2017) Mitie exits homecare: Mitie eventually sold its MiHomecare business at a loss – after paying £112 million for it in 2012. One reason for losses was that it had finally been forced to pay staff the minimum wage.
(2015) MiHomecare scandal: Mitie's homecare business was hit with investigations and lawsuits after failing to pay carers the minumum wage and cutting short care visits. At least four local authority customers had raised concerns about care standards; while the Care Quality Commission (CQC) had rated at least one Mihomecare as "inadequate".
(2015) Hospital failing standards: within months of winning a cleaning and catering contract for Royal Cornwall Hospitals, Mitie's pay was docked for repeatedly failing to meet standards.
(2015) Harmondsworth conditions exposed: secret filming inside the Mitie-run detention centre as part of an investigation by Corporate Watch, showed the misery inside after Mitie took over, cut services and increased bang-up hours under its new contract.
(2011-on) Campsfield: hunger strikes, suicide, and fire. There are plenty of horror stories from Mitie's management of the Oxfordshire detention centre; we told some in this 2014 report.
See also: 2015 profile from The Bristol Cable.
NB: unless other sources are stated, information comes from the company's annual reports and accounts. Latest information can be found here on its website.