Mitie's Campsfield £1m fire damage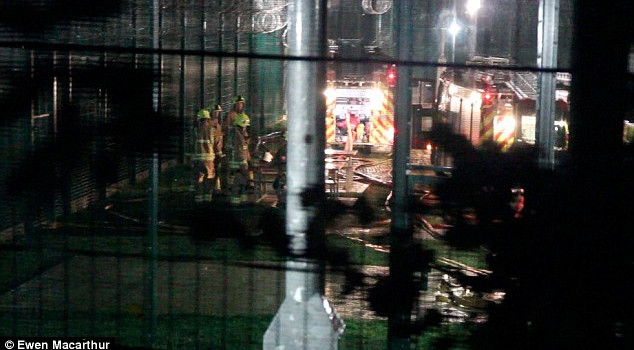 [responsivevoice_button]
Outsourcing firm Mitie could be liable for a £924,300 bill after its Campsfield detention centre was ravaged by a major fire in October 2013, Corporate Watch believes.
Farid Pardiaz, a 25-year-old Afghan man, was sentenced to 32 months in prison yesterday at Oxford Crown Court after pleading guilty to arson while detained at Campsfield last autumn. Mr Pardiaz said he was suffering from a depressive episode and had been denied access to a doctor when he set fire to bedding in his cell as part of a suicide attempt. The flames gutted the roof and Mr Pardiaz was hospitalised for smoke inhalation. The prosecution described the resulting damage to the wing as "catastrophic", saying that "the cost of repairing the damage and rehousing the 178 inmates was £924,300".
However, the Chief Fire Officers Association has already said: "The extensive spread of the fire might have been halted before the lives of firefighters and the centre's staff and residents were put at risk, had the Home Office listened to Oxfordshire Fire Service's advice to fit sprinklers at the Campsfield Centre".
"Service Provider Undertakings"
Corporate Watch believes Mitie may be liable for this cost. Mitie signed a Services Agreement with the Home Office before taking over the management of Campsfield in 2011. In paragraph 5.4.3 of this document, it says the service provider, i.e. Mitie, undertakes, "to comply with all requirements and recommendations of the fire authority as to fire precautions relating to the Removal Centre, the Site and the Assets".
Mitie was capable of installing sprinkers. The company claims to be experts in fire safety systems, having fitted sprinklers in the London Underground. It even says on its website "Don't entrust such a critical system to anyone else".
Despite the fire at Campsfield, the Home Office have rewarded Mitie with contracts worth £180m to run two more detention centres for the next eight years. Mitie says this makes them the Home Office's leading provider of immigration detention services, "less than three years after entering the market".
The Home Office and Mitie have not responded to Corporate Watch's repeated questions about fire safety at Campsfield.