Neglect verdict at Brian Dalrymple inquest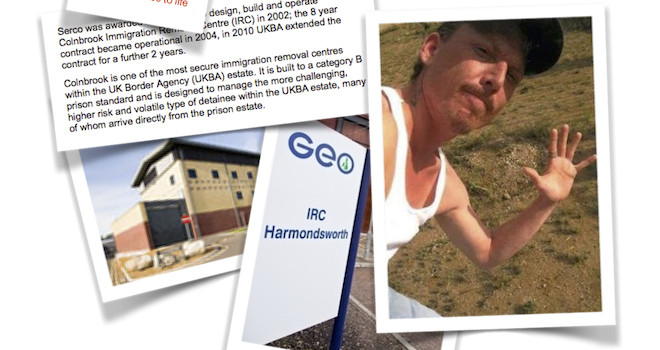 [responsivevoice_button]
• Home Office contractors agree "significant" financial settlement
• 77-year-old locum doctor did not know detention centre rules
• Brian Dalrymple, a 35-year-old American tourist, died of natural causes; neglect was a contributing factor – inquest verdict
• Mother pays tribute to "warm and loving man"
An inquest jury ruled today that Brian Dalrymple, the American tourist detained at two UK immigration removal centres, died of natural causes and neglect was a contributing factor.
The jury found: "Throughout Mr Dalrymple's detention at Harmondsworth medical record keeping was shambolic."
We can reveal that on the eve of the inquest, three Home Office contractors agreed to a "significant" financial settlement for the mother of Brian Dalrymple.
The settlement was agreed with:

GEO Group UK Limited, the private company with responsibility for managing Harmondsworth Immigration Removal Centre;

The Practice PLC, the primary healthcare provider for Harmondsworth up to 30 June 2011;

Nestor Primecare Services Limited, the primary healthcare provider for Harmondsworth from 1 July 2011 onwards, and

Dr Hamid, an elderly locum doctor who had responsibility for Dalrymple
Brian Dalrymple suffered from schizophrenia and severe hypertension (dangerously high blood pressure). He came to Britain for a two-week holiday on 14 June 2011. Immigration officials at Heathrow airport were suspicious at his lack of luggage and odd behaviour, and detained him in Harmondsworth Immigration Removal Centre pending removal back to the US, but he claimed asylum. A Chief Immigration Officer who gave evidence to the inquest said that he had only ever seen Americans do that when they are mentally ill.
Dalrymple was held at Harmondsworth from 15 June to 27 July 2011. GEO staff noted his unusual behaviour over a period of weeks: they saw him standing in the corner muttering to himself, urinating on the floor of his cell and throwing food. GEO managers reacted by asking the Home Office to isolate Dalrymple from other detainees and then move him next door to Colnbrook, the higher-security facility run by Serco. There he died from a ruptured aorta on 31 July 2011.
The inquest, at West London Coroner's Court, heard from 80 year old Dr Hamid, who had been a 77 year old locum GP at Harmondsworth. Dr Hamid said that he had received no particular training or induction when he started working there. He did not know about the Mental Capacity Act at the time of assessing Mr Dalrymple, or the Detention Centre Rules that stipulate:
The medical practitioner shall pay special attention to any detained person whose mental condition appears to require it, and make any special arrangements (including counselling arrangements) which appear necessary for his supervision or care.
Dr Hamid had referred Dalrymple to Hillingdon Hospital with high blood pressure on 16 July 2011, and said he was surprised to see the American back at Harmondsworth. However, he did not ask the hospital for the discharge notes, something he accepted he should have done.
Dalrymple told Dr Hamid that he controlled his blood pressure by "spiritual means". The doctor did not pay much attention to this comment, he explained, because "it's a diversity thing", and Harmondsworth is a "multi-cultural and mutli-religious place". Dr Hamid accepted that it was a mistake not to have prescribed anti-hypertension medication.
Brian Dalrymple was discharged back onto the detention centre wings, away from the observation of healthcare staff, after a conversation in which, Dr Hamid claimed, he made sure Dalrymple was aware of the risk of heart failure posed by high blood pressure, but he kept no notes of this discussion. Dr Hamid said he told a nurse to take Dalrymple's blood pressure the following day, but he could not recall which nurse he told.
Dr Hamid saw Dalrymple again on 27 July, by which time he was in an isolation cell for disruptive behaviour. But the doctor did not ask for more details about this incident, which included urinating on the floor and hitting a television. There were "operational notes" about it, kept separate from healthcare staff.
Dr Hamid said that unlike in prisons, where he used to work, such records were not shared on an IT system but manually instead. Dalrymple refused to have his blood pressure taken on the 27 July, even though Dr Hamid told him his condition could be fatal.
Lorraine Dalrymple, Brian's mother, told the inquest (via video link from the US) that her son had a history of stopping and starting with his anti-hypertension medication, but he was amenable to cajoling and people could persuade him to stay on it.
The jury heard that shortly before Dalrymple arrived at Harmondsworth, its healthcare provider, The Practice, had been sacked and replaced with another, Nestor Primecare, who took over two weeks after Dalrymple arrived. Their head of clinical practice, Valerie Anderson, described finding "chaotic" file keeping, and staff firefighting. By November 2011 Primecare had sacked the agency which had employed Dr Hamid.
The Home Office's deputy immigration manager at the centre, Marie Jugdev, told the jury that Harmondsworth had experienced "a period of difficulties in getting healthcare staff" during Dalrymple's detention.
A chief immigration officer called Harold Henry had asked for health assessments of Brian Dalrymple, but these failed to happen while he was detained at Harmondsworth. Marie Jugdev told the inquest she did not know if her team had passed on these requests to the centre's healthcare department.
Detention centre staff described the limited mental health awareness training that they received. Two officers said that they were not concerned about people in Harmondsworth "muttering to themselves", because a lot of people in Harmondsworth did that. It was accepted in questioning that might mean all those people were exhibiting signs of mental illness.
Robert Lewis, a Serco detention custody officer, was one of the four person team that collected Dalrymple from Harmondsworth to take him on the brief trip to Colnbrook. He told the jury that Brian Dalrymple's medical records were not transferred with him, in contravention of normal procedures. These notes contained the vital information that Dalrymple had been taken to Hillingdon Hospital on 16 July 2011 with dangerously high blood pressure and discharged himself against medical advice, as well as observations about a deterioration in his behaviour during his time in Harmondsworth.
Expert witness Dr Needham-Bennett, a psychiatrist, told the jury that "there was a gap between 17 July and 27 July between Mr Dalrymple and healthcare at Harmondsworth and his blood pressure was known to be dangerously high. There was no contact, no monitoring, no persuading or cajoling him to take medication". Needham-Bennett agreed that this was a "lamentable failure".
The Dalrymple family's lawyers allege that negligence caused his death, that Dalrymple's right to life was breached, and that he was subjected to cruel and inhumane treatment at Harmondsworth.
The family's solicitor, Lucy Cadd, from Hodge Jones & Allen, said:
This case raises serious questions about the treatment of people with multiple health problems in immigration detention, and in particular those with mental health problems.
There is a worrying trend emerging in these types of cases, particularly with the increased privatisation of what have always traditionally been public functions, that the general care and healthcare treatment of detainees becomes fragmented and certain essential actions are overlooked, often leading to devastating consequences.
Lorraine Dalrymple, speaking from her home in Globe, Arizona ahead of the inquest, said:
I have been left utterly devastated and heartbroken by the death of my son Brian and to lose him in such dreadful circumstances is particularly hard to bear.
I'm very disappointed that those organisations whose decisions and actions contributed to the death of my son have not yet admitted any liability, however I take the size of the settlement as an indication of significant wrongdoing.
She said she wanted the inquest to "get to the real truth. I hope that all of the failings that led to my son's death are fully examined by the jurors and that everyone involved is forced to learn from their failings and changes are made to the way detainees are dealt with."
Today, after the verdict, she said:
I have accepted my accountability regarding my son's death.  I ignored my mother's intuition and listened to others regarding England not being a third world country and Brian being safe. I was told there were systems in place and that if anything was wrong the American Embassy would contact me and that I should allow Brian time to see England and Europe….that Brian would be home soon.
This was a mistake I will have to live with for the rest of my life because the "systems" were broken; the American Embassy was never notified of his detention and no one in medical thought to call for his medical history.  If I had known what I know now of what was happening, I'd have contacted everyone possible, done everything possible to help my son.
My son did come home, but in a box. In the last two weeks I have heard nothing but excuses and accusations. However, I am able to take some comfort in what the jury have found and from the words of the coroner.
Lorraine Dalrymple said that Brian was "a warm and loving man, often generous to a fault — putting others needs before his own".
Deborah Coles from the charity INQUEST, who have supported the Dalrymple family, said today: "This is a shocking death of a mentally and physically ill man who died in his cell as a result of corporate neglect and indifference. The catalogue of failings are not unique to this case but expose the plight of those held in immigration detention and the systemic neglect of detainees mental and physical ill health as evidenced by the high numbers of deaths, suicide attempts and self harm."
Brian Dalrymple is not the first Harmondsworth detainee to have died. Muhammad Shukat, a 47-year-old Pakistani man, died on 2 July 2011, just weeks before Dalrymple. In a disturbing parallel, Shukat was held at Harmondsworth from 26 May to 29 June, in which time "he made a complaint about the healthcare at the centre that was not followed up, staff at the healthcare unit also failed to obtain his medical records despite his written authorisation", according to the Institute of Race Relations.
Like Dalrymple, Shukat was moved to Colnbrook shortly before his death. The Prisons and Probation Ombudsman (PPO) report into Shukat's death said these records "could have provided significant information that could have assisted healthcare staff [at Colnbrook] on the morning he died."
In February 2013, Alois Dvorzac, a frail and demented 84-year-old Canadian man, died after being rushed to hospital from Harmondsworth.
On 30 October 2012, 31-year-old Ghanaian Prince Kwabena Fosu died at Harmondsworth. Detainees allege GEO guards restrained him in the segregation unit and kept him naked in an unheated cell.
GEO Group UK Limited, which manages Hamrondsworth, is part of the American corrections giant, GEO Group, a spinoff of the sinister old Wackenhut Corporation. GEO is a major operator of immigration detention for the US government, where it has reportedly lobbied for harsher anti-alien laws. The company has a long history of running detention centres in the UK, including Campsfield House (until 2011) and Dungavel. GEO holds three major contracts with the Ministry of Justice to escort prisoners to courts across Britain.
Harmit Athwal, a researcher at the Institute of Race Relations, keeps a diligent record of deaths in the care of the UK immigration authorities. There have been 21 deaths in detention since 1989, and at least five more shortly after release.
Eighteen months before Brian Dalrymple's avoidable death, Prisons Inspectors made a surprise visit to Harmondsworth in January 2010. They reported:
Detainee feedback on healthcare was poor. The approach of health services staff was often functional and brusque, and failed to deliver a responsive or caring service. There was no current health needs assessment.
That wasn't all: "Overall clinical governance was weak. The existing paper healthcare data system was poorly managed. Clinical records were poor, with duplicate records and illegible entries."
And there was more: "Primary mental health was largely dealt with by the GP, and the three registered mental health nurses had no dedicated time to address mental health needs. Psychiatric services were limited and there were no aggregated figures of those with mental health problems. There was no counselling service."
The Inspectors recommended: "All health services staff should undertake communication skills training which includes awareness of the emotional and physical consequences of being an immigration detainee."
The Prisons Inspectorate published their report in 2010. (There is a PDF here.) Nobody at the Home Office or their multiplicity of commercial contractors can claim that they had not been warned.
Published with OpenDemocracy