New asylum contracts: Mears Group and Migrant Help win big, as G4S loses housing deal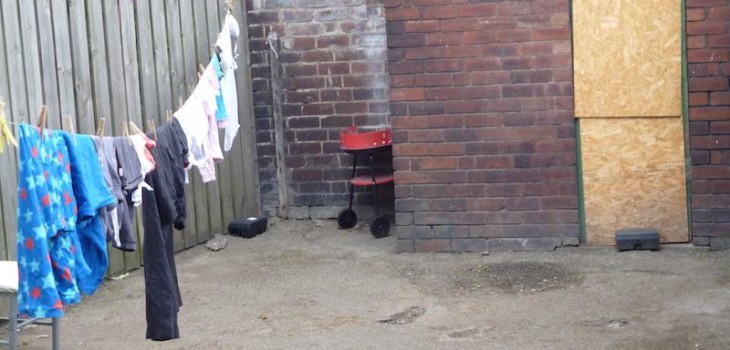 Update: see our new company profile of Mears Group here.
A private "social housing" business, Mears Group, is about to become one of the UK's biggest refugee landlords, winning three ten year asylum accommodation contracts from the Home Office worth a total £1.15 billion. When the contracts start in September 2019, Mears will run asylum seeker housing in Scotland, Northern Ireland, and in Yorkshire, the Humber and the North-East of England.
The UK's asylum housing system has become notorious for its slum conditions. Refugees are scattered around the UK into the cheapest possible housing, sub-contracted to local landlords by the corporations who win the main government contracts. It remains to be seen whether Mears will do things any better than its competitors in the business. (See Chapter 5 of our book The UK Border Regime for much more on the asylum housing and "dispersal" systems.)
At the same time, the charity Migrant Help has landed a £100 million contract to run the Home Office system called "Advice, Issue Reporting and Eligibility (AIRE)" services. It will be the official point of contact for refugees to get advice on their asylum claims, and will also work with Mears and the other accommodation providers. Migrant Help will earn between £10 million and £20 million a year from the deal, which will initially run for four years from September, but can be extended for up to ten years. It has already been doing similar work for the Home Office since 2014.
The AIRE advice contract also involves advising refugees on what do if their claims are refused. That specifically includes telling them about "the support available to return to their country of origin." The Home Office has a clear focus on pushing people to leave through so-called "voluntary return", and will see Migrant Help as playing an important role in meeting its "removal" targets.
G4S gone, but the system stays the same
Mears' asylum housing deals are part of the overall system where the Home Office contracts refugee housing out to private corporations in a number of big regional contracts. This approach was set up in 2012, when six regional deals named "COMPASS" went to three companies: G4S, Serco, and Clearsprings Ready Homes.
The new round of contracts have a new name, AASC (Asylum Accommodation and Support Contract), and seven instead of six regions – Scotland and Northern Ireland have been split into separate deals. But otherwise the basic structure of centralisation and privatisation is the same. Previously, asylum housing was provided by a range of landlords including local authorities.
In Scotland, Mears takes over from Serco, after a strong local campaign against that company's attempts to evict 300 refugees from their homes in Glasgow. In Yorkshire and the North East, it is replacing G4S – whose asylum housing is notorious for squalor, infestations, and the scandal when racist vigilantes attacked homes whose doors had been painted an identical red colour.
G4S, still suffering from attention on brutality in its Brook House detention centre, has now lost all its asylum housing contracts. Serco, though out of Scotland, has kept its contract for North West England, and will also take over from G4S in the Midlands and East of England. Altogether, Serco is now the biggest asylum landlord, with contracts worth £1.7 billion. Clearsprings Ready Homes holds onto its smaller contracts in Wales and the South of England.
Mears' big score
Will Mears do a better job than its predecessors? Certainly, this company doesn't have the inglorious reputation of notorious outsourcing giants Serco and G4S. Mears is a much smaller company than either of those, and has no previous experience in asylum housing. Its main business lines include providing repairs, maintenance, and other services to housing associations. It also has a home care division – we have looked at the company before as one of the UK's main home care profiteers.
We are planning to publish a new company profile of Mears very soon. If you have have any information on the company, please get in touch!
Update: see our new company profile of Mears Group here.
New Asylum Housing Contracts
Midlands and East of England. Value (over 10 years, estimated at start of contract): £800m. Winner: Serco
North West England. Value: £900m. Winner: Serco.
North East, Yorkshire and the Humber. Value: £600m. Winner: Mears Group.
Northern Ireland. Value: £50m. Winner: Mears Group.
Scotland. Value: £500m. Winner: Mears Group.
South of England. Value: £800m. Winner: Clearsprings Ready Homes.
Wales. Value: £300m. Winner: Clearsprings Ready Homes.
Sources: contract values and specifications from tender announcement on European TED database; winners announced on Home Office website, 8 January 2019.
Picture by John Grayson.