NHS gives G4S £23m to 'care' for migrants
/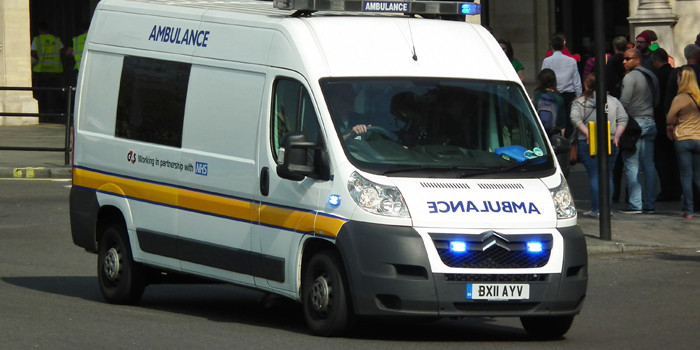 [responsivevoice_button]
NHS England has awarded security giant G4S a series of multi-million pound healthcare contracts to run medical facilities at four detention centres where men, women and children are held pending deportation, Corporate Watch has found.
The seven-year contracts, worth £23.4m, were awarded in June 2014 and became operational on 1 September. As a result, G4S has now taken over the healthcare services at Yarl's Wood Immigration Removal Centre (IRC) in Bedfordshire, which were previously provided by outsourcing rival Serco. The change comes in the wake of a sexual abuse scandal at Yarl's Wood, where a male Serco nurse reportedly told a female detainee who complained of headaches that "she did not need medication but needed his penis".
The three other new G4S contracts cover medical duties at the Brook House and Tinsley House detention centres outside Gatwick Airport and the 'Cedars' site in Pease Pottage where families with young children are detained. These three facilities were already run by G4S, but the new contracts are significant because they were awarded by NHS England, under a new system of healthcare commissioning for detention centres, rather than by the Home Office as was previously the case.
The reforms, despite continuing to give considerable business to G4S, have seen a slight shift away from private companies treating vulnerable asylum-seekers. Detainees at the Colnbrook and Harmondsworth IRCs by Heathrow Airport are now being seen by doctors from the Central and North West London NHS Foundation Trust, whereas in the past this was done by Serco and another medical firm called Medco.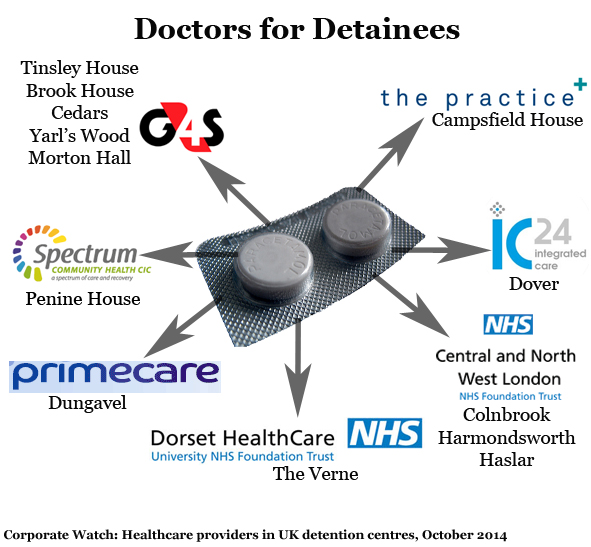 Private security and healthcare
G4S also provides medical services at Morton Hall IRC in Lincolnshire, where Rubel Ahmed, a 26-year-old male detainee from Bangladesh, died on 5 September 2014. Witnesses interviewed by Corporate Watch say Mr Ahmed repeatedly called for medical assistance an hour before his death, but doctors did not attend his cell until after he had passed away. However, the Home Office told the Ahmed family that the cause of death was suicide. The Prisons and Probation Ombudsman is investigating.
Corporate Watch has previously raised concerns about private security companies providing healthcare to vulnerable asylum-seekers. In April 2013, we revealed that the UK Border Agency was paying a firm called Armatus, whose directors mostly included mercenaries, to provide paramedics for deportation flights.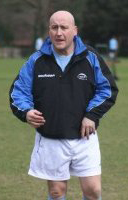 Armatus subsequently changed its name to Taylormade, and some of the directors left, although its work for the Home Office continues. Taylormade's Detention and Medical Director is Mark Burrows (pictured left). Until recently, the company's website claimed that Burrows had "had a long and distinguished career within the Immigration Detention Service", highlighting his past experience as a Duty Manager "in charge of a Removal Centre of over 500 Detainees".
Although the immigration removal centre was not named on the Taylormade website, Corporate Watch can confirm that Burrows was a Duty Manager in charge of Harmondsworth IRC on the evening of 29 November 2006 when a major riot broke out in protest at conditions inside the detention facility.
At the time, Burrows worked for Sodexho subsidiary Kalyx that ran Harmondsworth for the Home Office. The riot resulted in millions of pounds worth of damage to the centre. Anne Owers, then the Chief Inspector of Prisons, had published a damning report on Harmondsworth the day before the riot started. She described it as "undoubtedly the poorest report" ever issued by the prison inspectorate on a detention centre. "Over 60% of detainees said they had felt unsafe at Harmondsworth. This was much higher than the comparator for other centres. More worryingly, the main fear was of bullying by staff", Owers said.
Taylormade now has a new website and trades as part of the 'Semper Tutis' group, a Latin phrase that translates as "Always Secure". The firm also provides emergency medical cover to Serco Wincanton and GeoAmey on the Ministry of Justice contracts for Prisoner Escorting and Custodial Services, according to a Freedom of Information request by Corporate Watch.
Although healthcare provision for detained asylum-seekers and prisoners may seem far removed from mainstream public access to medical treatment, there is in fact considerable overlap. For example, at the inquest into the death of Brian Dalrymple, who had died in detention at Colnbrook IRC in 2011, a Serco healthcare manager from the centre who gave evidence mentioned that his professional career had included a secondment to the company's out-of-hours GP surgery contract for Cornwall. That contract was terminated 17 months prematurely after Serco was slammed by MPs for staff shortages and falsifying performance data.
 Written by Phil Miller
Lead photo by Kenjonbro, flickr.com

Notes:
Healthcare providers at detention centres, October 2014
Brook House, Tinsley House, Cedars, Yarl's Wood, Morton Hall – G4S
Harmondsworth, Colnbrook, Haslar – Central and North West London NHS Foundation Trust
Verne – Dorset healthcare (local NHS provider)
Penine House – Spectrum Community Health
Campsfield House – The Practice, until April 2015
Dungavel – Primecare
Dover – Integrated Care 24