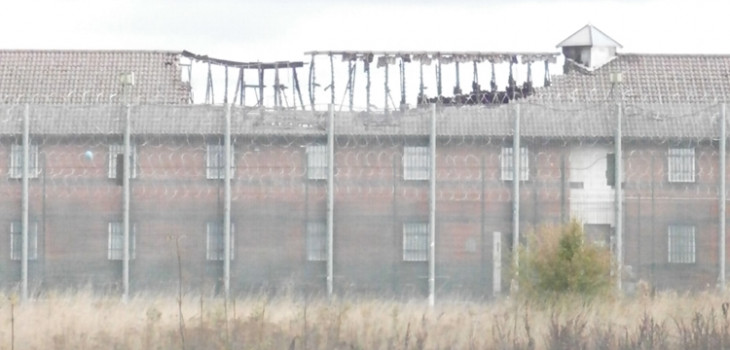 [responsivevoice_button]
Mitie, the company the Home Office has chosen to run some of Britian's biggest immigration detention centres, say they are "unable" to answer our questions about a senior staff member's role in the lack of fire safety provision in one of their other detention centres.
As Corporate Watch reported last week, Mitie recently won contracts worth £180m to run the Harmondsworth and Colnbrook centres near Heathrow, overtaking G4S and Serco as the biggest beneficiaries of the government's outsourcing of detention centre management.
The Home Office granted Mitie the contracts despite the 2013 fire that gutted the Campsfield detention centre, which the company took over in 2011. Half the detainees had to be relocated as a result. Senior fire officers said the blaze spread because there was no sprinkler system at Campsfield.
There had been a fire there before, in 2007. The fire brigade made its first warning to the Home Office that sprinklers needed to be installed after this.
Mitie's current business development director is Alex Sweeney. His LinkedIn profile lists "tendering for procurement opportunities with the Ministry of Justice and Home Office" among his responsibilities, suggesting he was involved in the company's recent procurement success.
Before he moved to Mitie in May 2010, Sweeney was the centre manager of Campsfield from 2009, when it was run by rival outsourcer the GEO Group. It appears that no sprinkler system was installed during this time.
His experience appears to have helped Mitie's bid to win the Campsfield contract in 2011. Sweeney's Linkedin profile claims he "led the mobilisation" for the bid.
However, despite Sweeney's knowledge of the centre's history (presumably including its lack of appropriate fire safety equipment), it appears that Mitie did not equip Campsfield with crucial fire safety equipment.
Corporate Watch contacted Mitie to ask about Sweeney's experience and his role in winning the most recent contracts but the company said it was "unable" to comment and directed us to the Home Office, who have also not responded.
Yet another example of the transparency and accountability that outsourcing brings.