Palestinian prisoners' association calls for the prosecution of G4S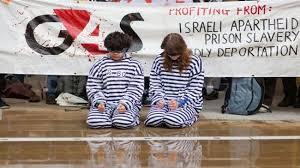 [responsivevoice_button]
Hussam Association, a Gaza based organisation of current and former Palestinian detainees in Israeli jails, has released the following statement calling for the prosecution of G4S. G4S, a British/Danish multinational company, holds a contract with the Israeli Prison 'Service' to supply Israeli jails with equipment and services:
"Hussam, the prisoners and liberated association, has called human rights bodies and organisations to work on the prosecution of British company G4S that oversees security systems of the prisons of the Zionist Occupation in the West Bank.

The association has also confirmed that it will call for Arab and European human rights organisations and official bodies to take the necessary procedures to put officials of G4S company on trial, for the company's involvement in war crimes, and crimes against humanity against Palestinian prisoners.

The association announced that it will collaborate with local and international human rights associations to expose the company and build awareness against its involvement in torturing Palestinian prisoners by providing the Israeli occupation with security systems and central observation and control units in prisons of Negev, Megiddo, Damon, Rimon and others that imprison more than 5000 Palestinian prisoners from the West Bank, Gaza, Jerusalem and the lands of 1948.

The association has also added that the company has installed defence systems on the walls surrounding Ofer prison in the West Bank. G4S also manages a central control unit for the centre of Ofer Military Court that trials Palestinian detainees from the West Bank, on a daily basis for arbitrary and cruel provisions.

Hussam association has also confirmed that G4S provides security systems for detention and interrogation facilities in many Israeli detention centres, where Palestinians usually face different interrogation methods that are based on physical and psychological torture; such methods have led to the deaths of many Palestinian prisoners since the beginning of occupation."
For more information on G4S click here.