Pemberstone Group: we profile the company trying to demolish 70 homes in a Leeds estate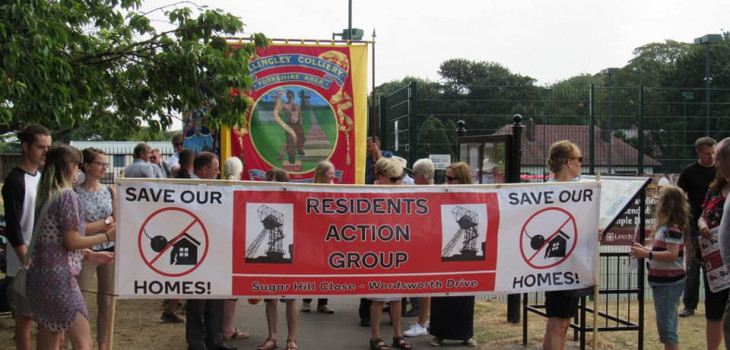 After a two-year long battle by families to save their homes, 70 homes in the Sugar Hill estate in Oulton, Leeds remain at risk of demolition. Pemberstone, the company that owns the land, are trying to win permission to knock down the existing homes and "regenerate" the estate with less affordable housing.
Their initial application was rejected by Leeds City Council in October last year, after residents in the former mining community highlighted the damage Pemberstone's development would do to their lives. But the company has appealed to the government to override the council's decision. The appeal is set to be heard next month, on 6 October.
Worcester-based Pemberstone is owned by Andrew Barker, a millionaire businessman. Working closely with his lieutenants Mark Reynolds and David Annetts, Barker looks to profit from a wide range of business interests: black and white photography, indoor ski slopes, "ethical consultancy", as well as multiple property ventures.
Corporate Watch has looked into Pemberstone and found:
Even without their proposed development, Pemberstone has already made £2 million in profit from the rent paid by residents of the Sugar Hill estate.
A key client of Pemberstone's property management business over the last five years has been the Coalfields Regeneration Trust, a charity which ironically exists to support residents of former coalfields communities – just like those in Oulton.
Swedish bank Handelsbanken is a key funder of Pemberstone.
Other businesses owned by Pemberstone include black and white camera film manufacturer Ilford Photo, and Manchester snow dome the Chill Factore.
Barker and Pemberstone also co-own Ethical Goods, a consultancy firm that works with charities and businesses including Crowdfunder, Comic Relief and Costcutter.
Click here to find out more about the Sugar Hill Estate residents' campaign from their website, and click here to find out how you can help.
Click here to get in touch if there is a company you'd like us to look into.
Pemberstone and the Sugar Hill Estate
The Sugar Hill Estate is a former coal board housing estate containing 70 homes in Sugar Hill Close and Wordsworth Drive in Oulton, near Leeds. Average rents are around £500 a month.

Pemberstone, the company that owns the estate, wants to demolish the existing homes to make way for a new development. Under the plans, only 11 of the current households – those on so-called 'protected tenancies' – are guaranteed to be rehoused in the newly-built homes. Another 11 of the 70 new houses will be let out at rates that Leeds City Council deems to be affordable, though even these will be more expensive to rent than the current homes. The rest will be private.

Current residents have been campaigning against the scheme and resisting the break up of their community, fearing they will be priced out of the area.
We put the main points in this profile to Pemberstone. A spokesperson did not dispute them but said the estate is becoming increasingly difficult to maintain and that the new development would create modern, comfortable and highly energy-efficient homes.
Hazell Field, who lives in the estate and is part of the campaign to save it, told Corporate Watch:
"This has been a long fight in this campaign. Unfortunately, we are a group of either low income or  pensioners and single parents. We have been fighting this on a limited budget and this is the scary part as we do not have the resources that Pemberstone do, so I am frightened we could lose this because of money."
Following the money
Accounts filed at Companies House show that even without the planned development, Pemberstone have been making decent profits from residents since buying the estate in 1997.
In 2016, the last year figures are available for, Pemberstone made a profit before tax of just under £230,000 from the £400,000 in rent they charged to residents.
With revenue from rents rising each year, the estate has been a consistent source of cash for Pemberstone: in the ten years between 2007 and 2016 Pemberstone made a profit from the estate of £1.9 million.
Meanwhile the value of the estate has been going up. At the turn of the century, Pemberstone valued the land and properties at £1.2 million. By the end of 2018, they had increased their valuation to £3.8 million.
Pemberstone bought the estate in 1997 with a £1 million loan from the Nationwide Building Society, which was paid off in 2016.
The same year Pemberstone took out a new, bigger, loan from Handelsbanken, a Swedish bank with branches in the UK. Worth £1.7 million, this loan is due to be paid off next year.
The accounts do not say exactly what the Handelsbanken loan is being used for but around half of it seems to have been used to pay back the Nationwide loan. The rest appears to have been lent to another – unnamed – group company, presumably to fund whatever business it is engaged in.
In other words, the homes in Wordsworth Drive and Sugar Hill Close are being used as collateral to finance other parts of the Pemberstone business.
Pemberstone: Andrew Barker's (mini) empire
The exact name of the company that owns the homes in Wordsworth Drive and Sugar Hill Close is Pemberstone (Oulton Properties) Ltd. This is just one of over 100 companies majority-owned and controlled by founder Andrew Barker, most of them based in the Whittington Hall business park in Worcester.
Pemberstone has a diverse array of interests: property but also ski slopes, camera film, travel agents and retrofitting windows (click here to see a list on the Pemberstone website).
Barker continues to oversee all of these as chairman of the group, overseeing its operations and "strategic direction". He seems to keep a low public profile, having deactivated his Twitter account following the controversy around the Oulton Housing scandal. He has appointed relatives as directors of other Pemberstone group companies.
Day-to-day operations are managed by Barker's key lieutenants, Mark Reynolds and David Annetts. Both have the title of Group Directors and also hold ownership stakes in Pemberstone businsesses. Family members of both also serve as directors of other Pemberstone group companies.
Other Pemberstone Businesses:
Blue Marble Asset Management
A "bespoke commercial property investment and asset management company", Blue Marble is a Pemberstone business that receives fees from clients to manage properties and source new ones for them to buy. According to its website, these clients include "investment businesses, high net worth individuals, trusts and family offices".
But one of their most important clients does not fit those descriptions and may come as a surprise, given Pemberstone's unpopularity among Oulton's former mining community.
The Coalfields Regeneration Trust is a charity "dedicated to supporting former mining towns and villages throughout the UK". They organise employment and skills training programmes and other charitable and community activities within ex-mining areas.
Previously reliant on government funding, the Trust has been told it needs to become financially independent in England (it continues to receive funding from the Scottish and Welsh governments). As a result it has developed a business to "to generate funds from commercial and residential properties".
In 2018 the Trust brought in Blue Marble to manage these properties and help them find new ones. This was a major win for Blue Marble and Pemberstone – and their owner, Andrew Barker. A press release said it increased the value of properties under Blue Marble's management to £100 million and called it a "wonderful opportunity" to provide "a full asset management service".
According to the Trust, "outsourcing the management aspects [of their properties] to Blue Marble" was "an important step as we focus on increasing the returns that allow the Coalfields Regeneration Trust to continue to create programmes that meet with the diverse and complex needs that are still prevalent within former mining towns and villages."
Which makes you wonder if Blue Marble is the best choice, given its sister business is trying to demolish a coalfield community's homes.
When we asked the Trust about their relationship with Blue Marble, they were less enthusiastic than they had been in 2018. A spokesperson distanced the Trust from the company, saying they did not currently "retain" Blue Marble to manage their property portfolio. They declined to comment further when we pressed them on whether this meant they would not work with Blue Marble again in the future.
Blue Marble Property Fund
Other Pemberstone/Blue Marble property ventures include the "Blue Marble Property Fund 1 LP", a commercial property fund launched in 2018. Essentially, they want to raise £10million from wealthy clients to invest in six to eight commercial properties across England and Wales. Investors must front up at least £100,000 to invest in the fund, managed by Salford-based company, Infinity Fund Management, which is not part of the Pemberstone group.
Whittington Hall Business Park
Barker also makes money from letting out commercial space at his Whittington Hall Business Park, where almost all his companies are registered. Run through Pemberstone subsidiary Pemberstone Partnership LLP and managed by Blue Marble, the group has made good money from the venture, with revenue totalling £1.3 million in 2015, the latest year figures are available for.
Tenants listed include Hofmann Pruftechnik UK Ltd, an "automotive software and control systems company" and a subsidiary of the Japanese instrumentation business Horiba Group. Housing Partners, a social housing tech provider, is also registered at Whittington Hall.
Company accounts show Handelsbanken has also supported Pemberstone in this venture, through a £5.4 million loan, due to be paid back in May this year.
Ilford Photo
In 2015, Barker and Pemberstone bought Ilford Photo, a photographic materials company which is dedicated to producing black-and-white film, paper and chemicals.
Accounts available at Companies House suggest it is one of Pemberstone's biggest money-making businesses, enjoying the modest resurgence in analogue photography's popularity. Ilford made a profit of £2.5 million in 2019, from revenues of £21million. Its film is sold across the UK and shipped to the US. You can find them on their website, Twitter and Facebook .
The Chill Factore
Not content with property, Barker bought the longest indoor ski slope in the country in 2015, Manchester's Chill Factore. Jointly owned with property regeneration corporation the U&I Group, the Chill Factore posted revenues of over £7million in 2018 and is one of Pemberstone's biggest businesses.
Ethical Goods
Another of Barker's ventures is Ethical Goods, jointly controlled with ex-stockbroker Ralph Cotto. According to their website, their aim is to "offer a range of services that enable your company or charity to be more ethical, share your story and increase your bottom line".
They have an ongoing partnership developing bespoke charity fundraising platforms for the Crowdfunder website. Their website lists a range of other businesses and charities they have provided consultancy for, including Comic Relief, Salvation Army, BikeUK, Getty Images and CostCutter (click here and here for full lists).
Click here to see the full range of the Pemberstone group on their website, including travel agencies, locks and labels.
To see how you can support the campaign to save the Sugar Hill estate, go to their website – https://saveourhomesls26.org/ – or Facebook page.