People behind Cuadrilla win state approval to keep identities secret
/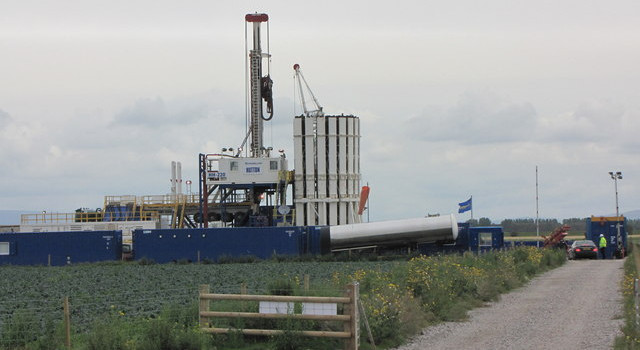 [responsivevoice_button]
UK fracking company and target of environmental protest, Cuadrilla, is using new legislation designed to increase corporate transparency to hide the identity of the people who control it.
According to documents filed at Companies House, the four individuals that ultimately control Cuadrilla Resources Holdings Ltd, the UK-registered parent company of the Cuadrilla group, are using an exemption in the government's 'Persons of Significant Control' legislation, introduced last year to protect their identities.
Previous disclosures have shown Cuadrilla is majority owned by the investment funds Riverstone Holdings and AJ Lucas. But the attempt to withhold information suggests others may be involved, with a Chinese state-owned oil firm previously rumoured to be a possible investor.
The government introduced Persons of Significant Control (PSC) legislation in June 2016. Its aim, in the words of then Business minister Baroness Neville Rolfe, is to:
"help tackle abuse of corporate entities. This is part of our commitment to creating an environment of trust and accountability for business."
Under the new legislation, details of the human individuals (rather than other companies) who own or control companies should be entered into a publicly-accessible register.
However there are certain exemptions that people can use to protect their identities. One, section 790ZG in the Small Business, Enterprise and Employment Act that brought in the requirements, allows details to be withheld if the individuals can prove they are at risk of violence, intimidation or "targeting by activists".
Government guidelines describe the exemptions as particularly suitable for people running companies involved in defence or animal testing, or if your company "has been targeted by activists".
When asked for this article about their use of the exemption Cuadrilla said it was granted after they provided evidence of "threats" that left their controllers at "serious risk of intimidation":
"We can confirm that in the Autumn of 2016 Cuadrilla made an application to Companies House to protect the names and addresses of Persons of Significant Control (PSC) with regard to Cuadrilla on the basis that having this information in the public domain would present a serious risk of intimidation to them. We followed the procedure set out by Companies House by submitting a statement and supporting evidence to demonstrate there had been historical threats and a strong likelihood of ongoing threats to those individuals. This was then independently assessed by the registrar and permission was granted to protect the relevant directors' details. The information supplied remains confidential and not on the public record."
Cuadrilla is one of a very small number of companies whose controllers have been granted protection in this way. Freedom of Information requests have shown that Companies House had only accepted five of 33 applications made for non-disclosure under exemption 790ZG in the 11 months between the start of the PSC regime in April last year to this February.
This is not the first time a fracking company has benefited from state protection. The anti-fracking movement has been specifically targeted by the government in order to protect the industry, including through the use of the counter-terrorism strategy, Prevent. This has involved police advice to schools linking anti-fracking campaigners to domestic extremism and identifying environmentalists as being at risk of being drawn into terrorism.
The UK state has a long history of protecting companies from protesters and public scrutiny. In the late 1990s, for example, the new labour government introduced a raft of legal measures intended to protect companies from protesters, particularly if the companies' activities were deemed significant to the national economy. The arms and pharmaceuticals industry in particular started to use a range of legal processes to discourage protest and criticism. Measures previously used to protect companies from protest include the application of anti-social behaviour orders (ASBOs), the use of bail conditions by the police as a form of extra-judicial punishment, use of blackmail and harassment law and extensive use of terrorist legislation (including as an intelligence gathering tool against activists entering or leaving the country), with protesters being identified as 'domestic extremists'.
Who does control Cuadrilla?
Existing Companies House records show Cuadrilla is owned by Australian mining services company AJ Lucas and US investment firm Riverstone.
Riverstone is run by its two founders: the ex-Goldman Sachs financiers David Leuschen and Pierre Lapeyre Jr. Research by Greenpeace has previously identified Kerogen Holdings as the majority shareholder of AJ Lucas. Kerogen is co-owned and run by Ivor Orchard, who is also a Cuadrilla director.
All of them could be PSCs, as could Cuadrilla CEO Francis Egan. But these individuals are already publicly-known to be involved with Cuadrilla. If they had wanted to protect their home address, they could have applied for another exemption, section 790ZF, that is more readily granted and allows for just that.
This raises the possibility that there are individuals behind Cuadrilla who have not yet been identified.
Companies House records show another two of AJ Lucas' UK companies – Lucas Holdings (Bowland) Ltd and Lucas Holdings (Bolney) Ltd – have also applied for the exemption, which suggests it is people connected with AJ Lucas rather than Riverstone that want to stay hidden
There have previously been rumours that the Chinese state-owned oil firm China National Offshore Oil Corporation (CNOOC) is involved with Cuadrilla through its major investment in Kerogen Capital. Being under the control of a representative of the Chinese state is exactly the sort of thing it would make sense for Cuadrilla and its backers to keep quiet.
Something to protect
Given their company's track record, it is perhaps not surprising the people behind Cuadrilla would rather stay in the shadows.
Cuadrilla was the first company to carry out high volume hydraulic fracturing (fracking) in the UK, in Weeton, Lancashire in March 2011. That resulted in a small earthquake and a moratorium on fracking operations, which has since been lifted. The company was also rebuked by the then energy minister, Charles Hendry, for not reporting the incident, saying that the "failure" had exposed "weaknesses in Cuadrilla's performance as a licensee". Cuadrilla has the largest fracking licensing block in the country, but is still a relatively small exploration company, hoping to cash-in by going to equity markets or debt markets if they are successful in getting significant extraction operations off the ground. It also tested for shale oil in Balcombe, the site of major protests against the industry in 2013. Cuadrilla has been rebuked for a host of planning breaches and technical failures and have previously come under pressure for 'bullying' activists. After successfully applying for an injunction to remove a protest camp, the company then pursued one of the protesters, Tina Louise Rothery, for £55,000 legal costs. Despite being threatened with jail time, she refused to pay and was later told by a judge that the order to pay had been discharged.
Despite Cuadrilla's aggressive approach, the fracking industry has so far failed to establish itself in the UK, having been hampered by widespread protest, legal opposition, low oil prices and the now lifted moratorium. However, 2017 looks to be a key year in the battle over fracking, with Cuadrilla being given the go ahead to continue operations at it's Preston New Road site in Flyde, Lancashire and a host of other locations around the country coming under threat, including active sites at Surrey and Yorkshire. Opponents to fracking are also stepping up their efforts, with a rolling blockade at the Preston New Road site and a series of actions targeting companies supplying the fracking industry.
Hydraulic fracturing, known as 'fracking', involves injecting a mixture of high-pressure water and chemicals into a borehole, fracturing the rock and releasing gas. It has been shown to poison water supplies and cause seismic activity, radioactive contamination and increased greenhouse gas emissions. To find out more about fracking and shale gas, see our report and factsheets.
For information on the law and policing around fracking see Netpol's guide.
For all the latest on fracking in the UK, including events, protests, active sites and background information see the mighty Frack Off.