Research Against Racism: investigating companies that sustain structural inequalities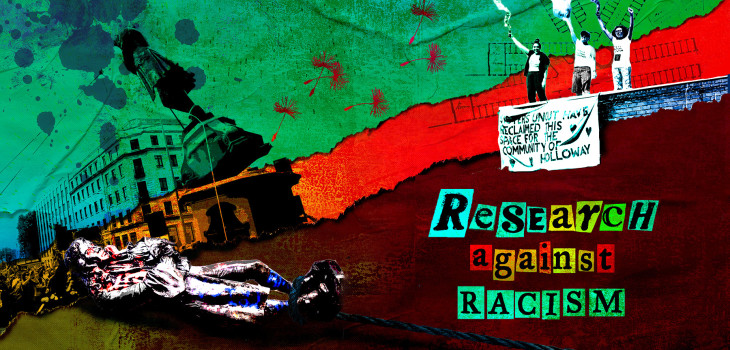 Update 5/3/23: Please note applications are now closed. Thank you to all those who got in touch.
A fully-funded training opportunity
Dates: 30th September – 1st October 2023, 10-5pm, in person.
9 October – 19 November online.
Location: Bristol (two days in person); remote (over six weeks).
Corporate Watch is running a six-week, hands-on training programme on how to investigate and report on companies sustaining structural racism. This is a fully-funded programme, aimed at Black people, people of colour, and other marginalised groups.
The first part of the programme will be a two-day, in-person course in Bristol. Following this, participants will work with the support and supervision of Corporate Watch to produce a collaborative investigation on a company, or sector, involved in sustaining institutional racism.
They will receive mentoring on writing techniques, fact-checking and editing along the way.
The six-week project will focus on companies sustaining white supremacy. These could be prison, security, or border profiteers; media outlets feeding fear and xenophobia; companies perpetuating social exclusion in health, social care, or education; or arms manufacturers and other companies continuing the legacy of colonialism in the Global South.
The aim of the project is to boost knowledge and expertise among groups most on the receiving end of corporate abuses in the UK, and ultimately strengthen campaigns for justice and liberation.
This project has been funded by Network for Social Change, and made possible by the ongoing support of Joseph Rowntree Charitable Trust.
Practicalities
The course is free, food and accommodation will be provided, and scholarships and travel bursaries are available for eight participants who are Black, people of colour, refugees and migrants, Gypsy Roma and Traveller (GRT), ex-prisoners and other people affected by the criminal "justice" system, or those from other marginalised backgrounds. This is to reduce barriers to participation.
The training, mentoring time, and investigation work will be paid at a rate of £14 p/h.
Participants must be based in the UK, since part of the programme takes place in person.
There will be limited places on the weekend course available for other participants, however these will be unfunded.
We aim to be as flexible as possible during the six-week part of the training to accommodate those with caring responsibilities and/or other employment commitments.
Who should apply
This programme is for Black people, people of colour, refugees and migrants, Gypsy Roma and Traveller (GRT), ex-prisoners and other people affected by the criminal "justice" system, or people from other marginalised backgrounds.
We are especially interested in hearing from applicants who are active in campaigns or projects for social and racial justice.
If there is space, we will consider opening up the weekend course to other participants (this will be free but unpaid). Please get in touch if you are interested but do not fall under one of the above categories.
Content
The content of the two-day training session may vary slightly depending on participants, but is likely to cover:
The basics: understanding the different types of company structure and who makes the decisions, developing a research strategy appropriate to each case, and general research tips.
Core tools for corporate research: how to effectively use key resources such as Companies House, annual reports and contracts databases, as well as advanced internet search techniques.
Following the money: how to read and analyse company accounts.
Leverage: Finding other evidence of corporate malpractice, including the revolving door with government.
Corporate databases: How to use tools like Orbis, Capital IQ, and free alternatives such as OpenCorporates.
Investigating people: methods of researching shareholders, directors and owners.
We will use examples from companies specifically involved in perpetuating structural racism. Towards the end of the weekend, we will do a mapping exercise on UK companies in maintaining racial inequalities today, with a view to developing collaborative research project ideas to take forward.
Over the subsequent six-weeks, participants will work remotely to put what they have learnt into practice by completing the research project with the support of Corporate Watch staff. A total of up to 18 paid hours per participant are available for this work; hours are flexible around jobs and other commitments. In addition, six hours of funded training sessions will be delivered remotely on writing, fact-checking and editing, as well as 1:1 support.
Background and Aims
Corporate Watch is a research group established in 1996 that helps people stand up against corporations and capitalism. Our motto is 'information for action': we know that people can fight and win, even against powerful enemies like corporations and governments. Good information helps to understand the forces we're up against, spot their weaknesses, and to campaign strategically and effectively.
What we do:
Targeted research for grassroots campaign groups, e.g. profiling a particular company, digging into its accounts, uncovering scandals, finding weak points.
Broader research and analysis to demystify how capitalism and specific industries work to the wider public.
DIY training to share our research skills. This includes our free online course: Know Your Enemy: Practical Research Training. We also offer bespoke training to groups and organisations.
We have a long history of "skilling up" groups and movements on how to do company research. But we know that this information is not always easily accessible to campaigners, community organisers and activists – especially as people need to juggle their political work around jobs and other life commitments. Since those most impacted by corporate power are often least in a position to engage with our training, we recognise that more investment of time and money is required if we are to minimise barriers to participation. Therefore, we have decided to offer this as a funded programme.
Deadline and how to apply
Please download and complete this form, telling us a bit about yourself, your motivation for applying, and any involvement in grassroots campaigning or activism you feel able to share. Return it to: training [at] corporatewatch.org by 30th August 2023.
All information will be dealt with confidentially. If you would like to send us your message via PGP encryption, you can find our key here (note, you will have to complete the form questions within the text body of the email). We will respond as promptly as we can.