Research Fellowship – application pack
/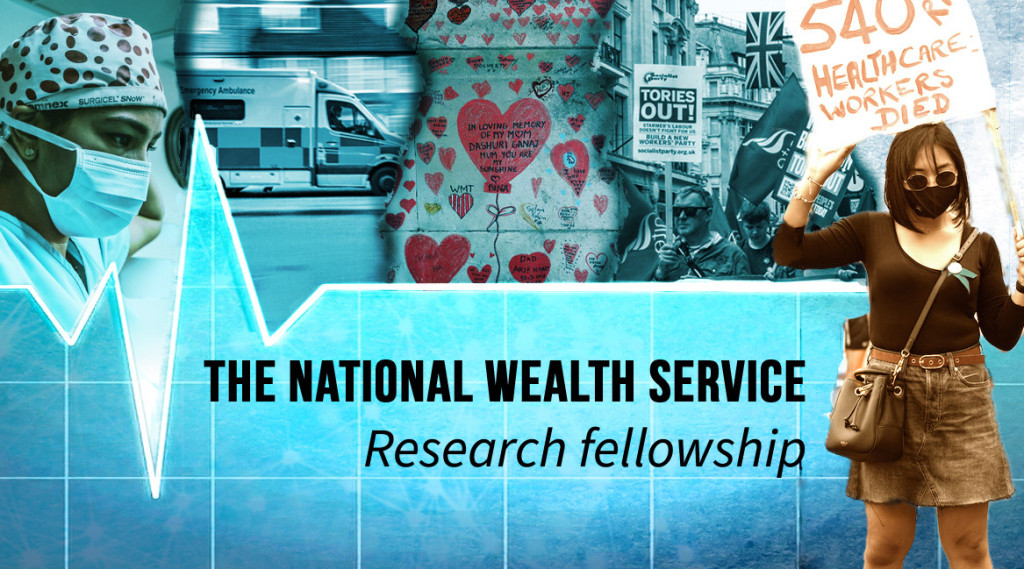 Overview, job description and person specification
Research project: 'The National Wealth Service'
The pandemic created a perfect storm for politicians to sell the lie that private healthcare companies help relieve pressure on the NHS, and we're already witnessing the emergence of a two-tier health system. The British Medical Association warned that the government's 2022 Health and Care Act would "do more harm than good", making "it easier for private companies to win NHS contracts without proper scrutiny". It contains a sweeping array of amendments designed to benefit multinational companies, private healthcare providers and insurers.
As we write, junior doctors are embarking on another strike to protest declining wages and worsening conditions. Significant NHS staff shortages are now the norm across the board and waiting lists are growing ever longer, in what has been described as a "death by 1,000 cuts". Alongside this, concerns are growing over awards of multi-million pound NHS contracts to private corporate giants.
This research project aims to investigate and disseminate information on around 200 private companies (many of which are US-owned giants) that have existing NHS contracts and develop our hypothesis that far more has already been paid out to private companies than the UK public is aware of. We've recently investigated vast profits paid out to the subsidiaries of just five companies and the results are shocking. With the help of the new fellow, we can push our specialised research methods even further.
The aim is to create a directory outlining the activities, interests and financial track records of these corporate interests, alongside their role in the new NHS Integrated Care Systems (ICS).
The findings collected for the directory would then be used to create an interactive map enabling people to find out which companies are profiting from the NHS at both national and local level. The body of work as a whole will create a tool not only for campaign groups but also for UK residents to fully understand the extent of current NHS privatisation. This embodies our Corporate Watch ethos: to produce Information for Action.
Post Details
Job title: Research Fellow
Working hours: 28 hours per week max with flexible working hours. This post is for one year, with the potential to join as a Corporate Watch co-op member on completion of the fellowship.
Pay: You will receive a tax-free support grant of £20,400 via a monthly stipend from the Barry Amiel and Norman Melburn Trust.
Annual Leave: 5 weeks (pro rata) plus bank holidays
Location: Open to anyone able to work remotely and travel approximately every three months to Bristol or London.
Deadline for applications: 30, August 2023
Interviews: Date TBC
Start date: We'd like to invite you to join a Corporate Watch in-person training on 30 September and 1 October (expenses paid). The start date for the Fellowship is tbc and will be discussed with applicants at interview.
Job Description
Research
Over the course of the year, you will be expected to research, analyse, write, and produce a range of short, informative outputs leading up to developing the directory and interactive map. You'll work collaboratively with other co-op members and later take the lead on developing evidence, analysis and research outputs.
It is expected that research methods will include desk-based research as well as primary research which may include: data gathering and analysis, FOI requests, surveys, interviews, and liaising with campaign groups. Corporate Watch will provide training and mentoring to support building these and a wide range of other research methods.
This Fellowship is intended to provide an opportunity for the fellow to develop their research capability; we do not expect these skills to be fully developed from the outset and encourage those without academic experience to apply. We will offer training in our anti-capitalist research methods, supported by regular one-to-one mentoring.
External Communication, Social Media and Dissemination
The Research Fellow will be responsible for ensuring that information is communicated to a wide audience, with a particular emphasis on ensuring key information reaches those outside traditional academic and policy spaces.
This will include:
Creating short, accessible written outputs to communicate key research outcomes.
Drafting press releases and communicating research outcomes to mainstream media.
Using social media to drive public engagement and understanding.
We will support the fellow in presenting their research findings to campaign groups and they will have the opportunity shadow us in our workshops, as appropriate. These activities will enable the fellow to build confidence and experience in public speaking and training.
Person Specification
Knowledge: Essential
Strong knowledge of the ethos behind challenging corporate power and the need for grassroots, anti-capitalist action.
Strong knowledge of UK politics and political processes including a clear understanding (theoretical or experiential) of current issues relevant to the NHS crisis.
Experience: Essential
Experience communicating complex ideas in an impactful and accessible manner to those outside of academia, for example through blogs, social media, or other digital communications.
Experience of working within a social justice movement, for example as a volunteer or activist for a grass-roots campaign.
Attributes and Skills: Essential
Will gain significant benefit from the opportunity offered by the fellowship.
Demonstrable commitment to Corporate Watch's work, aims and values and a clear passion for research.
Willingness to learn about the research process and develop new skills.
Demonstrable commitment to equality and diversity.
Excellent research and analytical skills, including accuracy and attention to detail.
Strong communication skills across different platforms.
Self-organising and accountable, with proven organisational and time-management skills and the ability to manage multiple projects and deadlines.
We will base the shortlisting process on the essential criteria above but want to actively encourage people from marginalised communities and/or non-academic backgrounds to apply for this fellowship. We particularly welcome and encourage applications from those who are underrepresented in research and journalism including Black people, People of Colour, Gypsy, Roma and Traveller (GRT) people, refugees, working class people, disabled people and ex-prisoners.
However, please do indicate if you also have any of the skills/experience listed below; they are genuinely desirable only and shouldn't be considered a prerequisite or barrier to applying. If you feel you have additional qualities or experience not listed here, please also include reference to these in your application.
Knowledge: Desirable
Some knowledge, of methods and approaches to corporate research for example, understanding company structures or reading accounts.
Experience: Desirable
Experience of working within a co-op, small charity or NGO.
Any experience of undertaking desk and field-based research in a related subject area.
Any experience using qualitative research methods such as surveys, interviews, and focus groups.
Any experience using quantitative research methods such as surveys and data gathering.
Any experience of data-driven investigation.
 Attributes and Skills: Desirable
Design and multimedia skills (designing infographics, producing short videos etc.).
Technical ability in using digital tools such as WordPress, social media platforms etc.
To apply:
Please send the following to jobs at corporatewatch.org  by 30 August, 2023.
A cover letter (2 pages max) telling us about yourself, your relevant experience, how you would benefit from the fellowship and outlining how you meet the person specification criteria.
Your CV (2 pages max).