Research Fellowship: The National Wealth Service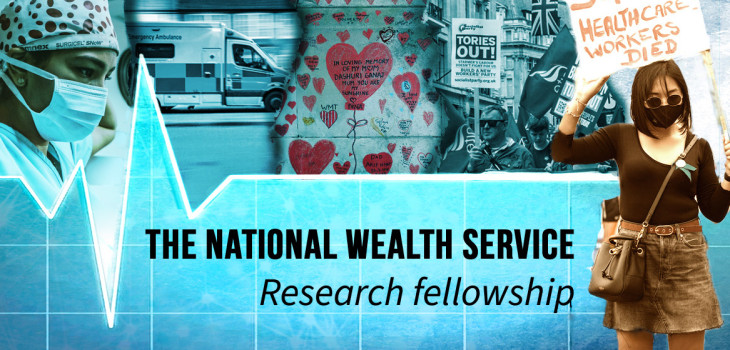 Update 5/3/23: Please note applications are now closed. Thank you to all those who got in touch.
Corporate Watch, in partnership with the Barry Amiel and Norman Melburn Trust, is looking for the perfect person to join our team working to challenge corporate power – with a specific focus on investigating the companies profiting from the backdoor sell-off of our broken NHS.
About the Fellowship
This is a one-year, full-time post with a support grant of £20,400, paid by a monthly stipend from the Barry Amiel and Norman Melburn Trust. The fellow will work in collaboration with the Corporate Watch team.
The pandemic created a perfect storm for politicians to sell the lie that private healthcare companies help relieve pressure on the NHS, and we're already witnessing the emergence of a two-tier health system. At the time of writing, junior doctors are out on strike again, staff shortages are rising, and the morale of dedicated NHS workers is at rock bottom. Against this backdrop, private companies are scooping up billions in lucrative contracts. The successful applicant will conduct research into the extent of NHS privatisation both now and in recent history and identify which corporations are profiting most.
The findings will be communicated through a variety of media, aiming to ensure information reaches our target audiences. You will be supported in your work by members of the Corporate Watch team, as well as an extensive network of campaigners, and researchers.
The aim of the project is to build the fellow's research skills and experience, whilst enhancing Corporate Watch's capacity to carry out strategic investigations in support of struggles for social justice.
The post:
Income: You will receive a tax-free support grant of £20,400 via a monthly stipend from the Barry Amiel and Norman Melburn Trust.
Support: This fellowship is intended as an opportunity for you to develop your research skills and we actively encourage applicants from those without an academic background. You will be supported by members of the Corporate Watch team throughout.
Location: This role is open to anyone able to work remotely and travel approximately every three months to Bristol or London.
Hours: 28 hours/week with fully flexible working arrangements.
About you:
You want to develop strong research skills and already have some knowledge of key issues and legislation related to the NHS crisis and the impact this will have on us all, and for vulnerable/marginalised communities in particular.
You will have excellent written communication skills, including experience producing online communications, campaigning or on fundraising equivalent topics.
You understand the importance of solidarity, and the value of collaboration within a radical workers' co-op.
You are self-motivated and able to work autonomously as well as collaboratively with colleagues.
You are able to multitask, be flexible, diligent and respond to shifting demands and fast-moving events.
You are committed to Corporate Watch's anti-capitalist aims and values.
About Us
Corporate Watch is a research group established in 1996 that helps people stand up against corporations and capitalism. Our motto is 'information for action': we know that people can fight and win, even against powerful enemies like corporations and governments. Good information helps people to understand the forces we're up against, spot their weaknesses, and to campaign strategically and effectively. We provide rigorous, reliable, and strategically useful research and analysis to support groups organising against corporate power and aim to demystify how capitalism and specific industries work to the wider public.
We are a small workers' cooperative and maintain our independence by never taking money from state or corporate institutions.
We are a rarity in being a research group that is firmly rooted in – and at the service of – grassroots social movements. We work collaboratively with campaigns for much of our research, with most projects starting as a request from such groups. At times our research has played a pivotal role in the success of campaigns – from providing financial information to unions negotiating for pay rises, to exposing airlines involved in the deportation machine.
We particularly welcome and encourage applications from those who are underrepresented in research and journalism including Black people, People of Colour, Gypsy, Roma and Traveller (GRT) people, refugees, working-class people, disabled people and ex-prisoners.
To apply:
Please click here to read the full research project brief, job description and person specification before applying.
Please send the following to jobs [at]  corporatewatch.org by 30th August 2023.
A cover letter (2 pages max) telling us about yourself, your relevant experience, how you would benefit from the fellowship and outlining how you meet the person specification criteria.
Your CV (2 pages max).