Rival firms fight over deportation dividend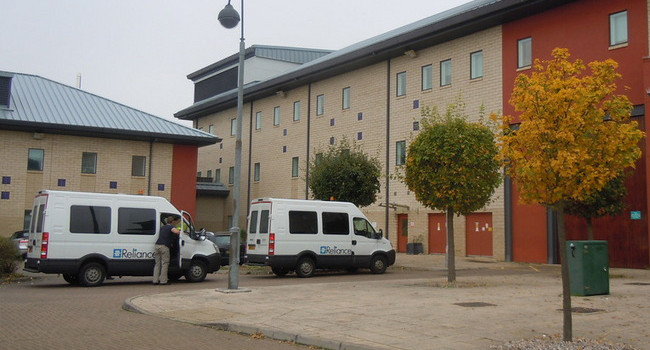 [responsivevoice_button]
A security business owned by Conservative Party donor Brian Kingham has been accused by rival outsourcing firm Capita of unlawfully taking £11 million needed for a government contract to deport asylum-seekers, Corporate Watch can reveal.
Reliance Secure Task Management (RSTM), part of Kingham's group of private security companies, started detaining and deporting asylum-seekers for the Home Office in May 2011, taking over the job from G4S. The four-year government contract was worth around £120m.
In August 2012, Capita bought RSTM from Kingham's Reliance Security Group, which it renamed Tascor. Capita has since brought a civil case to the High Court claiming that Reliance unlawfully received an £11.25m dividend from RSTM just before the sale. Capita is arguing that Reliance could not afford to pay the dividend because it was losing money on the UK Border Agency (UKBA) contract.
However, Reliance's solicitor told Corporate Watch that his client denies liability and the matter is being "vigorously contested". He said the dividend was used to repay bank loans and that Capita knew it would be paid and it was part of the sales agreement (read the full statement below). Brian Kingham himself is not a party to the dispute.
Kingham donated over £100,000 to the Conservative Party between 2002 and 2006 under the leadership of Michael Howard and Iain Duncan Smith, according to Electoral Commission records. The Conservative Party's 2005 general election campaign focused on controlling immigration, and featured billboards with the slogan: "It's not racist to impose limits on immigration".
Best value for money?

When the Home Office awarded Reliance the deportation contract, it said the company had "demonstrated an ability to provide excellent service and its bid offers the best value for money".
However, defence papers filed at the High Court by Reliance's legal team reveal the company had misinterpreted the UKBA contract, overestimating how much money the business would receive:
"After around 4 months of performing the UKBA contract, it became apparent that the Company had been mistaken when entering into the Contract as to the basis on which certain charges in respect of ICE [In-Country Escorting i.e. moving asylum-seekers between courts and detention centres] were to be made:-
The Company had thought the relevant charges were to be made per detainee per mile, whereas they were actually chargeable per vehicle per mile."
This error made part of the UKBA contract "loss-making" for Reliance. The whole contract left RSTM half a million pounds below budget in the first month (May 2011). These loses continued. In December 2011, the company feared it would go bankrupt by March 2012.
Reliance's internal company records reveal that cash-flow shortages had, "created a greater sense of urgency to engage with the UKBA as the sole remedy to the short term funding problems… A series of negotiations with UKBA are being prepared to rectify the position".
In July 2012, the UKBA agreed to pay Reliance almost 30% more per vehicle per mile for transporting detainees, but the company had already lost a further £120,000 on the contract from April to June 2012.
Capita, which was by then in the process of acquiring Reliance Secure Task Management, became alarmed and wanted to lower its bid. In an email, a Capita director said the company had been "'knocked for six' by June's results". Capita was still concerned about "trading volumes in the UKBA contract and probable adverse variances in future months against budget".
Capita, with then-CEO Paul Pindar heavily involved, made a substantially reduced offer to Reliance and demanded a meeting with the UKBA. This meeting took place at the Home Office headquarters on 14 August 2012.
The documents show that "At the meeting, Mr Colin Punton (of the UKBA) expressly agreed that the UKBA Contract had "struggled to make money" but said that the UKBA was "committed to making the contract a success"."
Punton reportedly told Capita at this meeting that there was an agreement to let the contractor charge the UKBA nearly 15% more for transporting detainees from May 2014. Ten days after this meeting with the Home Office, Capita announced that it had acquired Reliance Secure Task Management and taken over the UKBA contract.
The escorting business
The contract Capita took over from Reliance involves:
Deporting people on commercial and privately chartered flights
Transferring immigration detainees between reporting centres, holding cells, courts, hospitals, prisons and detention centres.
Holding people detained by Immigration Officers at airports, ports (including Calais and Coquelles in Northern France) and asylum reporting centres.
Running two short term holding facilities for the Home Office; Pennine House in Manchester, where 43-year-old Pakistani man Tahir Mehmood died in July 2013, and Larne House, a converted police station in County Antrim.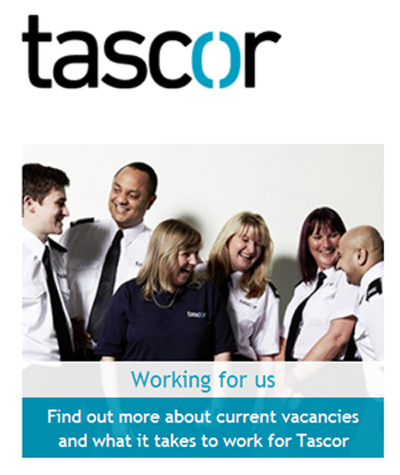 Screenshot from Capita's Tascor website www.tascor.co.uk
In October 2012, Capita signed another contract with the Home Office, worth £30m over 4 years, to trace and contact 174,000 migrant workers and overseas students who had been refused permission to stay in the UK but whose whereabouts were unknown to the authorities. The company faced ridicule when it sent text messages to British citizens telling them they may not have the right to live in the UK.
Written by Phil Miller
Full response from Reliance's solicitor to Corporate Watch:
"Capita bought Reliance after detailed and extensive due diligence this included[sic]; accessing financial records and data, attending the premises and inspecting by way of example the IT systems, meeting senior managers and meeting the UKBA with and without Reliance. Capita bought Reliance to develop their Justice Services and Capita was fully aware of the financial position of Reliance and had been provided with detailed and up to date accounting information.
So this claim is being vigorously contested.
The dividend was a cashless transaction that removed intercompany balances. This is very common in business sales.  Capita expressly agreed this as a part of the sale mechanics.
Brian Kingham did not receive any of the proceeds of sale which were used to pay down debt. Mr Kingham remains the most substantial creditor of the remaining Reliance Group companies as is a matter of public record."