Serco risks losing Yarl's Wood contract after detainee dies
/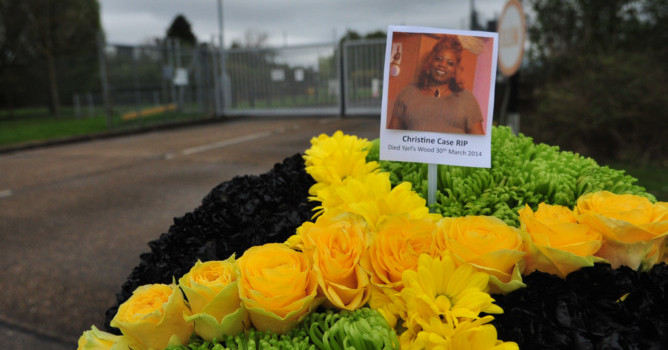 The Home Office is 'selling off' Yarl's Wood Immigration Removal Centre to the highest bidder this month, Corporate Watch has discovered.
Outsourcing giant Serco has managed the controversial detention facility in Bedfordshire since 2007, but its contract expires in 2015.
The Home Office has now launched a one-month tendering process, with the deadline set for 23 April.
The bidding round comes at a time when Serco faces mounting criticism.
Shadow Home Secretary Yvette Cooper has questioned if Serco provided detainees with adequate medical care after a 40-year-old Jamaican woman, Christine Case, died at Yarl's Wood on Sunday.
Details seen by Corporate Watch on the government's Contracts Finder database reveal that, "The Immigration Enforcement Directorate is seeking commercial partners to provide a range of services related to the provision of Operation, Management and Maintenance Services in relation to Yarl's Wood Immigration Removal." The centre holds mostly asylum-seeking women and families pending possible deportation from the UK.
Serco in trouble at Yarl's Wood
In September 2013, Serco faced allegations that its guards at Yarl's Wood had raped and sexually harassed detainees.
In March 2013, a Ugandan woman died after injuries allegedly sustained during her deportation from Yarl's Wood.
In September 2012, a group of women detained at Yarl's Wood issued a series of demands in protest at their treatment.
In February 2010, Serco violently forced dozens of detainees to end a hunger-strike.
The other contenders
The Home Office anticipates that between five and six companies will bid to run Yarl's Wood. According to the tender document: "Any bidder/consortium must meet the minimum standard in relation to reliability based on past performance." However, none of the companies likely to bid for Yarl's Wood have a clean record.
G4S, which runs three detention centres around Gatwick (Brook House, Tinsley House and Cedars), are still marred by their Olympics fiasco. Last month the Crown Prosecution Service decided to press manslaughter charges against three G4S staff for the unlawful killing of Jimmy Mubenga during a deportation in 2010.
Mitie, which runs Campsfield in Oxfordshire, is currently facing a bill of almost a million pounds after that detention centre was ravaged by a fire in October 2013. It is also set to become the largest provider of immigration detention in the UK in September 2014, when it takes over the running of Harmondsworth and Colnbrook.
The GEO Group, which also runs a pair of detention centres (Dungavel and Harmondsworth), was slammed by a prison inspector report in January over conditions at their Harmondsworth site. In February 2013, Harmondsworth detainee Alois Dvorzac, an 84-year-old Canadian man with Alzheimer's, died while handcuffed.
Capita subsidiary Tascor run several short-term holding facilities for the Home Office at airports, as well as escorting deportees. Tahir Mehmood, a 43-year-old Pakistani man, died at Tascor's Pennine House holding facility near Manchester airport in July 2013.
When faced with this choice, perhaps it is not surprising that campaigners plan to gather outside the Home Office tomorrow afternoon to demand that the government must simply, "Shut down Yarl's Wood".