Tax-payer funded destruction: Activist reflections on HS2
/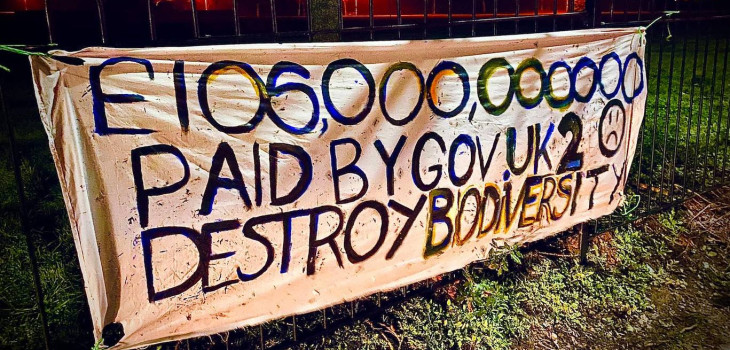 A high court judge has granted a route-wide injunction preventing activists from challenging construction of the controversial HS2 train line. The scope of the injunction is unprecedented, blocking protesters from venturing anywhere near the proposed route.
High Speed Two (HS2) is a 343-mile, high-speed cross-country railway line. HS2 would pick up from HS1, which connects the Channel Tunnel to London, snaking to Leeds & Manchester via Birmingham. Plans for the project have been in the pipeline since 2009, and the final stages are not expected to be completed until 2040.
The initial budget for the work was £33 billion, but the expected cost has since spiralled to over £100 billion. The project is being overseen by High Speed Two Ltd, a state-owned company.
At the 2022 Earth First! gathering, Corporate Watch spoke to Liz and Nancy, two activists who've been challenging HS2 for several years; from living in camps on route, to taking direct action in tunnels and structures. We spoke to them about how this eco-defence movement stood up to corporate power and the impact of increasingly draconian government legislation on environmental protest.
"HS2 encompasses so many injustices"
Liz explained that the proposed route "goes through 108 Ancient woodlands, which are going to be decimated by the project. And it's going to create – instead of a green corridor – a cement corridor all the way up the country… It's splitting the country in half with this huge slab of concrete".
"HS2 encompasses so many injustices,' Nancy said 'wherever you sit on the political spectrum or whatever issues you really care about". 
Whether it's ecological issues, or the social issues of people being displaced from their homes, and then being treated completely unfairly by the compulsory purchase scheme. And whether it's the economic factors of building HS2 or, the way that governments are mandating these kinds of things and calling it 'the political will of the people'.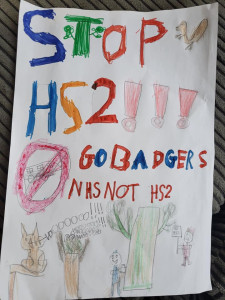 Nancy and Liz said that in the early stages, local communities along the proposed route set up "really strong groups" to oppose HS2. But the government approved plans in 2017:
I think a lot of those people felt very disenfranchised. And about three and a half years ago the direct action campaign started with one woman called Sarah Green. She was at Greenham Common, and lives in Hillingdon, which is one of the first areas where they started building. It's just outside of London in the Colne Valley, which is a really beautiful area. She had a business showing people around the canals – HS2 completely decimated that business, made it completely unviable, because people had come to see a beautiful area. And now all they were seeing was HS2.

So she started the direct action campaign by climbing under a digger and staying under there for, I think, a couple of days and then people started setting up roadside camps.
"Obstructing the destruction"
Shortly after this, activists "started setting up woodland camps" along the proposed route as opposition against HS2 grew in solidarity with local communities. In the summer of 2020, when the pandemic hit, resistance expanded further. Liz explained that lockdown:
Created a moment where a lot of people were suddenly either furloughed or not going to uni. There were no employment prospects – it created a space for people to go and try something new. That's when I went to the camps. At that point, there were about seven camps along the line, all set up at different points that were strategically important to HS2, mainly because it was on the land that [the company] wanted, or that they needed to build the train line. 

That's not a new tactic, protest camps have been going for quite a while. They have to send people in to remove people from the site, which isn't so easy when there are activists 60 foot up in the trees, or underground in tunnels. So that was a big tactic – to occupy land – but the camps also created a space we could do outreach to involve the local community and sort of reinvigorate those groups creating a base from which people can do direct action, obstructing the destruction.
Digging for victory
Liz feels that by 2021 the "campaign felt really strong" with camps along the London to Birmingham route. The year started with the eviction of a tunnel system under Euston Square Gardens. Liz explained that the gardens "right outside the HS2 head office were one of the only green spaces in that area, sitting on one of the most polluted roads in London". It was also one of the few places homeless people in the area found to sleep. The gardens were due for destruction initially to make way for a "temporary taxi rank" but activists found out that, "a luxury hotel" to serve wealthy HS2 customers was eventually due for construction on the site. They continued:
It was an important space. So they [activists] decided to dig the first HS2 tunnel. The activists lasted in there for 31 days. It was an amazing event and it certainly inspired me. I saw that you can take big, powerful action against government and HS2 and be very disruptive. It was the start of a set of tunnel protests. There were quite a few major evictions in a row after this. I think each eviction costs around three or four million pounds. So it was quite successful, I think, as a protest.
Liz told Corporate Watch that activists saw HS2 workers deforesting large sections of the proposed route "as fast as they could". Time and time again, they saw trees cut down in front of their eyes and Liz explained that this led to further questions about areas cleared that didn't seem connected to route maps. Since HS2 is allegedly "meant to be a public infrastructure project, they're not allowed to be seen to be profiting from the wood that they're chopping down".  But protesters still have questions about where "tonnes and tonnes of wood" from these trees went.

Desolation and displacement
The recent injunctions are simply the latest in an ongoing wave of legislation pushed through by the government to build HS2. Although anti-Hs2 campaigners celebrated when the government scrapped the East Midlands-Leeds stretch of the route, this was only a partial victory. In 2017, it passed a Phase One Hybrid Bill to push ahead with the London to West Midlands section of the route. Phase Two a (West Midlands to Crewe) passed in January 2021 and Phase 2b (Crewe to Manchester) is currently going through parliament. Hybrid bills blend public legislation (which affects everyone) with private (impacting specific individuals or groups). Although used rarely, they create sneaky ways for governments to legally embed corporate destruction because they authorise compulsory purchasing, destruction of conservation areas or changing rights of way as part of major infrastructure projects.
Activists like Liz and Nancy, have seen first-hand the implication of these hybrid bills enabling corporations to benefit from a tax-payer-funded project, and the devastating impact of this legislation for home and land owners along the route. As Liz explained:
The hybrid bill is legislation that gives effectively gives HS2 their own set of laws regarding the construction of this huge mega project. It gives them the sort of 'legal right' to get the funding from the taxpayer and to circumvent certain practices (like ecological practices) that other companies or private citizens would have to abide by to get something done. 

A normal construction company would have to go by the rulebook, but the hybrid bill effectively gives them an excuse saying 'they need to make this train line' so anything that they want to do to make that happen, they can do.
Nancy continued:
And the other thing that the bill gives the right to do is compulsory purchase land. So this affects anyone unfortunate enough to live on the HS2 route or very close to it. And that's another important thing to explain about HS2 – it's such a massive construction project. Some people might think 'oh, it's just a train line – that doesn't sound that bad'. But it's huge. It's got to be a certain width – I think about the width of Parliament Square at it's narrowest.

Then along with all that they've got to build all the access roads, they've got to build compounds to store all their machinery, they've got to reroute other bits of road. And they've also got to build several factories, bentonite factories are one of the main ones. It's not just little country train line, it's massive. It also needs to be fairly flat. So in places where the land is high, they've got to make massive cuttings into hillsides. In places where the ground is lower, they've got to build viaducts for the trains to go along. You really, really feel how vast it is when driving around the Chilterns or Oxford areas. Because every road you go down, there are signs, traffic lights, compounds – its desolate.

A lot of people are now displaced. Some people have just had to move out of their houses. Some people have had little bits of their land taken off them… I've heard of someone who has a farm and HS2 now owns both of the access roads to it.

And then there are also houses in what's known as 'blight'. So if HS2 makes your house completely worthless, they have to buy it but then often end up renting that barn back out [to the previous owner] until it's time to demolish it. Some people are just sort of left right on the fringes where they're not in blight, but it's certainly enough to ruin where they live, with no chance of any financial payment to compensate.
Tax-payer funded destruction
In terms of challenging corporate power, Liz told us that HS2 presented some unique challenges because it's "a limited company which technically should mean it's a private company. Mark Thurston [HS2 CEO] earns over half a million pounds a year… so it sounds like a private company but it's fully funded by the government". In fact, Thurston is also the UK's highest-paid public sector employee.
Liz continued:
Essentially, the people that work in the top ranks of it are all civil servants but they don't have the same accountability processes that an actual civil servant would.

Some of the companies that build HS2 are involved in many other big projects in the UK today. And four huge companies were merged to do some of the building contracts. Those are Eiffage, Kier, Bam Nuttall and Ferrovial. 
Liz said that activists have started to look towards other business ventures these companies engage in. "Kier,' for example, 'don't only build terrible cheap housing, they build vivisection labs. And they are also involved heavily in the construction of the mega prisons planned in the next few years". As Liz also pointed out, the scope for corporate profit from HS2 is vast and extends far beyond construction.
There's one [company] called Fusion Fencing, which does all the enabling works for HS2. So whenever a site gets taken, or a compound is built, they'll come and do all the fencing. The fencing contract is massive. I mean, along 107 miles of train line, that's a huge, huge contract for fencing for the next 30 years, or something like that. 
And then there are the companies profiting from security. 
Another big contract is for Control Risks Group – the people that essentially supply security services for HS2. You'd wonder why a mega project that has been written into our history as part of the democratic will of parliament needs a security system? That's something I've questioned, but they are running to the tune of about £140 million so far, which is quite an expensive security detail for a train line. Control Risks Group is essentially staffed by a lot of ex-military people.
As early as 2017, Control Risks Group secured contracts worth at least £64 million. The tender contract stated the work required involved "proactive area patrolling, close personal protection and management of locked on protesters". It also stated the contractor was "expected to be insight led with gathering of insight forming a significant part of the contract".
Nancy continued:
When you're on the protest camps, you get to know the different security groups because they have slightly different uniforms. I don't know exactly who employs specific people, but the lowest level security are 'fondly' known as the carrots, because they wear just orange. Then there's the Black Onyx, they're very ex-military, and they're there to add more muscle and are more intimidating. And then you have the IRT who are sent in supposedly for the 'hairy moments'. They show up where there are protesters, or even when [contractors] do something that they anticipate they will get protesters at – they're there to forcibly remove people. And they wear all black.
 

"A special place to be"

Despite exhaustion from continuous evictions and surviving onsite through all seasons, Liz and Nancy shared insights about the power of activist communities. "For me' Liz said, 'the camps acted like a huge flashpoint for so many things that weren't necessarily just about HS2".
I encountered conversations around patriarchy and conversations around trans rights, pronouns and land rights – things I'd not really discussed before in my 'previous life'. It was a real melting point, a melting pot of ideas and ideologies and people in a special place. I met a group of nature defenders with such solidarity for what they were doing and for the campaign.

HS2 was a good follow on from the fracking campaigns. It was the next big culturally important set of camps and activist protests against big government infrastructure and big government plans.
Injunction, Injunction, Injunction
Following news of the injunctions, Corporate Watch caught up with Liz to see how HS2 activists felt:
It's devastating. It's completely devastating. They've got everything they wanted now, stated in proper case law. They already had legal standing through the hybrid bills and now the judge has given them complete impunity to basically create their own mini-state.

It's worrying because this affects every campaign from now on. If parliament has decided something should ahead it'll get the green light like the Rwanda policy or, new coal fields or, North Sea oil or, anything that doesn't relate to net zero promises or the Paris Climate Agreement. There's no scope for protesting against them because there'll be deemed as in the public interest. 
The new injunction potentially threatens using Articles 10 and 11 in the European Convention on Human Rights (EHCR) (which protect the rights of assembly and free speech) as legal defences for protest. Essentially, injunctions like this strengthen Article 1 (A1P1) in the EHCR which protects rights to enjoy "property peacefully" because it prioritises HS2's ownership of land on the proposed route. This is particularly offensive given how the property rights of the former owners have been destroyed by compulsory purchase orders.
As Liz noted, under this legislation "even slow walking has been completely made illegal. So something that was a tried and tested tactic is impossible to undertake" anywhere near the HS2 route. Liz added:
It seems that the judges dealing with this are not really not in our favour because they assume that parliament is acting in the best interest of all the people in the country. So it's an uphill struggle to get legal systems to listen.
But Corporate Watch suggested that in some ways, the injunction is also proof that years of protest had a powerful impact – almost a backhanded compliment – to the campaign's success. Liz laughed saying:
Well, that's true! We know the reason that this injunction was granted was to stop an imminent threat of nuisance and disruption to the HS2 project. They were worried. The 'endless guerrilla tactics' is something that's cited many times in the ruling. They thought we shouldn't have the right to endlessly apply guerrilla tactics to HS2 and also that Articles 10 and 11 shouldn't be limitless. But because of the way we behave, moving from site to site, because of how effective we've been disrupting and delaying, yeah, that's why this has happened really: because it's been working.

"Never gonna stop"
Looking to the future, now the site-wide injunction is in place, Liz said:
We have to find ways that we can feel good about the way that we move through the world. We're never gonna stop doing the things that we think are important. I'm never gonna stop doing the things that I feel make a difference.

We just have to find new sneakier ways to go around and circumvent all these draconian rules that are being imposed on us.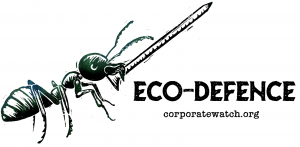 Images courtesy of Screw You HS2 and Stop HS2