Tesco: the boycott that wasn't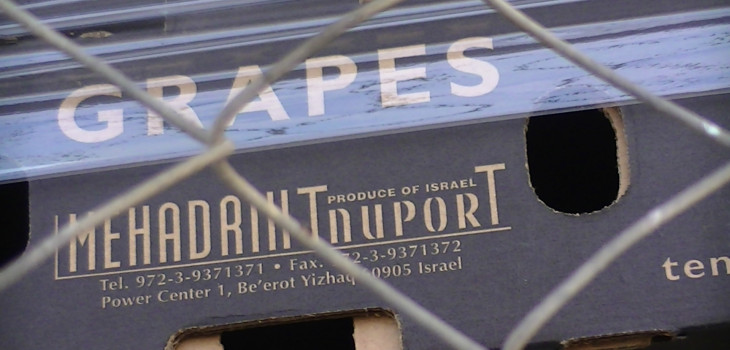 Firstly, the changes do not refer to all produce but only to Tesco's own brand, in this case one line of dates, and when Corporate Watch contacted Tesco for a clarification on practice its press office was less than forthcoming. After several attempts, we finally received a short reply from Alasdair Gee which stated "I'd like to point out that the Irish article is highly misleading. There has been no sourcing policy change. Any sourcing arrangements are purely for commercial reasons". The statement failed to answer any of the questions we had posed, including whether Tesco will continue to source from the Israeli company Mehadrin, which operates in several settlements in the occupied Jordan Valley, as well as in the Golan. A follow up question regarding this has gone unanswered. As Corporate Watch has previously exposed, Mehadrin frequently mislabels produce from illegal settlements as Israeli. By continuing to trade with Mehadrin Tesco is complicit in aiding the settler economy.
There is of course a possibility that the "commercial reasons"  Tesco gives for its decision to no longer have any of its own lines packaged in a settlement packinghouse have come about because of the consumer boycott of  produce with a settlement label, hence making this kind of trade less profitable. According to the Jewish Chronicle two health and beauty product suppliers have been asked by Tesco to list all their products and ingredients from Israel and the West Bank, indicating that pressure from the growing number of consumers who are campaigning for Boycott, Divestment and Sanctions (BDS) is working on some level.
There is no doubt that the boycott movement is now firmly on the supermarket's radar, but so far the steps Tesco has taken are no cause for celebration, but rather increased action. As a minimum, BDS activists should continue to push all supermarkets to adopt a similar position to the Co-op, who became the first UK chain to act on settlement produce when it dropped four suppliers known to operate in settlements in 2012, including Mehadrin. This is the campaign strategy of the Sainsbury's Campaign, which has monthly pickets outside Sainsbury's shops nationwide.