The Cost of Misery: Rising Millions in the Bibby Stockholm Fiasco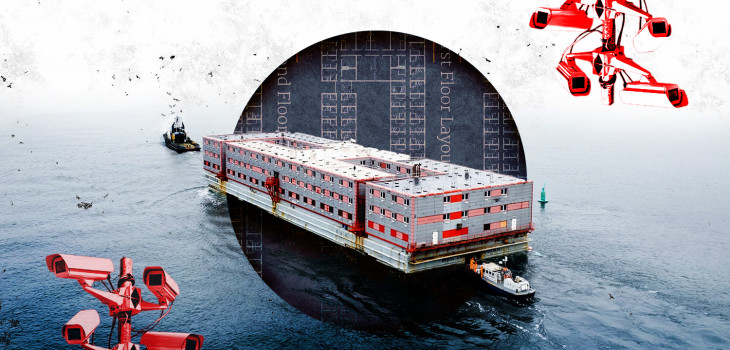 A Home Office response to Freedom of Information requests submitted by Corporate Watch reveals some of the staggering costs associated with the UK government's scandal-ridden attempts to house vulnerable asylum seekers aboard a 'floating prison' off the Dorset coast. It details just under £3.15m in funding either earmarked for – or already paid out to – local authorities in relation to the Bibby Stockholm plans for the next year. These include:
£1,963 per bed space (of which there are 500) paid out pro-rata over the financial year 2023/2024 to Dorset NHS for the delivery of healthcare services on the barge via local providers. At this point in time, this likely amounts to around £500,000.
£ 3,500 to Dorset Council, and Dorset police to reduce impact on local services. This would represent £1,750,000 if the vessel were at its full capacity of 500 people.
A one-off payment of £380,000 to the council for voluntary sector support, and extra funding to the tune of £520,000 for Dorset Police.
'Mutual aid' for Dorset Police – i.e., the provision of policing assistance from one force to another, suggesting that officers may well find themselves diverted from duties in surrounding counties once the plans are resumed.
This is in addition to £22m that has already been paid out to cover the financial burden of leasing the barge – rounding out to nearly £300,000 per week, of which £2.2m has already gone on a period in which the vessel has sat empty after migrants were evacuated due to a legionella scare earlier in August.
A Home Office letter seen by Corporate Watch suggests the asylum seekers who were evacuated are now due to be moved back onboard from Thursday 19th October. We also requested precise information on the cost of security, towing, chartering, berthing and utilities, which the department declined to provide on the basis this is "intended for future publication."
The Bibby Stockholm Fiasco: A Recap
The Conservative government's widely-decried plans to house asylum seekers aboard 'accommodation vessels' and at disused military sites, outlined in a previous Corporate Watch report on the company behind the Bibby Stockholm initiative, were launched to much fanfare earlier this year with the stated aim of reducing the overwhelming financial burden of putting refugees up at hotels.
Much has happened since then. After the vessel's arrival at Falmouth to undergo repairs and refurbishment by an as-yet unidentified subcontractor of Corporate Travel Management, the company commissioned by the government to manage services on board, the barge was towed to its final destination in Portland toward the end of July despite protests from local residents on both sides of the political divide.
The first asylum seekers were due to board at the beginning of August, but were delayed by final safety checks after the Fire Brigades Union warned crowding 500 men onto a boat designed to house just 250 threatened to turn the Bibby Stockholm into a "potential deathtrap." Even amid these concerns, and mounting condemnation from campaigners and human rights advocates, the first group of 15 migrants were eventually moved onto the boat on August 7 under threat of being made homeless if they refused.
Details of conditions aboard began to emerge the following day. As oil workers previously accommodated on the barge recalled being driven 'stir crazy' by cramped conditions and a lack of anything to do, one Syrian asylum seeker told Sky News his two-by-two-metre room reminded him of a property where he had previously hidden from Islamic State – the very reason for he travelled to the UK in the first place. "All we want is to live like ordinary people," another asylum seeker who was moved aboard the barge told Corporate Watch. "Why should we be sentenced to imprisonment, to endure so much stress and anxiety?"
These and other complaints were promptly dismissed by the government, with Conservative Deputy Chair Lee Anderson claiming to have "stayed in worse in Skegness" and telling migrants who'd expressed concerns to "fuck off back to France." His comments were later backed by Justice Secretary Alex Chalk, who conceded Anderson's words were "salty" but insisted they expressed "something that people well understand, which is that the British people have warm hearts [but] we also want to have a secure front door."
By August 12, there was little room left for the Tories to manoeuvre on the issue. The discovery of Legionella, a bacteria that can cause fatal lung disease in humans, in the boat's water supply prompted the evacuation of almost 40 asylum seekers from the Bibby Stockholm less than a week after they'd arrived. As Home Secretary Suella Braverman faced calls to resign over the fiasco (she's since blamed other officials), with former Brexit Minister David Davis describing the health scare as the result of "startling incompetence," it soon transpired that ministers had only been told of the bacteria being detected three days after the test results came in – meaning those on board had spent a full four days at risk of contracting a potentially deadly disease.
Still, Prime Minister Rishi Sunak was swift to defend the plans against redoubled criticism, while also refusing to say whether he was warned about the health risks prior to the first migrants boarding. Even as the Independent Chief Inspector of Borders and Immigration demanded a meeting with Immigration Minister Robert Jenrick over the bacteria scare, Health Secretary Steve Barclay confirmed the migrants would eventually be moved back on board once the process had been completed of disinfecting the barge's water supply.
"He was just so scared"
Amid the political fallout of the scandal, local support workers we spoke to earlier in September claim that to date, there's been precisely zero communication between the Home Office and asylum seekers who've boarded the barge. "At no point have the government spoken directly with them, they have no one in the Home Office they can go to," says Heather, a member of support network Portland Global Friendship Group, who didn't want to give her last name due to an ongoing far-right smear campaign against her. "The day the Legionella story broke, I was sending them text messages asking if they were okay, and they were saying why, what's happened, what's going on? I had to tell them to be really careful, to not drink the water or take showers."
"One of them phoned me back. He was just so scared," she continued. "He asked if he could give me his family's number because he'd just drank the water and was afraid something was going to happen."
The asylum seeker who spoke with Corporate Watch said some of his fellow refugees had displayed possible symptoms of Legionnaires' disease even before being evacuated from the vessel. Yet perhaps the most concerning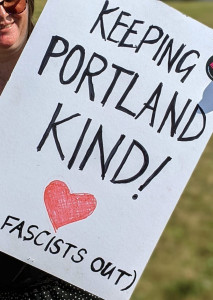 development to have emerged since their departure has been a reported suicide attempt at the hotel where they are currently being housed.
Portland Global Friendship Group has been actively coordinating between members of the local community to provide ongoing support to asylum seekers moved onto the barge. Some have donated clothing, toiletries, household items and means of entertainment, while others have volunteered their time, offering coastal walks, English lessons, and even free haircuts.
To support the group's efforts or ask how you can get involved, you can visit their Facebook page here.