The Doctors Laboratory: directors and shareholders enjoy huge returns while couriers fight for better pay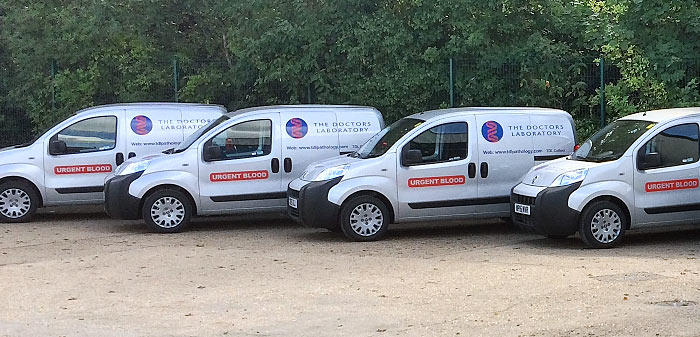 Couriers working for The Doctors Laboratory (TDL), the UK's biggest pathology company, are currently campaigning for better pay. Carrying blood transfusions and other vital material through busy traffic at high speed is a risky, often vital, job, yet couriers say they have suffered years of cut or stagnant pay.
Meanwhile, an investigation by Corporate Watch has found those at the top of the company are making huge sums. Company accounts and other records show:
The Doctors Laboratory (TDL) paid £60 million out to its owners in the last five years.

TDL's highest paid director made £1.6 million last year, with his pay doubling since 2013. The top three directors together made £3 million.

Sonic Healthcare – the Australian multinational TDL is part of – last year paid out £180 million to its shareholders, who are largely banks, investment funds and the super-rich.
We put our findings to TDL. A spokesperson did not dispute any of the figures but said they believed they had addressed couriers' concerns "fairly and reasonably" (full statement below).
The dispute so far
Motorcycle, van and bicycle couriers carrying blood and other vital supplies from TDL laboratories to hospitals across England have been organising through the IWGB union for the last two years. Over 100 couriers work for TDL, and the IWGB say they represent the "vast majority". In the last two years the union legally challenged TDL's classification of its couriers as self-employed contractors, and secured collective bargaining rights – a first for the 'gig economy'.
But pay has not increased and the union is now demanding the company "reverse pay cuts implemented in 2015 and 2017, cover the couriers' costs and implement pay increases to make up for the number of years in which these workers have had their rights denied". The work is often dangerous, with urgent samples often having to be carried through heavy traffic. Many couriers say they have been injured at work.
TDL made a pay offer to the couriers in August that it said increased pay rates to £20 per hour after expenses and mileage were included. The union rejected the deal, saying the majority of couriers would not receive close to that rate.
In the last month, couriers have started campaigning for a better deal. Demonstrations outside TDL's London headquarters will be followed by lobbying clients, including NHS trusts and private hospitals. The union has said they are considering strike action.
Big profits, big payouts
Can TDL afford to increase its pay rates? Corporate Watch asked TDL how much they currently spend on the couriers' department but they did not reply. The company told the union the deal rejected in August would have added an extra £400,000 to running costs.
So even if the company doubled its offer, the total cost increase would be less than £1 million.
The company's accounts suggest the company could easily absorb such increased costs. TDL was bought by Australian multinational Sonic Healthcare in 2002. At the time, Sonic CEO Colin Goldschmidt looked forward to a UK pathology market that would "consolidate and corporatize in the next 10 years" as more services were outsourced. He told investors "there will be a lot of cream that follows as [the] NHS privatises".
He's been proven right. TDL has signed contracts with multiple NHS trusts, as well as private hospitals such as Harley Street. Business has more than doubled over the last ten years. The company's latest accounts put revenue from providing and delivering blood tests and other pathology services at £84 million in 2017, up from £33 million in 2008.
Costs have increased too of course. But not by as much, leaving TDL with consistently healthy profits, amounting to £91.2 million over the last ten years. Annual profit after tax has increased from £6 million in 2008 to £14 million last year, according to accounts filed at Companies House. The company could therefore afford to pay significantly more than the couriers are demanding while still remaining profitable. But keeping costs down allows it to pay more money out to its owner, Sonic Healthcare.
In the last ten years, TDL has paid over £70 million in dividends (cash payouts) to Sonic – more than three quarters of the profits it has made. The bulk of that has come in the last four years. TDL has paid dividends of £60 million between 2014 and 2017, with £20 million paid out just last year.
No wonder Goldschmidt could tell investors there had been "huge growth" in Sonic's UK business a couple of years ago.
Following the money
If TDL paid less out in dividends to Sonic, it could pay more to couriers. So what is Sonic, and who ultimately benefits from the money it makes from TDL?
Sonic Healthcare is one of the biggest 50 companies on the Australian stock market thanks to operations in the USA, Germany, Switzerland, the United Kingdom, Belgium, Ireland and New Zealand, as well as its home country.
The dividends TDL pays out go to Sonic (via a UK holding company called Sonic Healthcare Holding Ltd), which then uses them to pay dividends to its shareholders. Helped by the £20 million it received from TDL, Sonic paid out 312 million Australian dollars in 2017, the equivalent of around £180 million.
Sonic's recently-released 2018 accounts show things are getting even better, with Chairman Mark Compton telling the Annual General Meeting it had been a "fantastic year for Sonic Healthcare and our shareholders". The company has declared record profits of AUS$476 million (around £270 million) and dividends of AUS$329 million (around £185 million).
So who do the profits made by TDL ultimately end up with? As with many multinational corporations, Sonic's biggest shareholders are the huge banks and investment funds whose money management keeps global capitalism going. The largest is a subsidiary of HSBC bank with 39% of Sonic shares, HSBC Custody Nominees (Australia) Ltd. As a 'nominee' company, this pools and channels the investments of a variety of bodies.
Regulations do not require these investors' identities to be disclosed but they are usually pension funds, insurance companies or funds benefiting 'high net worth' individuals. They will receive the bulk of the dividends they receive, plus profits from selling Sonic shares for more than they originally paid, and HSBC will take a cut.
Similar operations run by JP Morgan and Citigroup – also among the biggest banks in the world – are listed as Sonic's second and third biggest shareholders, with 14% and 5% of shares respectively.
Jardvan Pty Ltd, Sonic's fourth biggest shareholder, is easier to link to a specific individual. This is the family company of Michael Boyd, who bought into Sonic in the early 1990s when it was still a struggling business. Its turnaround has helped him amass a fortune of over AUS$500 million (that's just shy of £300 million).
Boyd ranks as the 169th richest person in Australia, according to the Australian Financial Review, and is a previous resident of a six bedroom, seven bathroom mansion in Perth's 'millionaire's row'.
Good pay at the top of TDL
How much do the people who run TDL make? According to accounts filed at Companies House, the highest paid director of TDL and some smaller subsidiary companies made £1.6 million in 2017, including salary, bonuses and pension contributions. The accounts do not disclose who this refers to, but it is almost certainly TDL chief executive David Byrne (not the singer). We put this to TDL and they did not dispute it.*
In the last five years he has made £6.4 million, with his pay packet doubling in that time.
The next best paid director, most likely TDL Chairman Raymond Prudo-Chlebosz,** made £1 million in 2017 and £1.1 million the year before.
Add on the £438,000 made by the next best paid director – presumably TDL Finance Director Thomas Amies – and the top three TDL bosses together made over £3 million from their work for the company in 2017.
Meanwhile those at the top of Sonic are doing even better. CEO Colin Goldschmidt was paid £3 million in cash in 2017, plus more Sonic shares to add to the million plus he already owns.
Money coming the other way?
How much money has Sonic invested in TDL? Perhaps the payouts described above would be easier for the company's couriers to stomach if Sonic had been risking serious amounts of money in the company.
The accounts show that in the last ten years Sonic has invested £78 million into TDL, all in 2016.*** However, together with a £187 million bank loan, that appears to have been mainly used to start or acquire new businesses.
Over the last three years TDL has invested £21 million in the Health Services Laboratories partnership with two NHS trusts (University College London and The Royal Free), and acquired the Medisoutien group of Swiss pathology companies for £222 million.
These purchases will increase the sale price of TDL if Sonic decides to sell the business in the future. In the meantime, they will add to Sonic's share price, adding to shareholders' gains from the company.
Valuing workers
Earlier this year Sonic's CEO Colin Goldschmidt, writing in the company's Corporate Social Responsibility report, said he was "proud that we are viewed as an ethical company that values and cares for its workers". Surely time, then, to pay the couriers what they are asking for?
We put the figures above to TDL. They did not dispute them but a spokesperson said:
"TDL has been in active negotiations with IWGB regarding pay rates for a number of months. We engaged in these negotiations in good faith and we believe that all specific concerns were addressed fairly and reasonably in our final offer."
We also asked TDL how much the courier department costs to run but they did not answer.
* Sonic Healthcare Holding Company Ltd only has four directors. Two of those – Colin Goldschmidt and Christopher Wilks – are on the board of Sonic Healthcare so are most likely paid by the Australian company. The only director other than Byrne is TDL Finance Director Thomas Amies. And it's very unlikely he makes more than his boss.
** The Sonic Healthcare Holding Company Ltd accounts detail the pay of two directors, one of who is described as not being a director of that company but of subsidiaries. As Prudo-Chlebosz is not a director of Sonic Healthcare Holding Company but is TDL Chairman, and a director of a number of subsidiaries, the figures most likely refer to him, as well as David Byrne. Again, we put this to TDL and they did not dispute it.
*** TDL also took loans from other Sonic subsidiaries in previous years but these have now all been repaid.